How We Tested
We recommend these products based on an intensive research process that's designed to cut through the noise and find the top products in this space. Guided by experts, we spend hours looking into the factors that matter, to bring you these selections.
Click here for testing insights >

11
Models
Considered

263
Consumers
Consulted

34
Hours
Researched
Buying guide for
Best Office Chair for Hip Pain
Unfortunately, hip pain is something that can plague a lot of office workers. Having the wrong office chair can make hip pain ten times worse, however.
As a result of this, it's important to ensure that you choose the right office chair that is going to properly support you through your working day.
There are a lot of ergonomic office chairs out there designed for hip pain, but it can be difficult to know if you're choosing the right chair for you. Thankfully, we've tested and researched the market to help you find the best office chair for hip pain.
Read on to see our top picks and review the buyer's guide towards the end of this article to learn more.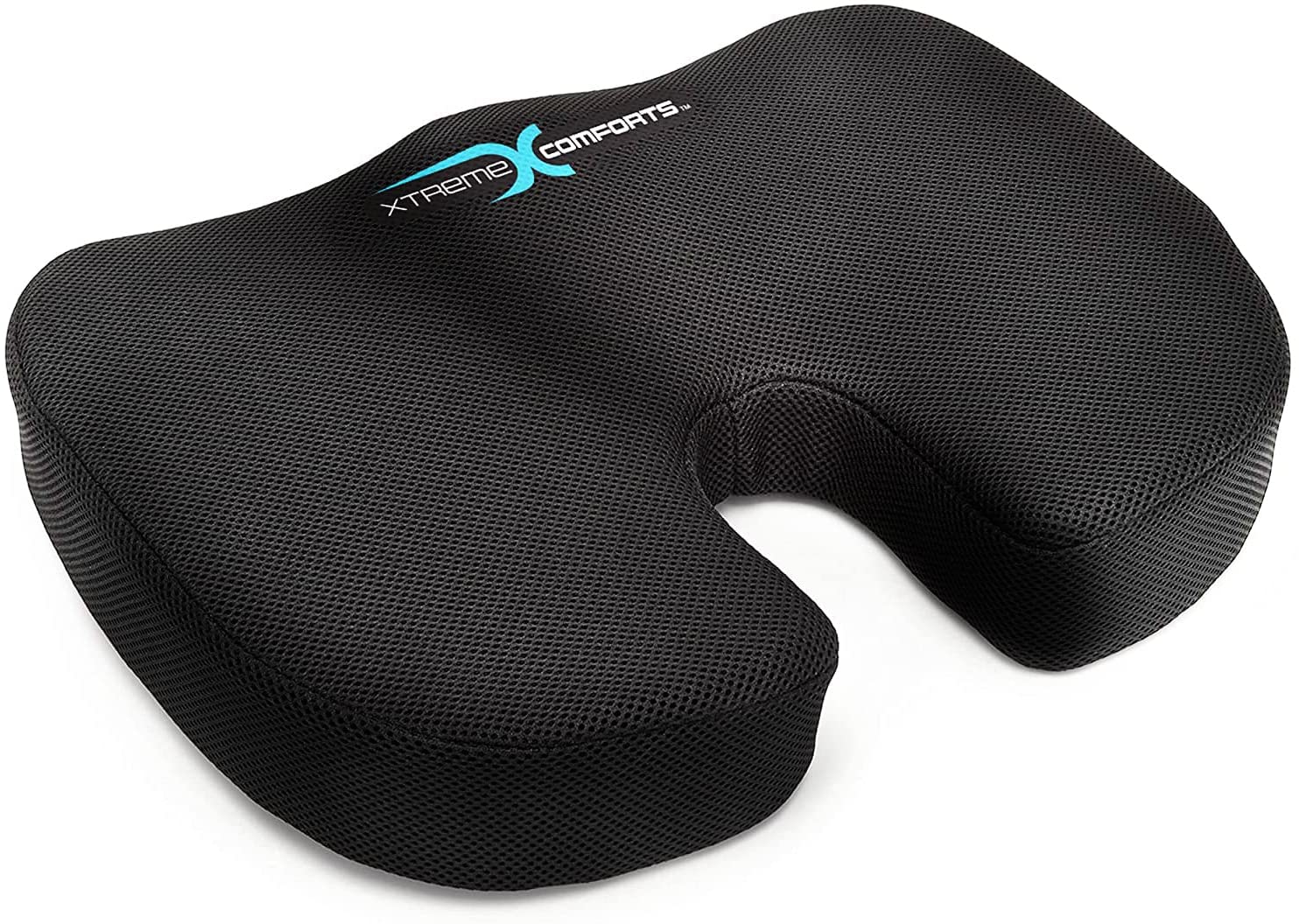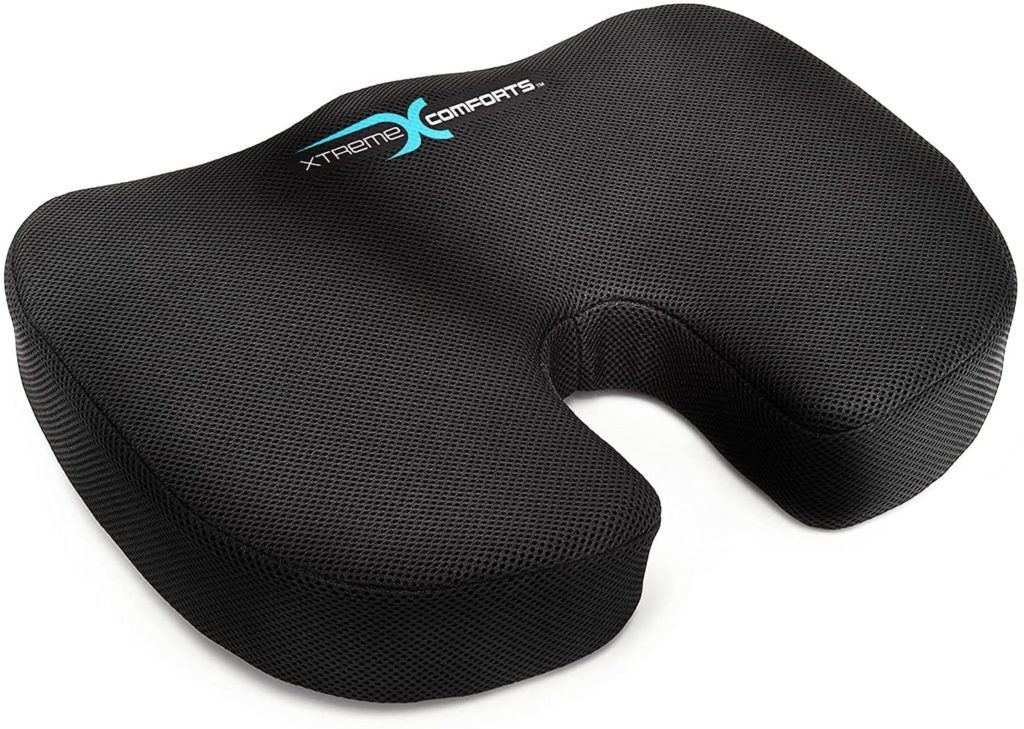 The Most Affordable Chair Upgrade
Make any chair instantly more comfortable with this affordable seat cushion from Xtreme Comforts. This chair cushion doesn't just promote lumbar support & relief, tailbone, and posterior discomfort – it also promotes a stronger seated posture.
Best Office Chair for Hip pain
OUR TOP PICK
For people that often suffer with hip issues, the Steelcase Amia is a real game changer. This ergonomic chair has been designed to overcome hip pain, and the high quality is truly undisputed.
There are a bunch of different reasons why you should like this office chair. For hip relief, the chair includes seat depth adjustment, which can help by opening the hip angle, plus a flexible seat edge to reduce pressure on your legs.
The armrests also have a bunch of adjustability, allowing you to be able to lift them, turn them to the sides and you can even drag them closer to your body. With these adjustments, plus the Liveback technology and different recline angles, you can change positions and make quick adjustments throughout the day with constant support.
This type of adaptability is really important as it allows you to keep moving and reduces the pain and tightness that comes with sitting in one position for too long.
The chair provides great lumbar support, and it feels fantastic. In addition, Steelcase is well known for the high quality chairs that they make, so you can be sure that your money will be well spent by purchasing this office chair.
Pros
Very comfortable
Good lumbar support
Lots of color options
Can be used for long periods of sitting
Cons
Related: See how the Amia compares to the popular Leap right here.
No products found.
EDITOR'S CHOICE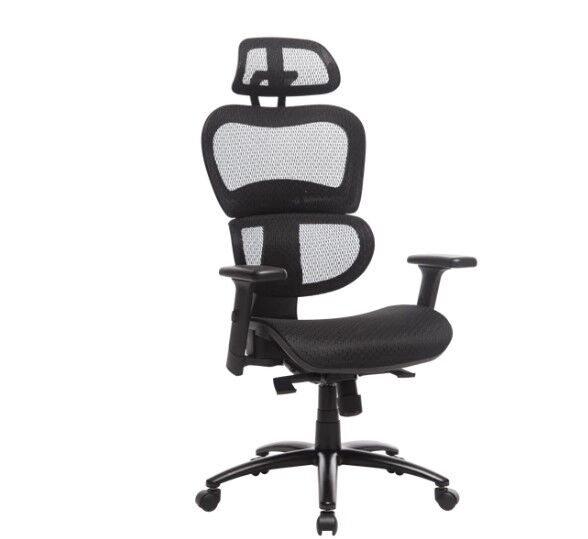 If you need extra lumbar support and appreciate the breathability of mesh office chairs, take a look at the Ergoal One.
This chair features an innovative design with a lightweight mesh textile that covers the entire chair, from the seat to the headrest. But the standout feature of this chair, especially for those with hip or lower pack pain, is the self adjusting lumbar support piece.
This component gives you constant support and relief as you move during the day, as it responds to your weight when tilting back or leaning forward.
Plus, this model comes with a bunch of other ergonomic features, including seat depth adjustment of 3 inches, 3D adjustable armrests, and a heavy-duty pneumatic height adjustment mechanism. It also has a steep waterfall seat design that will take the pressure off the back of your legs and allow for a more neutral sitting position.
People who work for 8+ hour days love how comfortable and supportive this chair is. However, we have heard some concerns about the sturdiness of the armrests and compatibility of the wheels on carpeting.
>> Check their website to see current discounts and read more testimonials to see if it's right for you.
To learn more about this chair, you can also read our full review of the Ergoal One right here.
Pros
Tall mesh backrest with excellent ventilation and comfortable headrest
Seat depth adjustment and waterfall design for reduced pressure
Self adjusting lumbar support
3D armrests, height adjustment, and more adjustability options
Significant savings as this is a direct to consumer brand
Cons
Armrests seemed unsteady for some customers
Lumbar support cannot be manually adjusted to change height
BEST VALUE
If you want to find a good amount of hip support and comfort but need to stick to a tighter budget, the Molents high back desk chair is worth a look.
This chair features an S-curve design that will support your spine's natural shape and allow you to maintain a healthy and neutral posture when sitting. This can take pressure off the hips that results from sitting in a more forward leaning position, even when upright.
In addition to the curvature of the backrest, there is a separate lumbar support piece that's height adjustable, so you can fine tune the lower back support.
The Molents also comes with an adjustable backrest that makes it easy to recline back and relax.
This chair comes with a thick and comfortable seat cushion, too. And unlike many chairs with curved or contoured seat designs that actually cause more problems for hip pain sufferers, this seat has a flat and wide shape that makes it comfortable over those longer stretches at the desk.
Pros
Comfortable padded seat with 2.2 inch depth adjustment
Tall mesh backrest with headrest and S-curve design for extra support
Adjustable lumbar support and 3D adjustable armrests
Budget friendly alternative with same features as other well-designed ergonomic chairs
Cons
Some customers found the seat to be too firm
No products found.
If you're a fan of racing back style office chairs, boy do we have the thing for you! This may particularly appeal to the gamers out there that are looking for an office chair to fit both their gaming and home office needs.
This PU leather or real leather (depending on what you choose) chair is actually pretty affordable, which is already a great reason in itself to get this gaming chair. But what else does it have to offer? Well, to begin with the chair is sturdy and exceptionally comfortable, which is just what you need in an office chair.
In addition to this, it's a high back chair which basically means that your whole back will be properly supported while you are sitting. This, as a result, means that there is less pressure placed onto the hips and the spine.
In addition to this, the armrests are adjustable so you don't need to worry about your upper back. There's also lots of room for when you are sitting down, and you don't need to worry about your hip pushing against the chair in any way, which may not be particularly comfortable.
It also has an adjustable headrest and lumbar support, and this can be adjusted to get the best possible comfort for you. What more could you possibly want?
Pros
PU and Real leather options
5 year warranty
Can recline 180 degrees
Soft lumbar support
Cons
Not the most comfortable chair for people who are of a smaller stature
No products found.
Do you want comfort? Do you also want something affordable and attractive? Well, we may just have what you're looking for – the Space Seating Breathable Chair! If you're on a budget, this is by far one of your best options.
This is a fantastic ergonomic office chair for people that are struggling with hip pain. To start with, it has a seat slider that will let you find a position that will work well for your lower back.
The chair also comes with a bunch of premium type adjustment features, such as adjustable armrests that can help you to rest your elbows, ultimately reducing the strain on the neck and upper trapezius. This is just what you need if you are typing a lot during the day.
It also has a mesh back, which is perfect for those particularly hot summers. Breathability is pretty important when it's warm outside!
The seat is also designed in such a way that it helps to improve the blood flow to the feet and legs, which can help to reduce swelling and prevent you from getting numb as you sit.
In addition to this, the chair also has built in lumbar support which is ideal if you struggle with any pain in the lower back.
As a whole, this chair provides plenty of value to anyone that struggles with hip pain – in fact, as an ergonomic office chair, it's a bit of a jack of all trades in that it can accommodate any worker and help to keep people comfortable throughout the whole day.
Pros
Mesh back is breathable
Adjustable seat height
Lots of support provided
Cons
Doesn't come with a headrest
No products found.
Best Office Chair for Hip pain Buying Guide
Hip pain is an unfortunate problem that can plague many office workers. It can be caused by a number of different things, but one cause of hip pain in office workers is sitting down for many hours on end.
This can become an even bigger problem when you're sitting on a chair that is not ergonomically designed, and thus does not give you the right support and comfort.
So, now that we've shown you some of the best office chairs for hip pain, it's really important to know what you are actually looking for in an office chair. Knowing what you're looking for can be the difference between buying a great chair and one that's pretty much useful to you. Without further ado, here are some things to consider when you are looking for the best office chair for hip pain.
Weight Capacity and Chair Size
If you are looking for a good office chair to help you with your hip pain, then it's absolutely pivotal that the chair is able to properly handle your weight.
All chairs have their own maximum weight capacity. While one chair may be able to suit someone of an average body size, another may be able to support someone between 250 and 300 lbs.
Image via Amazon
And certain chairs, such as big and tall office chairs, are engineered to exceed those capacities, sometimes allowing for weights in excess of 400 lbs. These chairs are built to provide sufficient long-term support depending on the weight of the user.
If you are too heavy, then the chair will not provide ample support and you may compensate by sitting with poor posture, which can result in increased hip pain over the long term.
Also, make sure you find a chair that is the right size. Usually, with any good task chair, you can adjust the height of the chair so it's comfortable enough. But, to be sure, you should be able to sit with your feet flat on the ground and knees close to a 90-degree angle.
If the chair is too high, you may put more pressure on your hip joint, as your legs will dangle of the edge of the chair. If it's too low, you will sit with poor posture and a shorter hip to knee angle that can cause tightness in your hip flexors.
When you want to sit with a broader hip-to-knee angle, which also encourages an upright and active posture, you should definitely check out a saddle chair.
Cushioning
Seat cushioning is pretty important! Your chair should always be comfortable and should be able to give you the support that you need. Look for dense foam or memory foam cushioning that will remain comfortable but firm over the course of an average work day.
Ideally your office chair should also come with a waterfall edge seat design. With this design, the end of the seat is not as sharp. Rather, it is curved to reduce pressure on the bottom of your thighs, which can improve comfort, and most importantly, circulation.
If you need a specific type of cushioning for a specific therapeutic need, such as to relieve sciatica or during pregnancy, you might want to look at a donut shaped chair cushion. These types of cushions can improve blood circulation and relieve hip or back pain that comes with sitting for hours on end.
No products found.
These kinds of cushion have a round and donut kind of shape that elevates you from the sitting surface. This means that most of the weight would be put onto your thighs and around the coccyx. As a result, there will be less pressure on the nerve which can make sitting more comfortable.
Support
You shouldn't ignore all of the support features that an office chair can offer – you should try to look at the support for the head, back and the armrests – basically, make sure that when you are looking for support you are looking for support for the whole body.
The main issue that faces desk workers is that they have to sit throughout the whole day. But this is not the only thing.
Most office workers also don't sit with the correct posture, so it's definitely a good idea to find a chair that will encourage good sitting posture while you work.
Lumbar support that is separately adjustable is one example of a good support feature for an ergonomic chair. You may not think this is super important for hip pain, but actually, it's a pretty big deal that your back remains in full contact with the back of the office chair.
Plus lumbar pressure, and an ergonomically shaped backrest in general, will support the contour of your spine, relieving pressure on other areas, such as your hips.
Materials
There are a couple of materials to choose from in ergonomic office chairs, but there is one thing to keep in mind. If you struggle with hip pain, you may want to avoid cheap mesh chairs. Bad quality mesh has one particularly irritating feature, in that it allows you to slip down.
This is inconvenient to say the least, especially if the chair has caster wheels and you have a wooden floor.
If you don't move at all though, your body will likely become tense which means your hip pain gets worse. Not the best idea!
You could also opt for a fabric office chair. This is a pretty popular choice for home office chairs, and they are very comfortable. They also come in a bunch of colors usually, so you can buy something that will best suit the office aesthetic.
Further Reading: Learn more about Mesh vs. Leather office chairs
Of course, stains can become a bit of an issue with fabric office chairs, so you may not want to eat that curry at your desk! There may also be more of a chance of mold buildup.
Leather and PU Leather are the other alternatives. PU leather is probably the most common form of leather office chair because the material is affordable and looks like leather, but not quite. It's usually very easy to maintain, but the material isn't super breathable which can be an issue if you spend many hours in your chair a day. Bonded leather is a little softer than PU leather, but it can peel after a while.
This doesn't tend to impact the overall functioning of the chair, but it's not the most attractive thing on earth. Top tier leather can also get pretty expensive, but it's the real deal if you want an authentic leather look.
Seat Depth Adjustment
This is another handy feature to look out for on any ergonomic office chair. Usually with adjustable seat pan depth, you can use a lever to move the seat backwards or forwards. This is usually found in more expensive ergonomic office chairs, but it essentially means that the bottom of the thighs are totally rested on the seat of the chair, regardless of the length of your torso or body size.
If you adjust the seat death, you will also be able to position your lower back up against the backrest, which can enhance your posture and give more support for the whole back.
Bonus: How to Reduce Hip Pain When in Work
Of course, a good ergonomic office chair can be great for helping to reduce hip pain, but there are also a bunch of other things you can do too!
First of all, when you're in the office you should try to take regular breaks. It's really important that if you are a desk worker that you take frequent breaks through the day. This will allow you to keep your muscles moving. This kind of movement can also help you to increase your productivity too!
Getting some exercise into your day can also help a lot with hip pain. There are some really easy things that you can do, such as taking the stairs instead of catching the elevator, or parking your car further away so you'll be able to walk more on a daily basis.
Want to keep moving while sitting at the desk? Try an under the desk cycle or elliptical as a gentle but effective way to keep those legs moving throughout the day.
Simple movements like this can do wonders for your general health, and they are helpful for combating a sedentary lifestyle.
Other Products We Considered
The Office Chair Picks editorial team researches hundreds of products based on consumer reviews, brand quality, and value. We then choose a shorter list for in-depth research and testing before finalizing our top picks. These are the products we considered that ultimately didn't make our top 5.
Our Top Products
Best of the Best
Steelcase Amia
Amia
bottom line
For people that often suffer with hip issues, the Steelcase Amia is a real game changer. This ergonomic chair has been designed to overcome hip pain, and the high quality is truly undisputed.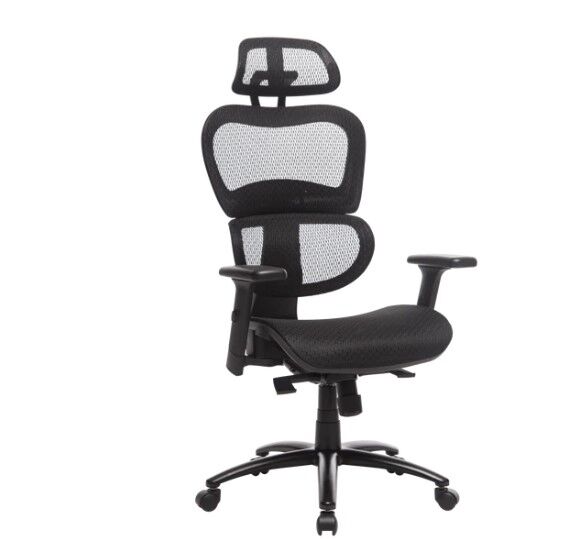 Ergoal
Ergoal One
bottom line
If you need extra lumbar support and appreciate the breathability of mesh office chairs, take a look at the Ergoal One.
Molents
Ergonomic Office Chair
bottom line
If you want to find a good amount of hip support and comfort but need to stick to a tighter budget, the Molents high back desk chair is worth a look.
AKracing
Executive Chair
bottom line
If you're a fan of racing back style office chairs, boy do we have the thing for you! This appeals to the gamers out there that are looking for an office chair to fit both their gaming and home office needs.