How We Tested
We recommend these products based on an intensive research process that's designed to cut through the noise and find the top products in this space. Guided by experts, we spend hours looking into the factors that matter, to bring you these selections.
Click here for testing insights >

11
Models
Considered

387
Consumers
Consulted

39
Hours
Researched
Buying guide for
9 Top-Rated Office Chairs Under 200 Dollars in 2022
A solid office chair is undoubtedly an investment — not only in your health but in your productivity, as well. The right chair can provide you with physical support and comfort, not to mention an environment where you feel you can do your best work day in and day out. Many of the best office chairs for small spaces can cost a pretty penny, though; in some cases, over $1,000 a pop.
If you're looking for some more affordable office furniture and equipment, though, you've come to the right place. You can still find the best office chair under $200 that delivers on comfort, support, and durability.
We've researched, tested, and analyzed dozens of chairs in this price bracket, and rounded them up here for you.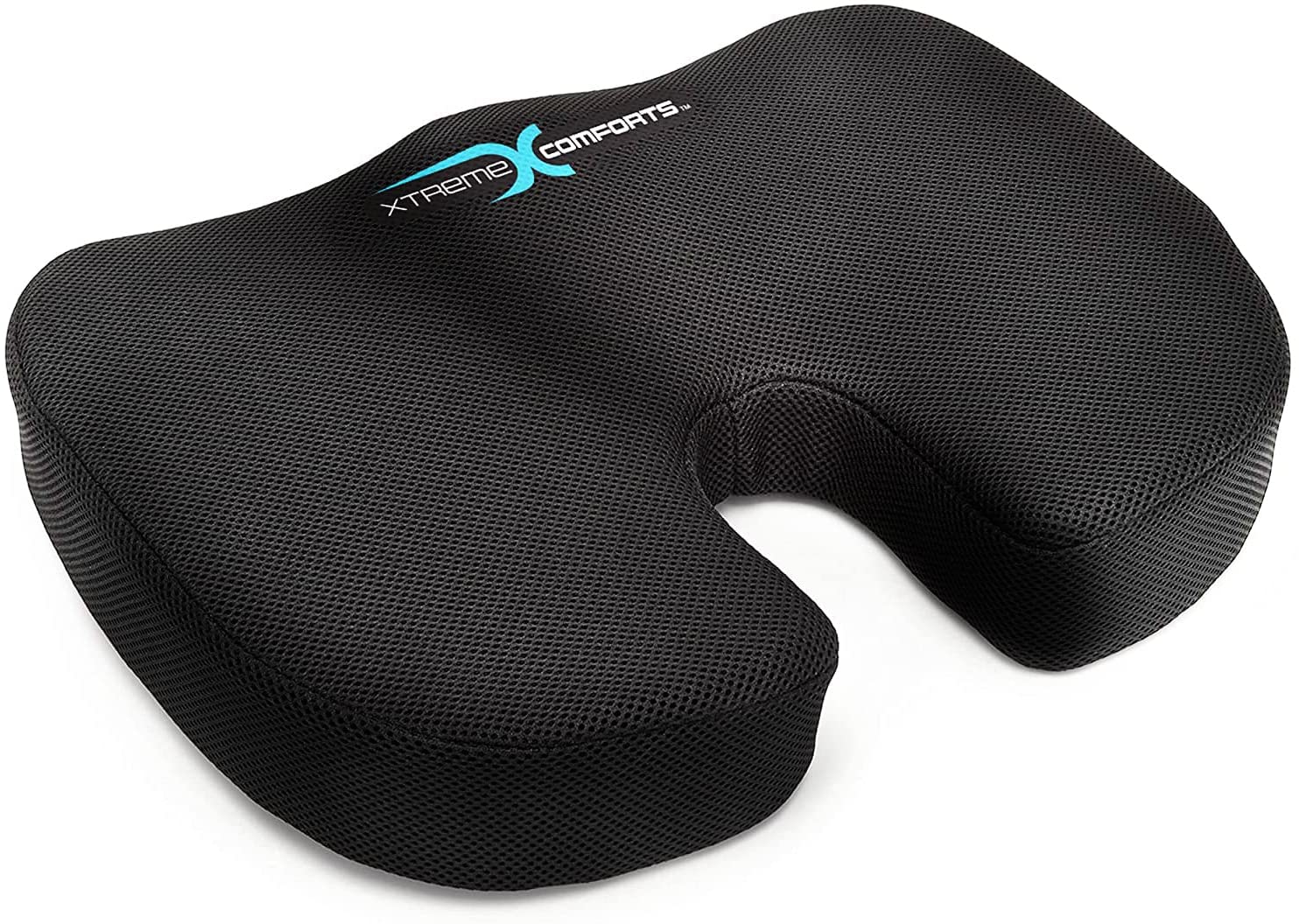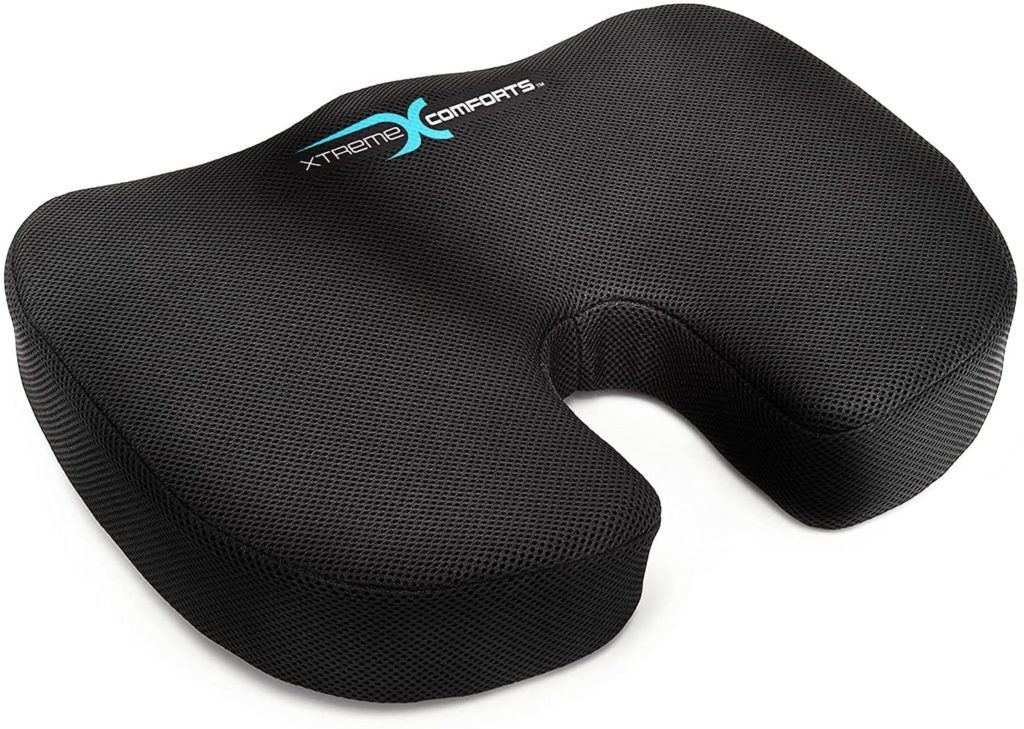 The Most Affordable Chair Upgrade
Make any chair instantly more comfortable with this affordable seat cushion from Xtreme Comforts. This chair cushion doesn't just promote lumbar support & relief, tailbone, and posterior discomfort – it also promotes a stronger seated posture.
Top 5: At a Glance
Top 9 Office Chairs Under 200: Our Reviews
Office chairs can come in all different shapes, sizes, and even styles, so it's important to consider which features are most important for you. Ultimately, we recommend deciding on a chair that will best support your body and fit in seamlessly in your workspace. There's no one-size-fits-all strategy here, and the best office chair is the one that is best for you and your lifestyle.
Buy on Amazon
For a standard mesh computer chair with wheels, you can't beat the price on the one from BestOffice. It comes in a handful of colors, including black, white, pink, and blue, so there's bound to be something for everyone. It's also easy to assemble, and should only take about 15 minutes or so to do.
The chair also comes with a high-density sponge cushion, a middle back design, and highly breathable mesh — the latter of which can come in handy after back-to-back Zoom calls.
BestOffice designed the chair with office workers in mind, and it's complete with 360-degree rotational wheels. It's also height-adjustable, making it suitable for people of various heights. You can also use this feature to customize the chair in relation to your desk height. It fits a maximum capacity of up to 250 pounds and comes with a heavy-duty base and armrest support, as well.
Pros:
Affordable price point
360-degree swivel wheels for added mobility
Armrests
Easy assembly
High-level seating comfort
Cons:
Small width might be uncomfortable for some
Seating board can be flimsy
Delicate
Buy on Amazon
The Hbada is our top option for smaller desk spaces and offices, and for good reason. It features a sleek and compact design and is easy to fit in slightly tighter spaces and rooms. It's ideal if you don't have a large space for a workstation — because it's on the smaller side, you can use the otherwise valuable real estate for other pieces of furniture throughout your home.
Hbada designed this chair with an ergonomic backrest that mimics your lower back curve, so you can work a full day without experiencing back pain. The back of the chair boasts a flexible mesh fabric that supports your body and its movements. In addition, the foldable armrests are an excellent option when you need space for arm and hand movement. The chair can easily fit underneath desks in small spaces, too.
It's stable and durable, featuring a heavy-duty base and a caster that rolls silently. The Hbada chair can tilt and recline up to 120-degrees, so you can sit back and relax during yet another presentation. The chair has an adjustable height setting, too, which allows you some freedom to set it at your preferred position.
Buyers love this chair for its compactness and back support, all at a budget-friendly price point. It's a sleek and straightforward desk chair with several adjustability options and a great option for those with smaller work areas
Pros:
Ergonomic backrest
120-degree tilt retention
High-density mesh back
Cons:
Smaller size
Made of cheaper materials
Buy on Amazon
OFM's "SofThread" leather chair is ideal for workers who regularly burn the midnight oil. The leather has a smooth finish and an added texture to keep it firm and supportive. It also has 360-degree swivel wheels and center-til tilt tension control if you prefer to recline.
The ergonomic features don't stop there, though. It also has an integrated headrest and armrest for added support.
Customers like the OFM SofThread chair due to its durability and easy assembly, and its excellent support for a full day's work. OFM also has excellent customer service, and the chair comes with a five-year limited warranty.
In our eyes, it's an excellent pick for people who are working long hours in a sedentary position or long office. The comfortable material and the reclining option allow you to relax in between meetings, and it's a convenient choice since it's easy to assemble.
One thing of note, though, is to not expect real leather with this chair. While it's still comfortable and sleek, it's not a high-end material that you might find elsewhere.
Pros:
Easy construction
360-degree swivel
Five-year warranty
Cons:
Uses imitation leather
No adjustable armrests
Buy on Amazon
This simple and comfortable chair from AmazonBasics is easy to assemble and ideal for families on a budget. It features comfortable upholstery in black faux leather with a pewter finish frame.
It's a solid office chair but is also a good seat for your kids who need a desk chair for remote learning, as well as students who are working from home. It only takes about 10 to 15 minutes to assemble and is well constructed for both working and studying.
The chair has a carrying capacity of 275 pounds and fits people who are over six feet tall, as well.
Pros:
Easy to assemble
Suitable for people over 6 feet
Simple office chair on a budget
Cons:
Buy on Amazon
The Hbada Ergonomic Executive Chair is arguably the most versatile option on this list. It will fit virtually any space and still provide you with comfortable support for working with its different positioning options. It also features a double-layer ergonomic backrest that fits your spine and supports the lumbar.
It's made from high-quality and durable synthetic leather that resists both water and oil, which makes it safe to have drinks around you. The Hbada Ergonomic Executive Chair is incredibly mobile and flexible to give you more than just a chair for work, but also a chair for relaxing.
The chair also features a retractable footrest when you recline. The seat height is adjustable to meet different needs and can angle between 90- to 135-degrees and has a swivel with 360-degree rotation.
It's a comfortable and spacious option with relaxing recline positions that can ease pressure on your lower back. Better yet, it has a retractable footrest, as well.
Pros:
High-quality PU leather
Resists oil and water
Retractable Footrest
BIFMA Certified
Cons:
Buy on Amazon
The Home Office Ergonomic Computer Chair is our budget option but packs a strong punch.
The chair uses a high-density sponge cushion to make an adjustable office chair with a supportive middle back design. This is another excellent choice for kids during remote learning, or for home office or office use. The mesh design is flexible and sturdy for a simple home office seat that helps you work.
but we wanted to give you a cheap option with maximum value. This chair is easy to set up and assemble, and it comes with all of the necessary hardware and tools you need.
The chair uses a high-density sponge cushion to make an adjustable office chair with a supportive middle back design. This is another excellent choice for kids during remote learning or for home office and office use. The mesh design is flexible and sturdy for a simple home office seat that helps you work.
Customers praise this chair for people of surprising quality and low price. The quality materials and ergonomic design to support your body make this a great choice for people looking for a chair on a tighter budget.
If you're looking for a simple and affordable option, this is the office chair for you. It has a no-hassle assembly process, so you can put it together quickly and start using it. The mesh material is flexible and durable and gives you a reliable seat to work on.
Pros:
High-density sponge cushion
Comfortable mesh design
BIFMA Certified
Low Price
Cons:
Buy on Amazon
The Big and Tall Office Chair is the office chair designed for people who have trouble finding a correctly-sized office chair for their home office or work. This chair is our solution for taller or bigger people who need the same back support and comfort while they work.
This chair has a carrying capacity of 500 lbs. Though it is a larger chair, it is easy to set up and comes with all of the necessary tools in one package. The chair uses a PU leather upholstery as an extra thick cushion desk chair for maximum comfort.
The Big and Tall also has maximum mobility with a 360-degree swivel, so you can still turn and rotate around in your office even if you have longer legs. The wider backrest and seat are ideal for supporting a larger person's body.
Customers praise the chair's solid design. Buyers mention how the chair is durable and lasts a long time. It also stands up to its name, fitting taller people of over 6 feet very comfortably and helping them work in their offices.
We recommend this chair for people over 6 feet. Some of the other chairs on our list are not ideal for people of this stature, so this is their best bet. The wider backrest and cushion make this a relaxing chair to sit in and help relieve back pain so you can work longer and better. This chair also has a few different color options that you can choose from.
Pros:
Supports up to 500 lbs
Different Colors available
Wide seat
Cons:
Uses some cheaper materials
Buy on Amazon
The Furmax Home Desk Chair is our option as the best chair for an at-home office. This chair provides extra support due to its soft texture. You'll feel comfortable and relaxed as you work at home in your office.
This chair features a strong, heavy-duty base with smooth-rolling casters to keep you balanced while you move. The leather on this chair is waterproof in case you spill a drink while you work.
Customers are happy with how easy this chair is to install and at a great price. Many have selected this chair while working from home. It is also a comfortable option for students who are remote learning.
With a high backrest, this chair is also a good option for taller people. We recommend this chair for people who need comfort and support in a home office setting along with mobility. The 360-degree swivel makes this chair easy to move around with as it supports turning and rotating.
Pros:
300 lb weight capacity
Waterproof
360-degree swivel
High-back
Cons:
Air leakage from the cushion
Buy on Amazon
The SIHOO Ergonomics Office Chair is our pick for the most comfortable office chair under $200. It's a versatile chair that is bound to fit in your home, office, or company conference room.
Like other SIHOO models, this chair features an S-shaped backrest that conforms to the shape of your spine. This means that the overall shape of the backrest will support your back and help to relieve your back of harsh pressure.
With a total height of up to 46.1 inches, it's a stable and sturdy chair, yet comfortable due to the multiple adjustment points. The headrest is adjustable up to 45 degrees and lifts up over four inches. You can also raise and lower armrests to make sure your arms are at the proper height when using your keyboard.
SIHOO also includes a one-year warranty with the chair, as well.
We recommend it in particular due to the unique S-back design, adjustable lumbar support, and components for maximum support. You can customize the chair's shape to support your body and protect it from back pain, which should be a major consideration in your office chair shopping.
Pros:
One-year warranty
For home, office, or conference room
S-shaped backrest design
Cons:
Plastic back support
No height adjustment
What To Look for When Buying Office Chairs Under $200
Everyone's situation is different and may require different needs from an office chair. We recommend getting a chair that will both support your body and fit in seamlessly with your overall workspace. Office chairs can be a helpful tool, but can inhibit your ability to work if they're not a match for your workspace.
When determining which office chair is best for you, you'll want to consider your budget first and foremost, while finding one that is comfortable and encourages productivity.
As we've mentioned in our guides about the best office chairs for under $300 and under $100, there are several other factors to consider before you make your final decision. While comfort is a significant factor when selecting a chair, durability, features, size, and aesthetic is important to consider, as well.
Durability
We recommend looking for a chair made with quality materials. It's unrealistic to expect an office chair to offer the same support now as it will after you've used it for a few months or years, but you want to look for a chair that will last through long working hours day after day. A chair in constant need of repair or new parts can be a headache, to say the least.
Any structural problems will remain with you and disturb you as you work. Be sure to check customer service policies if you find that your chair has any missing or damaged parts, and consider the warranty offered.
Chair Features
The chairs we reviewed have a variety of different features, including headrests, armrests, backrests, retractable footrests, and more. We suggest thinking about which of these features would make you the most comfortable, as well as the ones you can do without. Everyone has different preferences
Things like adjustable headrests, armrests, backrests, or retractable footrests are parts of chairs that make them unique. Think about which of these features would make you more comfortable and which you can do without.
Since you will be using your chair daily, you want a practical option that suits your preferences. The ideal chair is one you enjoy sitting in all the time, making working easier rather than more rigorous.
Working Environment
Based on your working environment and space for a small office, you may want to prioritize some features over others. For example, if you have a smaller space and remain mostly sedentary, a chair that moves easily or allows you to have greater mobility is unnecessary.
On the other hand, if your working environment is a bit more open and you find yourself moving around, we suggest getting an office chair with wheels or tilt-recline to take advantage of the added space.
All in all, it's really essential to think about how your chair will function in the area you're working in.
Your Body
Last, but certainly not least, consider what your body needs when you purchase your office chair. Your body's comfort and ability to do work while sitting for a long time are likely the reason why you're looking for an office chair. You may also be looking for more back support to relieve back pain. Find a chair that accomplishes those things for you.
Choose the right size chair for your body. Particularly if you're taller, look for a chair that we mention is better for taller people. If your chair is too small, you may find yourself sitting too low to the ground or find that the seat is too short. Either of these positions will make working difficult.
Also, make sure that the chair you buy can support your weight. Look at the chair's weight capacity and consider if the chair will be able to hold your weight after a long time. You don't want to push that capacity too far as it will damage your chair.
Other Products We Considered
The Office Chair Picks editorial team researches hundreds of products based on consumer reviews, brand quality, and value. We then choose a shorter list for in-depth research and testing before finalizing our top picks. These are the products we considered that ultimately didn't make our top 5.