How We Tested
We recommend these products based on an intensive research process that's designed to cut through the noise and find the top products in this space. Guided by experts, we spend hours looking into the factors that matter, to bring you these selections.
Click here for testing insights >

15
Models
Considered
Buying guide for
The Best Ergonomic Office Chairs of 2022
More of us are working from home than ever before. With the trend set to continue throughout 2021, choosing one of the best ergonomic chairs to add to your home office is all the more important.
After all, if you've found yourself hunched over the dining table, struggling to stay upright on the sofa, or simply languishing on a less-than-ideal cheap office chair, you'll know that those aches and pains can quickly add-up.
That's not to mention the high levels of fatigue and other long-term health complications that can arise as a result of lengthy days sat in sub-optimal seating.
This is where the ergonomic chairs featured in this guide really prove invaluable.
Our Top Ergonomic Office Chair Picks in 2021
About this Guide
In essence, ergonomics refers to a design-approach that is human-centered, built to support and compliment the way we interact with our environment and reduce the levels of discomfort and risk of injury that is becoming an ever-more prevalent part of modern work culture.
We've spent a great deal of time researching hundreds of chairs, testing out the best-selling models, and selecting our favorites that include all the key ergonomic features we look for (adjustability, long-lasting comfort, style and support) into one package.
Below, we've offered our take on the pros and cons of the 16 chairs we consider to be the very best of the bunch.
Along with those reviews, you'll also find our detailed buyers guide and answers to your most frequently asked questions to help you find the best ergonomic office chair for you.
16 Best Ergonomic Office Chairs Reviews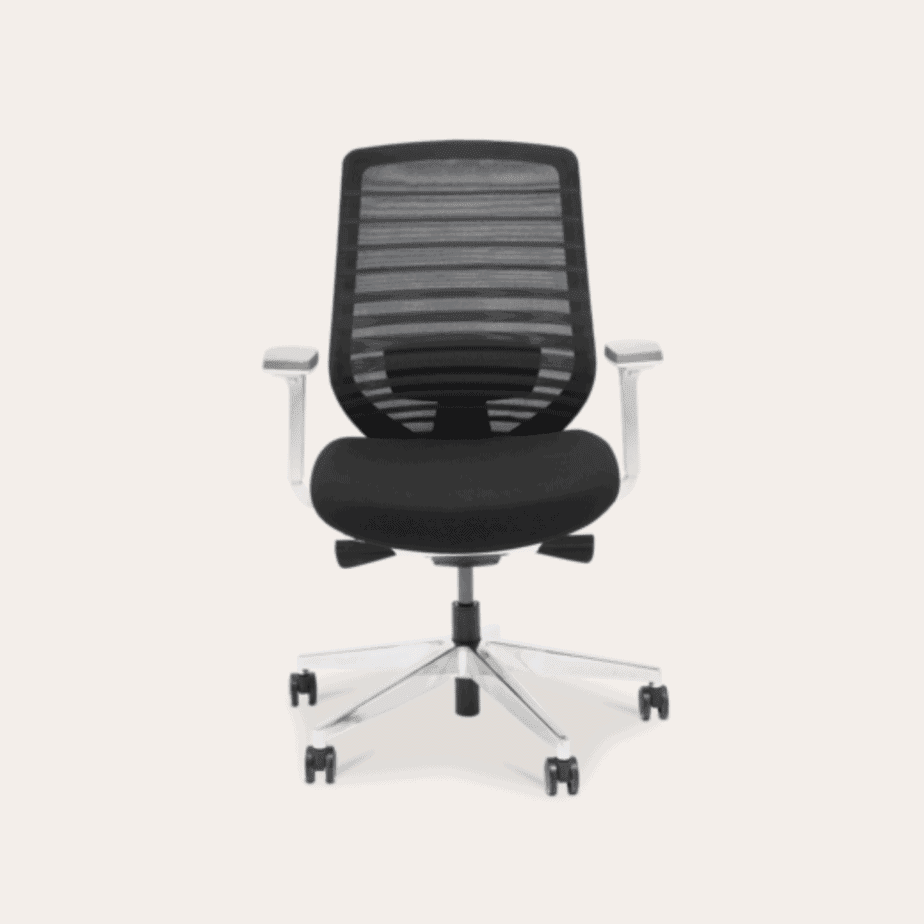 Offering the best all-around balance of comfort, quality, and cost-effectiveness, the Branch Ergonomic Chair earned the top spot as the best ergonomic office chair that delivers premium-level features at wallet-friendly prices.
The Italian design makes it a stylish addition to any workspace, with the breathable mesh back adding an attractive finish while at the same time keeping you cool and comfortable throughout your working day.
Key Details
Dimensions (W x D x H): 25" x 24" x 38-42"
Seat height: 17″ – 21″
Weight capacity: 300 lbs
Seat depth range: 3″
Branch Ergonomic Chair: Features
This chair offers no less than 7 different adjustment points. The seat has a 4″ height adjustment range as well as a 20-degree synchronous tilt for both the seat pan and backrest, with the ability to lock that tilt in place for long-term use.
Seat depth, armrest height and width, and lumbar support are all fully adjustable too, ensuring you can customize the chair for optimum comfort.
Speaking of comfort, the plush high-density foam cushion on the seat combines with added cushion layers on the lumbar support to help eliminate back pain during those longer sessions, while the polymer frame and aluminum base ensure this one will continue to serve you well for years to come.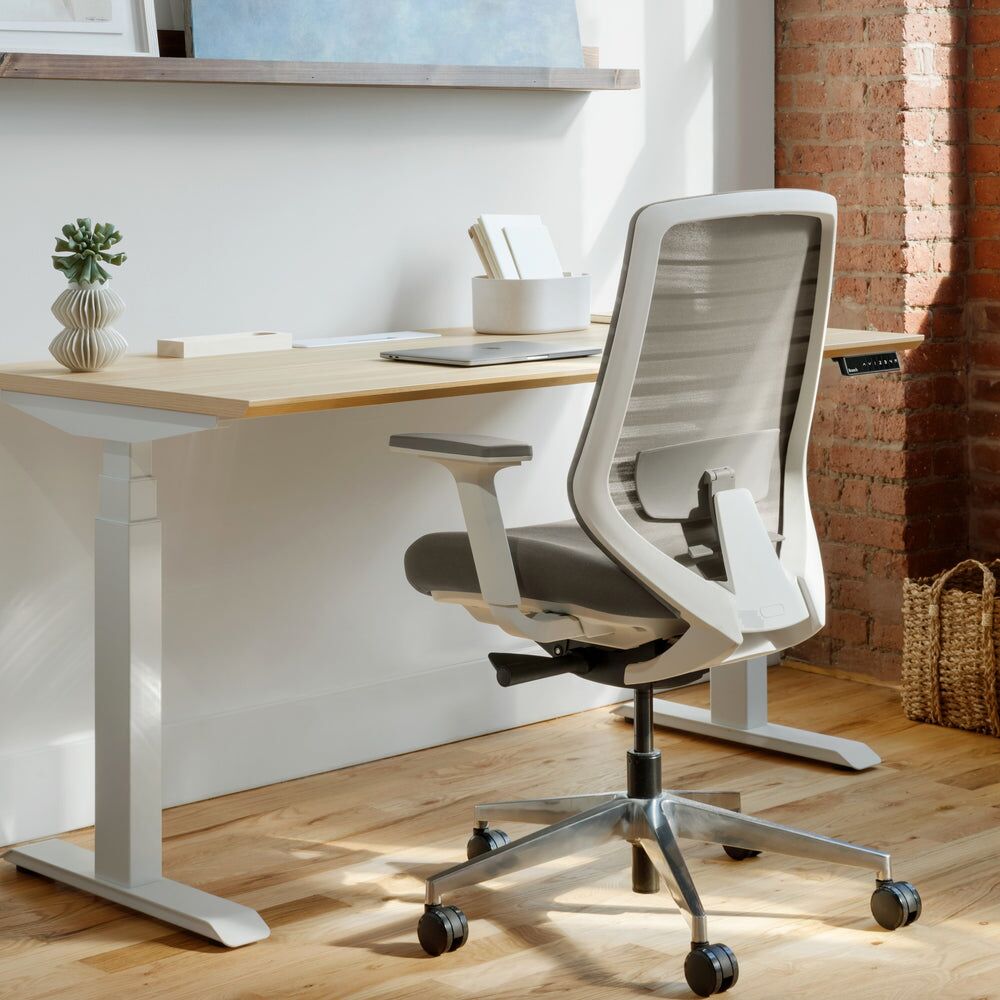 Learn More: Read our full review and product guide on the Branch Ergonomic chair where we cover all the details, from unboxing to style and overall comfort.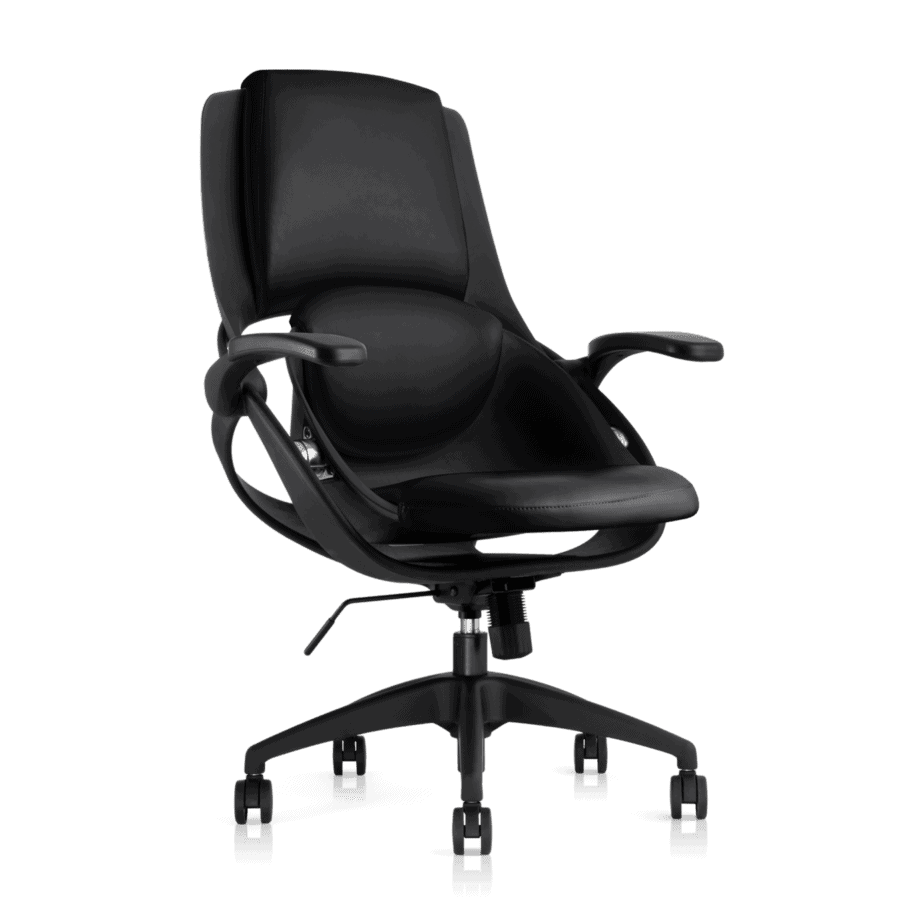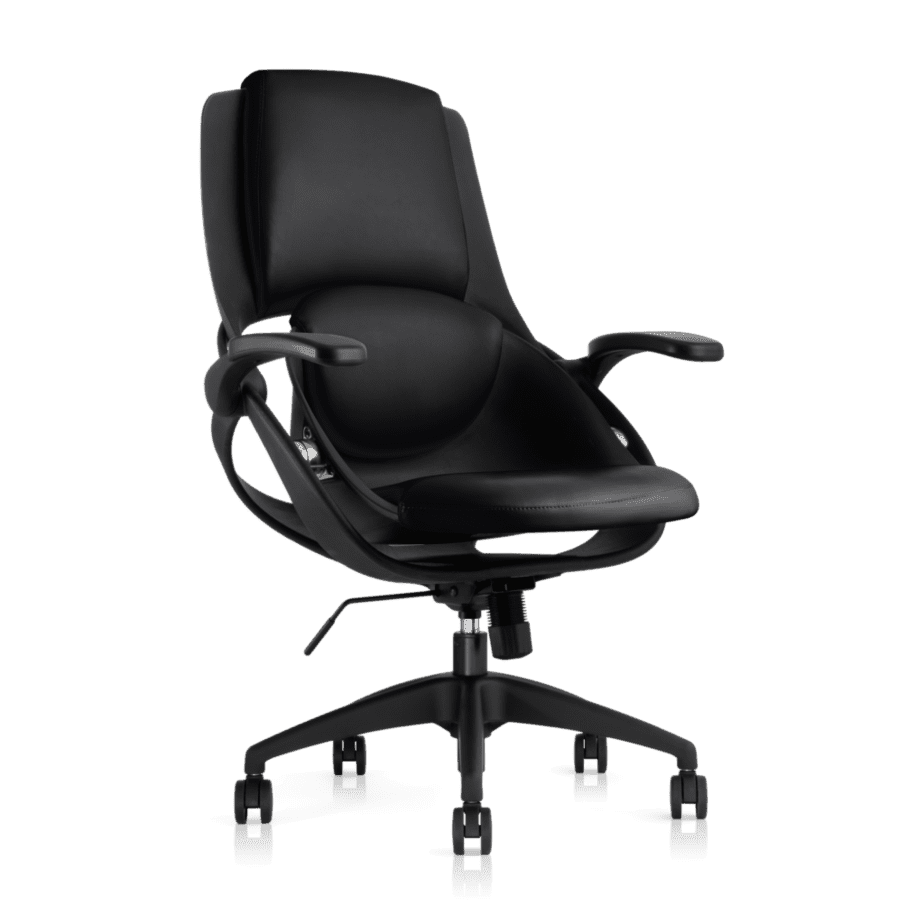 Searching for an office chair that can assist you in all-day back and posture support? Look no further than the BackStrong C1 Chair by All33. With its Sit In Motion® technology options, the BackStrong C1 helps take pressure off your pressure points so you can sit comfortably and focus on the task at hand.
All33's Sit In Motion® technology allows this chair to swivel and move similarly to that of a swing, while still offering reliable lumbar support. It has a large seat depth range at 17 ½″ for your comfort throughout the work day.
Key Details
Dimensions (W x D x H):

22 ¼–30″ × 26 ¼″ × 41″–44″

Seat height:

18 ¾″–21 ¾″

Weight capacity: 275 lbs
Seat depth range:

17 ½″
All33 BackStrong C1 Features
The BackStrong C1 was created by a chiropractor and an industrial product designer resulting in the multifaceted seat featuring Sit In Motion® technology.
This chair is made of high-grade vegan leather and comes in colors including black, red with black, and tan with black, so you can add a pop of color to your office while keeping your pressure points relaxed.
The BackStrong C1 is easy to put together which will save you both time and effort –especially if you are already in pain from previous uncomfortable seats. With a combination of comfort and relief, you will be able to focus all of your attention on the work in front of you.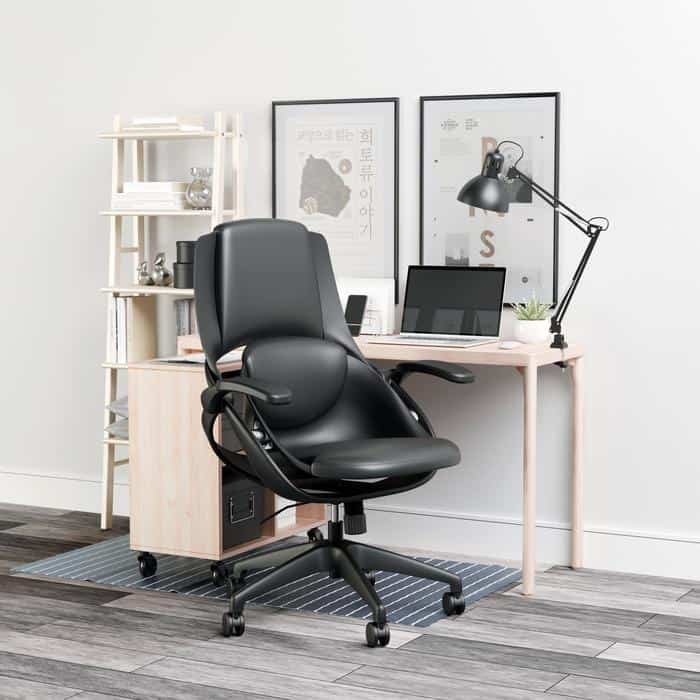 Pros:
Comfortable chair with swivable Sit In Motion® technology

Crafted with vegan leather

Comes with a varied seating depth
Cons:
Some customers have complained that the chair is a bit expensive

Others have noted that sometimes the height does not stay consistent so it may need to be adjusted at times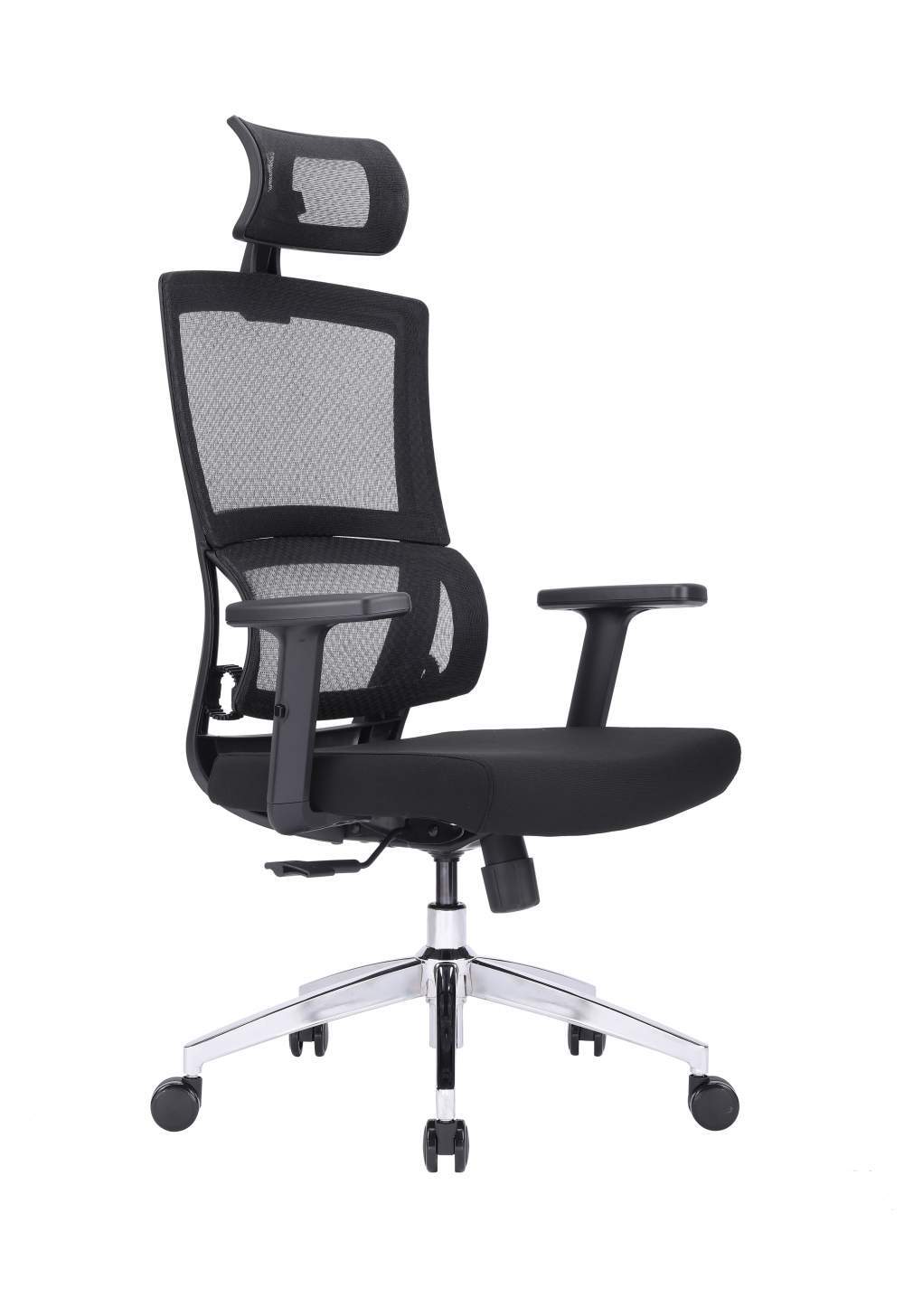 You might not have heard of this one yet, but we were sufficiently blown away when we discovered the full scope of ergonomic design features available on the Ergoal One and Ergoal ComfortPlus.
With the Comfort Plus, Ergoal claims to have reinvented the ergonomic office chair. While we weren't quite ready to go that far, we do love what an excellent job this chair does in promoting proper posture and good physical well-being.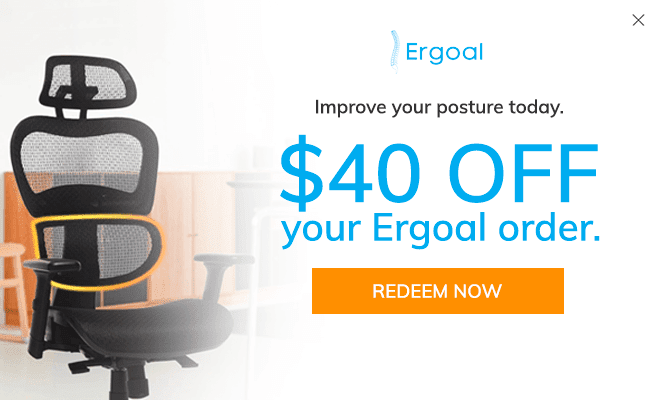 Features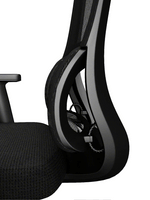 We have to give Ergoal kudos for the self-adjusting nature of the lumbar support.
Rather than spending time messing around with complicated controls to get things just right, the Ergoal chair adapts itself to your back shape and seating position and provides just enough acupressure to ensure you maintain a healthy posture.
Other key ergonomic highlights include the excellent memory foam cushion designed to keep your posterior comfy throughout the day, the breathable mesh backrest, and the multi-dimensional free rotating headrest which reduces stress on your neck discs when working long hours.
However, with all the adjustable features on this chair, it was surprising to learn that the armrests are not 3D adjustable. While you can adjust the height, there is no option for width or depth adjustment.
Luckily, you do get the armrest adjustability on the lower priced Ergoal One, minus the memory foam cushion.
Ergoal Comfort Plus: Key Details
Dimensions (W x D x H): 28.40″ X 12.60″ X 24.40
Seat height: 16.90″-20.00″
Weight capacity: 400 lbs
Seat depth range: 3″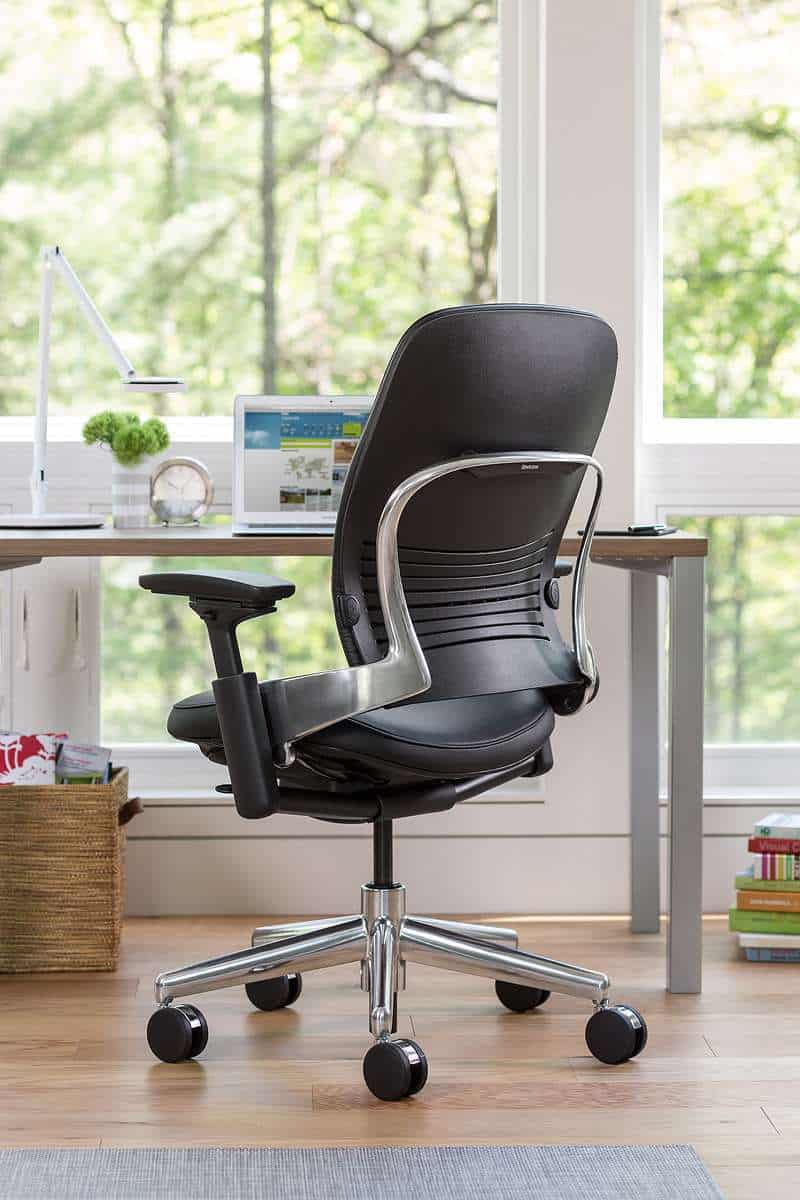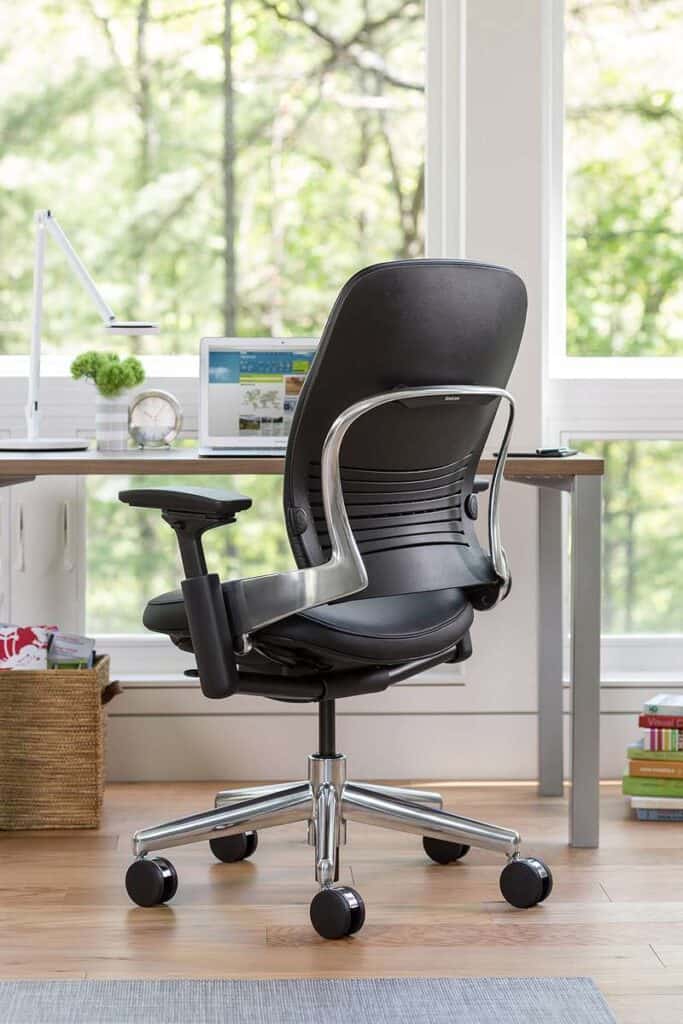 We're big fans of the Steelcase brand here at Office Chair Picks and had a tough time deciding whether to give this spot to the Steelcase Leap V2 or the Steelcase Gesture.
Both chairs offer great value for money, next-level ergonomic support, and aesthetic appeal. But in the end, it was the Steelcase Leap V2 that won out thanks in no small part to its proven positive impact on productivity.
Steelcase Leap: Key Details*
Dimensions (W x D x H): 27" x 25" x 38.5 – 43.5"
Seat height: 15.5″ – 20.5″
Weight capacity: 400 lbs
Seat depth range: 3″
The Steelcase Leap comes in two sizes. This is the smaller of the two. The Steelcase Leap Plus is slightly larger and boasts a 500 lb weight capacity, making it one of our overall top picks for the best office chairs for big and tall users.
Steelcase Leap: Features
One of the most innovative ergonomic features here is the brand's patented "LiveBack" technology. As the name implies, this means that as you move around and change positions through the course of your day, the chair moves right along with you, constantly adjusting to meet the changing position of your spine.
And, as we mentioned in our detailed Steelcase Leap V2 review, ergonomic design is all about allowing for constant movement.
So, even if this was all the Leap had going for it, it would be enough to earn its place on any list as a top contender for the best ergonomic office chair.
Fortunately, Liveback isn't all that the Leap has going for it.
Elsewhere, you'll find that all-important waterfall seat edge that is essential for good circulation, plus innovative rectilinear 4-D armrests. Their term "rectilinear" might sound fancy, but what it means is basically a rectangular surface with rounded sides, softer edges and more surface area for better (i.e. more comfortable) arm support.
Along with the ability to adjust those armrests in four dimensions, you can also completely adjust the seat height and depth as well as the in-built lumbar support.
A favorite among fans of mesh office chairs, the Nouhaus Ergo 3D looks like a top-level luxury executive chair yet costs about the same as your average good-quality task chair, all with the kind of superior ergonomic support you need if you're going to be working at your desk all day long.
Nouhous Ergo 3D: Key Details
Dimensions (W x D x H): 27.16″ x 27.95″ x 49″
Seat height: 22.5 – 33″
Weight capacity: 275 lbs
Seat depth range: 4″
Nouhaus Ergo 3D: Features
One of the key things that makes a Nouhaus chair so special is the 'Just-for-Me' lumbar support which automatically adapts to your seating position, hugging your back to reduce pressure and pain and encouraging your spine to retain its proper natural position.
The 135-degree super lounge recline with locking feature is also a handy feature, putting you in prime position for some serious desk time or letting you relax in comfort if you're done for the day and want to admire your handiwork.
We're also big fans of the ample seat depth and height adjustments. And, of course, any chair that offers 4-D adjustable armrests is always going to get two-thumbs up from us.
You can learn more about our thoughts on this one in our full review of the Nouhaus Ergo 3D.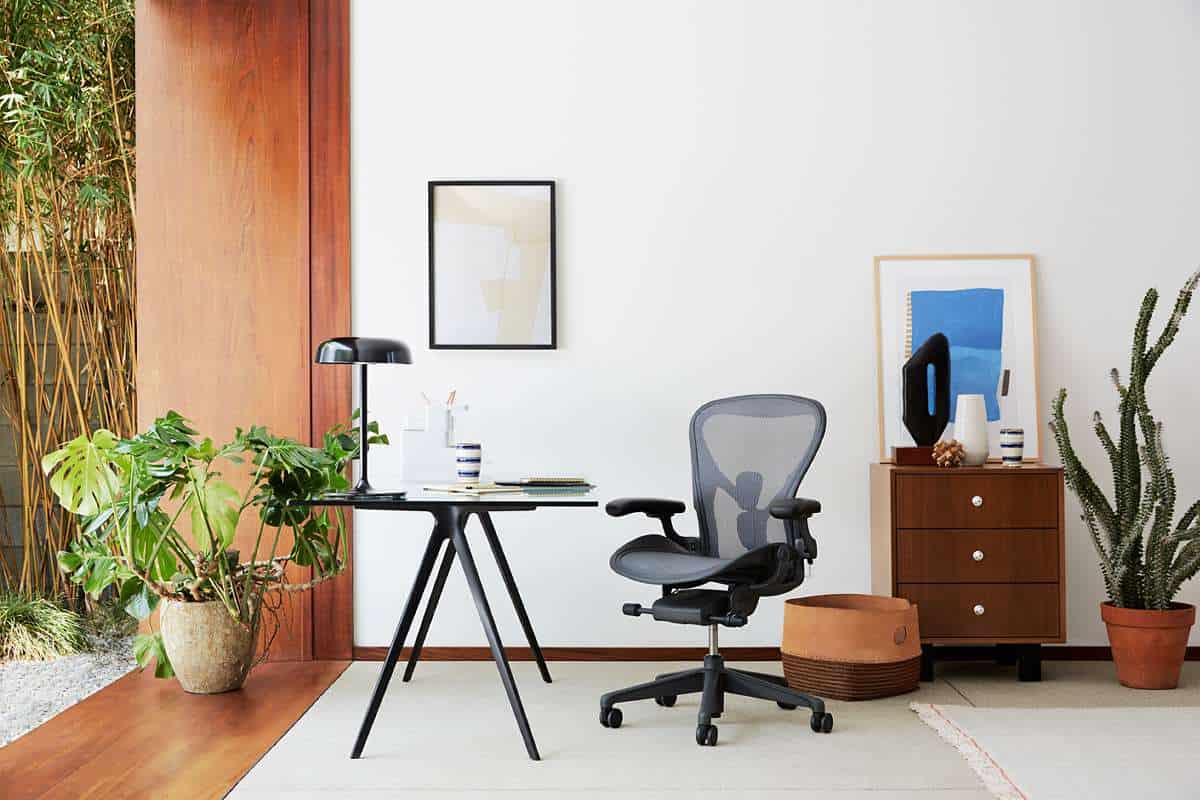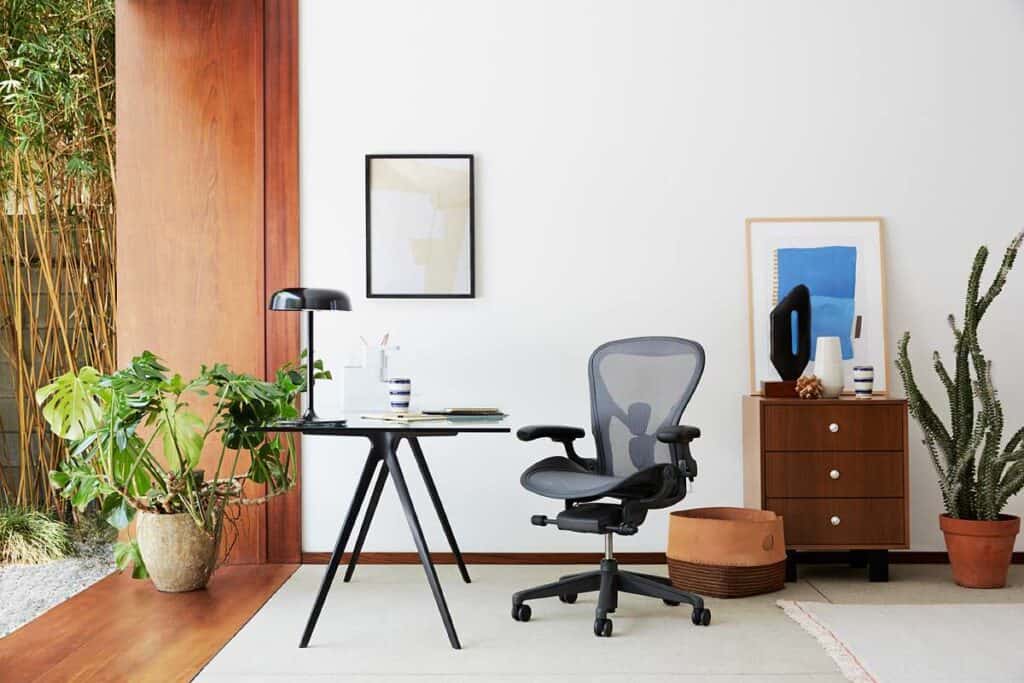 The Herman Miller Aeron is one of those rare items of office furniture that inspires a devoted following among its users. There are other great chairs out there (and in this list), but let's be honest: this is sort of the Ferrari of office chairs. But it does come with a significantly higher cost.
If you are ready to invest in the top end of ergonomic seating, though, you'll get a lot in return. For starters, fans of this luxury-brand task chair love the way the mesh upholstered seat provides exceptional comfort while adding a unique look to the chair. But most of all, they love its almost unbeatable durability.
Key Details*
Dimensions (W x D x H): 27" x 27" x 41"
Seat height: 17″ – 21″
Weight capacity: 350 lbs
Seat depth range: N/A
*The Aeron comes in three different sizes. The dimensions listed above are for the medium-sized chair. For other sizes, see our comprehensive Herman Miller Aeron review
Herman Miller Aeron: Features
The most noticeable thing about the Aeron is the mesh design. While it's not the only chair to have a mesh back, it is one of the few to extend that mesh to the seat. This not only helps keep you cool but adds a level of suspension to the seat that maximizes comfort.
Sticking with the seat, we also love the waterfall edge which promotes good circulation, a key feature for anyone who suffers from the dreaded mid-afternoon slump.
Elsewhere, one of the chair's biggest selling points is the patented PostureFit SL feature. This consists of two independently adjustable pads that can be positioned to best fit the curve of your spine.
Many people still consider the Aeron to be the best ergonomic office chair in the biz. And while it's hard to argue against that position, we do still think there are some other contenders out there worth considering.
Fully endorsed by the American Physical Therapy Association, the award-winning Haworth Zody has been specifically designed to provide optimum pelvic and lumbar support, while the addition of 4-D armrests and exceptional adjustability also guarantees a premium level of comfort.
Key Details
Dimensions (W x D x H): 29" x 29" x 43"
Seat height: 16″ – 21″
Weight capacity: 325 lbs
Seat depth range: 3″
Haworth Zody: Features
The excellent, asymmetrical lumbar support alone is enough to justify the Zody's high price tag. We go into greater detail in our review of the Haworth Zody, but here's what stands out.
The mesh backrest comes with a unique adjustable tension system to help you find just the right level of comfort where you need it most.
If you tend to suffer more on one side of your body than the other, the tension can be adjusted more on that side to promote pain-free sitting, while the quality pelvic support pad helps keep you maintain the natural curve of your spine.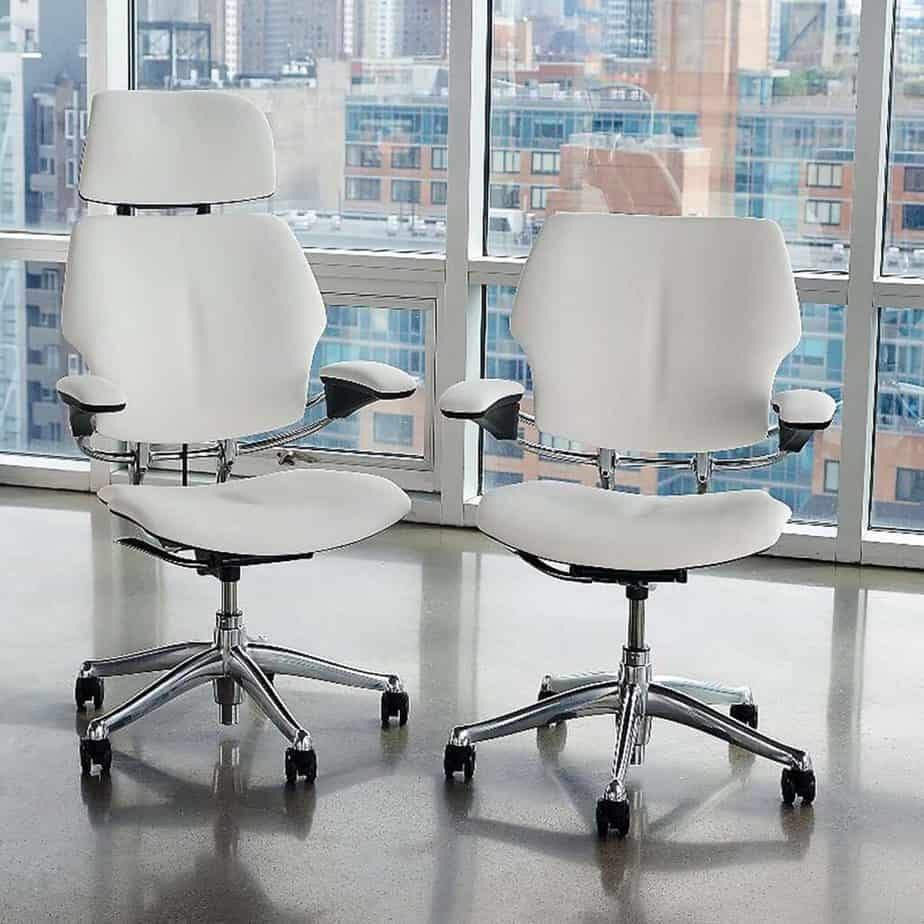 Humanscale are well known for their range of different high-end luxury ergonomic chairs. But, ultimately, it's the brand's flagship model, the Humanscale Freedom, which earned top marks from our team.
Giving the Aeron a run for its money in terms of durability, the Freedom boasts an impressive strength which belies its lightweight design, while the ability to fine-tune just about every aspect with ease makes it a great choice for anyone whoever found themselves frustrated by the complex adjustment mechanisms on other chairs.
Humanscale Freedom: Key Details
Dimensions (W x D x H): 26.75" x 26" x 48.2-53"
Seat height: 16″ – 21″
Weight capacity: 300 lbs
Seat depth range: 3″
Humanscale Freedom: Features
The New York Times once called the Freedom 'the gold standard in office seating' and it's not difficult to see why.
From the smooth curve of the headrest down to the solid base via the pivoting lower lumbar support and everything in between, every part of this chair has been purpose-made to support the way we work in the modern age.
This includes the addition of a weight-activated recline function which encourages movement, keeping the blood flowing, your posture good and accurate, and generally helping you to maintain good physical health while engaging in those long sessions at your desk.
Elsewhere, the headrest itself is well worth a mention, as this is a comfortable and easy way to support your neck while working.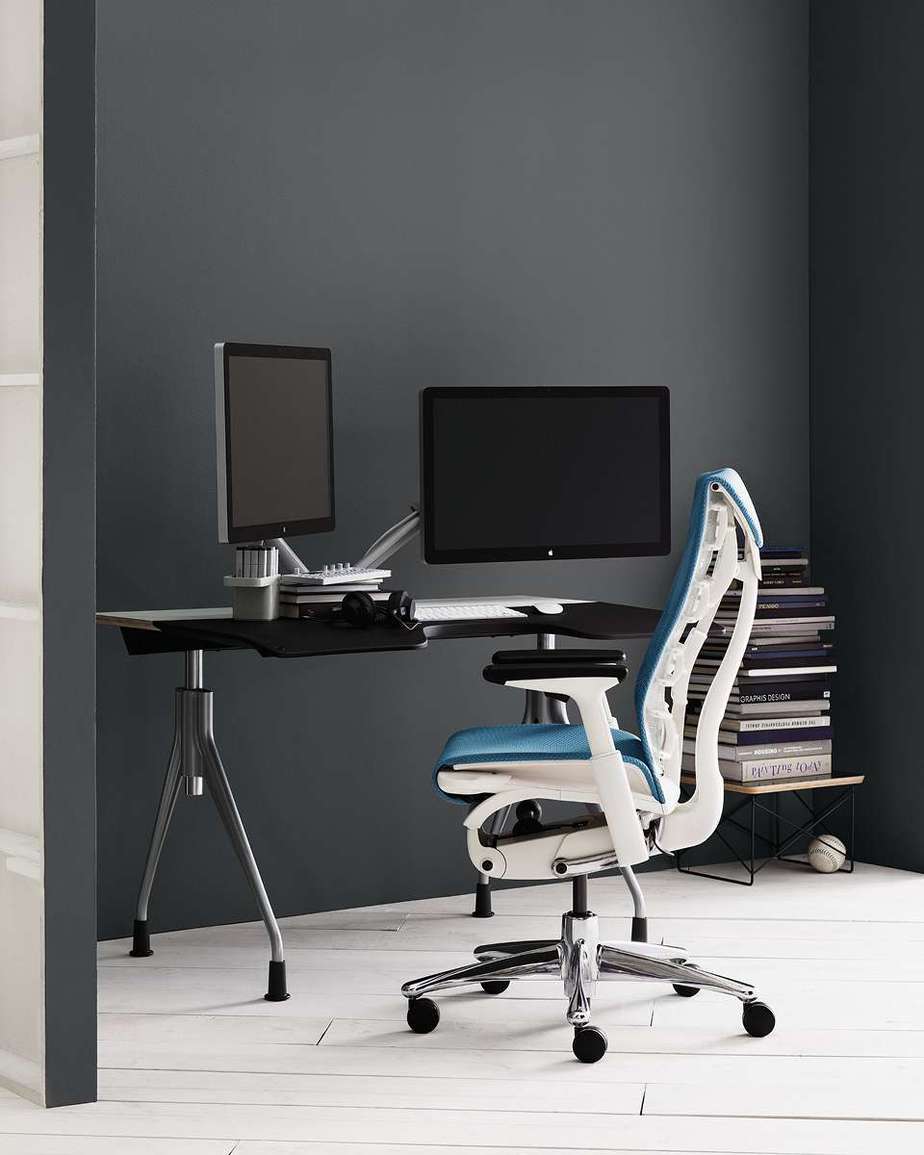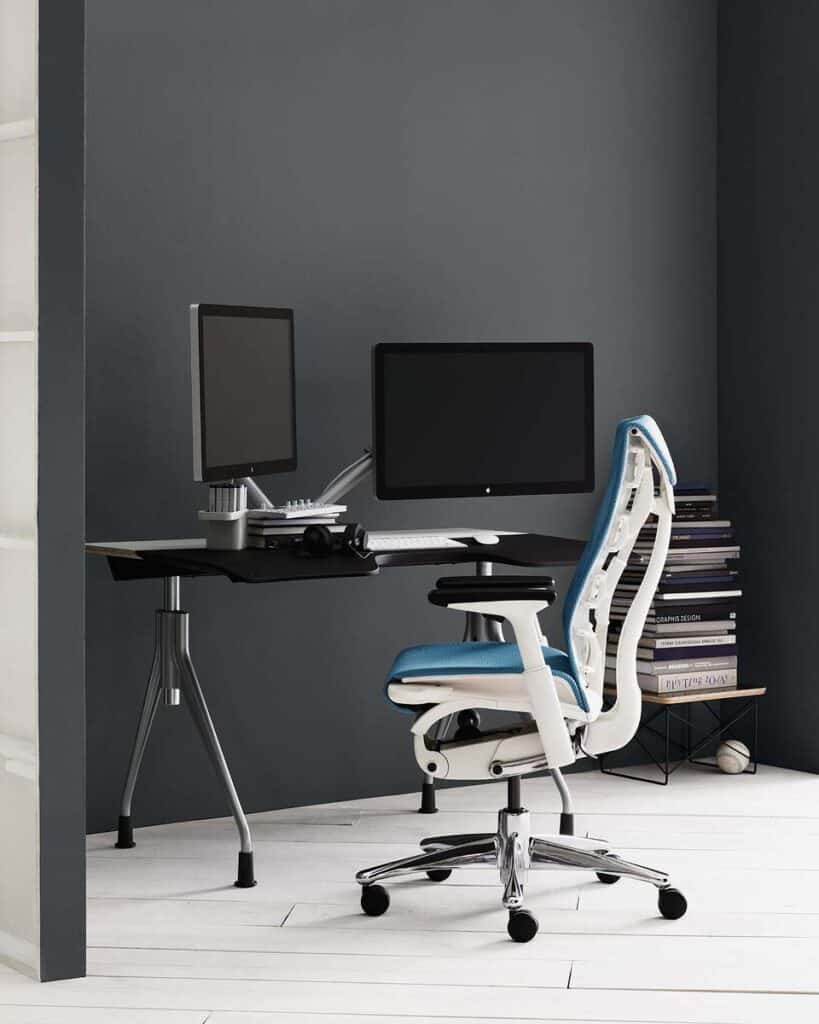 Like all Herman Miller models, the Herman Miller Embody boasts a one-of-a-kind style that is sure to make it a talking point of your office, while the choice of up to nine different colored fabrics ensures it will fit in with the interior design of any space.
Still, we all know that looks aren't everything and, thankfully, the Embody has got plenty going on in the ergonomics department too.
Dimensions (W x D x H): 28″ x 27″ x 38.25″
Seat height: 16" – 20.5"
Weight capacity: 300 lbs
Seat depth range: 4″
Herman Miller Embody: Features
The Embody's seat and backrest are made from padded cushions with upholstered fabric which some users prefer to the all-over mesh design of the Aeron.
If you like that, you may also like the pressure distribution points which are perfectly suited to encourage movement and good posture while the fully adjustable seat depth and waterfall edge design also keep you alert, active, and free from the post-lunch lull.
Like the Aeron, the tilt limiter allows you to set three different recline positions depending on whether you're working or relaxing, while every other part – from the headrest down to the adjustable, padded arms, is purpose-designed to keep you healthy no matter how many hours you're at the grindstone.
Read our full Embody review to learn more.
We've talked a lot about the unique design of many of the chairs in this guide, but let's be honest: few can match the HAG Capisco in terms of aesthetics.
Looking like nothing else we've seen before, the Capisco's highly individual style isn't just for show. Rather, it's all part of the human-centered design which encourages healthy blood flow and promotes regular movement, both key components of healthy seating.
HAG Capisco: Key Details
Dimensions (W x D x H): 28″ x 27″ x 38.25″
Seat height: 22.5 – 33″
Weight capacity: 265 lbs
Seat depth range: 3″
HAG Capisco: Features
Narrowly missing out on a spot in our guide to the best saddle seats, the HAG Capisco's distinctive, human-centered design make take some time to get used to. But once you do, you'll love the fact that it can be used to comfortable sit in three different positions (forwards, sideways, or backward).
This isn't just a fun gimmick, it promotes active sitting, keeping you moving around rather than slumping
If you later choose to switch to a standing desk, you'll be able to make the most of the pneumatic lift to raise it up for support while standing.
While there aren't as many adjustable features as there are with other chairs, you can at least change the height and alter the tension of the backrest to better look after your lumbar.
Though we're not quite as taken with the aesthetic qualities of the Ticova Ergonomic Office Chair as we are with other models, there's no denying what a great choice it is if you're looking for a quality high back chair with exemplary ergonomic features.
A popular alternative to the Herman Miller Embody, the Ticova model boasts a decent adjustable backrest, lumbar support, and armrests, while the breathable mesh design keeps things cool and comfortable as well as adding plenty of spinal support.
Ticova Ergonomic Office Chair: Key Details
Dimensions (W x D x H): 28″ x 27″ x 38.25″
Seat height: 16" – 20.5"
Weight capacity: 280 lbs
Seat depth range: N/A
Ticova Ergonomic Office Chair:
While there's a lot to like about the Ticova Ergonomic Office Chair, the thing we love most is the generously sized padded cushion. If the uber-thin seats that seem to be a hallmark of ergonomic chairs is seriously off-putting for you, you'll love this Ticova model.
This, combined with the waterfall edge and W-shaped seat design make it one of the best chairs for hip pain, while the prominent headrest and lumbar support have those other major sore points well-supported too.
Finally, we love that the chair offers 140-degree lockable and rockable tilting action, making it just as useful for active sitting as it does for finding that one position that's good for you and sticking with it.
If you're the kind of person who loves a mesh backrest but finds they need a little more padding in the posterior to keep them comfortable throughout the day, then the SIDIZ T50 should certainly be on your radar.
Offering the best of both worlds, the mesh backrest prevents sticking and sweating while also lending the chair a level of suspension that makes it more responsive to the way you sit.
Key Details
Dimensions (W x D x H): 27.2" x 28/1" x 38-41.5"
Seat height: 17″ – 21″
Weight capacity: 250 lbs
Seat depth range: 3″
SIDIZ T50: Features
The mesh design isn't the only cool thing about the backrest. Like all good ergonomic chairs, it's specifically designed to support the body, keeping you in that natural S-shape that is so important for preventing muscle pain and long-term health issues.
This one of the best office chairs that can adapt and respond to your movements, but you can also customize it to your heart's content to get a truly comfortable position.
5 different tilting angles are available, along with the ability to adjust not just the seat depth, but also the seat slope as well.
The lumbar support is also adjustable, allowing you to loosen or tighten it for optimum comfort, as well as moving it higher or lower depending on your own stature.
Read our full review of the SIDIZ T50
The HON Ignition is one of those rare gems that come in a variety of models, meaning no matter what your needs or tastes maybe, you'll always find the right chair to suit from this reputable and well sought-after brand.
For the purposes of today's guide, we're going to focus on the HON Ignition 2.0, one of the best mid-back adjustable chairs currently on the market. If you're curious about the other options, check out our guide to the top 5 HON Ignition chair models.
HON Ignition 2.0: Key Details
Dimensions (W x D x H): 28.5″ x 27″ x 44.5″
Seat height: 17″ – 21″
Weight capacity: 300 lbs
Seat depth range: 3″
HON Ignition 2.0: Features
Like the aforementioned SIDIZ model, this one combines a breathable mesh back with a padded cushion, a seat that both tilts and slides, and excellent adjustable lumbar support.
Unlike the SIDIZ model, the synchro-tilt feature here can be locked in place, meaning once you find a position that works for you, you can stick with it.
Elsewhere, we like the ease with which you can adjust the seat height, the hefty 300 lbs weight capacity, and the contoured seat cushion, but we're not so thrilled with the two-dimensional arm rests.
We've previously referred to the Ergohuman Chair from Eurotech as "the Ferrari of office chairs" and when you take a look at everything this one has to offer, you'll soon understand why.
A premium-brand luxury chair with just about every high-end ergonomic feature you can think of, with specific features to support the neck and shoulders, upper and mid-back regions, and the lumbar, making it a worthwhile investment for anyone serious about finding a chair that offers full-body support and comfort.
Ergohuman Mesh Chair: Key Details
Dimensions (W x D x H): 26″ x 27.5″ X 51″
Seat height: 18.1″ – 22.9″
Weight capacity: 250 lbs
Seat depth range: 4″
Ergohuman Mesh Chair: Features
The three aforementioned components (head, upper/mid back, lumbar) can be configured in a practically endless number of arrangements, earning the Ergohuman top marks for flexibility and versatility.
If you're sharing this chair with other users, or if you simply find that no other chair quite suits your unique needs as perfectly as you'd like, this highly adjustable design may make the Ergohuman a perfect fit.
We're also very fond of the pneumatic cylinder which makes adjusting the seat height both smooth and easy, as well as the waterfall edge seat, and, of course, the excellent 4-D armrests.
SmugDesk are another one of those great office furniture brands that offer a range of the best ergonomic chairs for the average consumer, making it very difficult for us to pick just one.
In the end, we had to hand the spot to the excellent SmugDesk Ergonomics Mesh Computer and Desk Chair thanks to its sublimely soft seat cushioning, comfortable waist pillow, and superb lumbar support.
If you're interested in our take on the company's other office chair options, check out our complete Smugdesk review.
SmugDesk HighBack Office Chair: Key Details
Dimensions (W x D x H): 29.53″ x 13.39″ x 20.87 "
Seat height: 17.91″-21.85″
Weight capacity: 300 lbs
Seat depth range: N/a
SmugDesk Highback Office Chair: Features
What we love about the SmugDesk Highback chair is that it provides all-over head-to-toe support. And this ergonomic design comes at a budget-friendly price tag.
The adjustable headrest is made from a soft, inviting mesh which feels not unlike sinking your head back into a warm pillow.
The lumbar support hugs your lower back to encourage good posture and prevent muscle soreness, while the removable mesh waist pillow is a thing of beauty. If you like the idea of an office chair with massage features but still need quality ergonomic design, this waist pillow alone makes the SmugDesk a solid compromise.
Last but by no means least, we come to the Sihoo Ergonomic High Back Office Chair, a wallet-friendly mesh office chair that combines striking design with superior comfort and effortless adjustability to make it a great choice for your home office.
If you're interested in a more thorough review of this chair, give our complete Sihoo Ergonomic Chair guide a look. Otherwise, let's get into the overview:
Sihoo Ergonomic High Back Office Chair: Key Details
Dimensions (W x D x H): 29.53″ x 13.39″ x 20.87 "
Seat height: 17.91″-21.85″
Weight capacity: 330 lbs
Seat depth range: N/a
Sihoo Ergonomic High back Office Chair: Features
Displaying tremendous attention to detail, every single component of the Sihoo chair has been specifically chosen and designed to support the way we humans interact with technology and the office environment at large.
The key feature here is the curved mesh backrest, which is designed with a spine-friendly contour. This curved backrest combines with a great quality adjustable lumbar support to keep the back in its natural alignment while also responding to movement.
The adjustable headrest is also a nice touch, encouraging you to keep your neck in a comfortable and proper position, but then also giving you plenty of support during those moments when you want to rest back and take a break from the screen.
Speaking of resting back, a single lever allows you to tilt the backrest between 110°-170° and lock it into place, so you never have to worry about toppling over while stretching out.
How We Select the Best Ergonomic Office Chairs
Hours of research went into this guide as we tested and investigated dozens of best-selling office chair models to find those that offered the very best in ergonomic design.
In a basic sense, this means that we chose chairs with a human-centered design which works to reduce injury and other long-term health problems that can arrive as a result of excess sitting,
It means that rather than picking chairs that simply looked cool or which featured fancy-yet-unnecessary features, we picked models that scored top marks in all of the following areas.
Adjustability
The best ergonomic chairs are designed to adapt to the way we humans sit, move, and work, but since every one of us is different and has different needs, you'll rarely find a chair that is perfectly suited for everybody right out of the box.
This is why we place such a high priority on adjustability. The more adjustable components a chair has (and the greater the range of adjustability on those components), the better you'll be able to modify that chair to suit you.
At a bare minimum, a chair should have adjustable seat height, lumbar support, and armrests. Extra marks were given for chairs that offered 4-Dimension armrest adjustability, as well as for those which offered adjustable seat depth.
Long-Term Comfort
There are some chairs out there that are purposely made not to be too comfortable so that you'll avoid sitting in one spot for too long as this can result in muscle soreness and other issues.
That said, if you're going to be at your desk all day, every day, comfort definitely matters.
We gave high marks to those with breathable mesh fabric designs as these promote long-term comfort while also keeping users cool throughout the day. However, knowing that some users prefer soft, padding cushions, we didn't rule those out either.
Elsewhere, seats with waterfall edge designs scored highly. This refers to the way the seat curves downward like a waterfall. It allows for proper circulation to the lower extremities which aid comfort and prevents fatigue.
Frame Design and Support
One of the key components of ergonomic chair design is that it encourages users to maintain healthy posture as poor posture is one of the biggest causes of health issues among desk workers.
This means that we looked at chairs specifically designed to help your body maintain its natural S-shape rather than the crooked and unhealthy C-shape that a lot of chair users tend to slump into.
It means that we looked at those with specially designed lumbar support features and that we gave extra marks to chairs with adjustable headrests and footrests.
Finally, we also took size and weight capacity into strong consideration, as a chair that's too small (or even too big) to properly support your frame is going to render all of the other support features next to useless.
Basic Ergonomic Sitting Posture at the Desk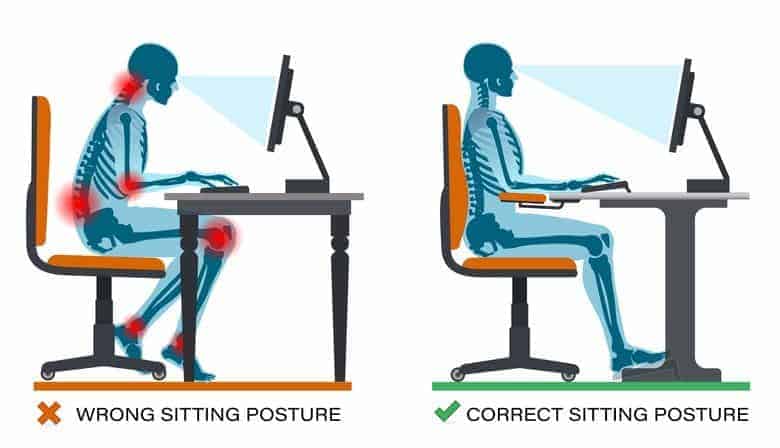 Even if you've picked one of the best office chair models on the market, you still need to understand how to sit correctly to avoid long-term injury and desk-fatigue. Luckily, there are some very easy tips to remember, as noted below.
When a sitting at a desk, healthy work postures can be summed up as:
Keeping a straight neck or angled only slightly forward, computer screen at eye level
Keeping your shoulders relaxed (not tight and tense)
Maintaining full contact with the backrest of the chair
Keeping your arms and wrists in a comfortable position, with forearms parallel to the floor
Keeping your thighs parallel to the floor, with feet flat on the ground
For a complete list of tips, download this guide.
What's the best ergonomic office chair for you?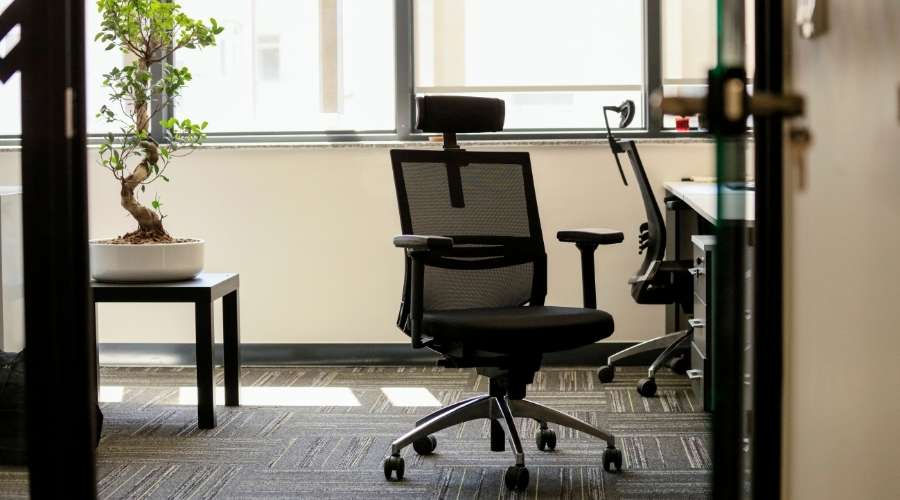 If you've made it this far, you've no doubt picked up on some of the attributes we look for in a high-quality office chair with ergonomic features. To recap, we prioritize things like multiple points of adjustability, soft and breathable materials, and adaptive features that allow you to change positions frequently.
We also understand that these features can come at a high-cost. That's why, for this year, we've chosen the Branch Ergonomic Chair and the Ergoal models as our top picks. But, based on quality and comfort alone, we would never dispute that chairs like the Leap and Aeron still deserve their place among the top office chair picks.
In the end, you'll be spending a lot of time in whichever chair you choose, so this should be a well-thought-out and highly subjective decision based on your own needs. If, after reviewing this list, you're still not sure, take a look at our buyer's guide to learn more about how to select the best ergonomic chair for you.
FAQ
Q. What Are 4-D Armrests on an Office Chair?
A. Any time we've referred to 4-D, 3-D, or 2-D, we're talking about the number of ways that your armrests can move. 4-D armrests mean they can be adjusted four ways, including up/down, forward/back, left/right, in/out.
Q. Is mesh the best material for ergonomic office chairs?
A. Mesh is a popular choice for ergonomic chairs, keeping the user cool and preventing all that uncomfortable sweating while at the same time giving a good level of support. Mesh backrests in particular will adapt and respond to your position to promote good physical well-being. However, cheaper mesh chairs also tend to sag and stretch over time, and this can really have a detrimental impact on overall comfort levels.
Q. What's the difference between a task chair and an office chair?
A. A task chair is a specific type of office chair designed for functionality. They're there to help you sit properly while getting your work done and can make a big difference to your overall productivity. The term office chair is generally a much broader term that also encompasses luxury executive chairs or any kind of seating generally found in an office environment.
Other Products We Considered
The Office Chair Picks editorial team researches hundreds of products based on consumer reviews, brand quality, and value. We then choose a shorter list for in-depth research and testing before finalizing our top picks. These are the products we considered that ultimately didn't make our top 5.
Our Top Products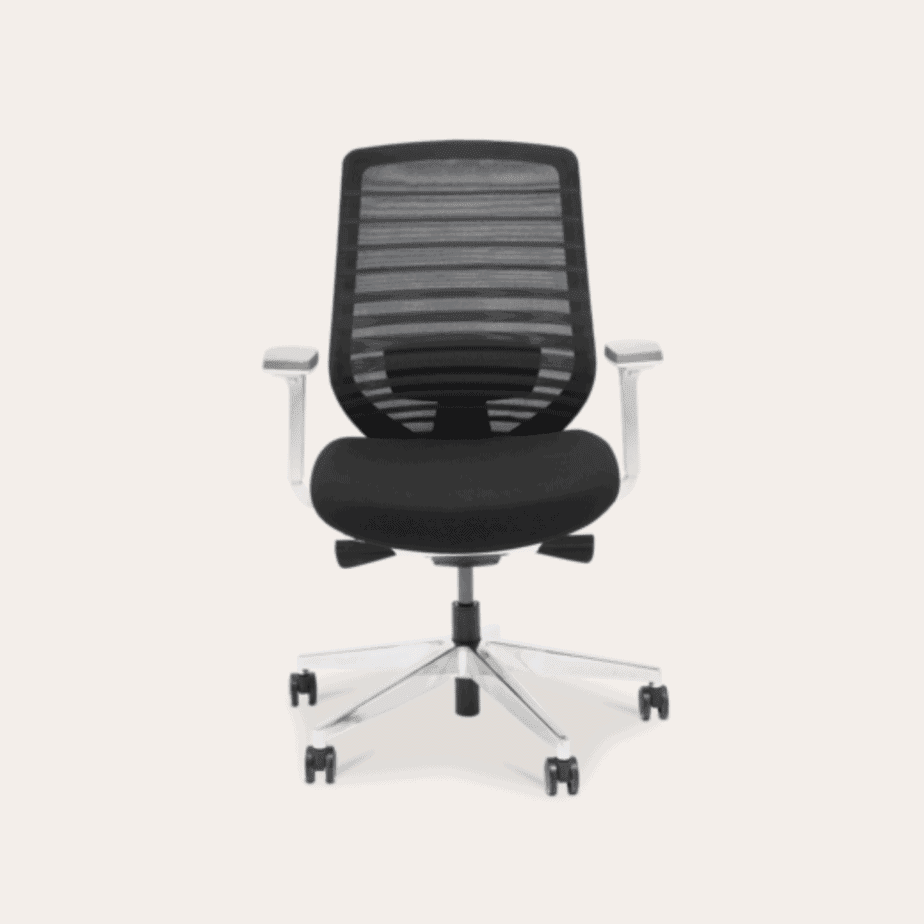 Branch
Ergonomic Chair
bottom line
Offering the best all-around balance of comfort, quality, and cost-effectiveness.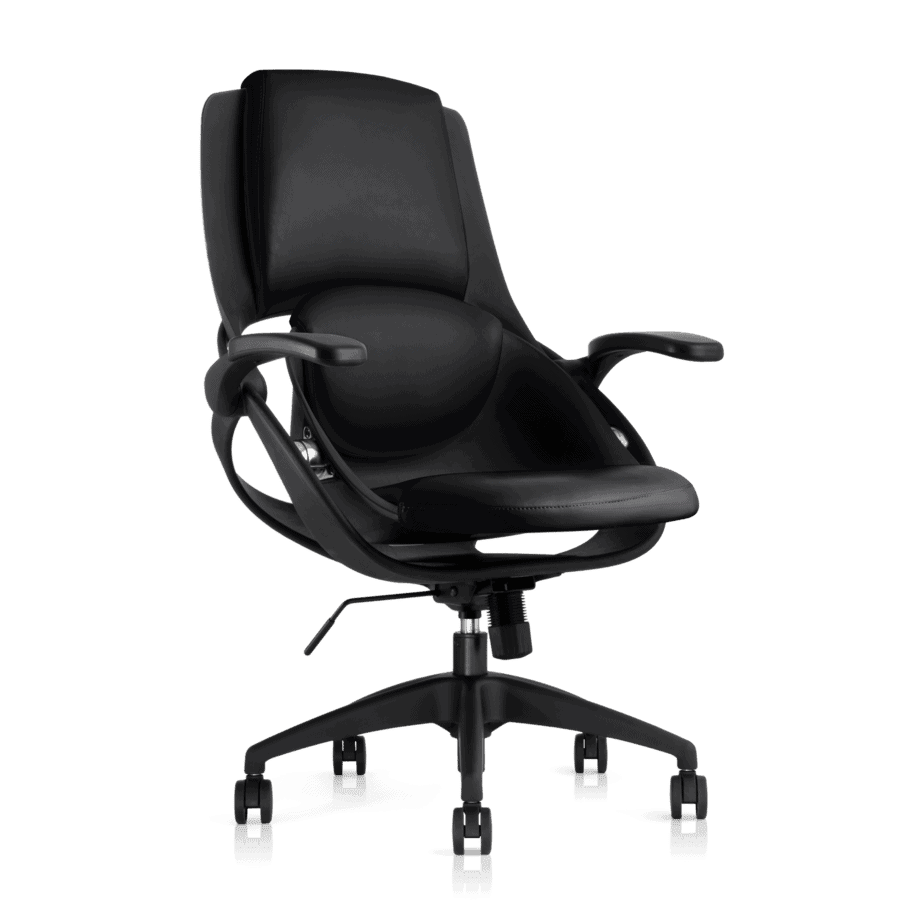 All33
Backstrong C1 Ergonomic Leather Office Chair
bottom line
Searching for an office chair that can assist you in all-day back and posture support? Look no further than the BackStrong C1 Chair by All33.
Ergoal
Comfort Plus Ergonomic Chair
bottom line
Blown away when we discovered the full scope of ergonomic design features available on the Ergoal One and Ergoal ComfortPlus.
Steelcase
Leap Office Chair
bottom line
The Steelcase Leap Plus is slightly larger and boasts a 500 lb weight capacity, making it one of our overall top picks