A complete resource to help you find an office chair that works for you.
Whether you work from home or in an office, chances are you spend a lot of time sitting in front of a computer during the day. In fact, it's been reported that the average office worker sits for an average of 10 hours per day.
Ok, maybe that's a bit too much time spent sitting and we should be glad that there are more standing desks and alternative seating options available today. But it doesn't change the simple fact that most of us still need to sit in a chair at work.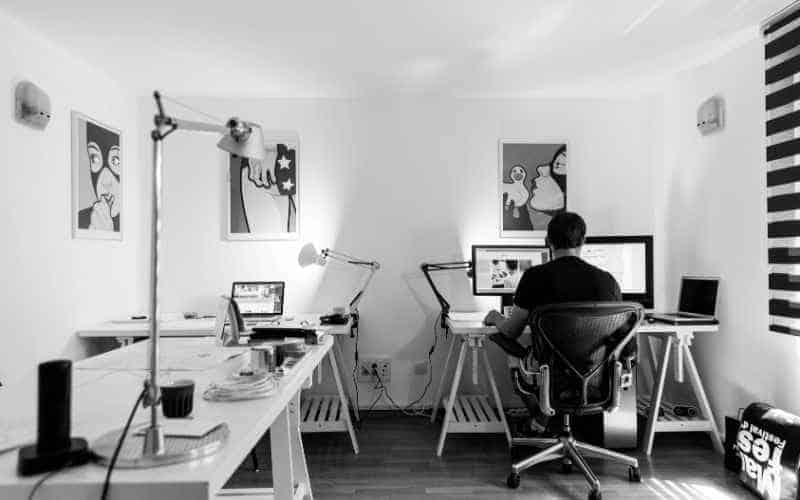 Luckily, with all the modern improvements in chair design and ergonomics, sitting has come a long way. Now you just need to find the right chair to help you stay comfortable, healthy and productive throughout the day.
That's where we come in.
If you're on the hunt for a new office chair, the amount of options on the market can seem overwhelming at first. There are many different styles, components, ergonomic considerations, adjustability options, materials, hundreds of different brands, and more.
The goal of this office chair buyer's guide is to help you narrow down the options and find a chair or chair alternative that works for you.
Below are the sections we'll cover. To make it easier to navigate, you can click on a link to scroll to a section.
Sections in this Guide
Part 1: Office Chair Styles
What are the different types of office chairs to choose from?
Office chairs come in many different shapes, sizes and styles. When searching for a new throne for your home or work office, the first place to start is deciding which type of chair is best for your set up.
To help you out, here is an overview of the main types and styles of office chairs with our top recommendations:
Ergonomic Office Chairs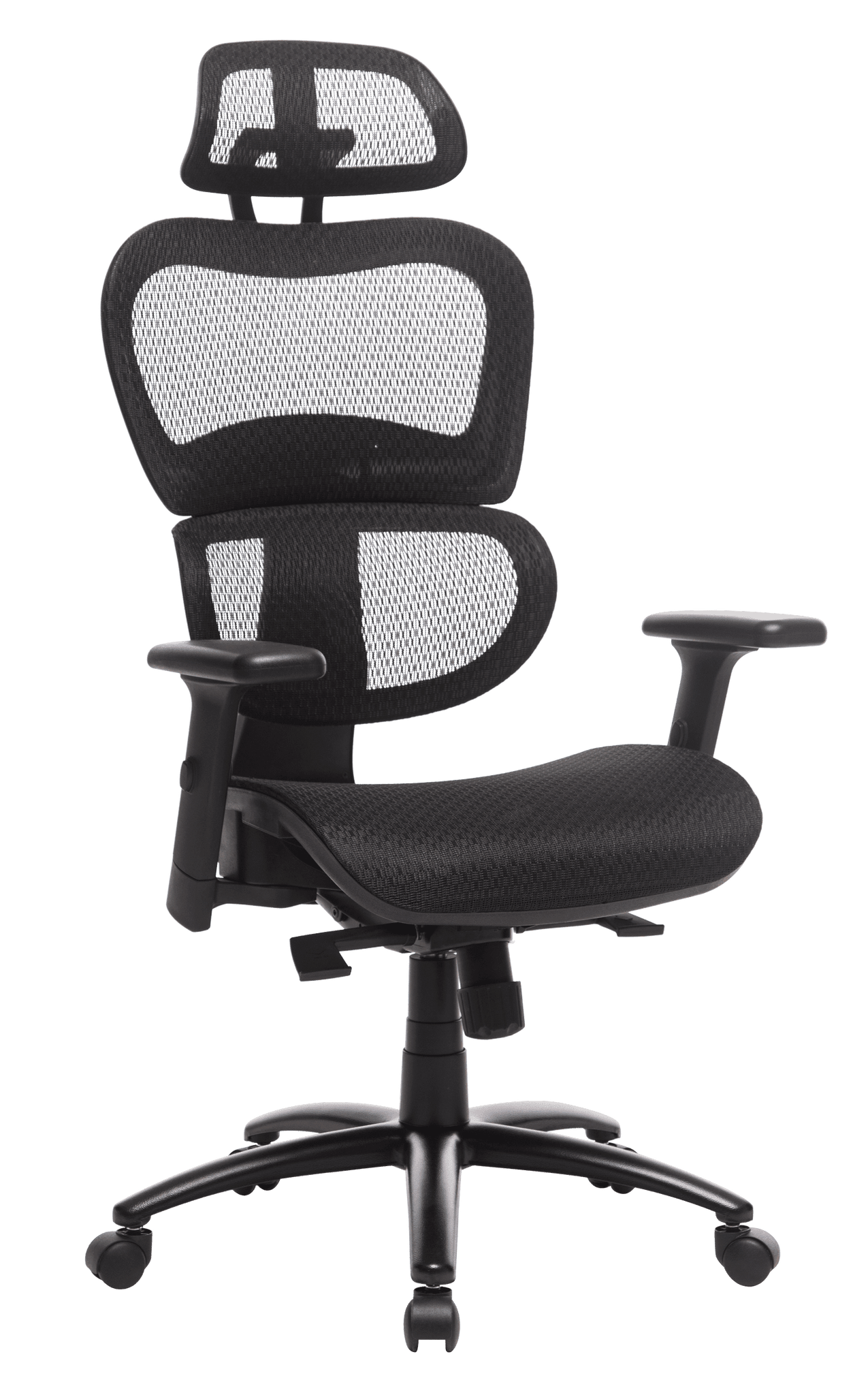 Ergonomic chairs are basically the main category of modern office chairs that feature comfortable, supportive and adjustable design elements.
Designed for all shapes and sizes, and those who work 8 or more hours a day, ergonomic chairs come with soft, breathable materials, S-curved frames for optimal back support, full adjustability of the backrest, seat, and armrests, and other features like adjustable headrests, synchro-tilt, and lumbar support.
If you spend a lot of time sitting and need a modern, all-purpose chair that will keep you comfortable and allow for sitting multiple positions during the workday, these are the chairs for you.
Our favorites include the affordable and adjustable Branch Ergonomic Chair, the innovative Ergoal Comfort Plus, and iconic models like the Steelcase Leap and Herman Miller Aeron.
For more ergonomic chair options, we put together a full list of the top ergonomic chairs for 2021 right here.
Office Task Chairs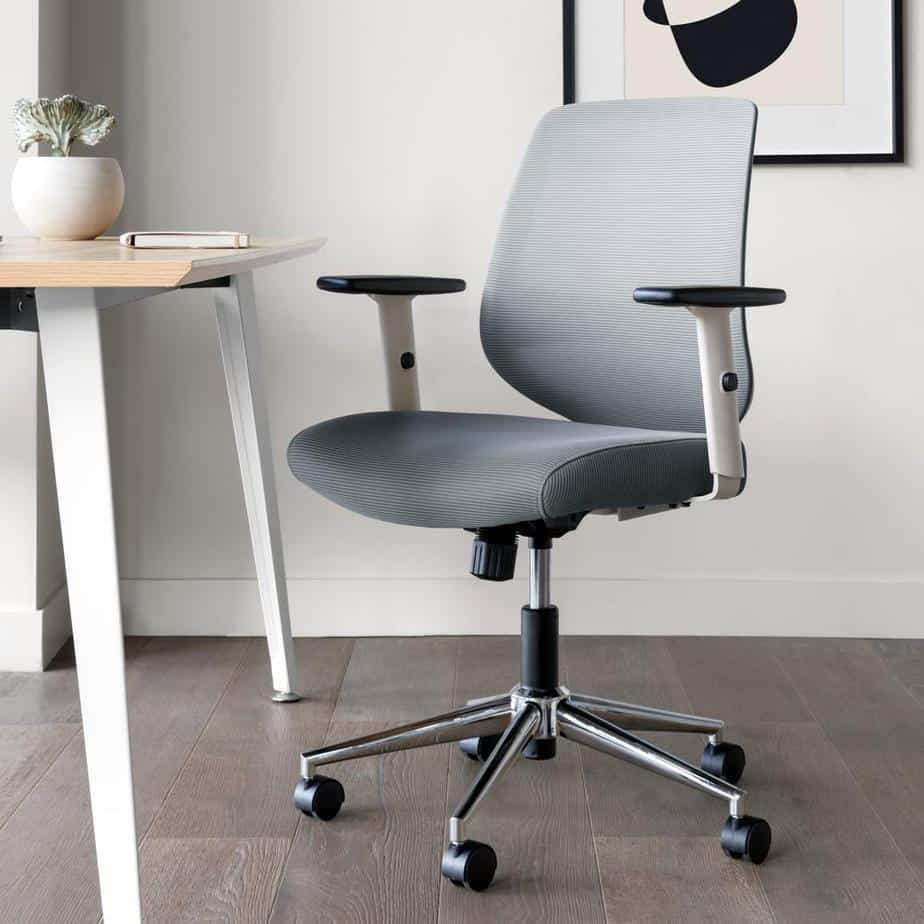 What are task chairs? A task chair is what most of us picture when we think of the standard desk or computer chair. In fact, for our purposes, the term task chair is interchangeable with a computer chair or desk chair.
Essentially, these are functional chairs that slide under our desk and come equipped with the standard array of office chair components, discussed in more detail below.
These chairs are ideal for small spaces or collaborative work environments.
Task chairs come in a wide variety of seat and frame materials. And, because of the large amount of time we spend in these workhorse chairs, most task chairs still include basic ergonomic design and adjustability features.
If you need a space-saving chair with basic ergonomic features and a budget-friendly price tag, a task chair will be a great option.
Our favorites include the stylish Branch Daily Chair, the budget-friendly mid-back chair from Flash Furniture, and the ergonomic Steelcase Series 1.
For more task chair options, have a look at our post about the best office chairs for small spaces.
Drafting Table Chairs and Stools
What are drafting chairs? Drafting chairs are taller than your typical office or task chair, and they usually include a foot ring around the cylinder so you can rest your feet from higher up.
If you work on higher surfaces, such as drafting tables, counters or standing height desks, this is the type of chair to look for. If you're an architect, this is right up your alley.
A drafting chair makes it easier to transition between sitting and standing while working on taller surfaces.
These chairs may also include similar components to the normal office task chair, such as comfortable seat backs and armrests.
But a drafting chair can also be very minimal in appearance, without armrests or seat-backs.
In general, a drafting chair will allow about 30" of sitting height compared to the typical 22" max height of an office chair.
Our favorites include the modern and stylish Nouhaus ErgoDraft, the Apollo Mesh Drafting Stool from Eurotech, and the HON Volt drafting stool.
For more options, check out this guide to the best leather drafting chairs.
Big and Tall Chairs
A big and tall office chair is basically a larger version of a task chair with a focus on wider seat back and seat pan dimensions, higher weight capacity (over 300lbs), taller floor to seat height, and increased cushioning and lumbar support.
The best big and tall chairs should be easy to adjust and comfortable to sit in for long hours.
An example chair in this category would have a seat width of over 21 inches, seat depth over 30 inches, weight capacity of 350 lbs and height range of 45 – 49 inches.
Check out our review of the La-Z-Boy Trafford for a good example.
Executive Office Chairs
Executive office chairs offer a little more luxury and comfort than your standard task chair.
With an executive chair, you will find design elements like tufted leather, increased cushioning with memory foam or spring-cushioning, a high chair back with padded headrest, and high end frame materials like fine grain wood or stainless steel.
These chairs may also recline and include thicker padding on the arm rests, with comfortable waterfall edge seats and contoured designs for maximum comfort and support.
If your goal is a blend of comfort with old school style and sophistication, then you might want to look in the executive category. Keep in mind that these chairs are typically bulkier than a standard task chair and will require more space.
24/7 Office Chairs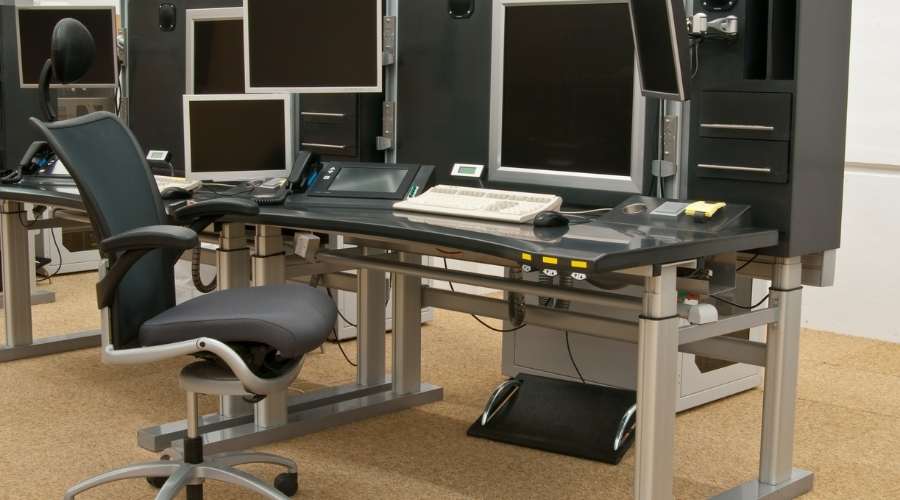 Also known as intensive use chairs or dispatch chairs, these heavy-duty chairs are designed for 24/7 comfort, support and durability. The best 24/7 chairs are used by different workers, over multiple shifts, in call centers, control rooms, medical settings, and other intensive use environments. Common design elements include multiple adjustment points, heavy load capacities, quality frame materials like 10-guage steel, and thicker cushioning.
Gaming Chairs
Gaming chairs are a relatively new category in the office chair space. These chairs are designed for long hours spent playing video games, of course.
And once you start researching gaming chairs, you'll realize that they also stand out due to design aspects like:
Brighter colors and creative graphics
High backs with fixed headrests
Bucket seat design (like a sports car)
Lots of recline functionality
Removable lumbar support cushions
These chairs also have fully adjustable armrests that can go up, down, sideways, or folded back when you need a little more room to move your limbs during an intense game.
Gaming chairs usually come with real leather or faux leather (PU) and high density foam cushioning. These chairs are often available in a wide range of colors than standard office chairs, such as red and black, green, purple and the ever-popular pink gaming chair.
Want to know more? Check out the gaming chairs that some of the top pros use.
Here's a guide on some of the different types of gaming chairs you'll find as you begin looking into this category.
Saddle Seats
Saddle seats are becoming more popular in office environments these days. The best saddle chairs, or saddle stools, allow you to move around easily. They are slightly higher than typical task chairs and allow for a broader angle between your hips and knees due to the forward tilt.
For example, rather than sitting with your legs at a 90 degree angle, a saddle seat will encourage a wider hip-to-knee angle of up to 130 degrees.
This style of sitting encourages a more natural posture and can improve leg circulation while engaging your core. If you're used to riding a horse, this will feel pretty natural.
Also, if you work in a healthcare facility, dental office or salon, you may already be familiar with this type of seating.
For the average office worker, the saddle seat may offer a new and improved way to remain active and comfortable during the workday.
Office Chair Alternatives
The fact that we all sit too much during the workday is a hot topic these days. To help us find new and improved ways to mitigate the risks of prolonged sitting and inactivity, many companies have created an array of "alternative" office chair designs.
Here are a few of the more popular alternative sitting innovations for today's worker:
Stability Ball Desk Chair
An inflatable stability ball, exercise ball, yoga ball or gym ball as it's sometimes called, has become a popular way to promote better posture and improve back and spine health while at work. They are even recommended for sitting at the desk during pregnancy. These balls require active core engagement and balance while sitting.
Stability balls are typically constructed from rubber and come in many different sizes and colors.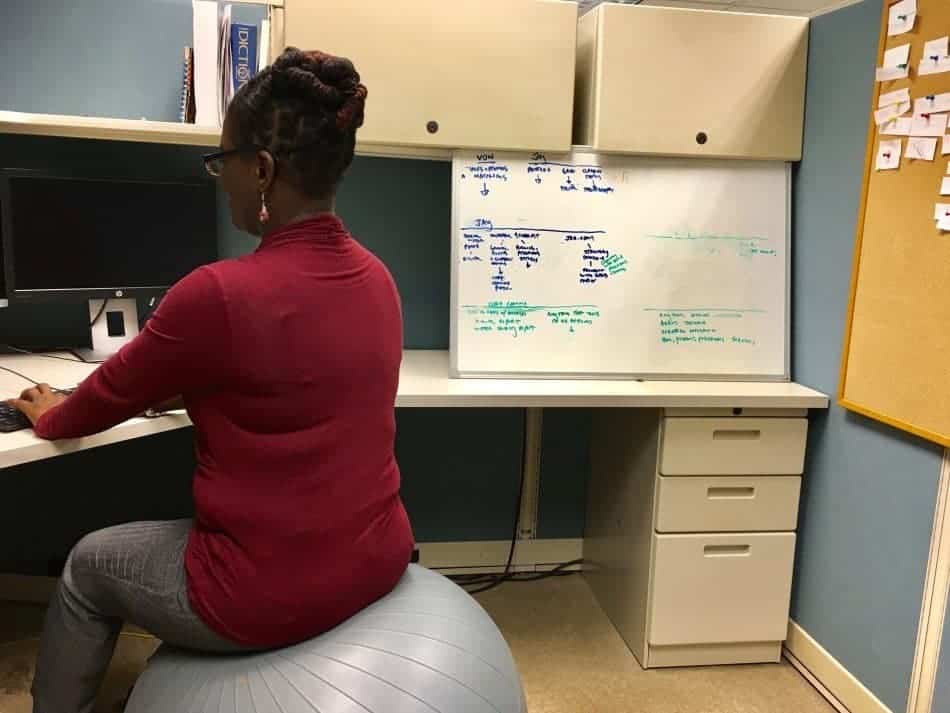 While this may be a good solution for some people, you should make sure you have enough core strength to use one of these properly in the first place. You don't want to rely on your back for support, or struggle to stay upright while at work.
So, like many of these new tools, it's best to use one in moderation.
Also, modern ergonomics standards require a supportive backrest with armrests and lumbar support, among other things, all of which is lacking with a basic exercise ball.
Nevertheless, it's a good way to incorporate a little exercise into the workday, so just make sure you find one with thick and durable rubber walls and high enough weight capacity ratings.
You can learn how to find the right size exercise ball for work here.
Kneeling Chairs
An ergonomic kneeling chair is an angled knee rest that allows you to lean forward as you sit. This posture engages the core and reduces stress on the back. These alternatives to a standard task chair provide an even weight distribution between the spine, thigh and shins.
The idea is that in a kneeling posture, your lumbar curvature is more natural.
Sounds perfect, right? There are some downsides to be aware of, though.
For example, with a kneeling chair, your weight ultimately rests on your shins, especially as your core muscles get tired. This pressure can cause some shin pain, and with your legs locked in a kneeling position for extended periods, cramping may occur due to restricted leg movement.
So, it's best to use these in moderation. And if it is your primary sitting apparatus at work, then make sure you get up and move around every 10-15 minutes to give your legs and core a break.
Kneeling chairs typically include a padded knee rest for comfort, along with casters so you can move around and show off some spins. We have a post about the best ergonomic kneeling chairs if you're interested in trying one of these out.
Adjustable Standing Desks
OK, so these are more of an alternative "to" an office chair, but they're definitely worth mentioning. In fact, standing desks have become so popular in the modern workplace that they really deserve an entire guide of their own.
Basically, a standing desk is simply a desk that is tall enough so you can work at your computer while standing upright. This may improve blood circulation, keep a more natural lumbar curvature, improve focus, and keep your energy up during the day.
A popular variation on the basic standing desk is the height-adjustable desk, which allows you to stand or sit at your desk by simply elevating and lowering a desk or separate platform (that sits on your standard desk) as needed.
One very popular model is made by Veridesk, but there are some other standing desk and "sit-stand" desk brands worth checking out too.
You can also combine a standing or height adjustable desk with a taller chair, like a drafting chair or saddle seat, to create a working environment where it's easy to transition between sitting and standing.
Read more about the pros and cons of standing desks and review our guide to the types of standing desks for a primer.
Part 2: Office Chair Components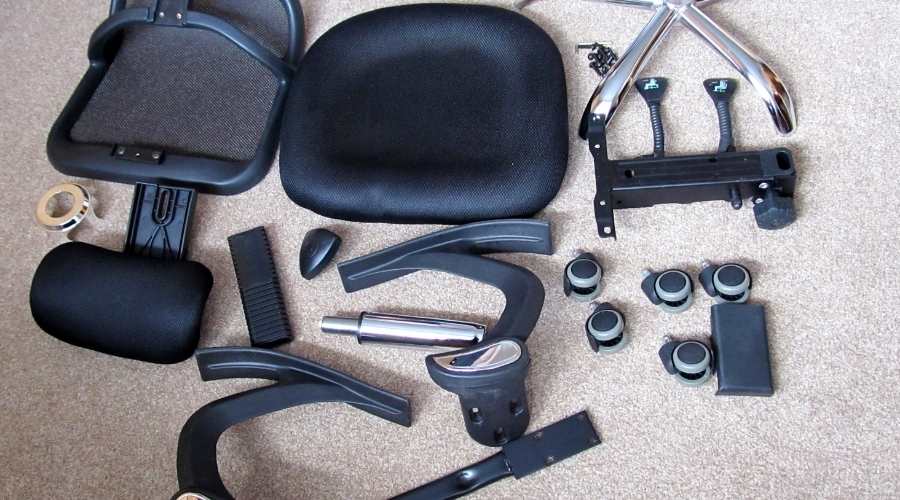 Modern office chairs can be anything from a simple and basic task chair design, to a complex piece of ergonomic engineering.
While chairs may differ in style and functionality, at a minimum, most computer and desk chairs have certain parts in common.
Knowing and understanding a chair's "anatomy" is an important step when searching for a chair that will best suit your needs.
Starting from the ground up, here are typical parts of an office chair:
Casters & Wheels
Casters are the rollers attached to the base of the chair. A typical chair will have 5 casters that each pivot independently to allow you to move in different directions. Importantly, the casters must be suitable for your type of flooring.
For example, if you have a hard floor (i.e. wood or tile), your chair should have soft rubber or urethane casters. If you are on a carpet, you'll want hard plastic or nylon casters.
There are also metal or plastic gliders that work best on hard commercial carpets.
If you bought a chair with the wrong type of wheels for your flooring surface, don't worry: you can always pick up a set of multi-surface replacement casters.
Roller Legs & Chair Base
Next is the base of the chair. As a standard rule, a quality office chair should have at least 5 "legs", also known as a 5-star base. Some heavier chairs may have more legs, i.e. a 7-star base.
The base should be sturdy, dependable, and made from hard frame materials such as wood, steel, durable hard nylon, or aluminum.
Gas Cylinder for Adjustability
Moving up from the base of the chair, we have the chair cylinder. This is where the lift functionality of the chair takes place. Typically, this means the chair will come equipped with a pneumatic or gas lift to change the height of the chair.
A basic gas cylinder works like this: To lower the chair, you engage the lever below the seat and ease your weight into the chair. To raise the chair, you engage the lever and rise with the chair.
A good chair will have a reliable pneumatic cylinder that makes this process effortless. The next step is finding the correct height to support a healthy posture (see the ergonomics section below).
The top part of the cylinder is the spring. This is the tapered end of the cylinder that goes into the bracket under the seat of the chair. This part holds the pressurized nitrogen gas and lubricant.
The second piece of the cylinder is known as the column. This part inserts into the base of the chair and is typical about 2" in diameter.
Cylinder are also identified by the stroke. This number indicates the adjustability range of the cylinder.
For instance, a 5-inch stroke on a chair means the chair can adjust 5" from the lowest to the highest setting. We recommend finding a chair that comes with at least a 4-inch stroke cylinder.
Learn more about cylinders in this guide.
Seat Pan
Every chair has a seat pan. But, of course, they come in many different widths and shapes. In general, try to find a seat pan that is at least 18" wide.
Modern ergonomic chairs will also feature an adjustable tilt to change the angle of the seat pan, and thus reduce pressure on your legs and open up the angle of your hips.
Many chairs also include a "waterfall" or passive front seat edge. This means the front of the chair is rounded and angled downward to take pressure off your legs, thereby improving circulation and comfort.
Cushion & Airbags
The cushion is next, and for many of us this one is a matter of personal preference. As we'll mention below in the section on ergonomic design, a cushion should be firm enough to support you throughout the day.
So while it might be nice to sink into a soft and cozy seat cushion at first, you may develop hot spots of pain and pressure over the course of a day.
Many executive style chairs and big and tall designs incorporate memory foam and other cushion technology to provide soft, balanced, and customized cushion support..
Some more expensive high-end office chairs (easily exceeding $1,000 in price) also incorporate adjustable air bags for elements of the cushion and lumbar support which allow for fine tuning of ergonomic support.
Armrests
Armrests are not required, but many people appreciate the added comfort and support. If your armrests are fixed, make sure they are at least 9 – 12" in length. Some armrests are padded, others may simply be wood or plastic.
Most ergonomic chairs include adjustable armrests, allowing to adjust the length, height, and angle for proper ergonomic posture (discussed in more detail below).
If you want the option to use armrests or not, read our guide to the best chairs with flip-up armrests.
Supportive Backrest
The backrest is the final entry on our list of fundamental chair components. Whether you prefer a mid-back or high-back office chair, you should look for a chair that provides the right amount of cushioning and lumbar support for your needs.
Also, if you prefer to stay cool and well-ventilated, you may want to look at mesh-backed chairs as opposed to less breathable fabrics or leather.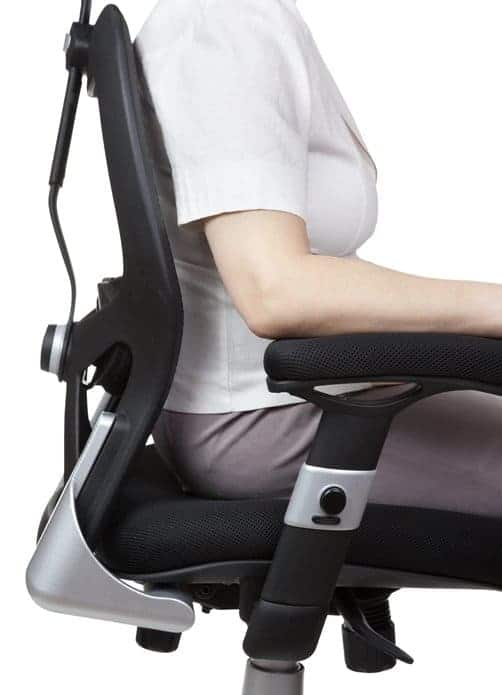 Backrests should also provide adequate support for your lumbar region. Some chairs are designed with an S-shaped back that naturally supports the lumbar section. Others include adjustable lumbar support.
If you prefer a more neutral sitting posture, find a chair with either adjustable lumbar support, or a basic neutral profile chair (and you can add a cushion if you end up seeking additional lumbar support later on).
In general, the mid-back lumbar support area should be located from 6 – 10" from the seat pan to provide adequate support.
Also, a backrest should be at least 14" high and 12 to 20 inches wide. As we discuss below, you should also look for either a fixed or automatic tilting mechanism with an angle range of 90 to at least 110 degrees.
With all these parts to consider, assembly can be a pain. Here's a quick primer on how to assemble an office or gaming chair.
Beyond the basic components of an office chair, you may want to add some of these office chair accessories to customize your seat with extra style, comfort, and even storage options.
Part 3: Office Chair Ergonomics & Adjustability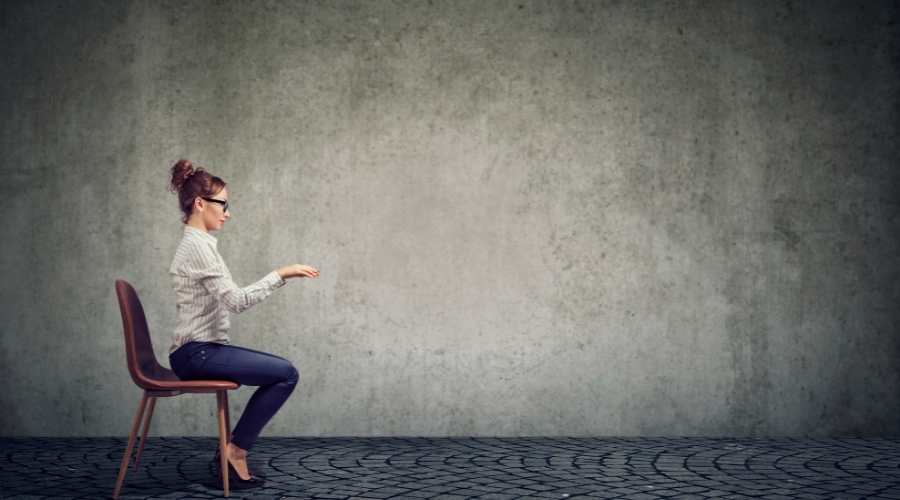 Ergonomics is a fundamental aspect of modern office chair design.
The term ergonomics means "relating to or designed for efficiency and comfort in the working environment."
In the world of office chairs, this is all about encouraging healthy work postures to reduce chronic injuries (i.e. neck pain, back, and wrist injuries, circulatory problems, and more) and fatigue in the workplace. To encourage this, designers now make chairs that support our sitting habits and provide postural support where necessary.
For example, even when we are sitting at work, we are constantly moving throughout the day.
Whether it's small adjustments or larger movements, we're never in a fixed position for too long.
So, a chair that supports a single posture doesn't always do the job.
We need something that supports this dynamic range of postures. That's where ergonomic design comes in.
Before we discuss what to look for in a properly designed ergonomic office chair (i.e. all the different adjustability options), here's a quick review of what to keep in mind when setting up a healthy and comfortable workstation:
Correct Ergonomic Setup and Posture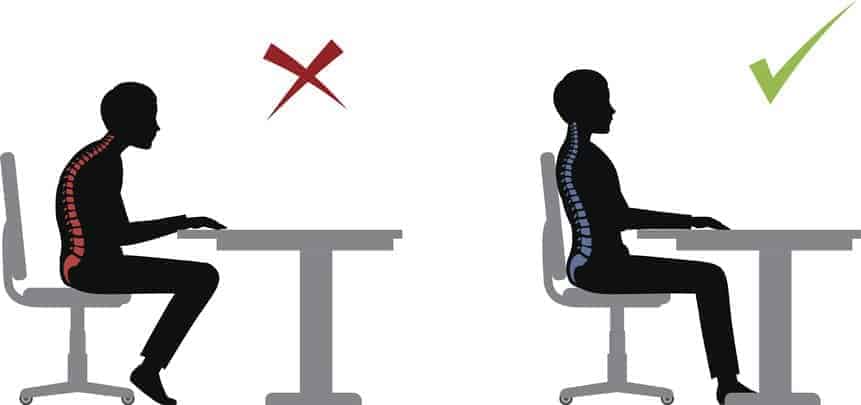 Finding the right ergonomic posture in your office chair is easy. The hard part is maintaining it.
We often forget or fall back into bad habits of slumping or leaning forward.
Often, the problem is as simple as sitting in the same position for too long. Even if the original position is correct, you should not remain in a fixed position for too long.
Here are some quick and easy ergonomic tips to keep in mind:
Keep the top of your monitor at eye level or slightly higher if you wear glasses (you can tilt the screen up to get the right level) for proper head/neck posture
Keep your monitor at an arm's length distance when viewing (approximately 18″ – 36″)
Keep your keyboard and mouse squarely in front of you when working, not off to the side
Keep your feet resting flat on the floor when sitting (use a footrest if necessary)
Keep your keyboard and mouse approximately at elbow height, with your arms in near your trunk (Tip: you should rest your arms on your lap, rather than on the desk, when you're not using the keyboard or mouse)
Maintain at least an inch of clearance between the front edge of your chair and the back of your knees
Keep your knees at a 90-degree angle or slightly wider when sitting
Maintain contact with the backrest of your seat, with the backrest adjusted properly so support is in line with your lower and mid back
Get up and move around and stretch frequently, at least every 15 minutes
For a full list of ergonomic work posture and setup suggestions, download our free guide.
Essential Office Chair Adjustability Options
Office chair adjustability is crucial for finding and maintaining an ergonomically correct work setup.
Below are just some of the key adjustability features to look for in an office chair.
Keep in mind that not all chairs will include all these options. But a good chair should offer a balance of a few adjustable parameters, so you can quickly find the best position when sitting at your desk.
*Keep in mind that these are just suggestions and the measurements don't apply to everyone. You should always do your research, test the chair, and consult with an ergonomics professional when necessary. This is a starting point, though.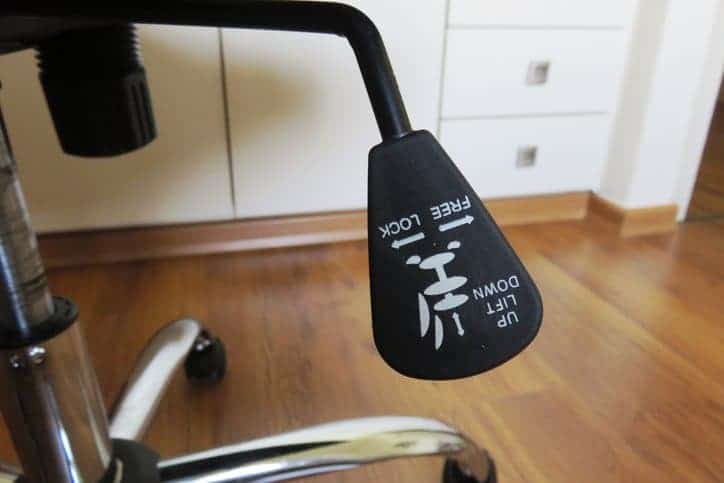 Seat Height
To reach the optimal seat height, your chair should have a pneumatic height adjustment with a range of 15 – 21 inches from the floor to the center of the seat pan. This enables you to keep your thighs parallel to the floor and level with your hips. It will also allow you to find the correct neck posture depending on the height of your monitor.
*Pneumatic height adjusters control the height of the seat relative to the floor.
Seat Depth
Some chairs come equipped with seat depth adjustments. This allows you to slide the seat forward or back to accommodate for different leg lengths.
Backrest Tension
Ideally, an ergonomically designed office chair will have a backrest that reclines with easy pressure as you push back. It will keep supporting your posture as you move back or forward, with even pressure. You can adjust this using the backrest tension knob.
Variable Backstop
A variable backstop will allow you to set the recline stop point at different angles. For example, with the popular Steelcase Leap, you can choose from 5 different backstop points. The chair will recline with easy pressure but not past the set point.
Fixed Seat Angle
If you have a fixed recliner, where you manually adjust the recline angle of the backrest depending on desired sitting position, the chair should allow for 90 – 110 degrees of tilt. Most experts recommend a slightly reclined angle for longer periods of sitting. But these chairs also allow for a fixed upright position that some of use prefer.
Armrest Adjustability
Finding the right armrest position can be tricky. As mentioned, when working on a computer, your arms and wrists should be close to parallel with the floor. But you may be doing other tasks or changing the recline angle, depth or height of the chair itself, and then need to change the arm position. Here are some of the armrest features for maximum adjustability:
Height: Look for a decent range so you can find the right height relative to your desk. A common range would be 7 – 11" from the seat.
Width: An armrest width adjustment will provide a few inches of expansion.
Depth: Sliding the armrest forward and back to
Arm Pivot: This adjustment allows you to pivot each arm independently for different angles (i.e. range of 30°)
Tilt: Adjust the up-down tilt to find a more comfortable position.
You may also want a chair with removable armrests, armrests that fold back, or no armrests at all depending on your preference and desk setup.
Seat Cushioning
While we all love a nice soft and cushy seat, it's not always the best for supporting us through the work day. Ideally, a seat cushion will be at least 1.5 – 2" thick, with a front seat edge that flexes or has a "waterfall" profile to reduce pressure under your thighs.
Adjustable Lumbar Support
Lumbar support is sometimes integrated into the design of a chair.
For example, an S-shaped back will naturally support your lumbar curve. And some chairs even have "live back" technology that adapts and customizes the support to the shape of your body after sitting for a while.
If you need additional lumbar support, look for a chair with added padding in the lumbar area, a removable lumbar cushion, or a separate lower back firmness adjuster.
Some chairs will also include a lumbar height adjustment with a range of 5 – 11" so you can be more specific with lumbar contact and support when sitting.
Seat Pan Tilt Options
The best fully adjustable office chairs will allow you to adjust the title of the seat pan. This allows for correct thigh position and neutral sitting posture.
Foot Ring Height Adjustability
Adjustable foot ring height allows you to change the height of the foot ring on certain office chairs, drafting chairs or stools.
Adjustable Headrests
If you need additional neck support, or find yourself doing some serious relaxation in a reclined position during the day, look for a chair with an integrated headrest. These will either be fixed or adjustable. An adjustable headrest should allow you to change the vertical height and/or angle for preferred head and neck posture while sitting.
Tip: If you don't have a chair with all these options, you can make simple DIY changes. For example, you can add a seat pillow behind your back to control depth adjustment. Or add padding to the armrests for height adjustment.
Part 4: Best Office Chair Materials
Here's a rundown of materials that are commonly used in office chair design. Keep in mind that there are many variations when it comes to fabric and synthetic material selection. Also, most chairs include a combination of materials on different parts of the chair.
Nevertheless, when it comes to chair quality and customer satisfaction, we find that choosing the right materials is hugely important. So let's get into it.
For starters, and for the purposes of this guide, it's best to focus on the primary materials for your seat and backrest, as this is where you'll quickly notice any issues with comfort, breathability, sensitivity and durability.
Breathable Mesh Fabric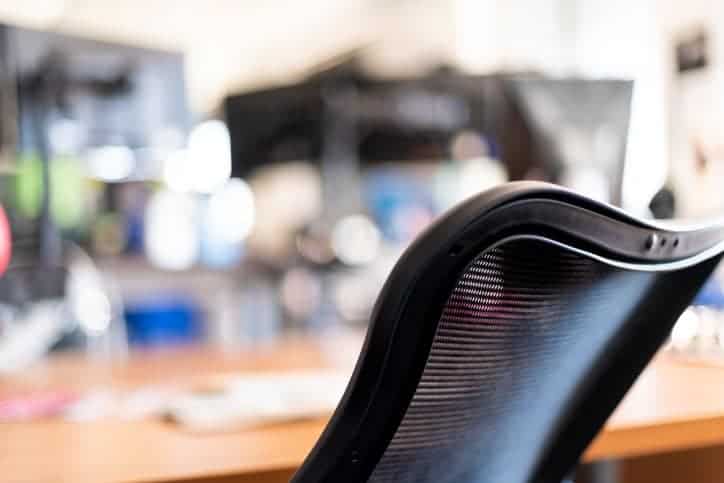 You'll see that "Mesh" pops up in many different office chair descriptions and reviews. Mesh is sort of a generic term in the world of office furniture design, but it basically means a type of synthetic upholstery that is tightly woven into a mesh pattern. Mesh can be the primary substrate on your chair back, or a top layer on your back and/or seat.
In either case, mesh will offer excellent ventilation and air-flow. What it lacks at times, however, is durability and consistency in terms of support and comfort.
You'll notice, for instance, on cheaper chairs the mesh may start to sag over time. This can result in poor posture while sitting.
But with higher quality chairs, the mesh is made from better materials and the patterns are designed to maximize both breathability and proper support over longer periods..
Leather (Real vs. Faux)
If you want to exude elegance and refinement, then leather is the way to go. But notice we didn't say "real" leather? Yes, of course having natural leather that ages and softens over time is the truest expression of classic office furniture design.
But it's not always in the budget.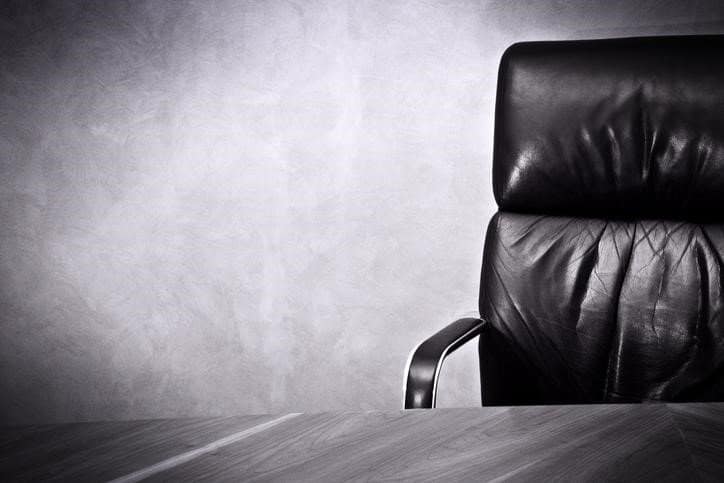 Faux leather, or fake leather, or poly leather (whatever you want to call it), is much less expensive and offers a similar sophisticated aesthetic.
Plus, with faux leather, you get additional properties like anti-microbial protection, scratch resistance (have kids or pets?), and a wide range of colors and texture choices.
Faux leather is also much easier to clean.
So which will it be – real or fake? To be honest, in either case you will be sacrificing the ventilation that mesh offers, but increasing the overall comfort and "cushiness" factor.
We like leather, period, but it really depends on your preference for breathability, price, looks, maintenance, and more.
Synthetic Stain-Resistant Fabrics
In addition to mesh and leather, you'll come across a wide variety of natural and synthetic fabrics on different types of office chairs. Some of these are considered "engineered fabrics"; tightly woven fabrics with enhanced durability. You'll see engineered fabrics layered with padding on the seat and backrest.
Common synthetic fabric materials include polyester, polyurethane and vinyl. All offer good durability and easy maintenance. However, keep in mind that vinyl, which is often the primary material with mesh backing, can be too abrasive for some.
If you're looking at natural textiles, you'll find that woven fabric is the most common type. Woven fabric consists of interlaced yarns. These fabrics can differ in color, density, thread count, abrasion and more.
In fact, if you're worried about whether the fabric you choose will be durable enough, check the abrasion ratings to make sure it will hold up to your use.
On the other hand, knitted fabric is less dense than woven fabric. As such, it is known to be lighter, softer, and more breathable. Those are all nice characteristics, but not so sure if you want a knitted natural fabric as your main material on an office chair.
And, finally, if you want to add some vintage elegance to your workspace, you can still opt for a comfortable velvet office chair with ergonomic features.
Frame materials – wood, plastic, metal
In addition to the fabrics used on your seat and backrest, the frame of the office chair will be constructed from a hard, durable material such as wood, plastic or metal. The difference largely comes down to price and looks. For example, we love a chair that blends natural wood with nice seating materials like leather or woven textiles.
However, we also like a more modern approach that uses stainless steel as the base and armrest, with a ventilated mesh backing and textured cushion.
Most budget-friendly office chairs will be constructed from hard plastic combined with metal (i.e steel or aluminum) for the levers and adjustment mechanisms.
Most importantly, read the reviews and make sure the frame is sturdy enough for long term use.
Part 5: Best-Selling Popular Office Chair Brands
There are hundreds of different office chair brands and manufacturers. But if you're taking this purchase decision seriously, it will help to begin by honing in on some of the big names in this market.
Here are 10 of the top office chair brands to know about.
Branch Furniture
Branch is a new office furniture company that offers a smaller range of chairs, desks and accessories for home and commercial office spaces. Their products are modern, stylish and ergonomically sound. And, with a direct to consumer online business model, their chairs are available at lower price-points than many of their established competitors.
Their top-selling model, the Branch Ergonomic Chair (review), illustrates how their model is gaining traction: clean and simple design, high-quality comfort and support, and a budget-friendly price tag.
Herman Miller
One of the leaders in innovative and ergonomic office chair design, Michigan based Herman Miller makes some of the most iconic chairs in the industry. One of their most popular designs is the Aeron chair. But there are many other models to choose from, including the Embody and Sayl.
If you want style and cutting edge ergonomics, you can't go wrong with Herman Miller.
HON
Headquartered in Iowa and in the office furniture business since 1944, HON offers the full gamut of office chair styles, including functional task chairs, comfortable and stylish leather executive chairs, mesh back ergonomic desk chairs, saddle chairs and much more. Learn more by reading our review of the popular Ignition series.
Knoll
Knoll is a major designer and manufacturer of office and home furnishings. They offer a huge selection of ergonomically designed chairs and desk accessories for customers in the residential, office and educational sectors. Their ReGeneration chair is an excellent example of sleek and modern ergonomic chair design.
Steelcase
Steelcase is one of the largest producers of office furniture in the world.
Founded in 1912, Steelcase owns several different brands, including turnstone, Coalesse, Designtex, AMQ, Smith System, Orangebox, and designs the full range of office chair styles. Their spec book on chair selection is over 300 pages! Some of our favorite Steelcase designs include the Leap and Gesture, both very popular models for home office buyers.
Serta
Yes, that Serta, also makes comfortable and plush office chairs at a reasonable price point. We even have an article about some best Serta office chairs to help you learn more.
La-Z-Boy
The classic recliner brand has moved into the computer chair market. And they're one of the most popular names when it comes to executive style office chairs with extra comfortable features and, of course, the ability to recline at work. Check out our guide to some of the best La-Z-Boy office chairs to learn more.
Humanscale
Humanscale is known as one of the earliest innovators in ergonomic chair design. With popular models like the Smart Ocean and Liberty Task chair, Humanscale is highly recommended when it comes to best-in-class ergonomics and style for modern office environments.
The Raynor Group
The Raynor Group, based in West Hempstead, NY, makes a wide range of mesh and leather task chairs and ergonomic high back chairs under their Eurotech line.
One of their most popular chairs is the Ergohuman, an example of a fully supportive and comfortable ergonomic chair design available at a reasonable price point.
Smugdesk
Smugdesk offers practical and stylish computer task chairs and leather executive chairs at a lower price point than many other brands. For example, their mid-back ergonomic mesh task chair is a favorite among home office workers, and it's more affordable than many other chairs in this category.
OFM
Based in North Carolina, OFM features a wide range of furniture for the office and education settings. And for the home office workers among us, they offer a reasonably priced and popular Essentials collection with a variety of mid and high back ergonomically designed office chairs. All pieces are in stock and available for same day shipping.
Office Chair Picks Expert Conclusion
We've covered a lot here. Hopefully, before you even start looking at specific chairs, you can use this guide to determine which type of chair you want and what features and options actually make sense for you.
You'll need to consider a combination comfort, support and adjustability, along with style and overall build quality.
Once you have a basic idea, you can search our top picks and reviews to find your perfect office chair that suits your specific needs, both from a professional perspective but also a physiological one.
Office chairs are like mattresses and watches in the sense that generally, these are things you are going to use daily for very long periods of time so this is one expense you'll want to think twice about before opting for the cheaper "budget" option.
Sure, there are some great quality chairs out there at very competitive price points, but there are also a lot of chairs that look stylish but don't include some of the key features outlined above and which you may regret buying once you start getting a sore back, so please, take the time to do your due diligence while shopping and when in doubt, error on the side of comfort, you'll thank us in the long run!