How We Tested
We recommend these products based on an intensive research process that's designed to cut through the noise and find the top products in this space. Guided by experts, we spend hours looking into the factors that matter, to bring you these selections.
Click here for testing insights >

11
Models
Considered

40
Consumers
Consulted

306
Hours
Researched
Buying guide for
We Rounded Up the Best Desk Bikes and Under-Desk Cycles
Adding one of the best desk bikes to your office space can be a flexible and practical way to look after your health even while you work.
After all, while standing desks are often touted as an ideal solution to negate the negative impact of a sedentary lifestyle on our physical health, standing up all day may not be even feasible or enjoyable for everyone. For some, it may cause even more aches and pains.
And while exercise balls and other unique forms of activity sitting may come in handy for some, they're not ideal for all-day use.
This is where under-desk cycles really come in handy. They give you the freedom to get active whenever it's right for you, while still enjoying the comfort and support of your regular office chair.
Below, you'll find our in-depth reviews of the ten very best desk bikes and under-desk cycles currently on the market. To make it even easier, we put together this at-a-glance comparison table to get started.
These ten chairs scored the highest marks in all of the key categories we deemed essential, such as functionality, multiple resistance settings, construction quality, and more.
Top 10 Best Desk Bikes While Sitting and Under Desk Exerciser in 2022
The DeskCycle Under Desk Bike offers everything you want from an office-based exercise machine, and then some. It's reasonably priced and relatively affordable, especially compared to other models. While it's not the most budget-friendly pick, the price tag reflects its superior quality and functionality.
The bike has eight different calibrated resistance settings which let you go from a light, gentle warm-up to a hardcore workout that will tone your muscles and get your heart racing.
Whichever setting you use, you'll be able to track speed, distance, time, and how many calories you've burned on the very easy-to-use five-function LCD display.
It's very quiet, as well, so you'll never have to worry about disturbing your colleagues — whether in person or while in a virtual meeting — while getting a sweat on.
Pros:
Small design means its fits easily under desks as low as 27″.
Magnetic resistance makes for smoother, easier pedaling.
Removable five-function displays can be placed on your desk so you can better monitor your progress while working.
Cons:
Some users report trouble with the bike sliding across the floor while in use.
Calorie tracker isn't the most accurate.
View on Amazon
The Flexispot Home Office All-in-One Desk Bike/Bike Workstation V9 may be one of the pricier options on this list, but if it's within your budget, it will undoubtedly prove to be worthwhile investment.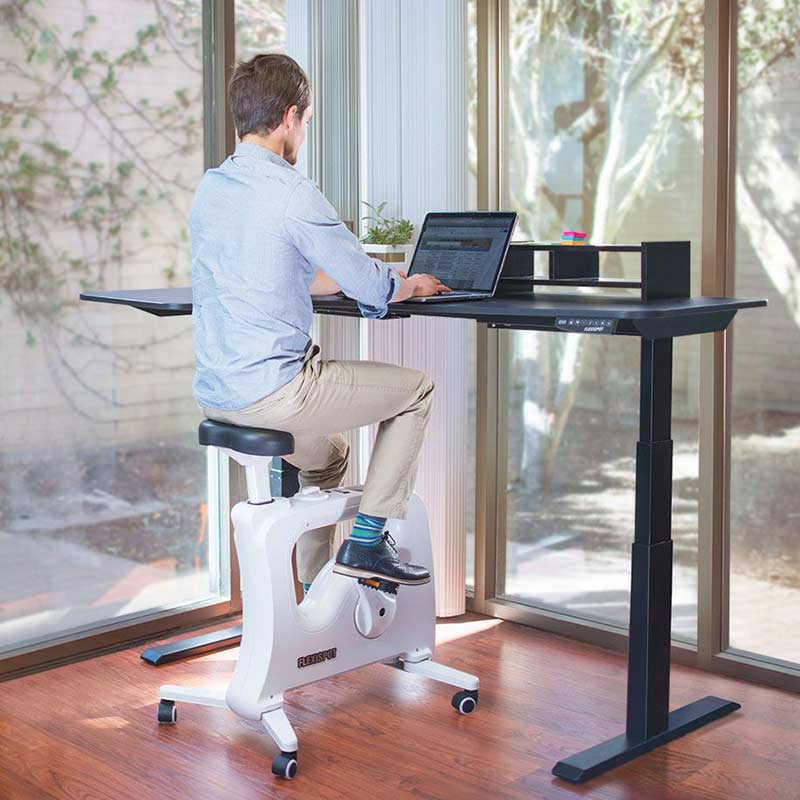 The biggest selling point here is the option to use it purely as an exercise bike that fits under a larger worktop surface or to pick the option with a built-in desktop.
Either way, this versatile active sitting solution combines the same kind of exceptional quality that has made Flexispot one of the leaders in health-conscious office furniture with a handy array of features.
This includes a plush, comfortably padded seat with multiple height adjustment options, eight resistance levels, and a smart, compact design that would look right at home in any contemporary office space.
Pros:
Choose between a bike and/or bike-desk set-up.
Whisper-quiet operation.
The desktop offers plenty of space for a laptop computer and other essentials.
Cons:
Desktop version not suitable for desktop computers.
Some taller users report that it's too uncomfortable.
Not suitable for smaller desk spaces.
View on Amazon
If you like the idea of an exercise bike/workstation hybrid but weren't so taken with the Flexispot option we just looked at, then the Exerpeutic ExerWorK Adjustable Desk/Exercise Bike may be the best alternative out there.
One of the most popular desk bikes to have hit the market in the last few years, the Exerpuetic ExerWork takes your office workout to a new level with 24 pre-set workout programs that you can access via Bluetooth.
The Bluetooth capability also connects the bike to a free My Cloud Fitness app that tracks your workout results.
Elsewhere, 24 different magnetic resistance settings, a fully adjustable desktop with a built-in LCD display, and five different height adjustments make this one of the most advanced desk bikes you're likely to find.
Pros:
3″ thick airsoft seat for superior comfort.
400 lbs weight capacity makes it ideal for big and tall users.
3 workout goals (time, distance, calories burned).
Cons:
Takes up a lot of room which may be impractical for smaller offices.
Expensive price tag.
Not as quiet as other bikes.
View on Amazon
Small, quiet, and compact, the MagneTrainer-ER Mini Exercise Bike Arm and Leg Exerciser is a great option for anyone looking to stay active at work without investing in a huge piece of equipment that's going to dominate the room and distract colleagues.
At its core, it's a standard under desk bike machine designed to help you keep your legs moving and your circulation flowing so that you can stay awake, alert, and focused throughout your workday. That said, the MagneTrainer's unique, relatively lightweight design means you can easily pop it up onto your desk and get in a solid arm workout, too.
We're also big fans of the 20+ different magnetic resistance levels. These give you more options to control the intensity of your workout than any other under-desk bike we've seen.
Pros:
A sturdy steel base ensures exceptional stability with no sliding.
Adjustable velcro straps make it suitable for all foot sizes.
Five-function display tracks up to 10,000 minutes of activity.
Cons:
LCD not as well made as with other models.
More expensive than other options.
Some users report difficulty setting the right resistance level.
Related: Cubii Pro Vs. Cubii Jr: Which Is Best For Your Workspace?
View on Amazon
With its slimline design, gently curving frame and contemporary features, there's no denying that the FitDesk Bike Desk 3.0 is one of the best-looking bike desk options out there.
If you're looking for an under-desk bike that has functionality and style, you'll want to keep this one in mind.
Of course, it boasts a sleek design, but the FitDesk has more to offer than mere aesthetic appeal.
It's built upon an eight-level exercise bike that combines large pedals with a magnetic resistance mechanism to make riding as easy as possible. This feature will provide you with the opportunity to exercise and support your entire body.
On top of this, you not only have a fully adjustable desktop with a built-in tablet holder for your tablet or cell phone, but also resistance bands to get an arm work out, adjustable massage rollers for your arms to stop them from becoming tired, and a handy LCD performance meter that tracks distance, calories, and time.
Pros:
Folds away easily for better storage and portability.
Non-slip table surface with enough space for a laptop.
Superior powder-coated steel construction.
Cons:
The performance meter doesn't track strides per minute.
May not be suitable for users under 5'2″.
View on Amazon
If you're looking for a great quality under-desk bike that's completely portable, the FlexCycle Under-Desk Exercise Bike should definitely be on your radar.
At only 18.1 pounds, it's one of the most lightweight options on this list, with only one other model (the Vaunn Medical Folding Pedal Exerciser) weighs less.
Not only that, but it comes with a generously sized handle which makes it a breeze to pick up and move around if you wanted to bring your bike home from the office and vice versa.
Still, portability isn't all that the FlexCycle has going for it.
Elsewhere, the eight different resistance levels, customizable, five-function display, and a free app that helps you track your progress all help to make this a worthwhile addition to any health-conscious office environment.
Pros:
Comes with interchangeable arm pedals so you can give your arms a workout
Affordable price tag
Includes attachable resistance bands for more exercise options.
Cons:
The free progress-tracking app could be easier to use
Assembly can be trickier than with other models.
View on Amazon
Of the many things we love about the Pooboo Exercise Bike Desk, its versatility has to be our favorite feature.
Poboo markets this as a three-in-one workout/workstation hybrid.
At its core, there's a solid, well-made exercise bike with eight different intensity settings and magnetic resistance to ensure smooth pedaling.
This can either be used on its own for a regular workout, used alongside your standard office desk or combined with the detachable desktop to get the full desk-bike experience.
Alternatively, you can use it as a lift chair to go alongside your existing standing desk.
What Pobooo don't make a big deal out of, but what we and many others love about it, is that the desktop itself can be used as a standing desk solution, meaning this is technically a four-in-one home office device that's going to keep you comfortable and active no matter how you decide to use it.
Pros:
Affordable price for a desk bike.
Multiple height adjustments to suit all users.
The warranty includes free replacement parts for 12 months.
Cons:
The bike seat is uncomfortable.
Takes up a lot of room – not suitable for small offices.
View on Amazon
Arguably the best low-cost under-desk bike, the Vaunn Medical Folding Pedal Exerciser comes with a very attractive, wallet-friendly price tag.
This makes it a great option if you're looking to keep an eye on your budget, or if you simply want to test out whether an under-desk bike is for you without spending over the odds on a piece of equipment you may not end up using long-term.
The Pedal Exerciser was originally designed as a physiotherapy tool to help people recovery from surgeries and injuries, and while that does mean that it doesn't offer as many resistance levels as other brands (only 6), it does mean that is' perfectly designed to accommodate users of all sizes and ensure you get a comfortable if gentle workout.
Pros:
Lightweight design.
Folds away for easy portability.
Non-skid rubber feet prevent slipping and sliding during use.
Cons:
Not suitable for a more vigorous workout.
Only offers six resistance levels.
View on Amazon
If you're looking for a portable under-desk cycle but haven't liked the options we've shown you so far, the Sunny Health & Fitness Magnetic Mini Exercise Pedal Cycle may be more to your liking.
It weighs just a smidgen over 19 pounds and comes with a thick, comfortable handle which means you'll have no problem moving this around the office or even taking it home for some extra-curricular workouts.
Wherever you decide to use it, you'll be able to choose from eight different resistance settings, track your distance and speed on the digital monitor, and even switch things up by placing it on your desk to give your arms a good workout too.
Pros:
Compact design makes it easy to store.
Belt-drive mechanism and magnetic tension ensure smooth pedaling.
Adjustable foot straps to suit all foot sizes.
Cons:
The digital monitor is awkwardly placed, making it harder to see during use.
The digital monitor doesn't track calories burned.
View on Amazon
Finally, we couldn't end this guide to the top ten best under desk cycles and bike desks without showing our appreciation for the Node Fitness Under Desk Exercise Bike Pedal Exerciser.
Its striking, curved design and all-black finish make it an attractive option for any modern office, but don't mistake this one as all style and no substance.
Forgoing the usual magnetic resistance mechanism in favor of a weighted flywheel to provide a much more fluid motion, the Node ensures that you put less pressure on your joints while exercising.
Meanwhile, a simple tension knob allows you to alter the resistance levels, and though there aren't as many of them as you'd get with other brands, the limited resistance settings, and fluid mechanism do combine to make this a great low-impact option,
Pros:
Affordable price.
Compact, lightweight design.
Portable carry-handle.
Cons:
Pedals may be too small for people with larger feet.
Not as may resistance settings as others.
View on Amazon
Choosing the Best Desk Bikes: What to Look For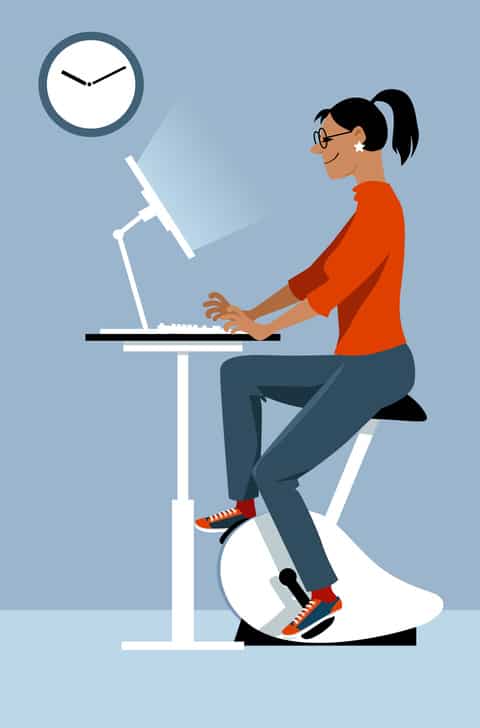 We've determined that the top 10 picks above are the cream of the crop among the seemingly endless number of office bikes out there — but how exactly did we do so?
Below, we'll outline exactly what we looked for when making our selections, as well explaining how each important factor may ultimately influence your decision on which is the best under desk bike to buy.
Desk Bike vs. Under Desk Cycle
You may sometimes see the terms "desk bike" and "under desk cycle" (or "under desk bike") used interchangeably, but for the purposes of this guide, we've used each term to describe something different.
An under desk cycle is exactly what it sounds like — a basic device with bike-like pedals that you can place under your desk and use to cycle while you're working. The FlexCycle Under-Desk Exercise Bike is a great example of this.
A desk bike, on the other hand, can perhaps best be described as a standard exercise bike with a desk attached such as the FitDesk Bike Desk 3.0.
Which one you opt for will largely depend on your priority.
If work is your priority and you simply want a way to occasionally get the blood pumping while you work, then an under-desk option may be best. However, if exercise is your biggest priority but you'd like to still attend to tasks on your laptop while getting your cardio in, then a bike desk would be better.
Resistance Settings
If you were paying attention to our reviews, you'll notice that eight levels of resistance are about the norm when it comes to desk cycle options.
This gives you the freedom to go from a gentle, relaxed workout that slowly but surely improves your circulation all the way to a more high-intensity workout.
For most people, this may be enough, but if you want greater freedom and control over your level of activity, there are some options out there that have as many as 20 or more settings.
On the other hand, if you know that you only want a light workout, to begin with, you may do just fine settling for one of the less-expensive models that only have six settings.
Display Monitor
Almost all under desk cycles and desk bikes will contain a digital display monitor which helps you to monitor your progress while you pedal.
There are two important factors to consider here.
The first is the number of functions that the display monitor offers.
At a very minimum, it should tell you the speed and distance covered, but if you're using your cycle as part of a weight-loss program, you should also be looking for a display monitor that also shows you how many calories you're burning.
The position is also important.
A lot of under desk bikes position their display monitor on the frame, often between the pedals. While this does save space, it also makes it more difficult to monitor what you're doing as you're doing.
If you simply want to look at your workout stats after you've stopped pedaling, this might not be a problem, but if you want to monitor as you go, then it may be worth splashing out on one of the more expensive models that have a removable monitor you can place on your desk.
Portability
How — and more importantly, where — you're going to use your new equipment will also factor in your purchasing decision.
If you're keeping your bike permanently in the office, then size and weight aren't going to play a major factor. As long as it fits into your space to begin with, it can pretty much stay there without you having to ever pick it up again.
If, on the other hand, you're going to be taking this home with you or moving it around a "hot-desking" environment, then it needs to be easy to move. This means that it should be lightweight and either foldable to make it easy to carry or come with a portable carry handle, if not both.
Durability
Last but by no means least, never underestimate what an important factor construction quality can be when it comes to choosing the best desk bike for your workspace.
All of the models we've chosen in our top 10 come from reputable brands with a proven track record when it comes to delivering superior construction quality, meaning more long-term value for your money.
What is the Best Desk Bike to Buy in 2022?
So, by now you know exactly what to look for when choosing the best desk bike or under-desk cycle. You even know which ones we consider to be the ten very best of them all, but all that does leave us with one very important question:
Which of these is the best one to spend your hard-earned money on? Ultimately, that depends on what you're looking for — but our top picks are a great place to get started.
No products found.
Other Products We Considered
The Office Chair Picks editorial team researches hundreds of products based on consumer reviews, brand quality, and value. We then choose a shorter list for in-depth research and testing before finalizing our top picks. These are the products we considered that ultimately didn't make our top 5.
Our Top Products
Best of the Best
DeskCycle
Desk Elliptical
bottom line
The DeskCycle offers everything you want from an office-based exercise machine, and then some.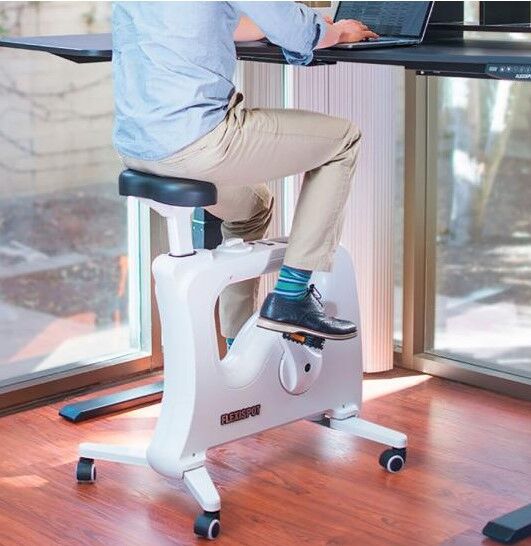 Flexispot
Home Office All-in-One Desk Bike
bottom line
The biggest selling point here is the option to use it purely as an exercise bike that fits under a larger worktop surface or to pick the option with a built-in desktop.
Exerpeutic
ExerWorK Adjustable Desk Cycle
bottom line
The Exerpuetic ExerWork takes your office workout to a new level with 24 pre-set workout programs that you can access via Bluetooth.
MagneTrainer
ER Mini Exercise Bike Arm and Leg Exerciser
bottom line
Small, quiet, and compact, the MagneTrainer-ER Mini Exercise Bike Arm and Leg Exerciser is a great option for anyone looking to stay active at work without