How We Tested
We recommend these products based on an intensive research process that's designed to cut through the noise and find the top products in this space. Guided by experts, we spend hours looking into the factors that matter, to bring you these selections.
Click here for testing insights >

11
Models
Considered

251
Consumers
Consulted

37
Hours
Researched
Buying guide for
7 Best Glass Chair Mats for Your Home Office
Glass chair mats are an excellent option if you're seeking a sleek office appearance and protection for your floor. They also reduce friction when rolling in a chair, which will help keep things quiet and may even reduce back and joint pain. Plus, they're easy to clean and durable.
But how do you choose the right one for your workspace?
In this guide, we'll cover our top seven recommendations for glass chair mats. Plus, we've included a complete buyer's guide to help you find the right one among all the options out there.
Let's get started.
Top Glass Chair Mats
We've looked at how different mats stack up in terms of important selection criteria for your office, including finish and durability, clarity, sizing options, pricing, and overall quality.
Here's a rundown of the top options you'll want to consider based on our research: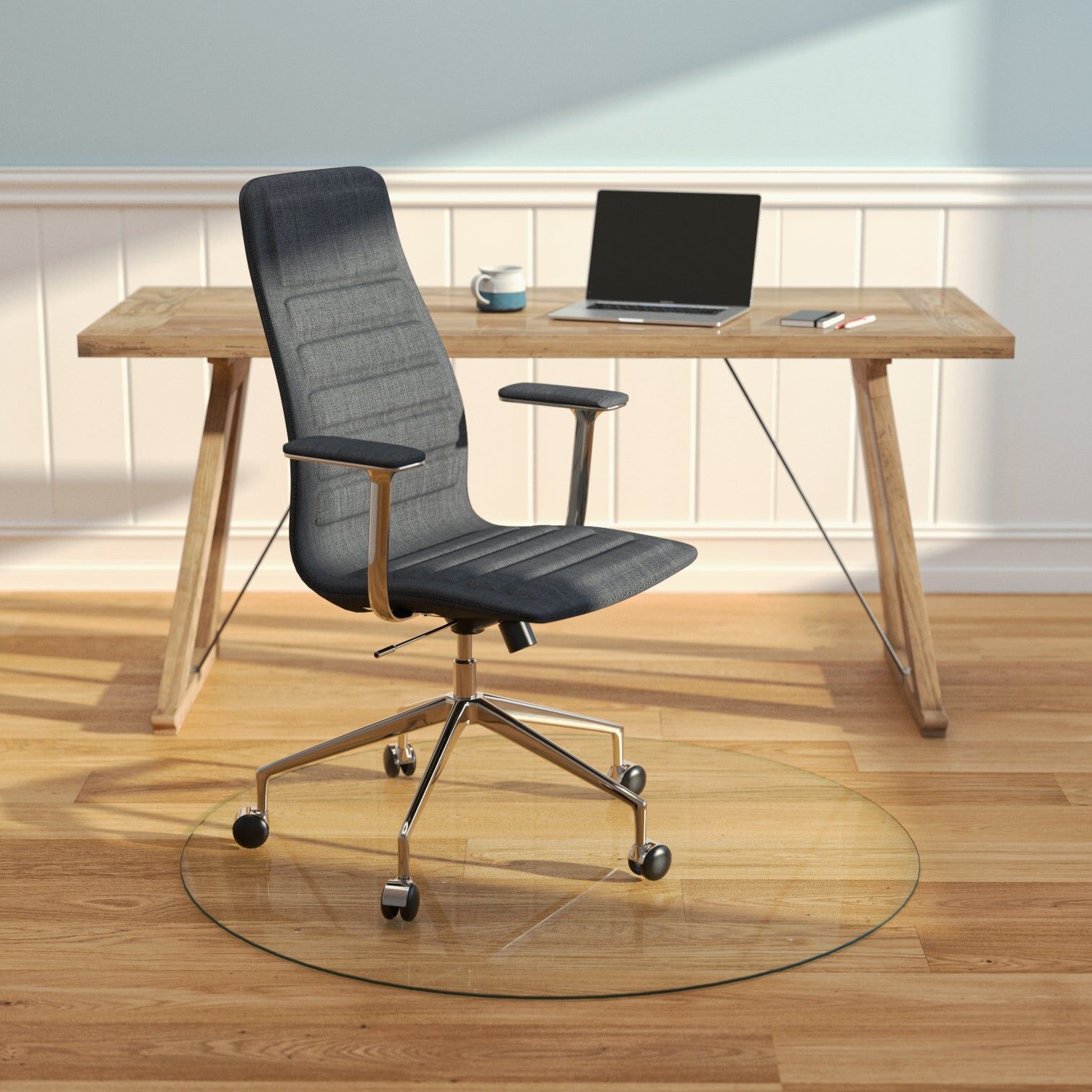 Vitrazza is our top pick for several reasons. First, they offer a full premium collection of rectangular, square, round and tabbed chair mats with smooth, quiet and durable finishes.
In fact, their popular Prima Collection comes in 18 different design options to accommodate different office setups and workspaces.
And, if you still can't find mat size and design that find that works for your current office setup, you can have a look at their Vista Collection, which offers customized mat designs for mats measuring up to 40 square feet!
No matter which mat you choose, you have the option of selecting between the Chairo glass and Luminoso clarity levels.
Chairo is the standard clear glass that comes with a characteristic green tint (due to natural iron levels) and darker edges.
Or, for an additional fee ($50 as of this writing), you can choose the optically clear and bright edged Luminoso version with lower iron content.
Bottom line: If you want to add a touch of luxury to your office while protecting your floor, these mats are the way to go.
Customers love how smooth they feel and how quiet they are even with basic, hard plastic chair casters. And with the range of sizes and designs, plus the customization options, you'll definitely find one that will match the look and feel of your home office or commercial workspace.
Plus, unlike general office supply companies, this is a manufacturer that actually specializes in glass chair mats, with superior customer service and a lifetime transferable warranty on all their mat products.
Are there any downsides to these mats? Well, for one, you can expect to pay a little more for these mats. But, then again, these mats are actually produced in the USA and far exceed the quality standards we see in many of the cheaper imported options out there.
Pros
Highly resistant coating to protect against dings and scratches
Tested to over 1000 lbs and constructed with extra-thick (1/4″) safety glass
Two glass clarity options—Chiaro (natural iron content) and Luminoso (higher clarity).
Numerous design and size options, plus customization options
Made in the USA
Cons
Higher price point than lower quality competitors
**Use discount code OFFICECHAIRPICKS and save 10%
If you're just looking to upgrade from a polycarbonate (aka plastic) chair mat and want something clear, smooth and durable, have a look at this premium tempered mat available on Amazon.
This mat measures 36" long x 46" wide, giving you a standard size and rectangular shape that will work well in many office setups.
This mat also holds up to 1000 lbs, like most products featured on this list, with the added durability and smoothness benefits of a tempered and scratch resistant surface.
However, unlike the Vitrazza mentioned above, you don't get all the options to choose different shapes, sizes or clarity levels, among many other options.
But if you simply want a rectangular glass mat with tons of already satisfied customers, and if you've confirmed that the 36 x 46 size offers enough room for your chair, this is an excellent choice.
Key Features
Tempered scratch resistant glass mat
Durable design with 2.5" thickness and maximum 1000 lb load capacity
Crystal clear finish
Pros
Smooth rolling and elegant appearance
Easy and cost-effective upgrade from plastic chair mats
Works on carpet, hardwoods, marble, tile, and pretty much any other floor surface
Cons
Only comes in a rectangular shape at one size (36×48 inches)
Lacks the quality assurance, warranty and customization options you get with a company like Vitrazza
What Customers are saying:
Customers love how smooth and durable this mat is. The reviews are overwhelmingly positive, with only a couple of reviews complaining that the chair mat is too small or that their chair rolls right off. Always double-check the dimensions before buying.
Also, if you have floors that are not level (i.e. you work in an older building) or a chair with very hard casters, a glass surface could be tricky. That goes for any mat on this list. But you can always upgrade your chair casters to a set with softer urethane wheels that will help reduce rolling and keep things smooth and quiet.
No products found.
Clearly Innovative lives up to its name with its durable glass chair mat. Its patented beveled edges add a level of safety and elegance to the design. Plus, if you do happen to roll off the mat (remember those uneven floors?) the beveled edges will make it a little less jarring.
And, as a true glass mat, it's odorless and both BPA-free and Phthalate-free.
Some things to note: Since this glass chair mat relies solely on its weight to hold it in place, it tends to move around, particularly on smoother surfaces. And because it has such a smooth finish, the chair sometimes slides around more than the user wants.
They also offer a Limited Lifetime Warranty.
Key Features:
Beveled edges reduce the chance for the mat's sides to crack or break off
Six mat size options range from square to rectangular and from 36″ to 46″
Can withstand 1,000 pounds of weight
Designed with Rapidly Renewable Natural Silica Sand.
Pros
1-inch beveled edges have patented design
Made with the odorless, Rapidly Renewable Natural Silica Sand.
Rectangular and square mat size options ranging from 36″ to 46″.
Cons
Minimal friction on the surface, making the chair roll a little too quickly.
The mat itself tends to slide around the floor.
If the mat happens to break, the pieces tend to break into sharp shards.
What Customers are Saying:
Many customers love how well this mat works on carpets and slicker floors. They're a popular replacement for vinyl mats. One customer even remarked how impressed he was that the company sent him eight clear disks to help the mat stay in place on his laminate floor.
No products found.
See also: Our recommendations for the best chair mats to protect your hardwood floors.
The Cleartex Glaciermat is an excellent introductory option for anyone wanting to try out a glass mat without risking lots of money. It can be used on any surface, including carpets ranging from low to plush pile.
To make an economical glass mat even more budget-friendly, they offer mats in packages of three and six in addition to individual mats.
The crystal clear tempered glass is great for blending in with the floor beneath the mat, although due to discs that hold the mat in place, they can be seen beneath the mat.
Key Features
Reinforced construction prevents buckling and curling
Stays securely in place on non-carpeted surfaces
Floortex tempered glass is five times as strong as regular glass
Pros
Silicone discs to prevent the mat from sliding.
Option to purchase for a lower price in sets of three or six.
One of the most economical options on the market.
Cons
You can see the discs through the glass.
Should be shipped with more packaging.
If the glass breaks, it tends to shatter into sharp shards.
What Customers are Saying:
Customers have commented that a lack of packaging sometimes causes the mats to arrive sharded, but Cleartex is good about replacing them.
However, once your mat is installed, it should stay damage-free for years. Many customers noted its durability and how well it remained stable even on thick, plush carpet.
No products found.
With a clean, modern design that blends effortlessly with your floor, MyGlassMat is an excellent option for people looking to invest in a high-quality glass mat.
It's easy to clean and comes with a scratch-resistant surface, helping the rounded corners and polished edges to look like they came right out of the box.
MyGlassMat comes in a single, 36 x 48-inch size. While this mat's top surface is a breeze to clean, the adhesives can cause dirt to accumulate underneath.
Key Features
Includes rubber pads to prevent it from slipping on slick floors
Lifetime warranty is transferable to new owners with no proof of purchase required
Glass surface is both scratch resistant and resists static buildup
Pros
Easy to keep clean
Perfect clarity lets you view the floor underneath
Rounded corners and polished edges prevent accidental injury
Cons
One of the more expensive options on the market.
They only offer one mat size.
Adhesives can cause dust and dirt to accumulate.
What Customers are Saying
Many customers chose this mat because they wanted to protect their floors from the imprints and mats caused by vinyl mats. Additionally, the mat's durability is frequently mentioned as a positive.
If you're looking for a mat right away, this might be a good option. Many customers remarked their mat arrived within just a few days. However, the relatively high price is a potential drawback, as many users noted they were hesitant to buy it at first.
No products found.
Floortex Glaciermat is a middle of the road glass mat in terms of price. They offer a single, 36″ x 48″ reinforced tempered glass mat with rounded corners.
It's durable, and due to a smooth ergonomic rolling surface, your back and muscles won't ache from moving your chair around.
Optional silicon grips are included with your mat, should you use the mat on a slippery surface. If your floor is uneven, you may find that the silicon dots cause the mat to wobble or dip down.
Floortex Glaciermat comes with a 10-year limited warranty.
Key Features
The smooth surface allows you to roll your chair with ease
Capable of holding up to 1,000 pounds
Ideal for small chairs and compact offices
Pros
Crystal-clear reinforced glass.
Smooth and durable, with an ergonomic rolling surface.
Helps keep you comfortable when sitting for long periods
Cons
10-year limited warranty instead of a lifetime warranty.
Silicon dots make the mat wobble if the mat is on uneven flooring.
Too small of a surface for larger chairs and workspaces.
What Customers are Saying
While many customers like this mat, it's important to note that it is smaller than many other options. Quite a few people felt that the mat was too small for their workspace. However, for those with a small desk, this mat fit perfectly underneath.
Additionally, some users complained that the mat scratched easily. You'll want to carefully roll the casters on your chair on a corner of the mat before sitting down completely. Unfortunately, scratches caused by your chair aren't covered by any warranty.
No products found.
The beautiful Rose Home Fashion glass mat is the perfect option for smaller chairs and workspaces. At 32.7 pounds, it's also lighter weight than most of its competition, making installation and cleaning easier.
While the anti-slip pads help hold this glass mat in place on any surface, they tend to be less effective on carpet. The mat has also been known to shatter into small shards if something heavy falls on it.
Key Features
Stays securely in place on both carpets and floors
Holds up to 1,000 pounds
Ideal for high traffic areas that need frequent cleaning
Pros
Transparent anti-slip pads.
Can be used for both carpet and floors.
Lighter weight than much of its competition.
Cons
Too small for larger chairs and workspaces.
Anti-slip pads don't work as well on carpet.
It can shatter into small shards if something heavy drops on it.
What Customers are Saying
A major topic of discussion from customers involves shipping. On the plus side, the company promises to send you a new map if the one you ordered arrives broken. Unfortunately, it seems that broken mats do arrive, so you might have to wait awhile for a replacement to arrive.
No products found.
Buyer's Guide
When you're looking to purchase a glass mat, consider how large of a mat you need. Your chair's size and the length of the desk that you roll along play an important role in determining the best size glass mat for your needs.
Additionally, glass mats can be heavy. So, while glass mats are low-maintenance, note how much weight you're willing to lift if you'll be in charge of their occasional cleaning.
What are Glass Mats?
Glass mats have a classy, modern appearance. Since they're heavier, they stay in place better than plastic alternatives.
Furthermore, plastic chair mats are notorious for slipping around and damaging floors. Glass chair mats also have a long lifespan, making them a more eco-friendly option than plastic mats.
Who are Glass Mats Made For?
Glass mats are ideal for people wanting a more robust alternative to plastic chair mats. They're less likely to crack and break under the weight of heavier people.
They're also a great fit for people with joint and back pain, since chairs glide smoother across glass mats than plastic ones.
Conclusion
There's a glass chair mat for nearly every budget and need. While we're confident that you'll find any of these mats useful, we've listed Lorell, Vitrazza, and Clearly Innovative as our top three choices because of the variety of size options they offer, their excellent durability, and their modern design.
FAQ
Q. What is the Point of a Glass Chair Mat?
A. Chair mats shield your floor from getting scratches, marks, and spills. They also help decrease back and joint aches since chairs roll more smoothly over glass mats, especially if your chair sits on carpet.
Q. How Do I Keep My Glass Chair Mat from Sliding on Carpet?
A. Glass chair mats naturally slip less than plastic chair mats since they're heavier. However, you can use a non-slip rubber backing or underlay beneath your glass mat to hold it in place on carpet.
Q. How Do I Keep My Glass Mat Clean?
A. You can clean your glass chair mat with any cleaner that you'd use on other glass surfaces, such as a window cleaner.
Q. Will a Glass Mat Break if a Chair Rolls Off It?
A. Since your chair should be made of plastic rollers (aka casters), your glass mat shouldn't break if your chair rolls off it and onto the floor.
Other Products We Considered
The Office Chair Picks editorial team researches hundreds of products based on consumer reviews, brand quality, and value. We then choose a shorter list for in-depth research and testing before finalizing our top picks. These are the products we considered that ultimately didn't make our top 5.