How We Tested
We recommend these products based on an intensive research process that's designed to cut through the noise and find the top products in this space. Guided by experts, we spend hours looking into the factors that matter, to bring you these selections.
Click here for testing insights >

13
Models
Considered

247
Consumers
Consulted

42
Hours
Researched
Buying guide for
8 Best Standing Desks for Two Monitors
Need to find the best standing desk for two monitors?
It seems like it should just come down to finding a standing desk or desk converter with enough space for your dual monitor setup. While that's true, it's a little more complicated.
That's why we put this list together.
Certain products are designed with the right dimensions, weight capacity and additional features to accommodate more than one screen. And we've sorted through some of the best ones out there to bring you our top picks.
Keep reading to learn about our favorite height adjustable standing desks and converters that are designed for holding two monitors.
Convert Any Desk To A Standing Desk
The TechOrbits desktop riser is perfect for any WFH setup. You can easily transition from sitting to standing in seconds. Simply squeeze the handles and lift to raise the height to a level that best supports your comfort and posture. Fit up to two monitors or a laptop and monitor together on our favorite standing desk converter..
In a hurry? Here are 3 GREAT choices:
Best Standing Desks for Two Monitors
Here are eight of the best standing desks that can accommodate two monitors.
Varidesk 36" Dual Monitor Converter
This 36" standing desk converter from Vari gives you plenty of surface area for two monitors. Plus, as one of the best selling models in the Vari lineup, it's sturdy, easy to lift and backed by a 5-year limited warranty.
The actual desktop dimensions are 36" x 12.25", which gives you enough width and depth to mount a couple standard size monitors, along with other accessories, such as a notepad.
And as a converter, you can simply place this on your existing desktop and turn it into sit-to-stand workspace. Just make sure there is enough room on your desk for this converter, as it's pretty large.
To be sure, measure the width and depth to see if it will fit. Also measure the height of your desk to make sure that the height (17.5" fully extended) will be enough. Keep in mind that there are 11 height settings so you should be able to find one that works.
The weight capacity is 35 lbs, which should be more than enough to hold most dual monitors setups.
>> Check out pricing and reviews on Amazon <<
Specs
Surface measures 36 x 12.125 inches
35 lbs weight capacity
17.5″ height from the desk when raised (with 11 height settings)
Pros
Larger surface area than conventional converters to accommodate two standard monitors
Smooth and reliable spring activated lift mechanism for easy sit to stand transition
35 lbs weight capacity
Comes in black or white and includes a 5-year warranty and 30-day guarantee
Cons
Vari products come with a higher price compared to budget converters
This product weighs over 50 lbs and might be heavy for one person to place and position correctly on their desk
What Customers are Saying
Most customers have a great experience with Vari products, including this desk. Although some have complained about sturdiness and trouble lifting, most people using this converter find it to be stable, easy to assemble and hassle-free when it comes to raising or lowering.
FlexiSpot Electric Height Adjustable Desk (48")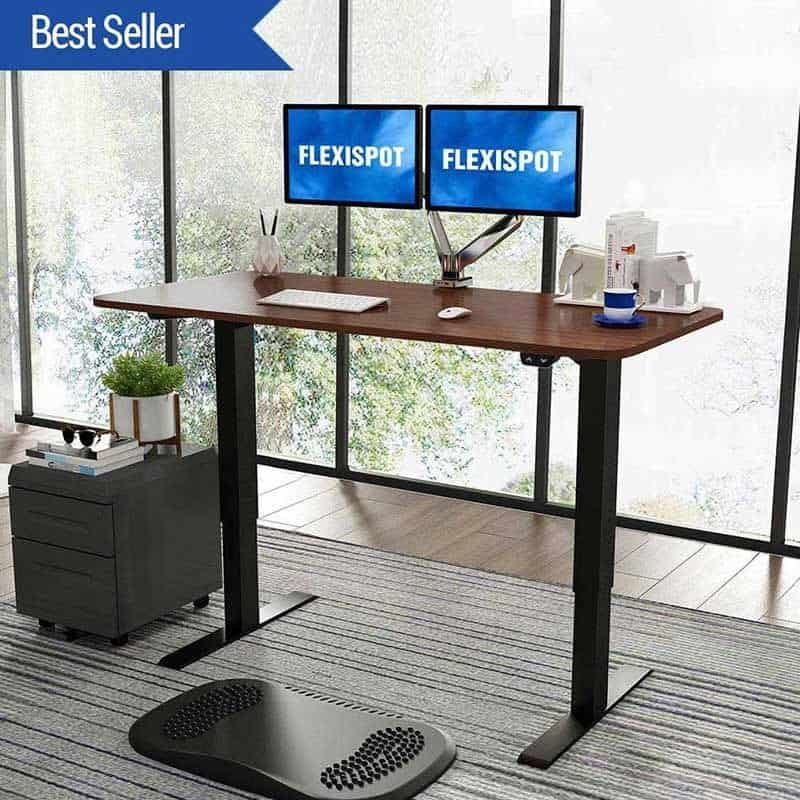 FlexiSpot makes a very popular electric height adjustable desk that's perfect for holding two-monitors.
This sturdy desk comes with a smooth and quiet motor that can handle up to 154lbs of lift capacity. The 48" x 30" versions gives you plenty of space to position a dual monitor setup along with other accessories, such as a speaker or charging station.
This desk is available in a bunch of different frame, material and finish options so you can find something that works with your office at home in the workplace.
For example, the standard 1" thick laminate MDF top is available in 7 colors, including white, maple, mahogany, black, graphite and more.
Or you can opt for a 0.7 inch super durable and sustainable bamboo desk surface with a natural finish.
>> Check Out Pricing and Customer Reviews from FlexiSpot <<
Specs
Desk dimensions are 48" wide x 30" deep. Can also get a 24" deep version. We prefer the 30" though when placing more than one monitor.
33.5 to 50.8" adjustable frame width
27.9″ – 47.6″ height adjustability (not including desktop)
2 stage motorized lift with 154lbs lifting capacity
Pros
The FlexiSpot is a clean and modern looking sit-to-stand desk with plenty of room for two monitors
Comes in a variety of finishes
Smooth and quiet electric height adjustment
Reasonably priced for a motorized desk option
Standard 5-year warranty for frame and motor (2-year for control pad and switch)
Cons
Related: View more of the best standing desk models from FlexiSpot
Flexpro Hero 37 Inch Standing Desk Converter
This excellent standing desk converter uses a hydraulic pump. This feature allows you to go from sitting to standing seamlessly and quietly in a few quick seconds.
It also has height adjustment up to 20.5 inches, making it especially useful for tall people.
Another major element of this standing desk is that it has two large surfaces tiered on top of each other. The top surface is 37 inches wide and can accommodate two monitors. The second surface is for your keyboard and mouse, with ample space for keyboards of any size.
Assembly is also straightforward as all you have to do is unpack the desk and attach the keyboard tray.
>> Check out pricing and reviews on Amazon <<
Specs
20.5-inch height adjustability
37-inch monitor surface
Weight support up to 35 pounds
Pros
Separate surfaces for monitors and keyboard and mouse setups
Good height adjustability of up to 20.5 inches
Can hold more than just a keyboard and mouse, so there is ample surface area for other stuff you may want to put on your desk
Very easy to assemble
Cons
The base can only handle up to 35 pounds of weight
The keyboard platform is only a half-inch-thick particleboard
What others say
While users generally love this desk converter, some complain that its particleboard tabletop is too thin and might not be able to handle lots of stuff.
Stand Up Desk Store Ergonomic Stand Up Desk
This option is a simple but well-designed full standing desk from the Stand Up Desk Store. It allows for height adjustment from 34.1 inches to 46.1 inches, and its surface measures 39.4 inches by 28.8 inches.
That's more than enough for dual monitors on one tier and a keyboard and mouse on the other. The two-tier design ensures that the monitors are always at eye level for maximum comfort.
This desk has a black and silver color, with a silver-gray powder coating finish to ensure longevity. It also has three-inch furniture casters, making it easy to move it from one room to the next.
>> Check out pricing and reviews on Amazon <<
Specs
39.4-inch width
46.1-inch maximum height
154 pounds weight capacity
Pros
It has a high weight capacity
Very durable
High maximum height, making it ideal for tall people
Comes with three-inch casters for easy movement from room to room
Cons
Not enough space for more than a keyboard and mouse
Readjustment can be a bit difficult
What others say
While most users loved this desk, some complained that readjusting it was a pain and was a two-person job.
Crank Adjustable Height Standing Desk
Straight out the gate, I have to point out that this is a crank adjustable standing desk. That means it will be a lot more work adjusting than a hydraulic or electric adjustable desk. However, if you do not adjust the height often, this issue will not be a deal-breaker.
This desk has an adjustability range from 32 inches to 48.5 inches. The high maximum height makes it especially ideal for tall people.
It also has a large shelf design that can easily fit two monitors, a keyboard, mouse, and a few other things. The frame is powder-coated to ensure durability.
>> Check out pricing and reviews on Amazon <<
Specs
32 – 48.5-inch height adjustability
60 inches wide
Walnut tabletop
Pros
Tabletop is available in many different color options
Has a high maximum height
Very wide and deep shelf
Very affordable
Cons
The walnut tabletop isn't very durable
Manually adjustable
What others say
Many buyers pointed out that the cranking action is very smooth and adjusting the desk manually was not as much work as expected. However, they also did complain about the quality and durability of the walnut and bamboo tabletops.
FEZIBO Electric Height Adjustable Standing Desk
There are quite a few significant positives for this standing desk. For starters, it is electrically adjustable. It also comes with four memory preset height options.
It also has a low minimum height of 28 inches, making it ideal for short people. The maximum height of 46 inches isn't too bad either.
Apart from that, the steel legs have a weight capacity of 176 pounds, the workspace is 46 inches long by 24 inches deep, and the whole desk comes with a three-year warranty.
>> Check out pricing and reviews on Amazon <<
Specs
48 inches long by 24 inches deep
Height adjustability range is 28 inches to 46 inches
Weight capacity is 176 pounds
Pros
Electrically adjustable
Programmable height presets
High weight capacity
Low minimum height makes it excellent for short users
Cons
Not for budget-minded users
Does not come with a manual, which makes it hard to deal with problems
What others say
While most users loved the desk, some didn't like the lack of a manual and the poor customer support.
Stand Steady Tranzendesk 55 Inch Standing Desk
This incredibly large standing desk is capable of supporting up to three monitors. It also comes with two tiers. The upper level can hold two monitors.
The maximum height is 46 inches, making it perfect for tall people. The minimalist design and silver frame makes this desk easy to match with any office decor.
The only downside is the relatively low weight capacity of 70 pounds for the whole desk.
>> Check out pricing and reviews on Amazon <<
Specs
27.5 – 46-inch height adjustability range
55 inches long by 23.6 inches deep workspace area
70 lbs weight capacity
Pros
Can support up to three monitors
Large workspace
Low minimum height and high maximum height accommodate both short and tall people
Very durable material
Cons
Manually adjustable
May be too wide for some users
What others say
While buyers love the space afforded by this desk, many complain about the effort required when adjusting the height manually.
Seville Classics AIRLIFT Pro S3 54 Inch Solid Top Electric Adjustable Standing Desk
This desk has the highest maximum height on this list, at 51.4 inches. The minimum height of 25.4 inches makes it perfect for short users, as well.
The desk itself is also quite large, at 54 inches long by 28 inches deep. Since it's electrically adjustable, it comes with four presets for easy adjustment and a blue LED height display so you can be precise about your ideal height.
However, the best part is the seven-year warranty for non-electric defects and the two-year guarantee for electric defects. It's hard to get a deal that good.
>> Check out pricing and reviews on Amazon <<
Specs
25.4 – 51.4-inch height adjustability range
54 inches long by 28 inches deep workspace
264 pounds weight capacity
Pros
High weight capacity
LED Height display for easy height adjustment coupled with height presets
Large workspace area
Wide height adjustability range
Cons
Requires a significant investment
Very heavy desk
What others say
Most users loved this desk, though some complained about how heavy it was. It's also very pricey, so it might not fit into everyone's budget.
Buyer's Guide for Standing Desks for Two Monitors
Here is what you need to consider when purchasing a standing desk that can accommodate multiple monitors.
Features to Consider
Here are some factors to look at when getting a standing desk for two monitors.
Weight Capacity
Strength might not jump right at you as the first feature you need to consider, but it is vital nonetheless. If you're going to put a lot of material on your desk, then your desk should have legs and a motor that can handle that weight.
The weakest standing desks can't lift much more than 50 pounds. The strongest can carry up to 700 pounds. If you have no idea how much the contents of your desk weigh, take the items on your existing desk and weigh them.
This exercise will give you a clear sense of how much strength you need. If the tabletop you're thinking of getting for your standing desk isn't listed, you can contact the manufacturer to determine its mass.
Is it Programmable?
If you opt for an electric desk, it's likely to have memory settings, which you can set to whatever you want. If you share the desk with others, such as colleagues in the office or family members at home, then having a few preset heights can save you the headache of finding the right level each time you switch users.
What are the Minimum and Maximum Height?
The range between the minimum and maximum height is vital to consider. More specifically, you'll want to know the minimum if you're short and the maximum if you're tall.
For maximum comfort, your elbows should be able to rest at your sides as you type while standing. Your forearms should be at an angle slightly directed toward the floor. Your monitor should be at eye level. Pick a standing desk or converter that has the right maximum or minimum height to make this possible for you.
What are Standing Desk Converters?
A standing desk converter is what you get if you don't want to replace the desk you're currently using. In that case, you should get a riser or converter, which you place on top of the existing desk.
With this tool, you have the option of either standing or sitting while working. This kind of choice can save you a lot of money and time if you're careful enough and get a model that fits your existing desk and meets your capacity requirements.
Benefits of a Standing Desk
Some of the benefits of using a standing desk and standing instead of sitting while working for extended periods include the following:
Standing reduces your risk of obesity and weight gain since it burns more calories.
Using a standing desk lowers your blood sugar levels, especially for type II diabetes or insulin resistance.
Standing may lower your risk of cardiovascular disease.
Standing desks may reduce chronic back pain.
Standing desks may help to boost energy levels and improve your mood.
Standing desks may make you more productive.
Considering all the above benefits of standing, using a standing desk may increase your lifespan.
How to measure for a dual monitor standing desk
Since we all have different space needs, it's crucial to figure out your space requirements before buying a standing desk.
A good start is to find the combined footprint of your monitors. This process isn't just about their screen sizes, but also their overall measurement when attached.
For example, if you have two standard 24" monitors, you'll likely need more room than a 48" desk.
Alternatively, if your monitors are usually at a V angle, the actual combined footprint may be smaller than the sum of their screen sizes. You may also include the size of any monitor arms or frames if you plan on using those.
It would help if you also considered the sizes of other things you might put on the desk, such as your keyboard and mouse, books, documents, printers, and so on. To optimize space, make a habit of putting the keyboard and mouse in the center, between the two monitors.
Figure out exactly how much space you need to work comfortably and efficiently. Once you have the right space needs, you can pick a suitable desk to accommodate those requirements.
Setting Up Two Monitors: Ergonomic Considerations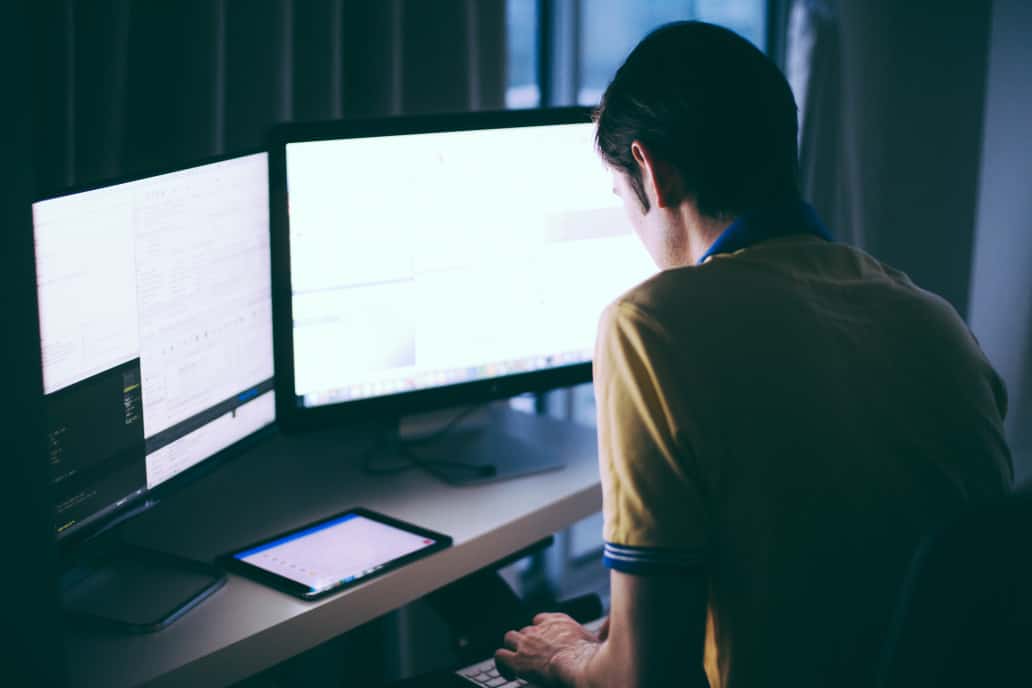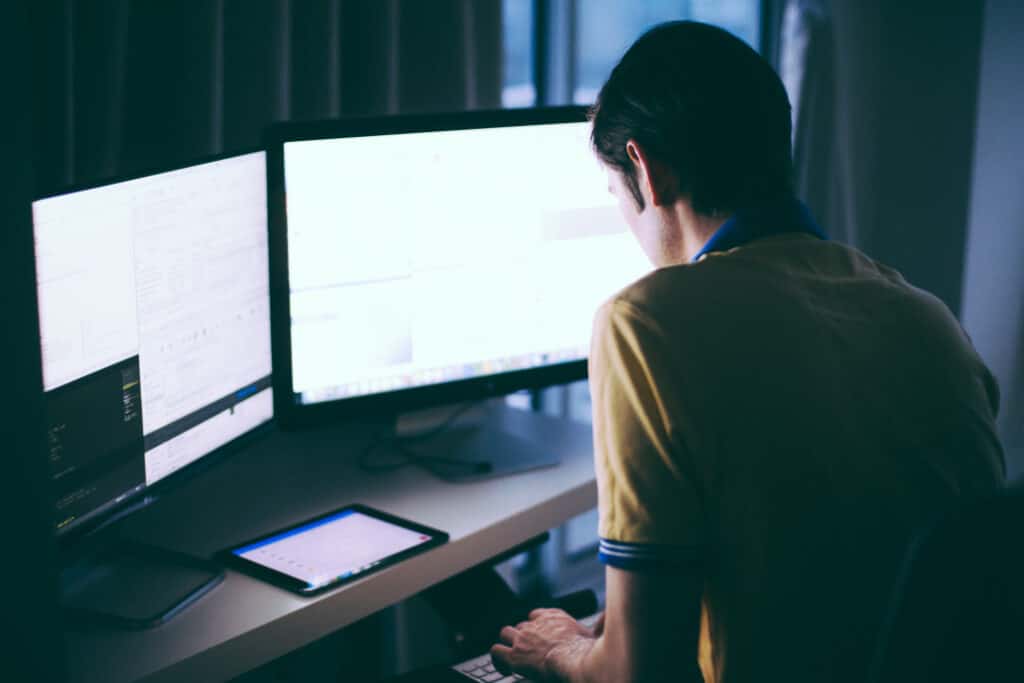 No matter which sit-to-stand desk or standing desk converter you choose, it's important to remember the following ergonomic considerations when setting up two screens on your desk:
If you use the two monitors an equal amount of time, set them up at a V-angle so you can see both at the same time without straining your neck.
If you use one monitor more than the other, set the primary monitor in front of you, with the second to the right or left at a 30º angle.
Try to use monitors that are the same width and height if possible.
Keep a comfortable viewing distance by positioning monitors about an arm's length away, with the top of the monitor about 2-3″ above eye-level.
Keep shoulders relaxed and elbows/arms close to your body when working, with the keyboard and mouse centered and on the same level (important when using a two-tier standing desk converter).
Get more dual monitor ergonomic tips here.
Conclusion
The most important things to consider in a standing desk are the mode of adjustment, size, height range, and weight capacity.
While our favorites are the Stand Steady Tranzendesk 55 Inch Standing Desk and the Hans & Alice Dual Monitor Desk Converter, any of the standing desks on our list will easily accommodate a two-monitor setup.
Whichever model you end up buying, you'll see that the health and productivity benefits of standing desks make them a worthwhile investment.
Other Products We Considered
The Office Chair Picks editorial team researches hundreds of products based on consumer reviews, brand quality, and value. We then choose a shorter list for in-depth research and testing before finalizing our top picks. These are the products we considered that ultimately didn't make our top 5.