What are the different types of standing desks?
It seems that everyone is interested in using a standing desk these days. And the market has grown rapidly, with tons of new options and designs from different brands popping up all the time.
But, for home office workers, standing desks are still a new concept. In fact, in a recent survey we conducted, we found that only 13% of respondents actually use a standing desk in their home office.
OK, it's clear that people are still weighing the pros and cons of these products and trying to figure out what type of standing desk unit is right for them.
More specifically, people want to know what style is best for their office setup, work habits, and health goals.
Personally, I use a standing desk converter (one that sits right on my desk) and find that it helps with my posture and adds a little variety to my day.
Overall, it's reduced the aches and pains that come with too much sitting and staring at my screen. Plus, I can still sit in a comfy office chair when I get tired.
But it's not the right style for everyone, and there are plenty of other options to learn about. That's what this guide is for.
In this guide, we'll provide an overview of the main types of standing desks available to help you take the next step.
The Basics: Sit-Stand Desks vs. Fixed Desks
Before diving into specifics, we should start with the basics.
The two general categories are sit-stand or fixed desks.
A sit-desk desk allows you to adjust the height of the desk so you can use it while sitting and then raise it up to standing level.
Sit-stand desks are either designed as converters (also known as adaptors) that you can place on your existing work surface, or stand-alone height adjustable desks.
Standing Desk Converters
If you already have a nice desk that you sit at, simply adding a converter will give you the ability to stand while working during the day.
You just place you monitor on the top level and put your keyboard on the lower tier and you're good to go. You can keep your mouse on the top level or lower tier depending on what's more comfortable.
The most popular converters are made by companies like Varidesk, VIVO and Flexispot. Many converters use a simple gas lift mechanism where you press a lever to effortlessly raise and lower the desk.
You'll also find converters with electrical height adjustment. We discuss this in more detail below.

What to consider with standing desk adaptors
– Will it fit on your current desk?
– Is there enough room for your monitor, keyboard and accessories?
– Is the lower keyboard tray removable?
– What is the lift mechanism? Most are gas-lift, but you can find electric and hand crank units too.
– Style and configuration (i.e. corner or single desk)?
– Desktop surface material and style? You want to make sure it matches your existing style, so look at the color, materials (i.e. laminate, plastic, wood veneer).
– Is it sturdy enough? Check the weight capacity and read the reviews to make sure it's reliable and sturdy for frequent use.
– Will it extend high enough? (Related: Have a look at our guide to the best standing desk converters for tall people)
Height Adjustable Desks
If you are looking for a new desk altogether, you should check out a stand-alone height adjustable desk.
These are singular desk units that come with a height adjustment mechanism. You can find these with different desktop surfaces, frame materials, and adjustment mechanisms.
Popular brands include Uplift, Jarvis, FlexiSpot, Autonomous, iMovR, EvoDesk, Seville, SHW, and several more.
A height adjustable desk, combined with a well-made ergonomic office chair, will give you the best of both worlds. Of course, you can get the same benefits with a standing desk converter as well.
The difference is that a height adjustable desk comes with a large work surface with plenty of space for your computer and desk accessories.
On the other hand, a converter will take up existing desk space, and you'll be using the monitor and keyboard on different tiers.
You may have less room for other accessories or dual monitor setups.
Summary: What to consider with height-adjustable desks
– What type of adjustment (electrical, gas lift or manual)? Discussed in more detail below.
– Frame looks and materials
– Desktop material (i.e. laminate, metal, hardwood, Bamboo, etc.)
– Height adjustment range (make sure it fits your needs for both sitting and standing)
– Weight capacity (make sure it's high enough to hold all your computer equipment)
– Configuration (is it a rectangular, rounded or L-shaped unit)?
Fixed Height Standing Desks
Just like it sounds, a fixed standing desk is built to a specific height. It does not adjust for sitting or working at different heights.
These work well in a couple specific situations.
First, if you have a desk treadmill or stationary bike setup, you can combine it with a fixed standing desk.
Also, many portable desk units are fixed. These are great for collaborative work settings, medical offices, and similar settings where moving around and dealing with customers or clients is essential.
If you decide to use one of these at home, just make sure you have a nice chair nearby. While standing is a great way to improve posture and burn some calories while working, you still need to take breaks.
So, use a laptop and keep a chair nearby so you can sit and work for a bit.
There are a few popular fixed standing desk brands out there, including this one from Safco and this 40" mobile standing desk from the Stand Up Desk Store.
Of course, with a fixed unit you want to make sure it is built to the right height.
Check out this tool from FlexiSpot to calculate your ergonomic desk height.
Many fixed-height standing desks also come as a larger furniture piece — frequently, there are bookshelves or other features built-in.
The fixed-height desks can then double as a fashionable furniture item in your home as well as a usable workstation for anyone who has a permanent office setup.
Summary: What to consider with fixed standing desks
– What is the height?
– Is it a portable unit?
– Will you use with a laptop (recommended)?
– Is there adequate seating nearby?
– Desktop surface size?
– Additional storage space and shelves?
Now that we've covered the basic standing desk types, let's go in to more detail about how different models work and who they're best suited for.
Electric Standing Desks
Whether you're looking at converter or height-adjustable desk, you can find models with motorized height adjustment.
These include motorized rising columns and additional features like programmable settings, integrated cable management and simple up/down button controls.
Electric standing desks are great for people who want the ultimate level of convenience when changing from sit to stand positions.
For example, if you have severe back or shoulder pain, these will make things a lot easier. Just push a button and raise or lower the desk. There's no lifting or cranking required.
Of course, an electrical unit does come with some potential downsides.
The first one is cost.
For example, some high-end motorized models are priced over $1000. This is especially true for L-shaped units or units with additional features, such as sustainable tabletops (i.e. Bamboo) and automated adjustment features.
However, most conventional units will range from $300 to $600.
Also, an electrical unit can be noisy. If you're constantly changing the height while others are trying to work, that could be a problem. Luckily, electrical units from reputable manufactures are usually very quiet. Just make sure you read the reviews.
Finally, since your dealing with an internal motor and electrical components, there is always the possibility that the lifting functionality will fail or require maintenance. You also have yet another cord to deal with.
So, is an electric adjustment desk worth it?
Personally, when it comes to converters, I have found that the gas lifting mechanism in most quality adjustable standing desk models makes lifting and lowering practically effortless. I'm not so sure an electrical height option is necessary.
However, when it comes to a full height adjustable desk, the electrical adjustment is crucial.
You're now lifting an entire work surface, including all equipment and accessories. You need a quality motor to make this happen without hurting yourself. The alternative is a hand-crank model, discussed in more detail below.
Summary: What to consider with electric standing desks
– How quiet is the motor?
– Is it a single or dual motorized unit? With double motors you get better functionality, a smoother lift, and more reliability.
– Is cable management integrated? With a standing unit, you want a place to store loose cables neatly.
– Are the settings programmable? Or is it a simple up/down button interface? Basically, how much control and automation do you need.
– What is the height-adjustment range? Desktop dimensions?
– Also consider the desktop surface materials (i.e. laminate vs hardwood)
Of course, if you do want to burn some extra calories, you could always consider a hand crank adjustable desk.
Manual Crank Standing Desks
The electric desk's counterpart, manual crank desks can adjust in height but require manual hand cranking to do so.
A crank-style desk produces two points of view: 1) an unnecessary amount of work to adjust your desk or 2) a bonus of extra calorie burn during work.
Hand crank standing desks are simple to operate. You just turn the crank to raise or lower the desk.
The key is to find one with a smooth and durable hand crank. You'll also want to make sure that the crank folds under the desk and out of the way. A good example is the handle design on the H1 model from FlexiSpot.
If you plan on doing a lot of raising and lowering during the day from sitting to standing, just remember that you'll need to do a lot of manual turning.
For some people, this becomes a problem. And you might find that you get stuck in a sitting position for longer because the constant cranking is too much of a hassle.
If that's a concern, you should stick with an electric height adjustable desk or find a hand crank model with a very fast and smooth mechanism.
What to consider with a hand-crank desk
– How much money will you save? A hand crank desk should be considerably cheaper than an electric model.
– What are the tabletop dimensions? Look at the depth and width of the desktop options that come with your frame to make sure it will fit in your space.
– What is the height adjustment range?
– Does the handle fold away or is it removable?
Exercise Standing Desks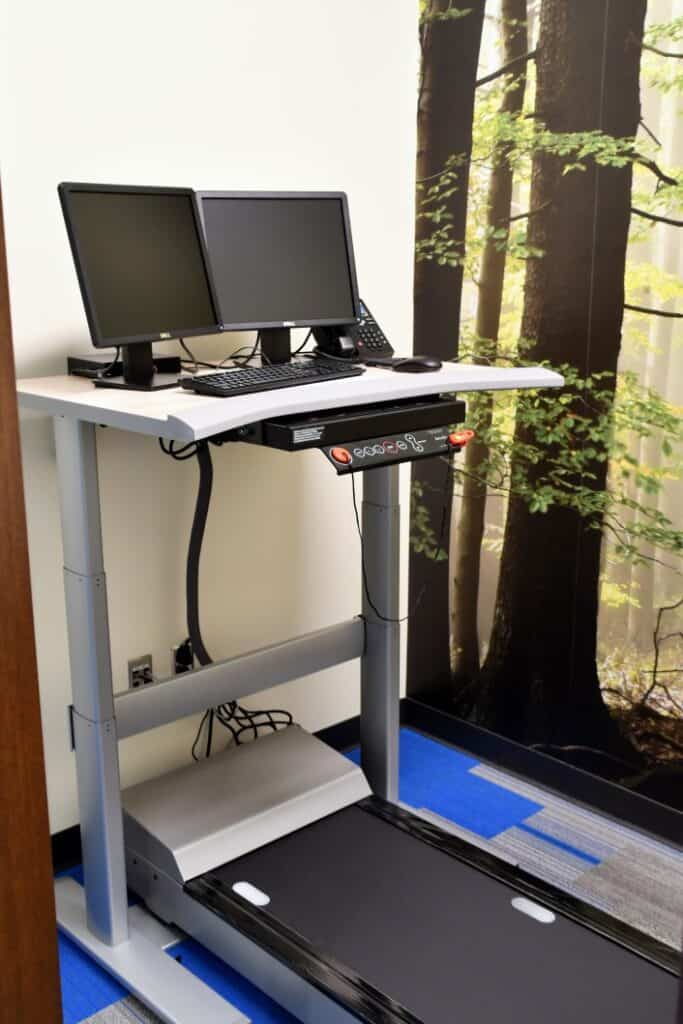 The final type of standing desk that we'll mention is the exercise standing desk.
This is a more ambitious way to incorporate movement and exercise into your daily work routine. But if that's your goal, a standing desk treadmill or bike is an exciting option.
For example, the popular desk treadmill systems from iMovR offer the benefits of a sturdy and quiet treadmill with a height adjustable standing desk.
The unit is designed with a proprietary walking treadmill and an LCD touchscreen for control while working and walking.
As mentioned, the desk is still adjustable. Also, the SteadyType® model includes a separate keyboard tray that you can raise and lower independent of the desk. This allows you to find the exact ergonomic position while changing incline levels and adjusting desk height.
And finally, you have exercise desk bike and desk combos.
Another way to incorporate gentle cardio into your daily routine, these come as fully integrated units, where the desk is attached to the bike, or as separate bike and desk units.
This of course is not really a standing desk because you're actually sitting on a bike. But the concept is similar, since it incorporates gentle activity into the day.
We prefer the separate units so you can actually do some standing and use the bike when desired (without the bike in your way).
Are exercise standing desk combos worth it?
The general consensus is that walking or cycling while working is a great way to incorporate gentle cardio into your daily routine. And studies have shown that the benefits of a work treadmill outweigh the potential for reduced productivity or distraction.
Of course, keep in mind that all that walking in front of a desk can actually cause more back and joint pain for some users, with a higher risk of injury for those who have trouble balancing while trying to concentrate.
Plus, there's the cost. The best treadmill units will set you back well over $1000. But you'll definitely get your 10,000 steps in!
Things to consider with exercise style standing desks
– Are the units integrated, or is the equipment available as separate pieces?
– Is the desk fixed or adjustable?
– What speeds and levels are available for the walking treadmill? Bluetooth controlled?
– Is the equipment validated as safe by BIFMA/ANSI?
– Will exercising (walking or biking) while working interfere with your productivity or cause balance problems? If possible, test one out first to see how it feels.
More to Consider
Once you've decided on whether you want a converter, adjustable desk, fixed or portable unit etc., there are some other aspects of choosing a model that are important to consider.
Do You Need a Corner Desk?
If you need to set your desk up in a corner, you can find standing desk models with a corner desk design and additional features for improved ergonomics.
For example, the UPLIFT V2 Curved Corner desk is designed to fit into tighter corners with plenty of space to stand and move freely while accessing your equipment to the curved inner section.
You can also find traditional L-shaped corner standing desks from most companies.
Do you Use Two Monitors?
If you use a dual monitor setup, make sure there is enough room for both screens and additional space for your keyboard and accessories. This isn't a problem with most stand alone adjustable units.
But if you are looking for a converter, make sure the top level is spacious enough for two monitors.
You can review our guide to the best standing desk for two monitors to see some good options.
Do You Need Additional Storage?
Many fixed standing desks come with extra storage built in, since you won't need to worry about adding weight when adjusting the height. And many portable options come with shelves and draws built in.
Additional storage is less common on height adjustable desks, though.
Luckily, these usually come with plenty of surface area to keep your items nearby. And you can easily fit additional shelving and storage nearby thanks to the open and space saving designs of these units.
However, if you need more space, check-out our guide to the best standing desks with storage for some good options
Should you buy a standing desk for your child?
Yup, kids can benefit from standing desks too. It encourages active learning, healthy movement and posture, and is a great way to keep them focused and engaged by switching from sitting to standing during the day or while doing their homework. Of course, you'll also need to find a model that's specifically designed for their study needs, learning space and height.
Have a look at our guide to the best standing desks for kids to see some excellent options.
Types of Standing Desks: Weigh Your Options
If you're ready to take the step and bring a standing desk into your workspace, there are many excellent options out there. You just need to evaluate what type and design will best suit your work style, health goals, and office space.