Video games may have a wonderful ability to transport us to whole new worlds, but that doesn't mean we can't make the world we're in look and feel as good as possible.
As these top gaming desk ideas show, it doesn't take much to really transform your game room, creating the kind of environment that really helps you to get fully absorbed in whichever game title you happen to be playing.
From brand new gaming desks to accessories and all-important aesthetic touches, here's all the inspiration you need to level up your gaming space.
Top 20 Gaming Desk Ideas
1. Create a Whole New Atmosphere With LED Light Strips
Adding a few simple LED light strips can be one of the quickest, easiest, and most affordable ways to upgrade your gaming setup.
All it takes is to stick a few strips above your gaming desk and/or around the baseboards of your room and you've got a whole new ambiance that's perfect for getting you in the right mood for a quality gaming session.
Options like Govee's 16.4ft LED strip lights even come with a remote control and smartphone app so that you change the colors and intensity to suit whatever game you're playing.
Related: Have a look at our favorite gaming chairs with LED lighting.
2. Anime Theme

If you enjoy spending time on your PS5 just as much as working your way through Jujutsu Kaisen and Attack on Titan then why not combine the best of both worlds with an anime-themed gaming room?
Add an anime gaming mouse pad to your desk, swap out your desktop wallpapers with scenes from your favorite series, and maybe add a few action figures in place to really create a colorful and inviting place to game.
3. Save Space With a Corner Desk
Working and gaming in the same room and don't have space for two separate stations?
A gaming-centric corner desk like the Mr. Ironstone L-Shaped Home Gaming Desk helps you to organize your space so that you can swivel around from work to gaming and back again with ease.
4. Add a Backlight for a Simple-Yet-Stylish Upgrade

We've already seen what a big difference lights can make, but if you didn't like the idea of putting LED strips all around the room, using a simple backlight behind your monitor can create a dramatic new look.
5. Go for Pretty in Pink

Fed up of the same old dark and brooding gaming desk setups? Swap things out by combining your favorite pink gaming chair with pink accessories or even a completely pink gaming desk.
6. Get Lost in Another World With an Immersive Screen Setup

A triple-monitor setup may not be all that uncommon for gamers, but why stop there? Add more screens to your desk to create a fully immersive gaming experience.
7. Keep Things Neat With Controller and Headphone Stands
Just because you're causing chaos and wreaking havoc in GTA V doesn't mean you can't keep your game station neat and tidy.
These handy stands help you to store your controllers, headsets, and other accessories when not in use.
8. Create a Bespoke Racing Game Setup?

Love playing games like Dirt 5, F1 2020, or even some good, old-fashioned Mario Kart?
Why not follow this genius idea and turn your whole desk setup into a bespoke racing game rig?
9. Add Some Retro Appeal With This Mario Lamp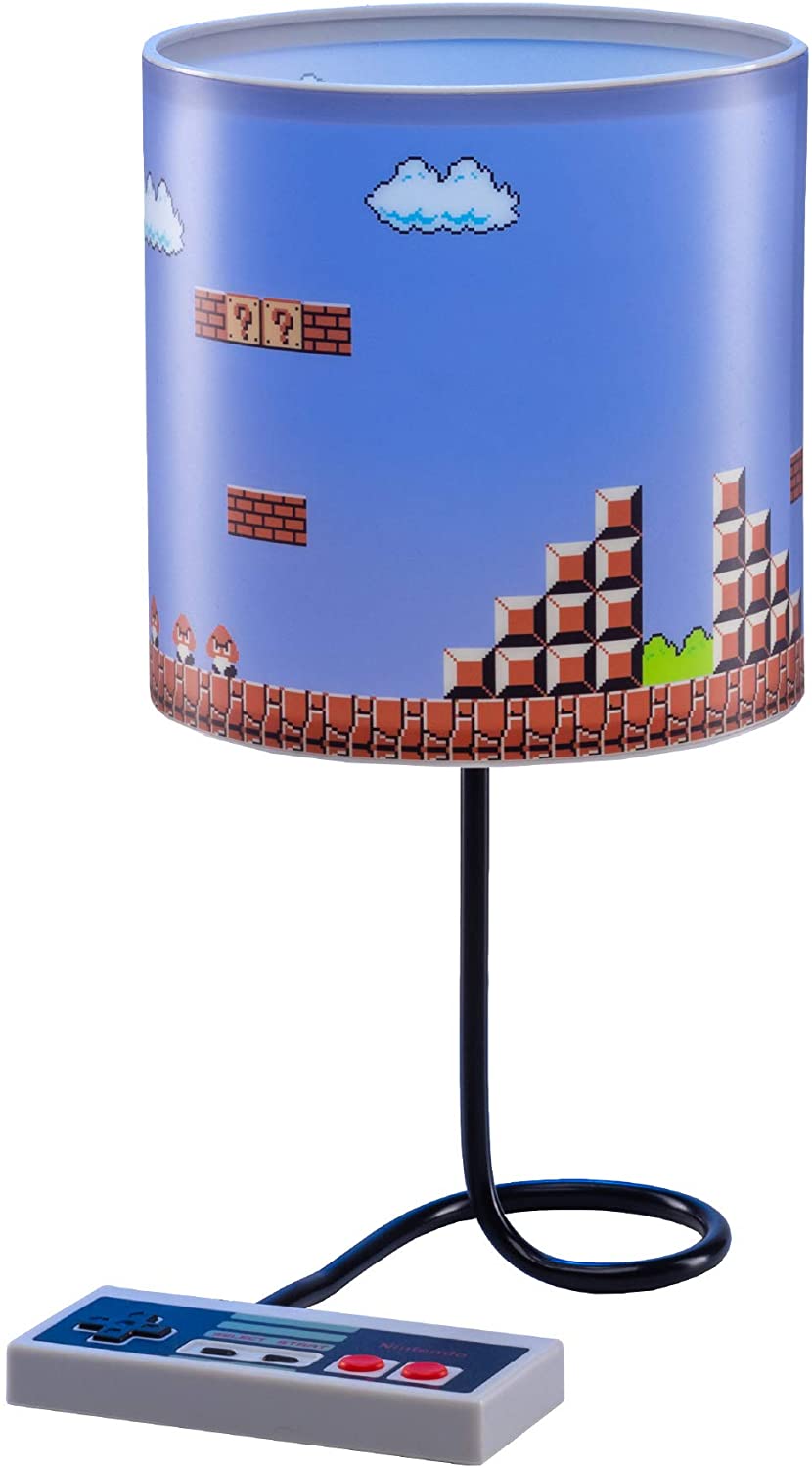 On the subject of everyone's favorite Italian plumber, why not add this super-cool Super Mario lamp to give your gaming desk a certain retro feel?
10. Upcycle Your Old Consoles

Sticking with the theme of lamps for a moment, it turns out that the dusty PS2 you haven't played in years can easily be upcycled to create this cool gaming desk accessory.
11. Level Up With a Gaming-Focused Desk
In theory, any old flat surface would work when it comes to setting up your game station, but a desk that's designed specifically for gamers such as the DESINO Gaming Desk works even better.
Not only does it offer all the space and ergonomic design you'd need for a comfortable gaming experience, it also offers additional features such as a monitor stand, headphone hook, and even a cup holder.
12. Gaming up a Storm
It's amazing what a big difference a few simple items can make. Combine a black and white gaming chair with a white desk, accessories, and a few simple Stormtrooper figures and you've got yourself a complete Star Wars gaming setup.
13. Create a Dynamic Look with a Red and Black Theme
If white and black don't quite do it for you, consider swapping things around by adding one of the best red and black gaming chairs with red and black accessories and backlight to create a striking new look.
14. Think About Storage
All those games, accessories, and extra controllers have to go somewhere, right?
Draws can be useful as storage, and if you add shelves too, they can double up as extra storage and a perfect way to display game-related books, collectibles, or other decorative items.
15. Don't Forget Those Speakers
In addition to storage, high-quality speakers can make a huge difference in improving your overall gaming experience. Plus they look pretty cool. Just find a pair that will deliver the bass, range and depth you need based on the types of games you play.
Also, make sure you'll have enough space for your new sound system with your updated or existing desk setup.
16. Invest in Cable Management to Keep Your Desk Clutter-Free
Leaving all of your cables in a tangled-up bunch is only going to see them wear down faster than usual, not to mention leaving your gaming area looking a mess.
Invest in a simple solution like a basic under-desk cable tray to keep everything tidy, or see our quick guide to the best cable management tips for more great ideas.
17: Remember – A Little Goes A Long Way
Maybe you don't have the budget for a brand new gaming desk nor the time to go around setting up LED light strips? That doesn't mean you can't change things up quickly and affordably.
Simply adding a great-looking mouse pad can go a long way to breathing a whole new lease of life in your tired, old gaming desk.
18. Go Oak for A Stylish Look
Gaming setups don't always have to be about brash neon lights and dark colors.
Sometimes, simply swapping out your desk for a classic oak option like this attractive L-shaped desk from Soges can help to create a stylish, modern look in your game room.
19. Save Desk Space With Wall-Mounted Monitors
Just because your desk space is at a premium doesn't mean you can't still enjoy a double-monitor or even a triple-monitor setup.
Simply use an adjustable wall-mount to attach your monitors to the wall, giving you the benefits of multiple monitors with the added advantage of extra desk space.
20. Switch to Standing for a Healthier Gaming Experience
Love long gaming sessions but not so keen on the way all those hours of sitting cause problems for your back, neck, and shoulders?
You could also consider switching things up by swapping your sitting desk for a standing option such as the OUTFINE Height Adjustable Standing Desk.
We love this one because it comes with added gamer-friendly features like a cup holder and headset hook, combining them with all the health benefits of a standing desk to give you the best of both worlds.
Leveling Up Your Gaming Desk: The Final Word
Whether it's swapping out that boring, old office desk for a state-of-the-art gaming-focused option like the DESINO Gaming Desk or simply adding a few aesthetic design touches such as LED strip lights, there's no end to the possibilities when it comes to upgrading your gaming setup.
With the 20 ideas above, we've aimed to demonstrate that it doesn't really matter if you have only a few dollars to spend or a few hundred, whatever your budget, your space, and your personal tastes, the only real limit to levelling up your gaming desk if your own imagination and creativity