Being uncomfortable at work often slows productivity and lowers workplace satisfaction. If you enjoy your job but are miserable in your seat, it may be time for a new office chair. We've reviewed four of the top ergonomic office chairs for lower back pain and hip pain, so you can weigh your options and choose the best chair for you.
The Best Chairs For Lower Back and Hip Pain
The Leap v2 Chair from Steelcase is one of the most highly rated office chairs to help with lower back pain. The design is all about lumbar support and cradling your lower back to avoid pressure points. Our favorite thing about this chair is how gently but effectively it corrects posture.
The lumbar support is prominent and adjustable, so if you have a habit of leaning forward when you're working the lumbar will correct this behavior. And when you lean back, the lumbar moves with you to continue supporting the bottom of your spine.
The bottom of the chair is mesh, so it has some bounce and absorption. The mesh helps relieve hip pain if you sit on something too hard or too soft.
Humanscale Freedom Ergonomic Chair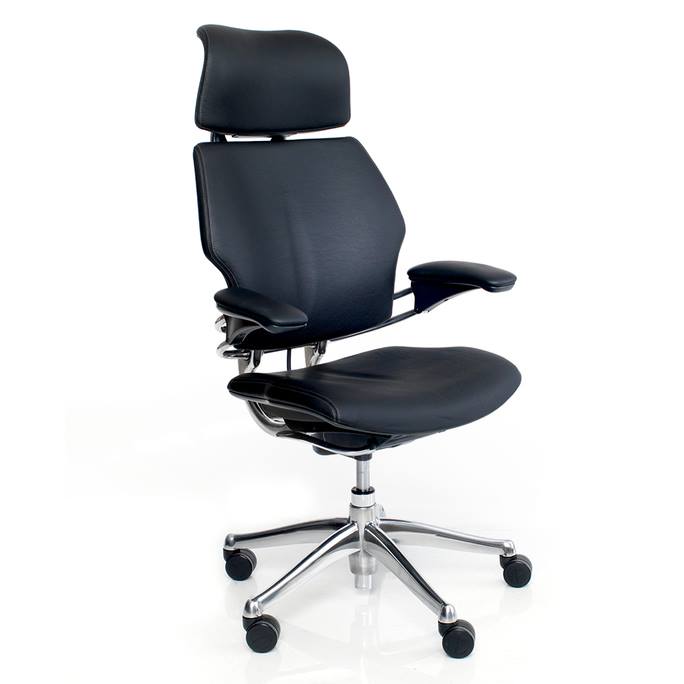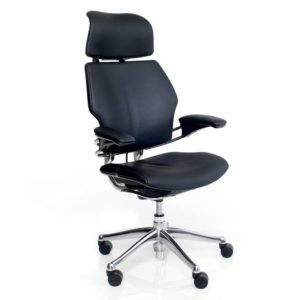 First off, we love the look of the Humanscale Freedom two-tone chair with its sleek design and minimalist aesthetic. But we also love all the hip and back support it offers its users. The chair has excellent back support despite not having a specific lumbar insert. Instead, the subtle S shape of the backrest cradles your lower spine while helping you sit up straight and relieve overall spine pressure.
The seat is rather wide, which can stop the sides of the armrests from squeezing your hips and causing discomfort. This chair has a super simple look but is actually full of ergonomic features.
The Herman Miller Aeron chair is one of the most popular office chairs. If you're wondering if this chair is all people say it is, well, it is. The chair offers incredible lower back support with a well-cushioned seat to provide your hips with relief.
Unlike most office chairs that discourage leaning forward, the Aeron has a forward tilt tension adjustment, so you can lead forward to work. So if you feel like you'll never be able to break that habit, this might be the ideal chair for you. You can lean forward, and the chair will follow you, so it continually offers lumbar support.
If you are sick of sitting all day, try this Herman Miller Cosm chair. The entire chair is mesh, and sitting in it provides a floating feeling, similar to laying in a hammock. The chair is super flexible and moves with you, every turn and every lean. The flexibility helps reduce pressure on the side of your hips and lower spine.
The mesh lumbar support design doesn't designate the support to one point on your back but instead supports your entire back at the same time. Opposite of the Aeron, this chair is excellent for people that like to recline when they're working, as the lumbar support moves with you.
Other Tips for Reducing Hip and Back Pain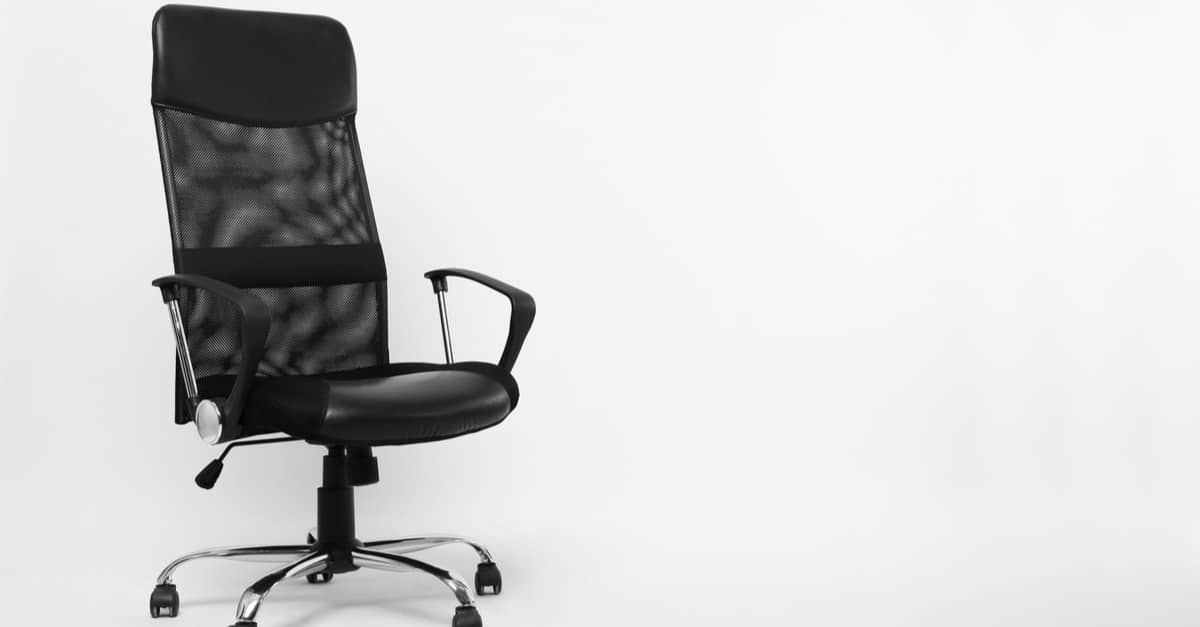 Posture
One of the most common causes of hip and back pain in people is due to poor posture. Many of us hunch over and this causes our spine to compress abnormally. This puts tension on the vertebrae resulting in hip and back pain.
This is especially harmful when one is sitting at a desk for 8+ hours every day. You should always aim to be in the neutral spine position. This is when the spine is neither extended nor compressed, and the vertebrae are comfortably stacked on top of one another.
Movement
Many studies show that sitting at your desk on a computer all day, every day is extremely harmful. It impacts not only your spinal health but also your circulation and heart health. To combat these problems, get up and move for about 5-10 minutes every hour. This can include switching from a sitting desk to a standing position or taking a short stroll around the office.
Seat Cushion
Many people have hip and back pain because they are sitting on something too hard or too soft. When you use a soft seat cushion, your hips are pushed inward, which can be uncomfortable. And when the seat is too hard, it puts pressure on your spine and coccyx.
You can purchase your own seat cushion to replace your chair. Try to find something in the middle of the soft and hard spectrum. The best cushions are usually made of gel or foam that cushions you without letting you sink into the seat.
Lumbar Pillow
If you feel like your chair is comfortable aside from the backrest, you can buy detachable lumbar pillows that may help more. Often ergonomics function as a whole chair design, so it's best to buy an ergonomic chair geared towards helping with hip and back pain. But if buying a new chair isn't an option, an added headrest may help relieve tension in your hip.
Crossed Legs
This applies to your office and your behavior outside of the office. Crossing your legs, in the criss-cross-applesauce position, is harmful to your hip and joint health. This is a common cause of hip and lowers back discomfort. When you sit with both your legs crossed, it puts pressure on the side of your hips and also extends your joints into an awkward position.
Crossing your legs also forces your spine to compress, and many people hunch over at the same time. Overall, this is a terrible sitting position from an ergonomic standpoint and should be avoided.
Bottom Line
No one should have to be uncomfortable at their desk. Lower back and hip pain can be debilitating, but there are solutions. These chairs and our ergonomic tips can work together to cure your lower back and hip pain.
Don't suffer any longer when a brand new chair may be the solution to all your discomfort.
FAQ
Is leaning forward bad?
Yes, leaning forward while you work is generally discouraged by ergonomic experts. However, the Aeron chair design is for people that can't ditch this habit. But try to maintain proper posture anyway.
Is leaning back bad?
Not in and of itself, but constantly leaning back when you work, can add pressure to your lower spine, as you are likely still raising your head to complete tasks. The chairs on our list can help this, like the Cosm, which will still support your lumbar area when you recline up to 100 degrees.