The Herman Miller Aeron office chair is undoubtedly one of the most polarizing office chairs on the market right now — some people absolutely swear by it, while others would rather go with another option.
It's inspired a devoted following with users who praise it for its durability and next-level comfort, even earning it a spot in our picks for the best office chairs for small spaces. Others, though, scoff at its sky-high price tag and insist that it's both overpriced and overrated.
No matter how you slice it, it's still going to cost you a pretty penny. This begs the question: Is the Herman Miller Aeron chair worth it?
To find out, we put the premium office chair to the test. We weighed features such as design, durability, comfort, and style to help you determine if it's the best fit for you. Here, you'll find a complete review of the Herman Miller Aeron chair, as well as some frequently asked questions and a handy list of pros and cons to help you make your decision.
Herman Miller Aeron Chair Review
First Impressions
Before you even sit down on the Aeron, the first thing you'll notice is likely its price tag. Though it may not be enough to warrant a mention on our list of the world's most expensive office chairs, the chair isn't exactly budget-friendly.
Avid users of the Aeron, though, say it's worth every single penny. When you're going to be sitting down hours, day-in and day-out, on an office chair, you're going to want to make sure it provides ample support and comfort. The Aeron passes that test with flying colors.
The chair is known for its exceptional quality, and have been purpose-built using only high-grade, made in the USA materials. While these features can increase the price, they also provide a significant return on your investment — users claim to get a decade or more of use out of the chair without any signs that it needs replacing.
Aside from the staggering price tag, though, you'll also notice how sleek and professional the Aeron office chair looks. It certainly has the more traditional office chair look, but it's not bulky or cumbersome.
Find deals on the Herman Miller Aeron
Herman Miller Aeron Chair Design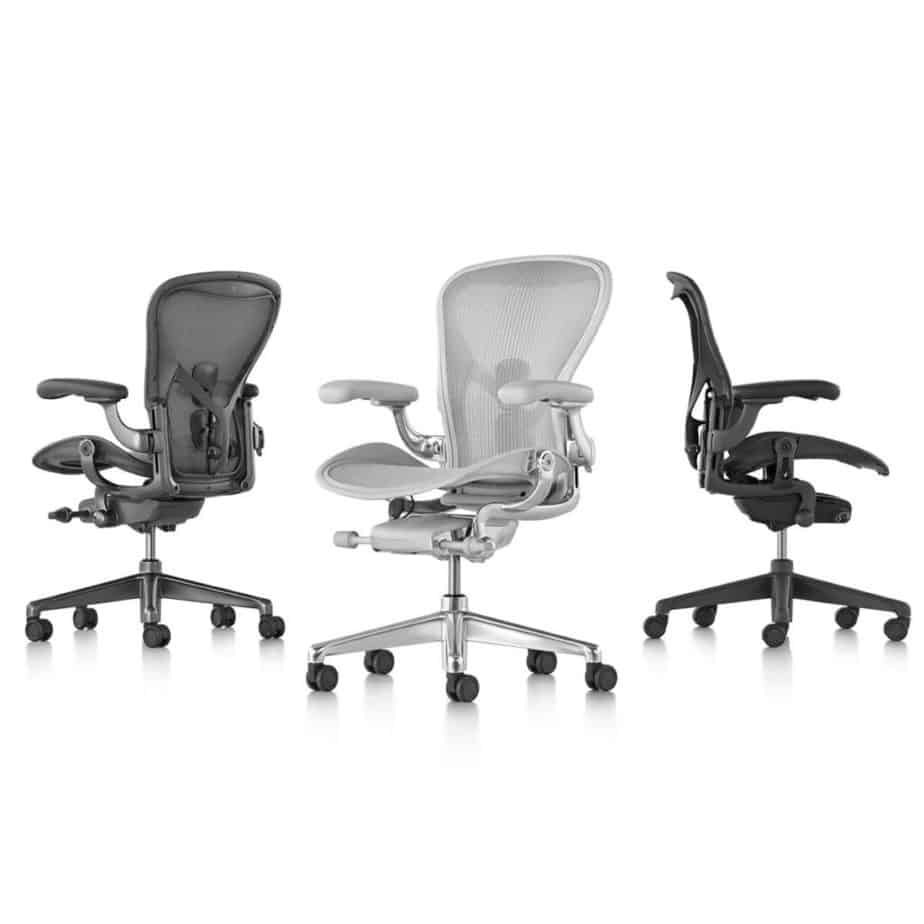 When it comes to design, Herman Miller focuses more on ergonomics than aesthetic appeal, though this is by no means a bad looking chair.
The Herman Miller Aeron chair prioritizes ergonomics over aesthetics, but still pays its due diligence towards designing a sleek and functional top-of-the-line office chair.
The mesh seat and back are primarily designed for comfort, but give the chair a particularly contemporary feel. Combined with the arched backrest and waterfall edge seat, these features create a unique look and feel.
The chair also comes in three colors, including white, graphite, and carbon. The former gives the chair a light and contemporary feel, while the later two accentuate the ergonomic design features to ensure it perfectly complements any modern workspace.
The mesh seat and mesh back may be primarily for comfort, but they give the whole thing a cool, contemporary feel, which, combined with the arched backrest and waterfall edge seat (again a sign of the Aeron's comfort-first approach) all help to create a unique look and feel.
Dimensions:
The Herman Miller Aeron comes in three distinct sizes ranging from A-C, with A being the smallest and C the largest.
The dimensions of each chair can be found in the table below.
| | | | |
| --- | --- | --- | --- |
| | A (small) | B (medium) | C (large) |
| Overall Chair Width | 25.75" | 27" | 28.25" |
| Overall Chair Height | 38.5" | 41″ | 43" |
| Seat Depth | 16.75" | 16.75" | 18.5" |
| Seat Width | 15.75" | 17" | 18.25" |
| Weight Capacity | 300 lbs | 350 lbs | 350 lbs |
| Back Width | 20.25" | 21.5" | 22.75" |
| Back Height | 21" | 21.5" | 22.75" |
| Width Between Armrests | 16" | 17" | 18" |
| Adjustable Armrest Height | 21.75″ – 30.25″ | 23″ – 27″ | 24.75″ – 26.25″ |
| Adjustable Seat to Floor Height | 14.75″ – 19" | 16″ – 20.5" | 16″ – 20.5" |
Herman Miller Aeron Chair: Which Size is Right For You?
If you still aren't sure which size — whether A, B, or C — is right for you, you can use Herman Miller's recommendations:
Size A – Small: Best if you're between 4'10" – 5'4″ tall and weigh up to 300 pounds.
Size B – Medium: Best if you're 5'2″ – 6′ tall and weigh up to 350 pounds.
Size C – Large: Best if you're between 5'10" – 6'6″ tall and weigh up to 350 pounds.
There are certainly some fluctuations here, so you'll want to be sure to check the sizing chart before making your selection. Herman Miller also suggests that if you fall into the A/B or B/C category, it's best to go with the B-sized chair as it is designed to fit a broad range of people.
Herman Miller Aeron Chair: Comfort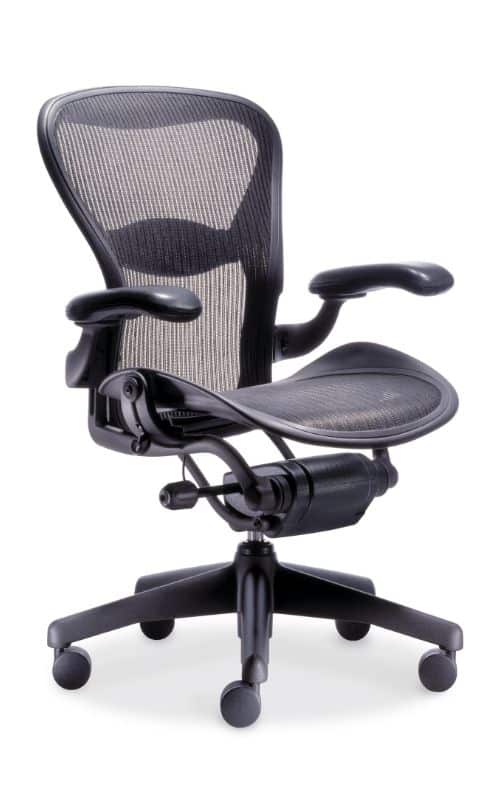 After durability, comfort is one of the main reasons why people love the Aeron chair.
We were admittedly fairly skeptical that the mesh fabric seat could provide the same comfort as a padded cushion such as the one you get with the Steelcase Leap, but we were pleasantly surprised
The mesh is made from the brand's patented 8Z Pellicle, an elastomeric weave that stretches all the way across the seat and up through the backrest. This highlights and enhances the chair's core function: providing ample support to prevent back pain after long periods of sitting.
There's no doubt the Aeron succeeds in this category.
The mesh design provides a soft, responsive feel that adapts to your posture and provides support for the full-body while offering plenty of suspension. This not only adds to the overall comfort level but also improves circulation. The seat also boasts a very prominent waterfall edge which helps the blood to keep flowing down to your legs.
If you've ever sat with the backs of your knees pressed into an uncomfortable chair for hours at a time, you'll understand what a difference a waterfall edge can be, keeping the circulation going and even preventing the dreaded afternoon slump.
That said, it's worth noting that not everyone is enamored with the Aeron's comfort level. We've spoken with users who find that the frame supporting the mesh seat can dig into the legs. This especially seems to be the case if you buy a chair that's even slightly too small for your body. Since you can't adjust the seat depth like you can with other chairs, it can make for a fairly unpleasant experience with the Aeron.
Herman Miller Aeron Chair: Backrest and Lumbar Support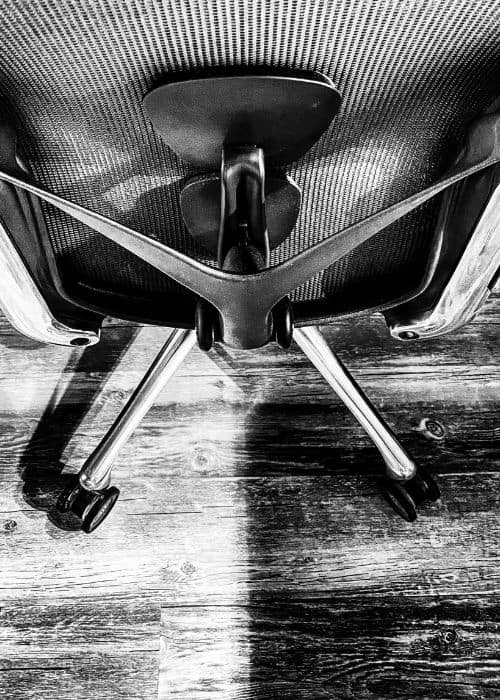 The mesh padding in the Aeron chair provides both suspension and breathability — this keeps you cool during those long work sessions, all while promoting good posture. The chair is functionally designed to respond to your most comfortable seating position.
The highlight of the chair, though, is its unique PostureFit SL feature. It consists of two adjustable pads positioned at the rear of the backrest. These flex separately from one another and adjust to perfectly fit the curve of your spine. This provides ample support for both the sacrum and lumbar.
If you're looking for the best chair to prevent back, neck, and sciatica pain, this feature alone may make the Herman Miller Aeron office chair worth the investment.
Ergonomics and Adjustability
The human-focused design of the Aeron continues with the Tilt Limiter feature. This allows you to set the backrest at three different positions:
upright
mid-recline
full-recline
These seat angle adjustments mean you can move the chair from a neutral position (parallel with the floor) to an engaged position (a 5-degree tilt forward). The chair also comes with patented tension control technology so that you can adjust the amount of tension needed to fully recline.
Adjustable Armrests
As with all good quality task chairs, the Aeron comes with adjustable armrests.
While it's fairly common to find chairs with armrests that move up and down, these also slide back and forth (2.5" either way) and side to side (15 degrees outward and 17.5 degrees inward). This premium benefit gives you complete freedom to customize your armrest position to whatever is most comfortable for you.
Unlike the seat, the armrests are fully padded for additional support.
Herman Miller Aeron Chair Assembly
Because it's a premium product, the standard version of the Herman Miller Aeron chair comes fully assembled. This perk can alleviate a headache often found with some furniture deliveries.
In fact, the only DIY work you'll need to do is install optional upgrades, such as a headrest, if you choose to purchase one.
Is the Herman Miller Aeron Chair Worth It?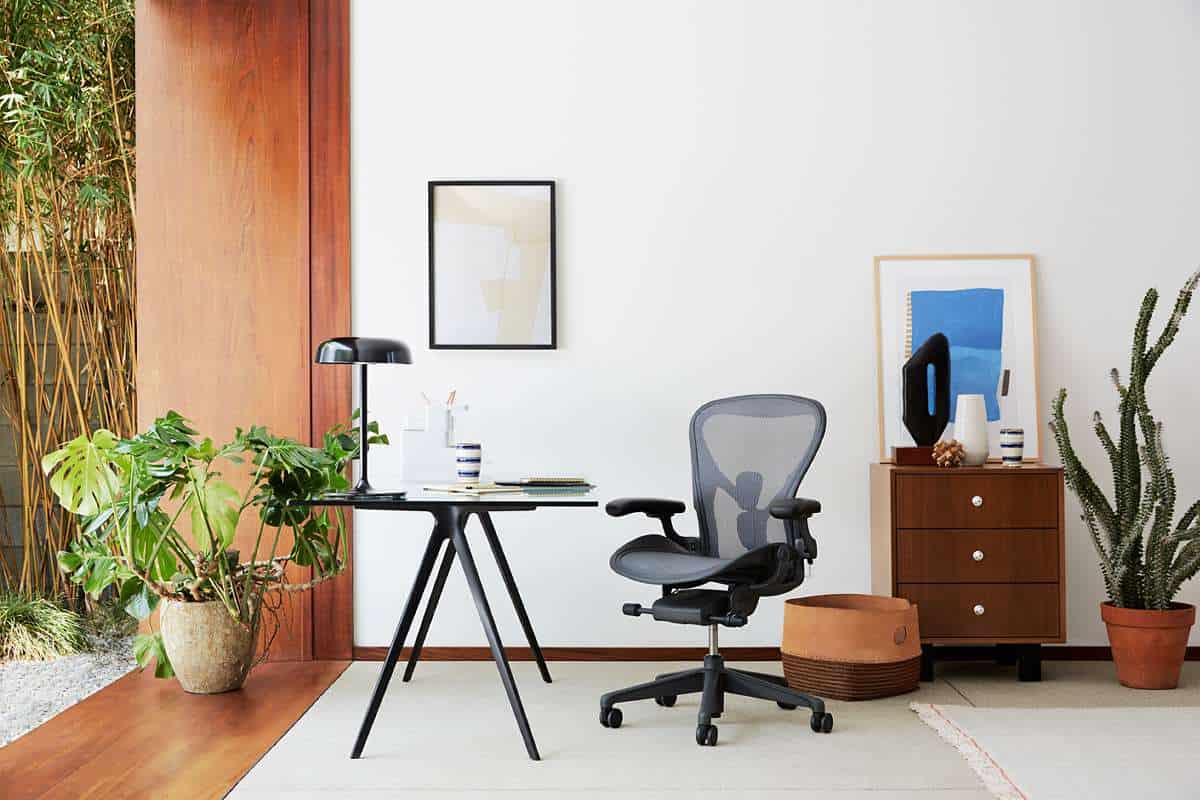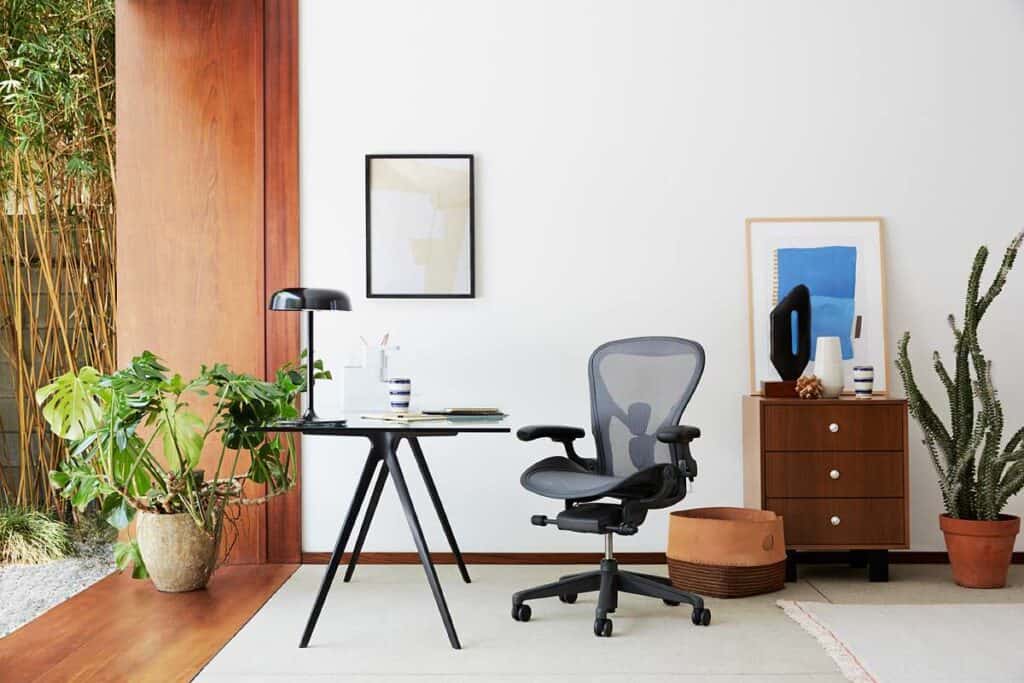 As a top of the range ergonomic office chair, we frequently get asked if the Herman Miller Aeron chair is really worth the high price tag.
The truth, though, is that it's not a simple yes or no question.
While there's no denying that the chair boasts superior durability, quality, and functionality features, it's not necessarily a budget, style, or functionality fit for everyone.
That's why we've weighed the pros and cons to help you decide whether a Herman Miller Aeron is a worthwhile purchase in your office workspace.
This Might Be the Best Chair for You If:
You're ready to make a long-term investment in a quality office chair: The Aeron stays at its best for well over a decade. So, while the initial outlay may be more than with other options, it does mean that you won't have to shell out to buy a replacement in a few years, ultimately potentially saving you money in the long-run.
You suffer from back pain: This chair has been purpose-made to provide quality full-body support, with ergonomic features designed specifically to alleviate back pain. The PostureFit SL provides ample support, with the three reclining positions and seat angle adjustments helping you to maintain positive physical well-being no matter how long you're at your desk for.
You're looking for fully-assembled furniture at time of delivery: The Aeron comes ready to go right out of the box, so you can keep your screwdriver in the drawer and get ready to sit down, kick back, and relax.
You're looking for an environmentally-friendly chair: Herman Miller takes great pride in keeping the environmental impact of their chairs to a minimum, using 100% renewable energy in the manufacturing process and producing chairs that are made from 91% recyclable materials.
It Might Not Be The Chair For You If:
You're looking for a budget-friendly chair: There's no denying that the Aeron office chair is quite pricey, and may be out-of-budget for many. If you're looking for a more affordable chair, we rounded up some of the best chairs for under $300..
You prefer a chair with seat depth adjustment: Almost all top-level ergonomic chairs come with seat depth adjustment, so it comes as somewhat of a surprise to find the Aeron lacking this feature. If you prefer a chair with adjustable depth, you may want to look elsewhere.
You prefer a padded, upholstered seat – Not everyone is a fan of mesh seats. If you prefer an upholstered cushion, the Aeron isn't going to be the one for you.
Find Deals on the Herman Miller Aeron
Alternatives to the Herman Miller Aeron Chair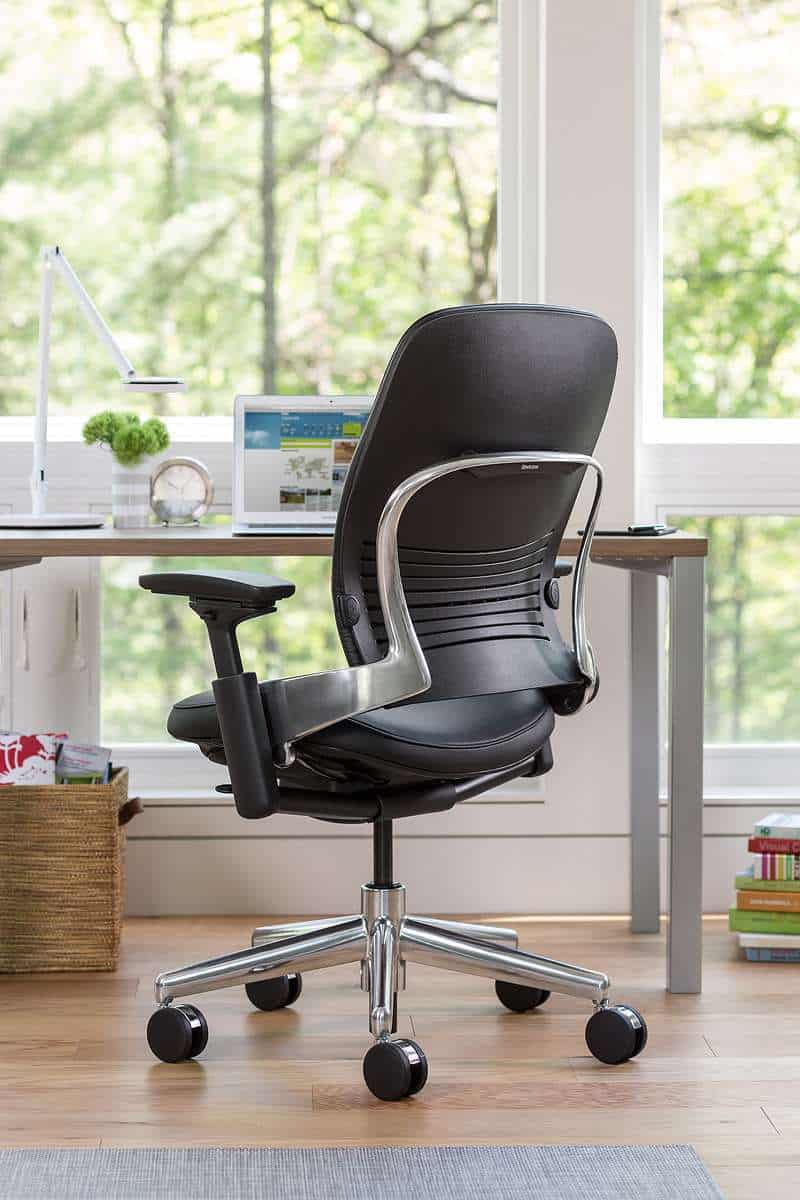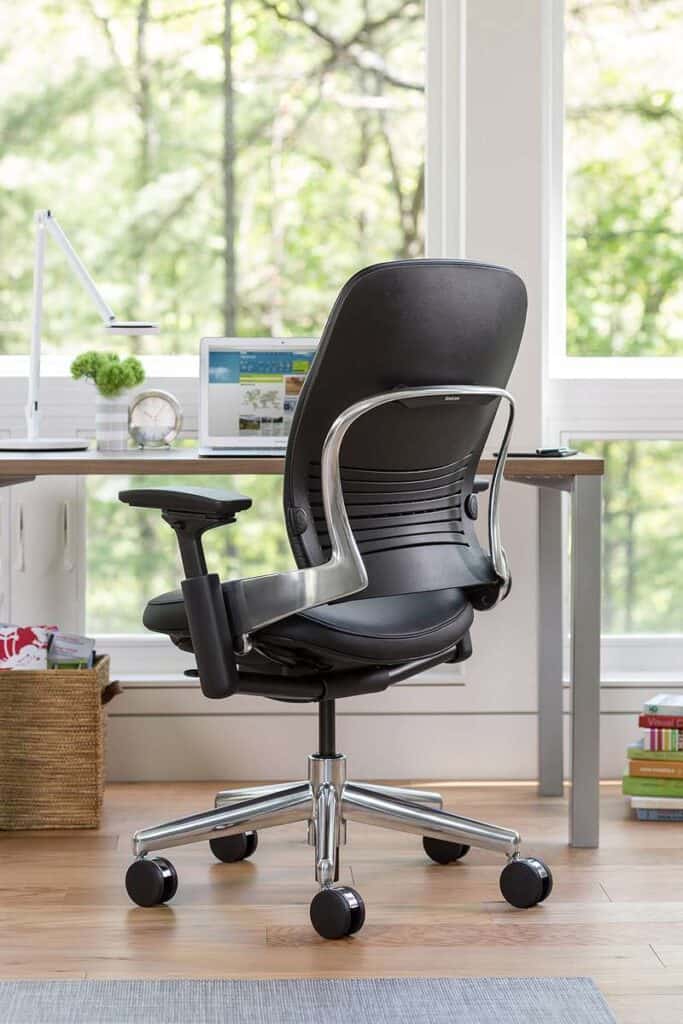 While the Aeron is a fantastic chair, it's not for everyone. If you've decided you fall into that category, here are a few alternatives you may want to consider:
Herman Miller Setu
Another popular model from the same brand, the Herman Miller Setu is similar to the Aeron in a lot of ways, especially in terms of ergonomic design. That said, it comes with upholstered fabric as opposed to mesh. If you were deterred from the Aeron due to the somewhat polarizing mesh design, the Setu might be your best bet.
Steelcase Leap V2
The Aeron and Steelcase Leap chair are two of the most-asked about chairs on the market, and for good reason. Like the Aeron, the Steelcase Leap has a pretty devoted fanbase.
Overall, we found the Steelcase Leap to be somewhat more affordable. It also comes in 15 color options, compared to just three with the Aeron, and wins out in terms of full lumbar support. The Aeron, on the other hand, won in terms of minimalist design.
SmugDesk Mesh Computer and Desk Chair
Love a mesh chair but want one with a headrest and even more support for your lumbar region? The SmugDesk may be the way to go.
Love the Herman Miller brand but prefer to keep your costs low? You might also want to check out these budget-friendly Herman Miller alternatives.
Frequently Asked Questions
What's the warranty like?
Herman Miller offers a fully-comprehensive 12-year, 3-shift warranty covering all parts and labor.
Is it true that the Herman Miller warranty doesn't cover chairs purchased on Amazon?
No. According to the manufacturer, the warranty covers any genuine Herman Miller chair sold directly by an authorized dealer regardless of where that purchase takes place.
How can I tell if my Herman Miller chair is the real deal?
Investing in a Herman Miller chair is like investing in any other top-of-the-line luxury item, so it's important to know that the one you buy is genuine and not a knock-off.
To that end, Herman Miller provides a certificate of authenticity with every chair. Some models also have an additional label placed under the seat as further proof of its genuineness.
Are the casters suitable for my hardwood floor?
Out of the box, the Herman Miller Aeron comes with carpet casters, though casters suitable for a hardwood floor can be purchased as an optional upgrade.
Bottom Line
The Herman Miller Aeron chair is undoubtedly an expensive piece of furniture, but it will give you premium support and comfort while working for years to come. We've seen reports of people using their Aeron's for almost two decades without any issues — it truly is an investment that will last and pay dividends in the long run.
We especially think the unique PostureFit SL, seat angle adjustments and tilt limiter all make this a fantastic option that's bound to help you maintain healthy seating habits for many years to come.
That said, you can certainly find other office chairs that provide comfort and lower-back support for a fraction of the price. If you're sticking to a tight budget, you'll likely be better off with another chair.
It's easy to see why it's so beloved by some and hated by others, although there's no black-and-white answer here as to whether you should get it. It comes down to your personal preferences, particularly your budget and what you're looking for in an office chair.
But if you're looking for a luxury, top-of-the-line office chair that will fit seamlessly into your workspace for the foreseeable future, it doesn't get much better than the Herman Miller Aeron chair — and with the ongoing 15% off sale, now's the time to buy it.