You probably take pride in how your home looks and want to maintain your style and aesthetic. Computers and laptops have become a necessity in every American home, but not everyone wants to be burdened with the look of a monitor in their home.
To solve this design problem, you can hide your computer monitor. We have nine clever and creative tricks for hiding your computer monitor when you are not using it. Check out our list so you can find inspiration and a solution for your unattractive computer monitor in your beautifully designed home.
Why Hide My Monitor?
While computers become more beautiful and modern with every new model released, many people still don't feel like they are an attractive item in their home. When you have a Victorian or rustic-style house, a computer sticks out like an eyesore, ruining your aesthetic. Hiding your monitor is the best way to enjoy the conveniences of computer desktops while also maintaining your style integrity.
9 Hidden Monitor Desk Ideas
Get inspired by these clever and creative ways to hide your monitor when you aren't using it!
1. Behind a Curtain
A simple and affordable solution is to hang a stylish curtain across the wall where you keep your computer. All you need to do is slightly push the monitor back when you're finished working or pull the curtain forward and over the monitor. This allows for many color and style options and is excellent as a temporary setup. You can accomplish this with no drilling or screwing and just some Command hooks.
2. Murphy Desktop
Just like a Murphy bed, a Murphy desktop folds down right out of the wall. You can have a small inlet in a wall with a door that flips down into a desk. When you finish working, slide your monitor into the wall and close the door, effectively hiding your monitor and entire workspace from guests.
3. Floating Wall Cabinet
A floating wall cabinet computer as your work or gaming area may sound strange, but it's an easy solution to having your monitor on full display all the time. You can choose a cabinet that holds your desktop at the proper height when you sit down or install a new cabinet to do so. When you're done using the monitor, just close the cabinet doors!
4. Computer Cupboard
A computer cupboard is a great way to hide your computer monitor. All you need is an attractive cupboard that you like positioned in your home. Keep a chair by it, and people will assume it's full of tchotchkes or wedding china. But when you open the doors it's a whole office space.
5. Roll-top Desk
A roll-top desk is an old-fashioned design that is a great style to hide your monitor when not in use. A roll-top desk has a desktop with a back and raised sides. Hidden in the back is a cover that goes over the entire desk. All you need to do is slide it down using the handle and voila! Your monitor is now hidden.
6. Faux Books Cover
This trick for hiding your computer monitor is a little more effort but has a gorgeous and simplistic payoff many adore. Using old book covers, you can create a cover to slip right over your computer monitor when you aren't using it. You can search the internet for a monitor cover you like, or you can make it a DIY project and see where your imagination leads! Check out Pinterest for more inspiring ideas.
7. Framed Artwork
Placing a large framed picture or painting directly in the front of your monitor is an elegant and easy way to hide your monitor. Choose a painting that is larger and wider than the height of your monitor, and thinner so it isn't obvious something large is behind it. Many people have fancy TVs that turn into paintings when they're off, so this idea is similar to that.
8. Secretary Desk
Secretary desks are compact and functional. They have lots of storage and little nooks to hide things in. The best way to hide a monitor in secretary desks is to get one with an extending desktop that pulls down. The monitor often can slide back into a slot in secretary desks and disappear out of sight with ease.
9. Desk Divider
You are probably familiar with room dividers, also called partitions, which are usually used to separate areas of a room. But, you can get a desk divider that hides your computer! There are lots of patterns to choose from and materials so you can make your desk a beautifully personalized space. Or it can be a fun and easy DIY project!
Tech Hiding Tips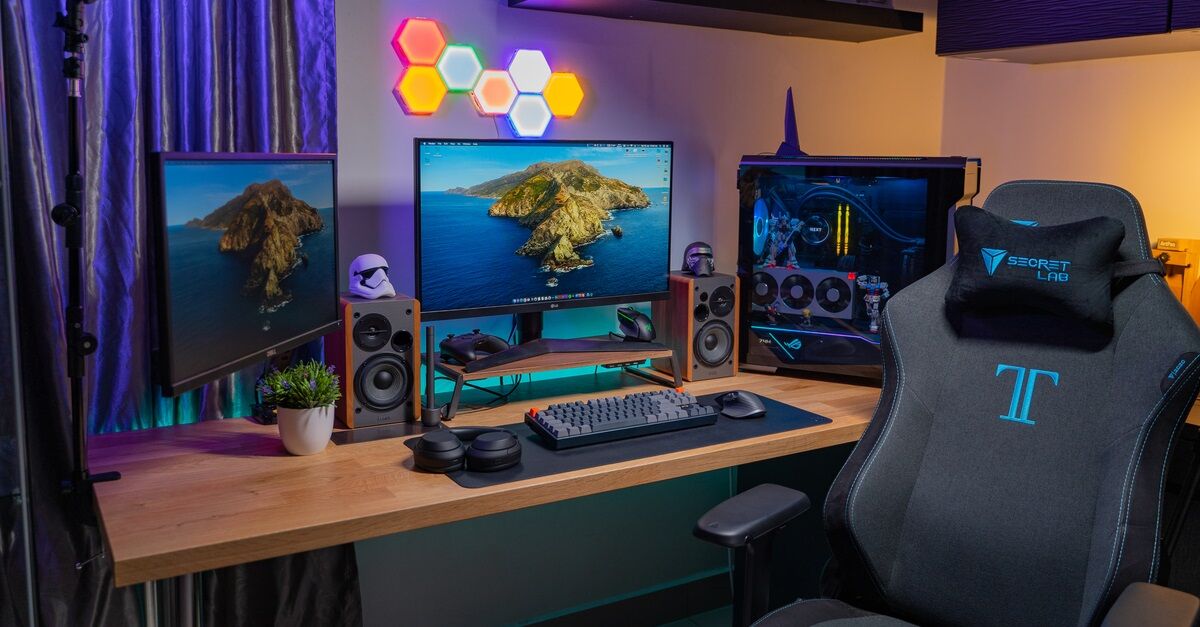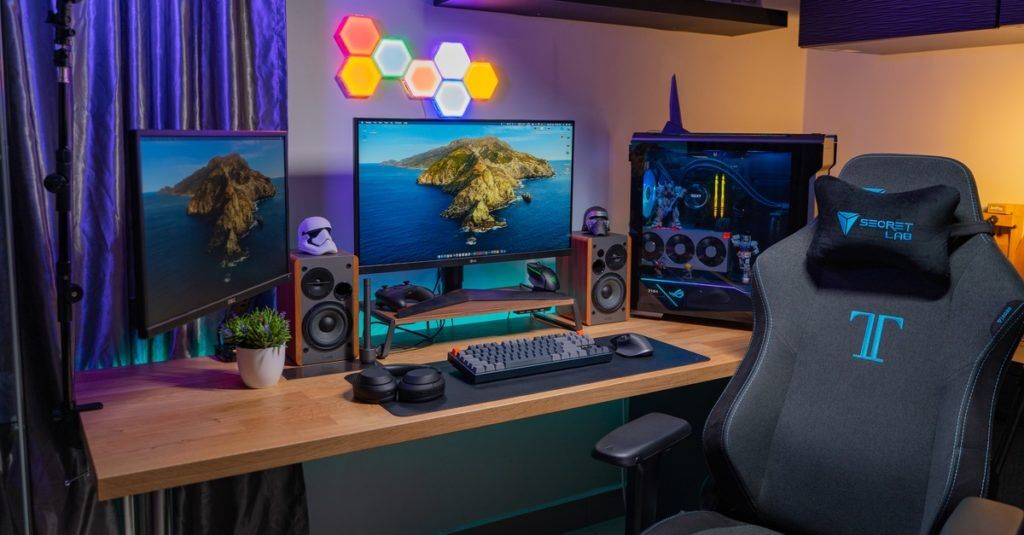 Here are some more tips for making your home look tech-free and beautifully modern. Keep your tech clutter out of the way so you can enjoy your home.
Secure Cables
Cables and wires are some of the most unattractive features of tech equipment. To keep your home looking tidy and cozy, you should wrap all of your computer and monitor cables together into a neat line hidden behind a desk or cabinet.
Hide Towers
Along with the large monitors, clunky computer towers take up a lot of space and are not very aesthetically pleasing. These towers can neatly fit into drawers, cabinets, or behind desks to make your space free of ugly clutter and sleeker.
Hide Keyboard
Keyboards are also unsightly, but you can slip them into drawers, place them in slots on your desk, or underneath roll tops so you can maintain your minimalist or rustic aesthetic without the ugliness of tech equipment.
Conclusion
Don't spend another day letting your computer destroy your beautiful design aesthetic. Use one of our nine sneaky ideas for covering up your computer to make your home sleeker and stylish.
From DIY projects to new desks, there are many methods you can use to make your monitor disappear until you need it!
FAQs
What color monitor is the most discreet?
It depends on the color scheme of your home, but black is often viewed as the most discreet and sleek color.
What's the smallest monitor you can get?
For desktop computers, the smallest monitor is usually around 15 inches wide, around the size of a laptop screen. These are much easier to hide and perfect for compact desks.