How We Tested
We recommend these products based on an intensive research process that's designed to cut through the noise and find the top products in this space. Guided by experts, we spend hours looking into the factors that matter, to bring you these selections.
Click here for testing insights >

10
Models
Considered

245
Consumers
Consulted

35
Hours
Researched
Buying guide for
What Are the Best Chairs for Writers?
If you're a writer or are close to someone who is, then you know that a lot of the writing process is spent sitting in solitude, hyperfocused on the page in front of them. Unlike other professions that allow more movement throughout the day, many writers find themselves confined to one seat for several hours at a time, making it that much more important to find the best chairs for writers.
When it comes to buying a writing chair, the wrong choice can impact your health and overall comfort. Inversely, the right writing desk chair can improve productivity and create healthy associations in one's mind with work. If you are a writer and looking to avoid back pain and imperfect posture, then choosing the correct writing chair (wooden, metal, or even plastic) is an important decision.
While you may end up paying more for a chair that is well-built with high-quality materials, you will save money on chiropractic visits and yoga lessons. If you're new to office work or writing as a profession, it can be overwhelming trying to choose among the countless chair options available online. Luckily, we've done the hard work for you and found some of the best chairs for writers. We've narrowed it down to our top four picks:
Coming up to bat at our #1 spot for the best writing chair is the Gabrylly Ergonomic Office Chair. Not only does this chair feature lumbar support for the spine, but it also comes with an adjustable headrest. Oblique pain is also a common complaint among office chair users that can be helped with the right type of chair.
But what makes this our top pick is not just the comfort features. This chair has armrests that can flip up and save space at the desk. When not in use, you can slide your chair fully to the edge of your desk. In a traditional office setting, this feature might not sound as impressive. However, many writers work from home and can use as much free space as possible when their office is not in use. Being able to flip up the armrests also gives the option of freer movement. Are you the kind of person that doesn't like sitting still at your desk? Go ahead and swivel, move your arms around and get the blood flowing again after an intense writing session.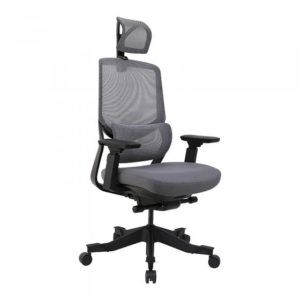 We chose the Soutien Ergonomic Office Chair as our runner-up (and a close contender for the top spot) pick for writers due to the adjustable lumbar support and armrests. These two features are important to have for long-term comfort. Because you are buying a chair online, you most likely will not be able to test it for yourself until it arrives. With this chair, you won't have to worry whether it will fit your needs. The adjustability ensures that the chair fits to your body's specifications.
Traditional office chairs are usually made to fit one specific body type, but not this chair. Do you have a long torso and short arms? Not a problem. Short torso and long arms? No worries with this chair. This chair is specifically great for writers who have a tendency to slouch while they write. When you sit in a chair with proper support, you are less likely to feel the need to slouch. In this chair, you're sure to get more writing done.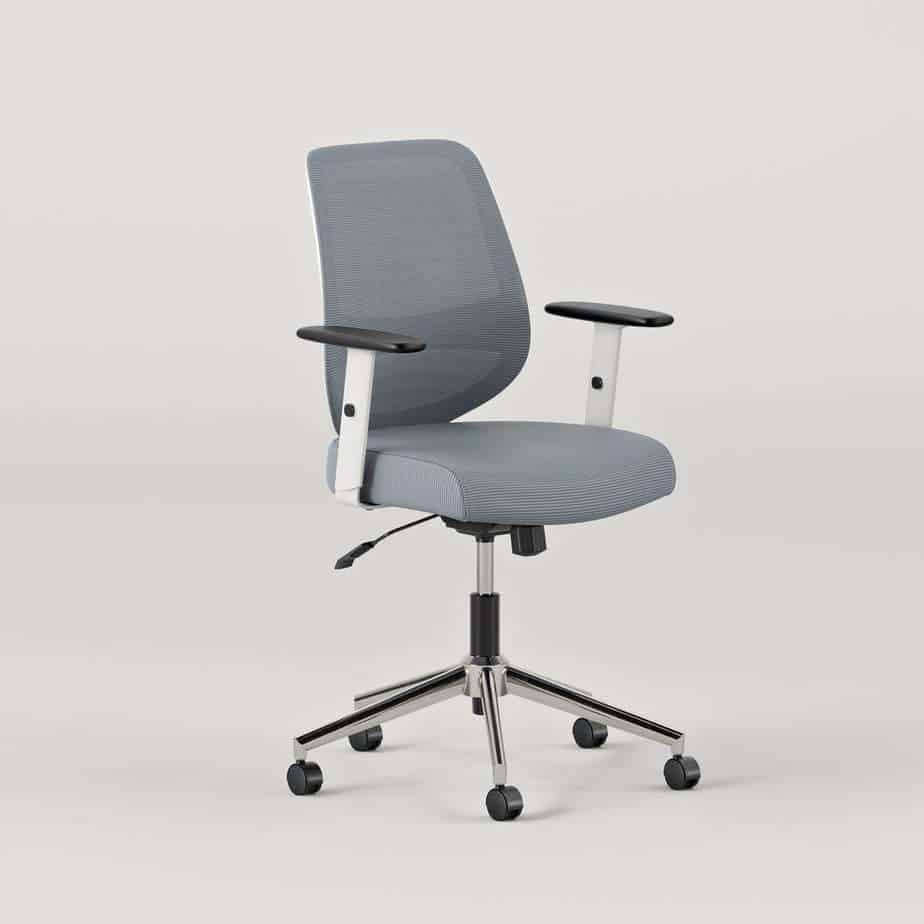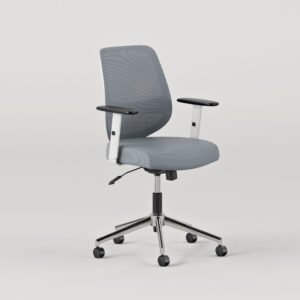 Minimalism isn't just a writing style (hello, Hemingway). Sometimes less is more, and that's true for our next pick: The Branch Daily Chair. This office chair is elegant, if ever a chair could be such a thing. The construction is simple and neat, with curved lines and a soft cushion that makes it a perfect fit in a tidy office. If you prefer to keep your writing space clear to make room for all the ideas in your mind, we recommend this chair.
The Branch Daily Chair comes in three subtle shades: Slate, Sky Blue and Linden Green. These colors are muted and gentle, creating a sense of peace and relaxation. If you're the type of writer who likes to sip on a cup of tea, meditate in the mornings before getting to work or play gentle music as you write, you will appreciate what this chair has to offer.
Finally, we chose this last office chair for writers with style in mind. As important as comfort and quality are, there's something to be said for a stylish office that can spark the creativity in a writer more than anything else. It's important to feel good in your space. With its Mid-Century Modern-inspired style, the Modway Jive High Back Chair does just that. You can feel like a CEO in your own home with this snazzy seat.
If you're the type of writer who allows themselves to fall into daydreams as a form of creative expression, this chair is for you. Live your wildest daydreams from the comfort of this cool chair. This chair comes in four neutral colors that go well with any color scheme: black, brown, terracotta, and white.
Bottom Line
When it comes down to it, the "best" writing chair is one that you feel comfortable in as well as one you are happy to display in your home or office. You may even find that the perfect chair for you is one that is affordable above all else. The options for office chairs are endless, and as a writer what you want from a chair can be different from what others may want.
You may even find yourself wishing for a writing desk chair with no wheels (those exist, too!). After all, things like style and comfort can be subjective. Keep in mind your productivity goals when choosing a chair for writing. You may surprise yourself with what you expect from a chair compared to what others want.
Other Products We Considered
The Office Chair Picks editorial team researches hundreds of products based on consumer reviews, brand quality, and value. We then choose a shorter list for in-depth research and testing before finalizing our top picks. These are the products we considered that ultimately didn't make our top 5.
Our Top Products
Gabrylly
Ergonomic Office Chair
bottom line
Not only does this chair feature lumbar support for the spine, but it also comes with an adjustable headrest.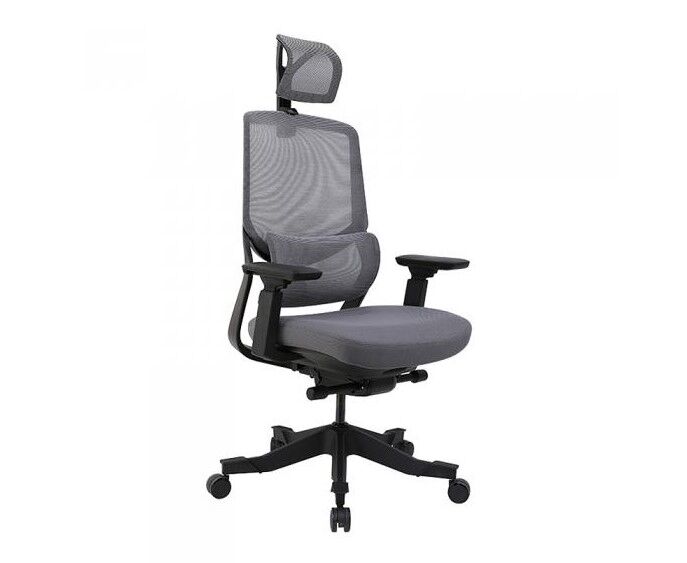 Soutien
Ergonomic Office Chair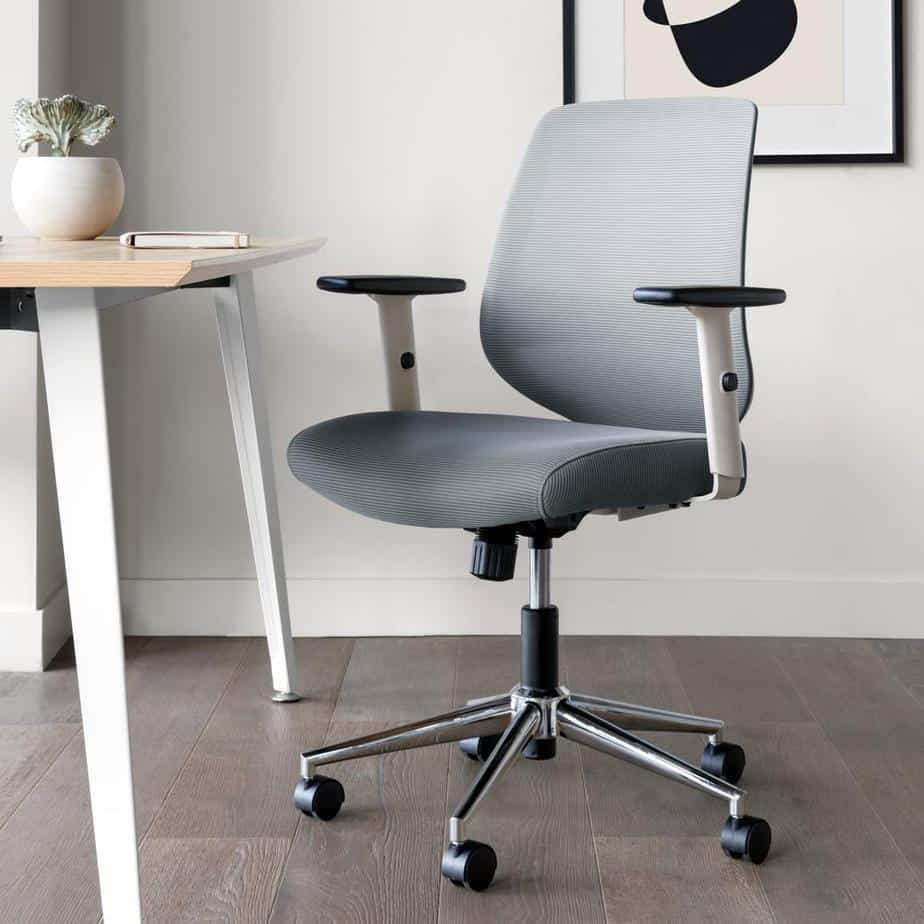 Branch
Daily Chair
bottom line
This office chair is elegant, if ever a chair could be such a thing.