One of the ergonomic office chairs we get asked about the most here at Office Chair Picks is the Branch Ergonomic chair — and for good reason.
Ergonomic furniture, after all, is designed to support and function by enhancing and supporting the natural movement of the human body. It does this by:
Accommodating different body types and sizes.
Promoting good posture.
Supporting the spine's natural shape.
Reducing stress on muscles, joints, and bones.
Putting usability before convenience or appearance.
Encouraging physical movement.
Let us be the ones to tell you that the Branch Ergonomic Chair hits the sweet spot between true ergonomic performance and affordability. And today, we're going to take a deeper dive into this popular office chair and help you decide whether it's a great fit for you.

Highlights
Premium stylish ergonomic office chair at an entry-level price
Nice thick high-density cushion and breathable backrest for all-day comfort
7 ways to adjust, including height, seat depth and 3D adjustable armrests
The Branch Ergonomic Chair Review: The Basics
A quick overview regarding features you'll encounter with the Branch Ergonomic Chair.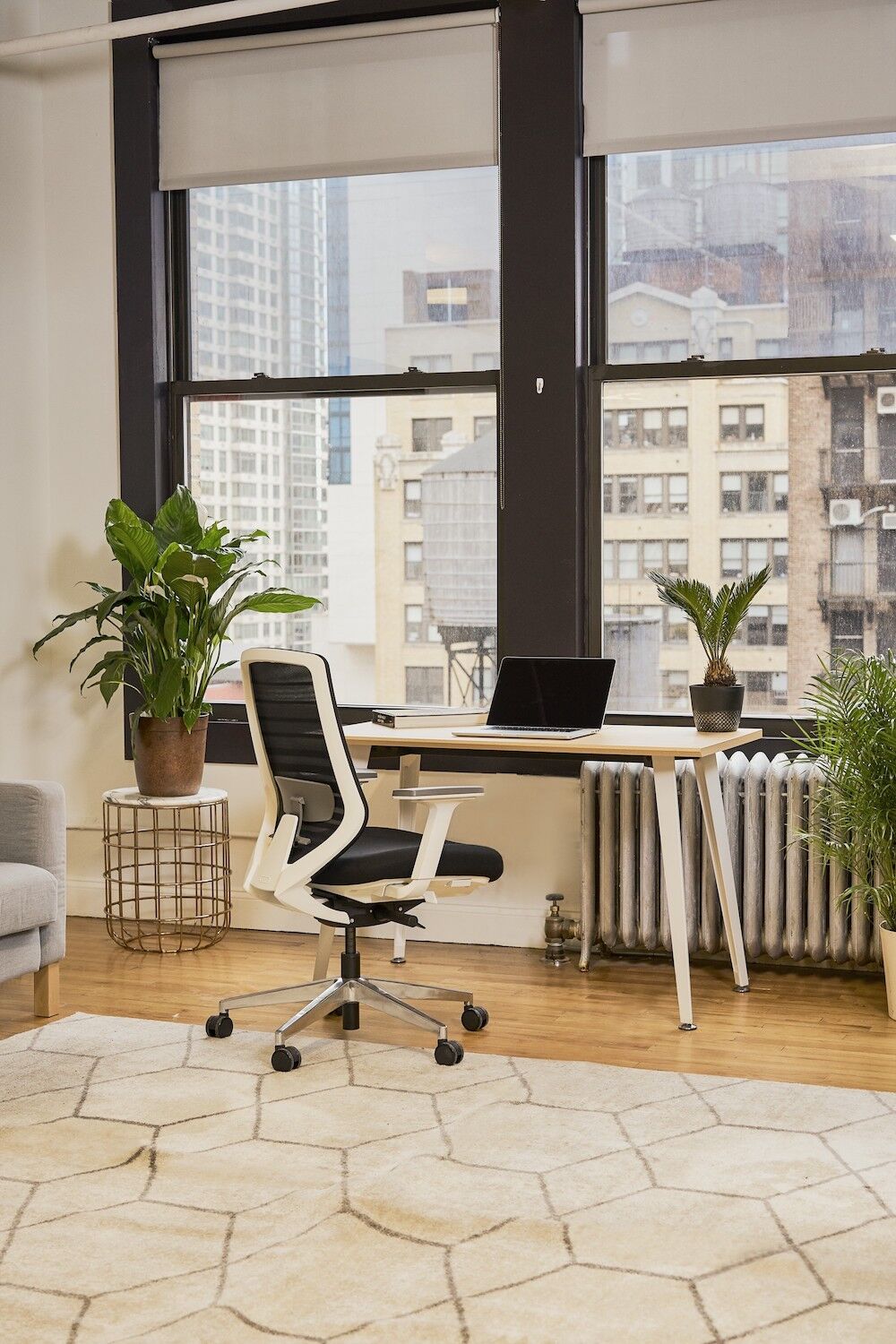 Assembly
The Branch ergonomic chair comes nicely packaged with separate assembly parts and a card with a link and barcode for downloading the instructions. No paper wasted here. You'll also receive your standard five screws (three for the seat base and two for the armrests) and a hex key. This is all you need to complete the assembly.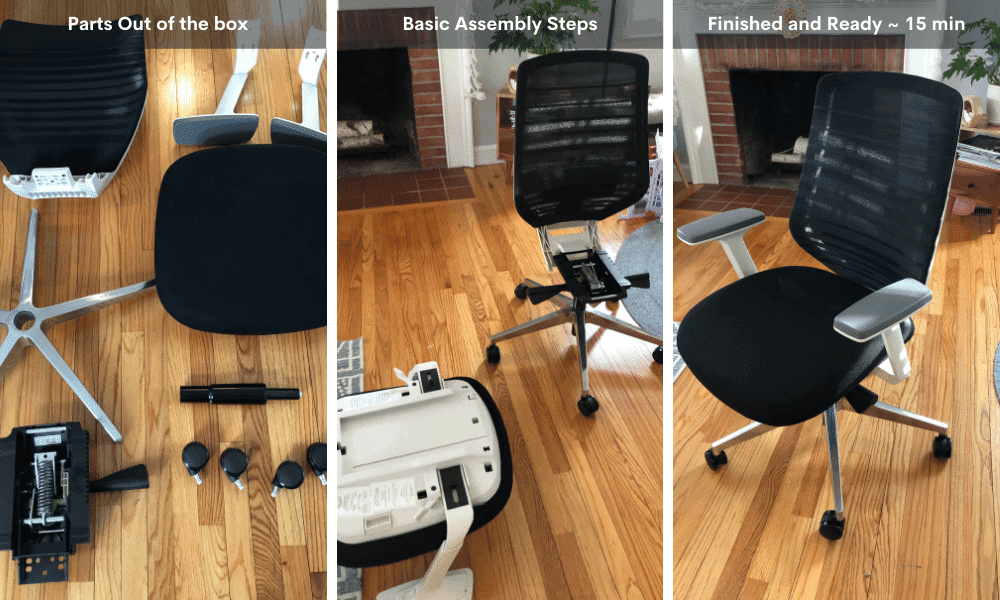 During our test, assembly took about 15 minutes, including the time we spent fumbling around with packaging. The screws lined up perfectly, instructions were clear, and things snapped together fairly quickly.
If you're somewhat handy, you can expect to spend 15 to 20 minutes assembling the chair. That said, if you think you may need assistance with lifting or holding parts during assembly, see our overview of Branch's white glove installation option below.
Initial Impressions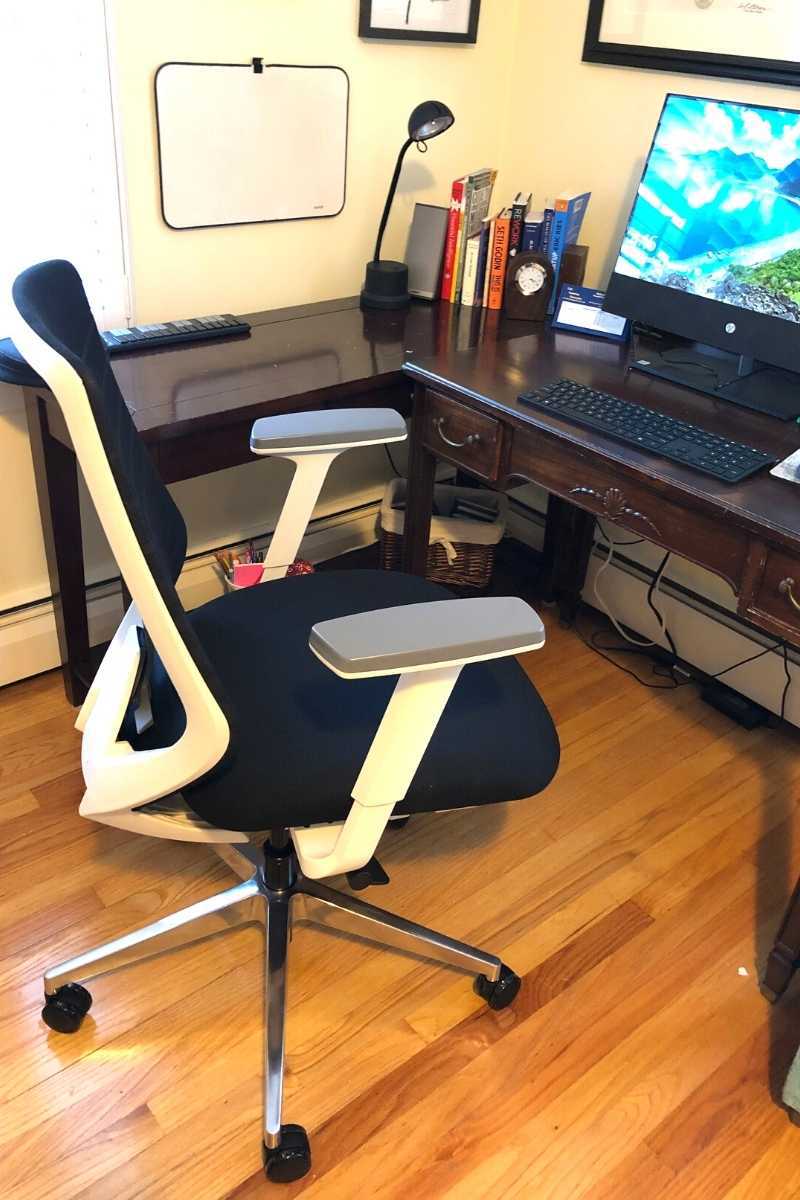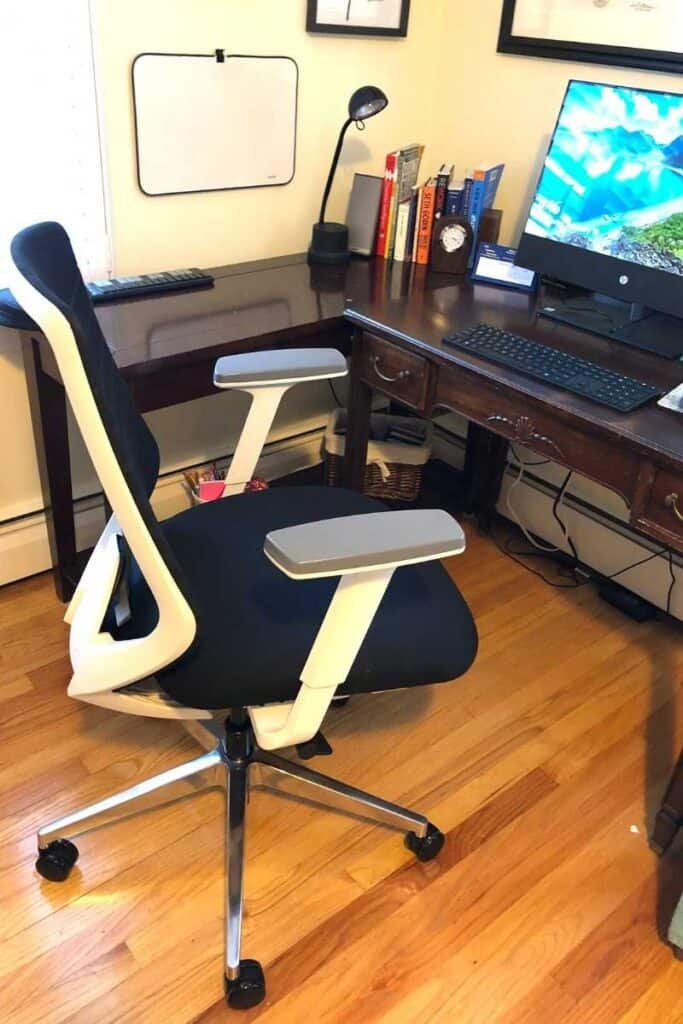 The first thing we noticed about this chair is how simple it is. There aren't many bells and whistles and, despite its sleek design and attractive aluminum wheel base, it looks like a standard office or task chair. But after sitting in it a while and inspecting the chair more closely, I realized there is a bit more to it than that.
First, our favorite thing about this chair is how sturdy and supportive it is. The seat is very dense and comfortable, and you really feel like you're doing your back a favor when sitting in this chair. We also really liked the mesh backrest. It has a very light and airy feel with plenty of firmness and flex to give consistent support.
Adjustments are subtly placed and simple to use. There are seven ways to adjust this chair — ultimately, it's a small package with a lot to offer.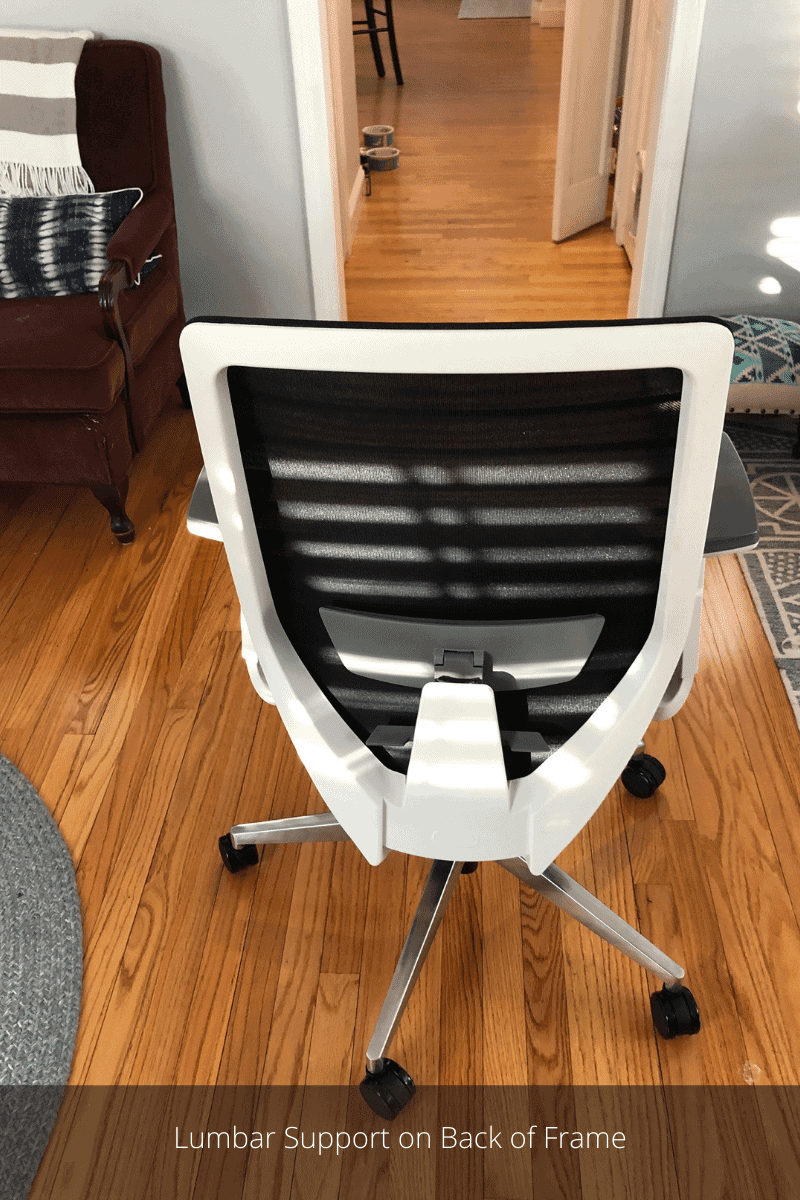 The backrest is made of a breathable double-layered woven mesh that allows maximum airflow and reduces uncomfortable sweating and stickiness, while the three-way adjustable armrests move back and forth, up and down, and side to side. This adjustability allows users to place them in the optimal positions to support their arms, neck, shoulders, and upper back while working.
From the 90-degree upright seated position, the backrest has a tilt range of 20 degrees, letting users change positions while performing different tasks. The chair is also equipped with adjustable lumbar support that eases sore muscles and reduces lower back pain. It has a four-inch height range, smoothly operated via a hydraulic gas piston. This means shorter and taller users can find the seat height that feels the most comfortable to them.
The seat cushion is made from a high-density foam that evenly distributes the user's weight. This reduces pressure points that can cause pain in the hips, legs, and lower back. It also has a maximum weight capacity of 300 pounds.
The seat pan adjusts up to three inches, reducing pressure on the hips, thighs and lower back, and promotes good posture by synchronizing the tilt and the seat pan.
The base is made from anodized aluminum with hybrid casters for smooth operation or carpet or hard flooring. Although a headrest is not part of the design, you can add an adjustable headrest, sold by Branch, to improve neck/head support.
Unlike some other higher-priced office chairs, the Branch Ergonomic Chair comes standard with all of these features. This can end up saving you hundreds of dollars.
Branch Ergonomic Chair Specifications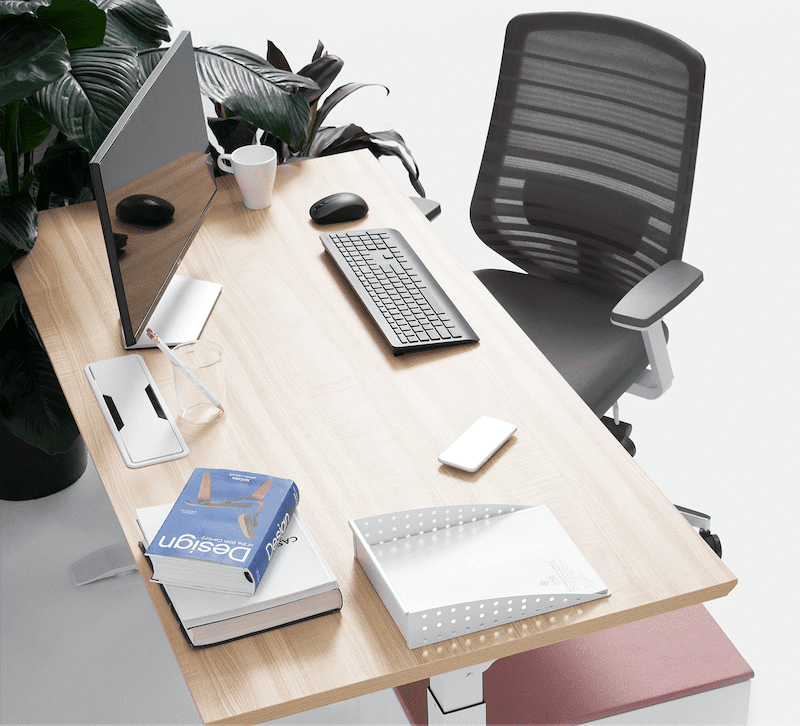 Breathable double-woven reinforced mesh, polyurethane and nylon polymer frame, high-density foam cushion, 5-point aluminum wheelbase
The wheelbase and frame are 95% recyclable by weight
35 pounds
Adjustable from 38 inches to 42 inches
25 inches wide
24 inches deep
Comes in black or gray
Black or white frame
7-year warranty
To care for the frame and wheelbase, use any mild cleaner that does not contain ammonia. To care for the backrest and seat, use any upholstery cleaner that is safe for nylon.
White Glove Installation and Branch Flex
As mentioned, Branch offers expert "White Glove" assembly installation by trained professionals, in select areas, and with minimum purchase. This is an especially convenient option for customers who are purchasing multiple pieces to furnish a corporate office.
Branch Flex is something completely unique in the office furniture industry. In authorized service areas, the company will pick up your old Branch furniture at no charge. If it is in good condition, Branch will even offer credit towards a future purchase.
Branch provides this service to help growing companies keep their offices updated and relevant with newer styles and the latest ergonomic furniture solutions. This is absolutely not an offer you will see from either high-end furniture dealers or big-box warehouses.
Unfortunately, these services are not yet available everywhere. Here is a currently complete list of Branch service areas:
Alabama
Arizona
Arkansas
California
Colorado
Connecticut
DC Metro area
Florida
Georgia
Illinois (Chicago area)
Massachusetts
Maryland
Michigan (Detroit area)
Mississippi
New Hampshire (Manchester area)
New Jersey
New York
North Carolina
Ohio
Oregon
Ontario (Canada)
Pennsylvania
South Carolina
Tennessee (Nashville area)
Texas
Utah
Virginia
Washington
Wisconsin (Milwaukee area)
Frequently Asked Questions
Where can I see Branch products in person?
If you live near New York City, you can schedule an appointment to visit the showroom (under normal circumstances). If you live elsewhere, virtual tours are also available.
How long does it take to ship Branch office furniture?
If an item is in stock, it will ship immediately, and you can expect delivery within 5 to 15 days, although large orders may take longer. If an item is not in stock, Branch will inform you BEFORE your order is final and tell you how long your shipment will take.
One of the reasons Branch limits some options is to streamline inventory and make for faster shipping. If you choose a custom color option or an item that is not in stock, it must be ordered from the overseas manufacturer.
Are space planning and White Glove installation included in the price?
Space planning is always free. Expert White Glove assembly and installation is available only in service areas (listed above). It is free with a minimum purchase of $1000.
How hard is it to assemble Branch office furniture?
All products come with full instructions and all necessary tools and can be quickly and easily assembled by one person. See above. Credenzas and filing cabinets arrive fully assembled.
How does the Branch Flex program work?
If the order is within an authorized service area, the company will pick up any old Branch office furniture or products you are replacing. If they are in good condition, you will receive credit towards a future Branch purchase.
What is the return policy?
Like-new products may be returned in their original packaging for up to thirty days after purchase. You, as the buyer, pay return shipping. There is a 20 percent restocking fee for orders over $2000.
Bottom Line
The right office chair is an investment in your health, productivity and overall well-being. And while there's no one-size-fits-all ergonomic office chair, the Branch Ergonomic Chair certainly ranks up there with the best of them.
View on Branch