With their Ergonomic Chair, Branch has hit that sweet spot between true ergonomic performance and affordability.
This chair has received rave reviews lately, and after taking a closer look, we now understand why.
Follow along as we provide all the details along with our insights into the pros and cons of choosing the Branch Ergonomic Chair for your home office or workplace.

Highlights
Premium stylish ergonomic office chair at an entry-level price
Nice thick high-density cushion and breathable backrest for all-day comfort
7 ways to adjust, including height, seat depth and 3D adjustable armrests
The Branch Ergonomic Chair Review: The Basics
Before we get into the basics of assembly, chair design, and adjustability, let's talk about the customer experience of buying from Branch.
For example, after purchasing a product from their website, I received a future discount offer and updates on the shipment status along with a nice welcome email and a link to online assembly instruction and video overview of how to adjust the chair.
For an office furniture company, this is going above and beyond, and it immediately makes you feel like you've made a good choice.
But does the chair live up to the expectations? Keep reading to learn more about our experience with setup and sitting.
Assembly
The Branch ergonomic chair comes nicely packaged with separate assembly parts and a card with a link and barcode for downloading the instructions. No paper wasted here. You also receive your standard 5 screws (3 for the seat base + 2 for the armrests) and a hex key, which is all you need to complete the assembly.
Assembly took me about 15 minutes, and part of that time was me fumbling around with the packaging. The screws lined up perfectly, instructions were clear, and things snapped together fairly quickly.
I would say 15-20 minutes is a normal assembly time frame for this chair if you are somewhat handy.
If you are not handy at all or need assistance with lifting or holding parts during assembly, see our overview of Branch's white glove installation option below.
Initial Impressions
The first thing I noticed about this chair is how simple it is. There aren't many bells and whistles and, despite its sleek design and attractive aluminum wheel base, it looks like a standard office or task chair.
But after sitting in it a while and inspecting the chair more closely, I realized there is a bit more to it than that.
First, my favorite thing about this chair is how sturdy and supportive it is. The seat is very dense and comfortable, and you really feel like you're doing your back a favor when sitting in this chair.
I also really liked the mesh backrest. It has a very light and airy feel with plenty of firmness and flex to give consistent support.
Adjustments are subtly placed and simple to use. I was surprised that there are actually 7 ways to adjust this chair.
It's a small package with a lot to offer.
>> Look for discounts on this chair right here.
Let's go over all this features so you know exactly what's included:
The backrest is made of a breathable double-layered woven mesh that allows maximum airflow and reduces uncomfortable sweating and stickiness
Three-way adjustable armrests move back and forth, up and down, and side to side. This adjustability allows users to place them in the optimal positions to support their arms, neck, shoulders, and upper back while working
From the 90-degree upright seated position, the backrest has a tilt range of 20 degrees, letting users change positions while performing different tasks
The chair is equipped with adjustable lumbar support that eases sore muscles and reduces lower back pain
The chair has a four-inch height range, smoothly operated via a hydraulic gas piston. This means shorter and taller users can find the seat height that feels the most comfortable to them
The seat cushion is made from a high-density foam that evenly distributes the user's weight. This reduces pressure points that can cause pain in the hips, legs, and lower back
The chair has a maximum weight capacity of 300 pounds
The seat pan adjusts up to three inches, reducing pressure on the hips, thighs, and lower back
The chair promotes good posture by synchronizing the tilt and the seat pan
The base is made from anodized aluminum with hybrid casters for smooth operation or carpet or hard flooring
Although a headrest is not part of the design, you can add an adjustable headrest, sold by Branch, to improve neck/head support.
Unlike some other higher-priced office chairs, the Branch Ergonomic Chair comes standard with all of these features, saving you hundreds of dollars.
Branch Ergonomic Chair Specifications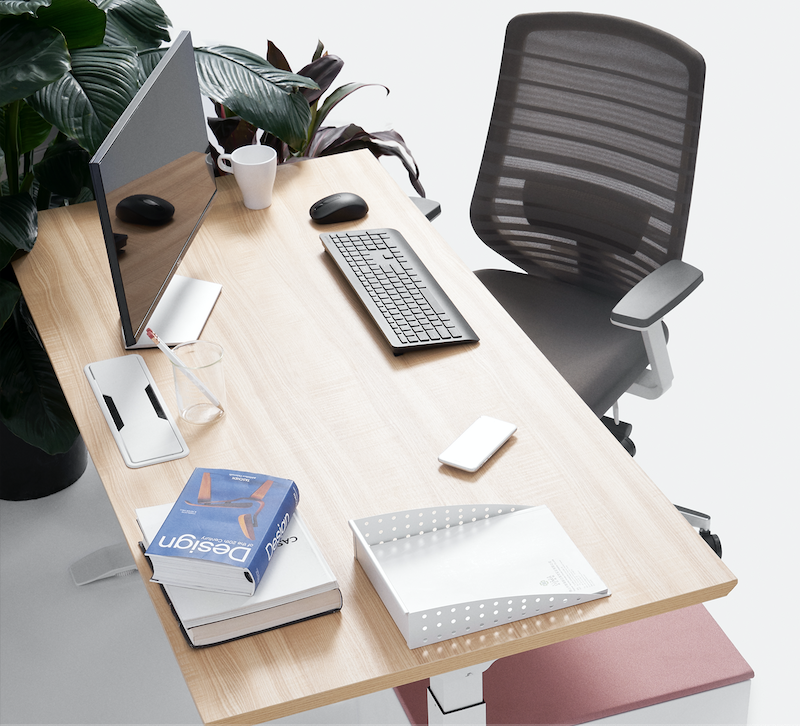 Chair Materials: Breathable double-woven reinforced mesh, polyurethane and nylon polymer frame, high-density foam cushion, 5-point aluminum wheelbase
The wheelbase and frame are 95% recyclable by weight
Chair Weight: 35 pounds
Chair Height: Adjustable from 38 inches to 42 inches
Chair Width: 25 inches
Chair Depth: 24 inches
Seat Color Choices: Black or Gray
Frame Color Choices: Black or White
Warranty: 7 years
To care for the frame and wheelbase, use any mild cleaner that does not contain ammonia.
To care for the backrest and seat, use any upholstery cleaner that is safe for nylon.
White Glove Installation and Branch Flex
As mentioned, Branch offers expert "White Glove" assembly installation by trained professionals, in select areas, and with minimum purchase. This is an especially convenient option for customers who are purchasing multiple pieces to furnish a corporate office.
Branch Flex is something completely unique in the office furniture industry. In authorized service areas, the company will pick up your old Branch furniture at no charge. If it is in good condition, Branch will even offer credit towards a future purchase.
Branch provides this service to help growing companies keep their offices updated and relevant with newer styles and the latest ergonomic furniture solutions. This is absolutely not an offer you will see from either high-end furniture dealers or big-box warehouses.
Unfortunately, these services are not yet available everywhere. Here is a currently complete list of Branch service areas:
Alabama
Arizona
Arkansas
California
Colorado
Connecticut
DC Metro
Florida
Georgia
Illinois (Chicago area)
Massachusetts
Maryland
Michigan(Detroit area)
Mississippi
New Hampshire (Manchester area)
New Jersey
New York
North Carolina
Ohio
Oregon
Ontario (Canada)
Pennsylvania
South Carolina
Tennessee (Nashville area)
Texas
Utah
Virginia
Washington
Wisconsin( Milwaukee area)
Branch Ergonomic Chair Pros and Cons
There is much to like about the Branch Ergonomic Chair, but there are also a few things that customers would like to see improved.
PROS
Based in North America
Ships 1-3 days after the order is placed
"White Glove" assembly available in select service areas; minimum purchase required
Self-assembly is less than 30 minutes
Extremely comfortable
A high number of ergonomic adjustment points
Accommodating to most body types, sizes, and shapes
Reduces fatigue typically felt due to extended sitting in non-ergonomic chairs
Branch Flex Trade-in option for corporate customers lets your workspace grow as your business grows
Sells directly to customers, with no middleman to drive up prices
Very affordable — less than half the price of some other big names
Hybrid casters are quiet and responsive
Exceeds the industry standard for commercial durability
CONS
No adjustable headrest (although one can be purchased separately).
Lumbar support is not fully adjustable
A limited number of colors
Only one style of choice
$1,000 minimum purchase to qualify for White Glove assembly
Although Branch ships their products anywhere in the Continental United States, White Glove assembly and Branch Flex trade-ins are currently only available in 30 metro areas.
About Branch Furniture
Once upon a time, there were only two ways to buy office furniture.
On the one hand, you could buy affordable furniture and have it delivered quickly, but it was usually of poor quality, and customer service was generally terrible.
On the other hand, you could purchase high-end office furniture and sometimes receive decent customer service, but it was exorbitantly expensive and took forever to arrive.
In truth, neither option is very efficient or pleasant. On Branch's corporate website, it reads, "…buying office furniture sucks."
Branch was founded on breaking those two molds and making it easier for individuals and companies of all sizes to buy top-quality office furniture and create workspaces they love.
To accomplish this, Branch does things a little bit differently than other furniture companies.
First, Branch eliminates the middlemen and sells its products directly to the public. Right off the bat, this eliminates unnecessary markups of up to 50%.
Second, they do not offer a huge catalog of products. Instead, they created specific categories featuring different types of office furniture and accessories. In each category, Branch offers one carefully-selected piece, and that is all.
Third, instead of paying independent contractors to do it for them, Branch delivers and expertly performs a "White Glove" installation.
Fourth, Branch provides the almost unheard-of service of allowing you to trade in your old furniture.
You read that right. If your company bought Branch furniture in the past and is now looking to upgrade, Branch will pick it up free of charge.
If it is in good condition, they might even give you credit towards your next purchase.
By focusing on a lean selection of superior products and by eliminating unnecessary middleman markups, Branch offers one of the best ergonomic office chairs at prices far lower than you would normally expect to pay.
What are "Ergonomics"?
To better understand why Branch designed this particular chair, you first must understand what "ergonomics" really means.
Ergonomic furniture is designed to support and function by enhancing and supporting the natural movement of the human body. It does this by:
Accommodating different body types and sizes.
Promoting good posture.
Supporting the spine's natural shape.
Reducing stress on muscles, joints, and bones.
Putting usability before convenience or appearance.
Encouraging physical movement.
Incorporating ergonomic furniture into the workplace is considered a "best practice" because it protects employee health, reduces the number of sick days, boosts morale, and increases productivity.
What are Customers Saying about the Branch Ergonomic Chair?
Aside from my own personal experience with this chair, there is no truer test of a company's performance than the unsolicited opinions of their customers. Smart Companies read these reviews religiously and base their policies and progress on what people who have already bought have to say.
On that note: 80% of customers give the Branch Ergonomic Chair a 5-Star rating.
While the overwhelming majority of customer comments about the branch ergonomic chair are positive, we have included concerns and constructive criticism.
"My back feels so much better, and the price is hard to beat."
"It's completely changed my work-from-home experience."
"I found that the build quality of the chair was exceptional."
"The lumbar support is 'okay'; however, it could use some cushioning support…"
"The arms are not perfect, as they do not always remain in the position set."
"My only complaint is some looseness and wiggling of the arms."
Here was the encouraging sign. Branch seems to be very responsive to comments within customer reviews.
For example, someone at Branch responded to the customer who complained that his chair's arms were loose. They took the time to explain to him how to tighten the arms, and everyone was happy.
Another person did not like that their Branch Ergonomic Chair did not have a tilt lock feature.
A Branch employee reached out and explained to the customer that, yes, the chair does have that feature, and they then went on to explain how to operate that lock properly.
Just like the White Glove installation and Branch Flex programs, this kind of interaction with their customer base speaks volumes about the relationship Branch wants to have with its customers.
Does Branch Sell any Complementary Products?
Yes. The Branch team carefully picks office products in each category, and these products are specifically chosen for how they create an inspiring workspace, both separately and together. Besides the ergonomic office chair, Branch also offers:
Daily Chair
Task Chair
Office Desk
Quad Desk
Six-Person Desk
Standing Desk
Conference Chair
Conference Table
Meeting Table
Bistro Chair
Bistro Table
Cafe Chair
Guest Chair
Lounge Chair
Sofa
Credenza
Privacy Panels
Small Filing Cabinet
Wire Organizer
You can find all these products right here.
Whether you are working from home or from an office, Branch has functional, durable, and beautiful office furnishings that help you create your ideal work environment.
NORE: Some products have select delivery areas.
Who is the Ideal Branch Customer?
The Branch Ergonomic chair is made for anyone who spends (or who has workers who spend) long hours sitting down at a desk, on the phone, or in front of a computer screen.
Excessive sitting, especially in improper or unsupported positions, can contribute to many musculoskeletal disorders and other unhealthy conditions, including:
High blood pressure
Heart disease
Obesity
High cholesterol
Arthritis
Diabetes
Neck pain
Lower back pain
Joint pain
Poor circulation
Deep-Vein Thrombosis
Varicose Veins
According to OSHA and the Bureau of Labor Statistics, MSDs are the largest cause of restricted or lost work time, accounting for 1 out of every 3 injury or illness cases.
Because employee productivity is one of the key factors in a company's profitability, keep one thing in mind. Every Branch Ergonomic Chair you buy is actually an investment in your own business.
Branch Ergonomic Chair Versus the Competition
One of the best ways to determine if the Branch Ergonomic Chair is the right model for you is to make a side-by-side comparison between it and other office chairs.
The competition for our comparison is the Autonomous ErgoChair 2. Marketed as an ergonomic office chair at a similar price point to the Branch model, they are alike in many respects.
ErgoChair2 Advantages: More points of adjustability (integrated headrest, back tension, seat tilt), more color choices (6 to 2), and greater weight capacity (350 pounds to 300 pounds).
Branch Advantages: Warranty (7 years to 2 years), 50% more seating surface (600 square inches to 400 square inches), Lighter and easier to move (35 pounds to 48.5 pounds), White Glove assembly, and Branch Flex trade-in.
At first, it seems like the Autonomous ErgoChair2 promises a bit more but stands behind their product a lot less after the sale. The much-smaller seat is a potential deal-breaker because it excludes larger users.
All of that adjustability becomes irrelevant if you cannot even fit onto the seat.
One out of every four ErgoChair2 customers on Amazon gives it a 1-star rating. It is worth noting that some Amazon customers who purchased the Autonomous model complain that their negative reviews on the company website and social media are not being properly published.
When you look at the entire comparison — not just the online promises, but also the real-life buying experience — the Branch Ergonomic Chair emerges as the clear winner.
Frequently-Asked Questions
Still have questions? Here's what else you need to know about this chair:
Where can I see Branch products in person?
If you live near New York City, you can schedule an appointment to visit the showroom (under normal circumstances). If you live elsewhere, virtual tours are also available.
How long does it take to ship Branch office furniture?
If an item is in stock, it will ship immediately, and you can expect delivery within 5 to 15 days, although large orders may take longer. If an item is not in stock, Branch will inform you BEFORE your order is final and tell you how long your shipment will take.
One of the reasons Branch limits some options is to streamline inventory and make for faster shipping. If you choose a custom color option or an item that is not in stock, it must be ordered from the overseas manufacturer.
Are space planning and White Glove installation included in the price?
Space planning is always free. Expert White Glove assembly and installation is available only in service areas (listed above). It is free with a minimum purchase of $1000.
How hard is it to assemble Branch office furniture?
All products come with full instructions and all necessary tools and can be quickly and easily assembled by one person. See above. Credenzas and filing cabinets arrive fully assembled.
How does the Branch Flex program work?
If the order is within an authorized service area, the company will pick up any old Branch office furniture or products you are replacing. If they are in good condition, you will receive credit towards a future Branch purchase.
What is the return policy?
Like-new products may be returned in their original packaging for up to thirty days after purchase. You, as the buyer, pay return shipping. There is a 20 percent restocking fee for orders over $2000.
Conclusion
Whether you are setting up your home office, furnishing your workspace at your job, or outfitting your team of employees, one of your most important considerations is your choice of an office chair.
After all, it is the single most-used piece of furniture in your office.
Although ANY chair will give you a generic place to sit down, sitting in the WRONG chair hour after hour and day after day can ruin your posture, lead to nagging aches and pain, and drag down productivity.
In other words, buying the wrong cheap budget chair with no ergonomic features can cost you serious money in the long run.
But on the other hand, there are so many so-called "ergonomic" chairs out there, how do you know which one is the right one for YOU?
Perhaps even more to the point, how can you avoid spending literally $1000 per chair or more?
In other words, buying the wrong expensive ergonomic chair can cost you serious money right now.
The solution just might be the Branch Ergonomic Chair, the option that promises not to break your back or your bank.