How We Tested
We recommend these products based on an intensive research process that's designed to cut through the noise and find the top products in this space. Guided by experts, we spend hours looking into the factors that matter, to bring you these selections.
Click here for testing insights >

10
Models
Considered

287
Consumers
Consulted

30
Hours
Researched
Buying guide for
What's the Best Sciatica Cushion?
Staying comfortable when living with sciatica can be a challenge. Even many of the best ergonomic chairs might not be enough to provide relief on their own. Unfortunately, for office chair users with sciatica, sitting for long periods of time can be an uncomfortable fact of life. To help provide relief, a sciatica cushion can be a great solution.
As part of your ergonomic workstation or for home use, they can help relieve your symptoms for a more comfortable, enjoyable workday. Today, we've searched through some of the internet's favorite sciatica pain relief cushions, and selected a few of our favorites to share with you.
What is Sciatica?
Sciatica refers to symptoms of pain which center around the sciatic nerve, one of the largest in your entire body. The sciatic nerve branches out from your lower back, where it travels through both hips, and down the buttocks and leg.
Sciatica can have several causes, either from acute injury or developing over time through chronic conditions. Most commonly, sciatica might result from a herniated disk or a bone spur in the lower back, which pinches or compresses this important nerve. Even slight compression of this sciatic nerve can trigger symptoms that we recognize as sciatica.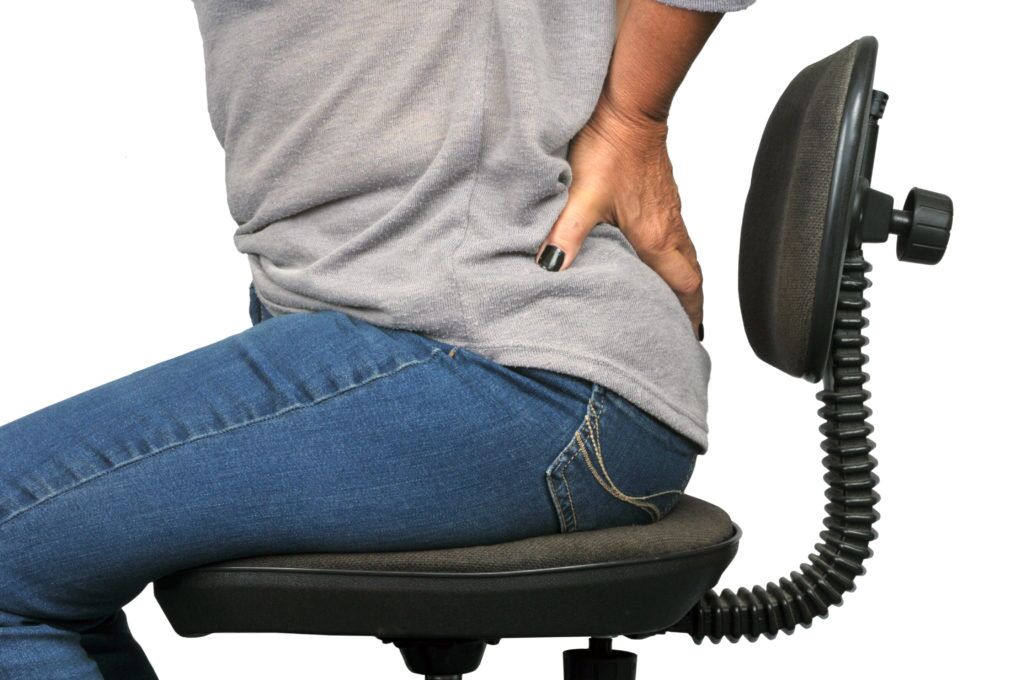 Common symptoms of sciatica usually include pain that radiates down from your lower spine, through the buttocks and down the back of your leg. The pain may be localized in just one area along the nerve pathway, or it may travel quite extensively. This nerve pain can result in several different sensations, often described as anything from a dull, mild aching to a burning or electric "shock." Interestingly, sciatica usually only affects one side of the body, either left or right.
Other symptoms of sciatica may include numbness or tingling in the affected areas, as the nerve either fires off signals or gets gradually cut off from the rest of the body's signals. Muscle weakness may also occur, especially after sitting for long periods of time.
Why a Seat Cushion for Sciatica?
Sitting for long periods can worsen sciatica symptoms, however, it is also a fact of life for many of us. To help you cope, a seat cushion for sciatica can really help. A properly designed cushion can not only help relieve your current sciatica symptoms, but actually help to correct the root causes of chronic sciatica pain.
Improved Posture
Poor posture can place increased pressure on your lower back and hips, and is a major contributor to sciatica. One of our best orthopedic seat cushions for sciatica can make it easier to maintain good posture throughout your day. Following good ergonomic tips can be a lifesaver for sciatica pain.
Enhanced Circulation
Hard or poorly-designed chairs can negatively impact your circulation. A seat cushion for sciatica improves circulation by supporting good posture and alignment.
Pressure Relief
Compression and pressure placed on your lumbar region, hips and tailbone are likely to result in sciatica over time. A sciatica cushion helps relieve and evenly distribute the weight of sitting over a wider area, taking weight off sensitive pressure points. This pressure relief means you can work or relax pain-free for longer.
Best Sciatica Cushions: Our Top Picks
The best sciatica cushion for office chairs can come in many shapes and sizes. Many companies are using innovative materials like gel or memory foam. Our recommendation is to find a good balance of soft cushioning and firm support. While our list can get you started, you may want to consult with your doctor to find the best pillow for your needs.
This popular option from Xtreme Comforts is a solid option to start our list. At 18 by 14 inches, and with three inches of cushioning, we appreciate this larger size for cushioning and pressure relief. Xtreme Comforts followed the U-shaped design commonly recommended by physical therapists with this cushion. The unique shape removes excess pressure from your coccyx, or tailbone, which can help relieve sciatica symptoms while supporting good posture.
Filled with Certi-Pur US-certified foam cushioning, this cushion cradles your butt, legs and spine without going flat. This sciatica cushion from Xtreme Comforts also boasts features like a carry handle and non-slip bottom for traveling, and the breathable black mesh cover is machine washable for easy care. Xtreme Comforts has several different cushion designs on their store, and we fully recommend any of them to suit your needs.
Buy on Amazon
Another contoured sciatica cushion is next on our list. This ergonomic-shaped pillow features memory foam, plus a cooling gel that makes this a really comfortable place to sit for long workdays. ComfiLife also features a removable and washable cover with this sciatica cushion, making it easy to keep clean and fresh.
For comfort beyond the office chair, try taking your sciatica cushion on the road with you. With a built-in carry handle, it's easy to throw this cushion down for long road trips. Increased alertness, energy and good posture are sure to follow.
Buy on Amazon
In their trademark shade of lavender, Purple revolutionized the mattress world in 2015 with viral ad campaigns and rave reviews. Now, their hyper-elastic polymer, in a pressure point-relieving grid layout, is available in a range of seat cushions. This Ultimate Seat Cushion is designed for extended sitting, whether for gaming, travel, or office chair use.
The hundreds of open cells encourage a lot of airflow, making this a great option for those who tend to overheat. This rectangular cushion, in its simple black cover, looks slightly less "medical" than other options, which could be a benefit for those looking to blend in while staying comfortable.
Buy on Amazon
While BonMedico makes several popular cushion choices, including donut and U-shaped orthopedic shaped cushions, we chose this simple wedge to complete our list. The gradual slope of the wedge is designed to relieve pressure on the spine and hips, and actually build a stronger posture over time.
A textured anti-slip base helps prevent this cushion from sliding around beneath you during your workday, while the breathable mesh cover helps keep you cool all day long. The low-profile look is a definite plus in our book, while the foam's support and shape can actually make it easier to stand and sit throughout the day.
Buy on Amazon
Bottom Line
Sciatica pain is a challenge to deal with, but with the right tools and support, it doesn't need to affect more of your life than it has to. Together with daily movement, a treatment plan made with your doctor, and other healthy choices, a sciatica cushion can absolutely make a difference in your day to day life.
Other Products We Considered
The Office Chair Picks editorial team researches hundreds of products based on consumer reviews, brand quality, and value. We then choose a shorter list for in-depth research and testing before finalizing our top picks. These are the products we considered that ultimately didn't make our top 5.