In this post we'll provide a thorough review of the Vertagear SL 5000, a premium racing style gaming chair that's been on our radar lately.
After sitting in and inspecting this chair, we're ready to share our thoughts on how this chair stacks up in terms of comfort style, build quality, assembly, adjustability and more.
Keep on reading to learn if it's the right chair for your gaming setup.
If you're in a hurry, here's a quick summary of our thoughts after testing it out . . .
Vertagear SL5000 Review Summary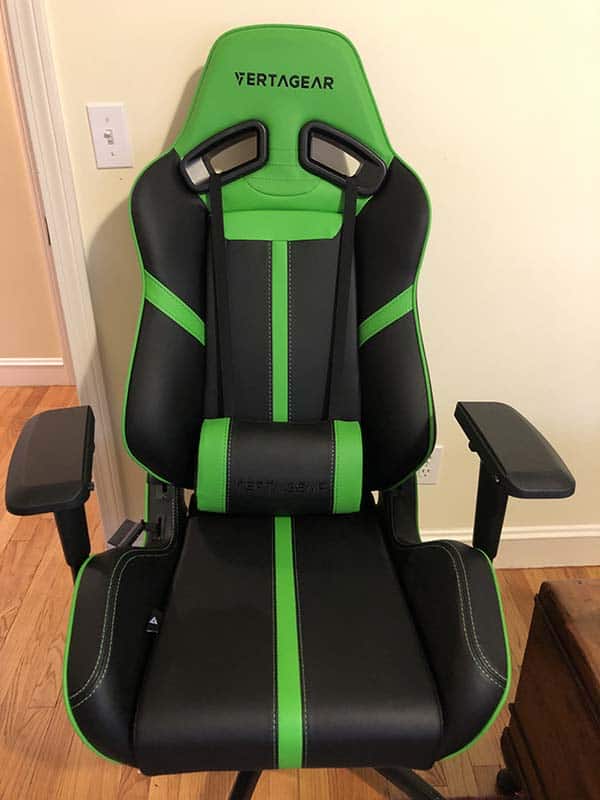 Pros
This is a comfortable and sturdy gaming chair with soft faux leather (actually feels authentic), supportive contours, and a solid build quality.
Includes a soft headrest pillow and adjustable lumbar cushion for additional support.
Armrests are easy to adjust 4 different ways and the backrest recline angle takes you from upright all the way to relaxation mode at 140 degrees.
Easy and smooth height adjustment.
Racing chair styling is sleek, modern and professional.
Cons
The armrests have an ergonomic design (rectangular with soft edges) but are not fully padded.
We would prefer a footrest when reclining.
The recline lever sticks out and is a little stiff.
Keep reading for all the details.
Unpacking and Assembling the SL 5000
Before we get into the details of how this chair looks and feels, let's start with the assembly.
This is an important step. When you get a new chair, it's exciting. And you don't want to waste much time fumbling around with the parts and instructions.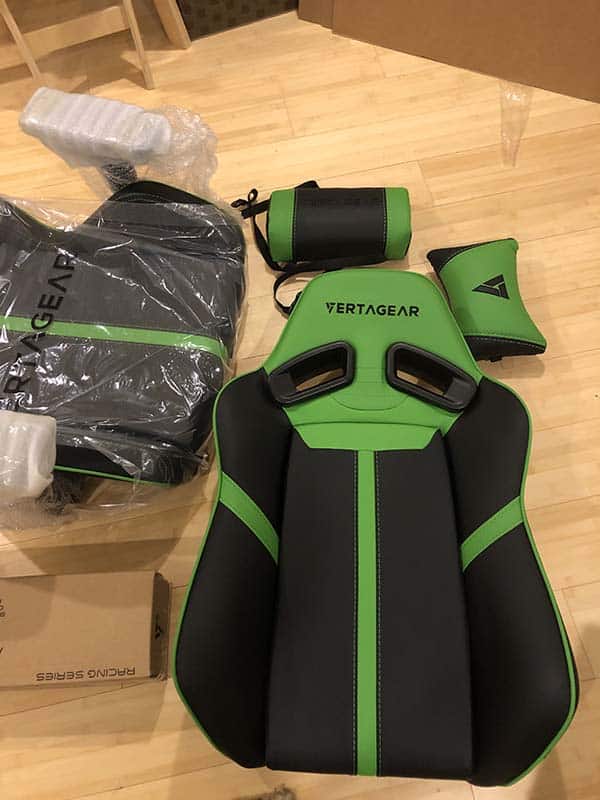 Luckily, the Vertagear SL 5000 comes neatly packaged in a few separate parts with simple instructions and tools, including 4 screws and long heavy-duty hex key (which we really appreciated).
The armrests are already installed, and it just takes a minute or two to attach the adjustment mechanism unit to the seat (where screw and bolts are pre-installed, so you know they'll line up correctly).
Next, just pop in the wheels, insert the height adjustment cylinder, and connect the 5-star base.
Then you just need to slide the backrest on to the chair and screw in the 4 remaining bolts. It took me a few minutes to line this up correctly, but ultimately, it was pretty painless.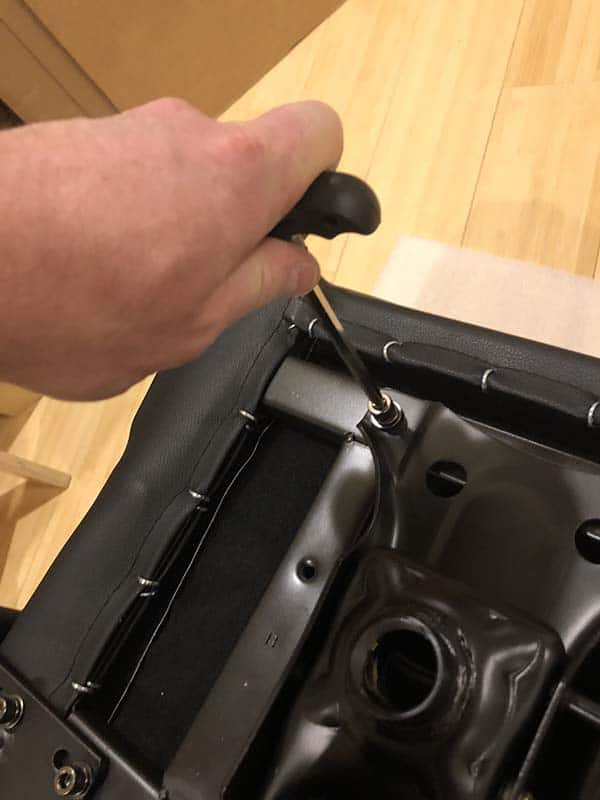 Add the optional headrest and lumbar cushion, and you're good to go.
Approximate assembly time for most I would say is 10 – 20 minutes. It may be a few minutes more or less depending on how handy you are and if you have some help.
Speaking of that extra hand . . .
At 60 lbs, this chair is heavy to carry on your own. Please keep the weight in mind if you need to carry the chair upstairs or downstairs. It would be best to have some help with this part.
Testing the Vertagear SL 5000
With our new gaming chair unpacked and assembled, it was time to take it for a test drive.
We'll walk you through our impressions of this chair when it comes to essential features such as comfort, build quality, materials, adjustments, style specs, and more.
Overall Comfort and Support
The standout feature of this chair was how comfortable and sturdy it feels. The backrest is designed with variable widths, so the lower portion is wide, the middle is narrower, and the upper back/shoulder area is the widest. The back is contoured with thickly padded sides that make the whole thing feel snug and supportive.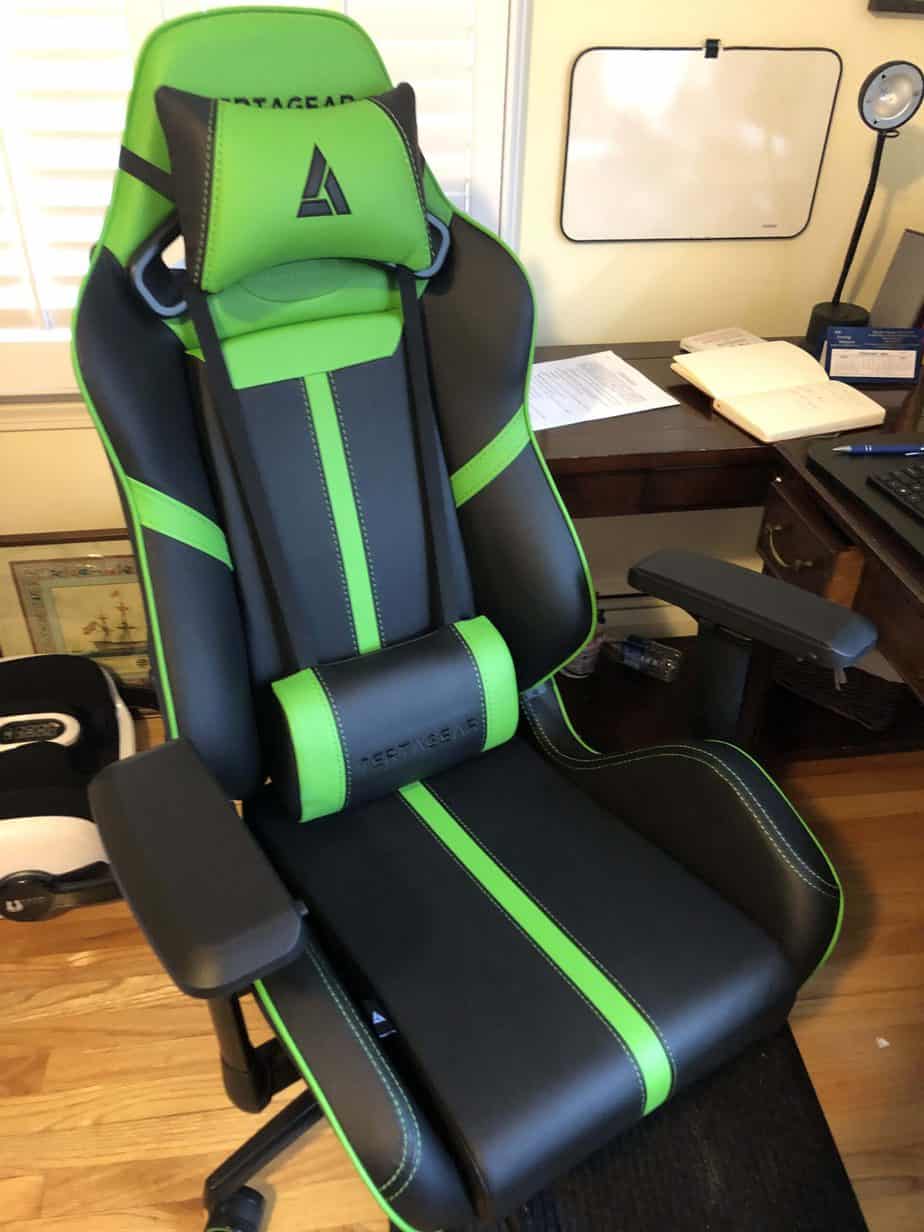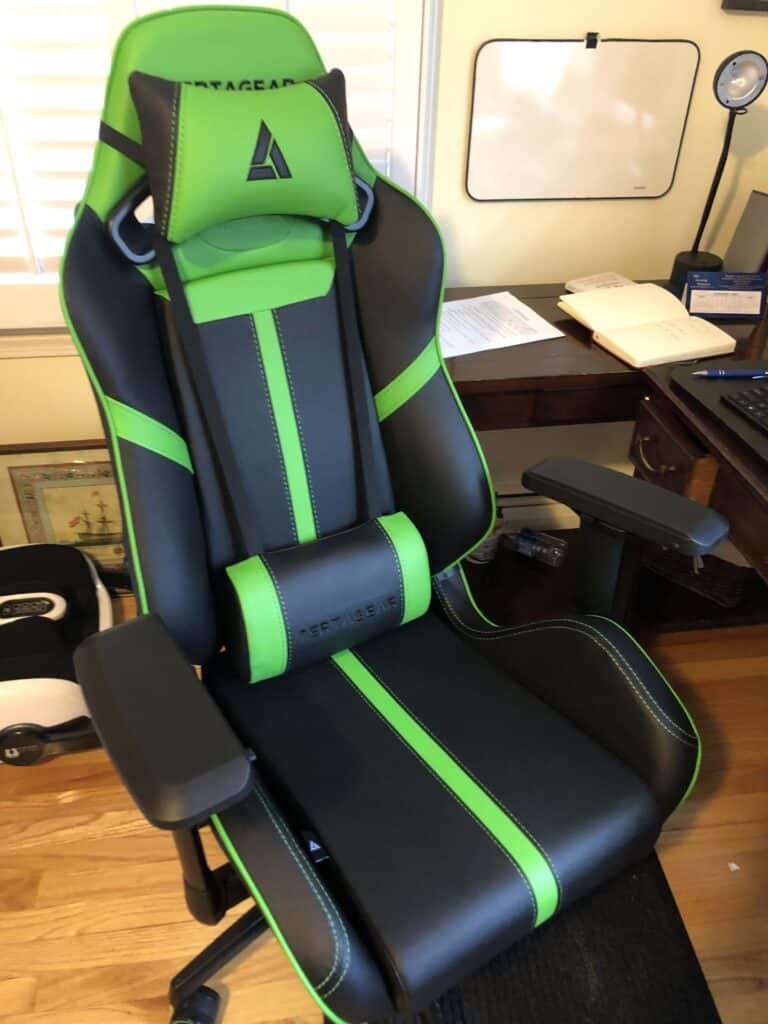 The chair comes with an extra head pillow and adjustable lumbar cushion. In many gaming chairs, I find these to be bulky and uncomfortable. However, I found the SL5000 cushions to be very soft. And when sitting upright, the head pillow kept my neck supported and comfortable.
The lumbar cushion is more of a personal preference. In this case, the chair doesn't have a huge S-curve shape, so I appreciated the added support from the lumbar cushion. Others might find it annoying. If that's the case, you can easily remove this or adjust the height by sliding along the straps in to a better position.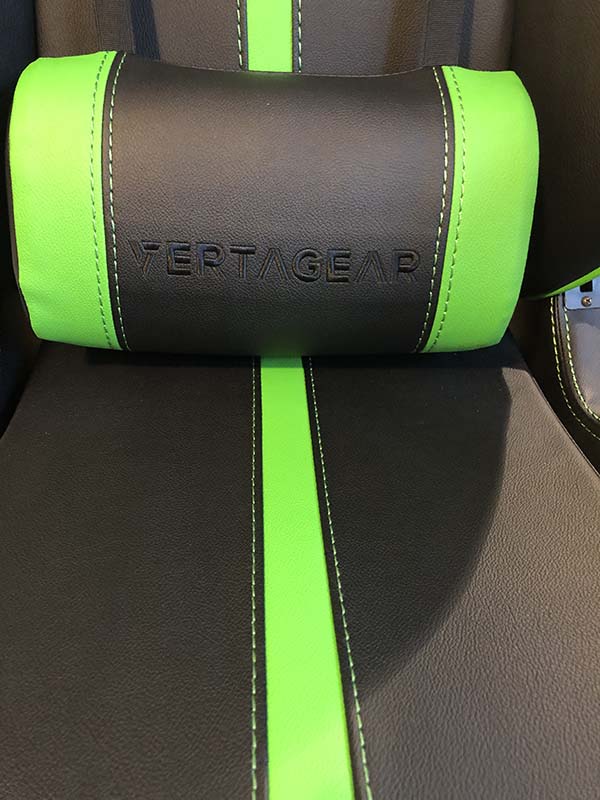 The armrests are wide and rectangular. They even include a passive edge that should reduce pressure on your forearms. As mentioned below, the armrests are 4D adjustable, so it's easy to get them into place. I found the armrests could use a little more padding though.
Build Quality
Another highlight of the 5000 series is the build quality. Basically, this is something you don't want to have to worry about. And with its steel frame, aluminum alloy 5-star base, and heavy duty dual wheel casters, I felt very secure and stable in this chair.
It's not wobbly or creaky in any way. This thing feels solid.
While it's not technically a big and tall style gaming chair, it does have a higher than average recommended weight capacity of 260 lbs. But even more impressive is that the max load is actually tested to 330 lbs.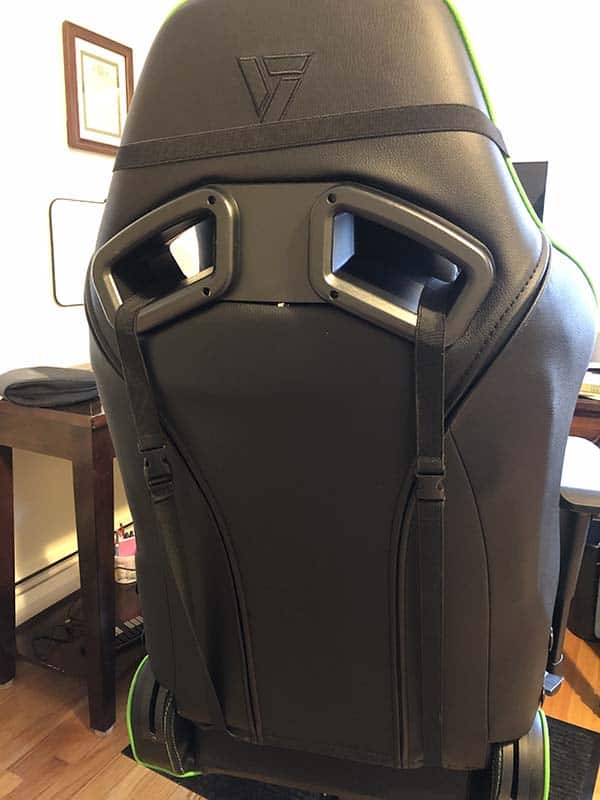 The standard casters are 2.5 inch diameter Penta RS1 racing style. These dual wheel units are coated in polyurethane and seem to be smooth and quiet. Specifically, if you have hardwoods, a mat or another hard flooring surface, PU casters will work well.
I didn't find any issues with these. But some customers are very picky about the wheels on a chair. You might want to have wheels that lock, for example. Or if you have carpeting, the PU might not be as good as a hard nylon caster.
Vertagear does offer some wider wheels (3" casters) and AutoLock as upgrades, though.
A final note on build quality: The frame is backed by a 10-year warranty. Always a good sign! However, the rest of the parts (cushions, gas cylinder, adjustment mechanism, etc.) are only backed by a 2-year warranty, which is typical – if not better – for what you'll find with many other gaming chair brands.
Materials
The SL 5000 is made with a unique faux leather material known as PUC. This is a combination of PU leather (the type of leather found on most gaming chairs) and PVC. The result is a soft and authentic feeling leather that remains durable and easy to maintain.
Admittedly, I was a little skeptical of this PUC hybrid leather claim. But I have to admit, this leather does feel softer and more authentic than typical PU upholstery. I especially liked the stitching detail and natural "graininess" to the leather.
All in all, it's a very nice material that makes this chair stand out among many competitors in the racing style gaming chair niche.
Adjustments
When I first sat in this chair, it was easy to adjust the height and configure the armrests to a comfortable position. These are "4D" adjustable, which means you can slide back and forth to adjust the depth, change the width, the pivot angle, and the height. It's all very easy and intuitive.
You can also adjust the recline angle from 80 – 140 degrees. There is a little lever on the side of the chair for this. The upright mode is great for doing focused office work. And when you're ready to kick back, you can lock the recline of the chair at different angles.
At first, I felt like the tilt mode was way too loose. It wasn't supporting my weight. But then I realized there is a tilt tension adjustment knob (the big one under the chair), and this fixed the issue.
However, after using this chair for a few days and changing the tilt position frequently, I would prefer a better lever system for the recline mode.
For example, many gaming or executive style office chairs, where you're actually using the reline mode more often, have a comfortable handle with a smoother operation.
This one was a little awkward in comparison. It's still smooth, but perhaps a design that uses a rounded plastic or rubber coated lever, and doesn't stick out as much from the chair, would be better.
A note about the height adjustment: This chair is suitable for users up to 6'4" tall. And the seat adjusts 4", from 18 to 21 inches. It's a smooth and easy height mechanism (with a Class 4 gas lift) that you engage with a simple lever on the side of the chair.
However, since I use a standing desk converter, my monitor sits higher on the desk than usual when sitting. And I needed a little more height than the chair offered for this setup. It's just a couple of centimeters though, and in most cases you won't have this problem with a normal desk and monitor height.
Also, this chair doesn't include a chair depth adjustment option. While this is not a dealbreaker for us, it would be nice to see a way to slide the seat pan forward or back to improve the ergonomics.
Looks
The SL5000 is a professional looking gaming chair with sleek styling. My chair has the black and green color combo, with a bright green headrest, piping and accents that really pop.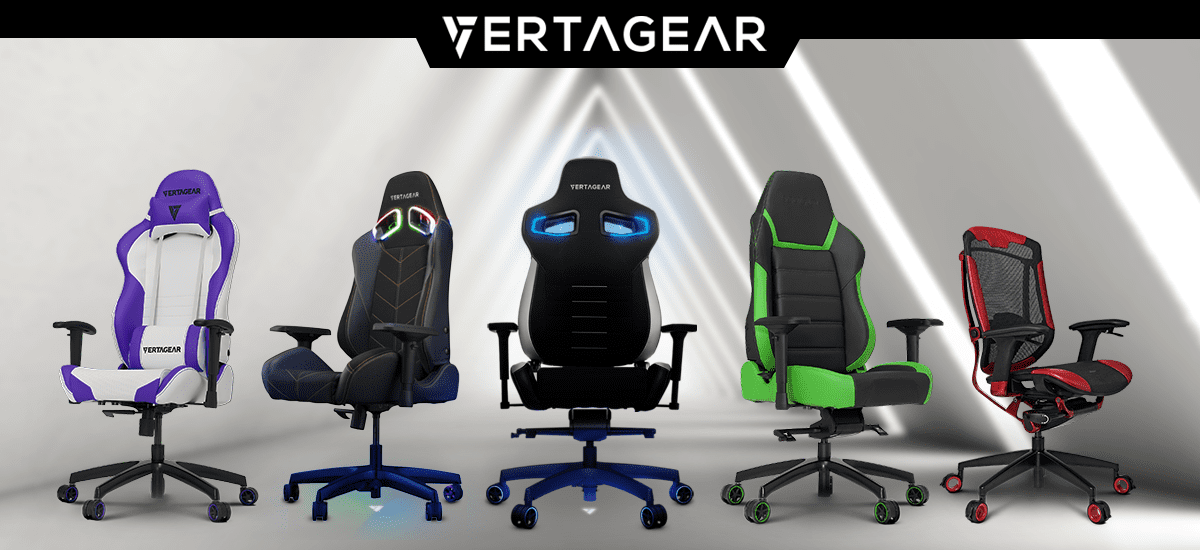 You can also choose the classic all black version or the midnight blue version. The midnight blue comes with the HygennX properties to reduce odor and enhance breathability. Midnight blue is the only color option with this anti-bacterial technology. And you won't find the HygennX on any of the other SL2000 or SL4000 models.
No products found.
Other color combos include black with red, blue, white, or a black camo option. Check out their website to review the different design choices.
Since black is the dominant color in most of these designs, it should be easy enough to find something that will blend into your gaming or office space.
FYI: LED/RGB Compatibility
Unlike other chairs in the SL range, the SL5000 is compatible with Vertagear's LED/RGB lighting upgrade. This allows you to add millions of LED color variations via a wireless add-on, bringing the looks and styling of your gaming throne to a whole new level.
No products found.
You can learn more about LED gaming chairs (including the Vertagear accessory) elsewhere in our site.
Specs
We've mentioned some of the key dimensions already, but here is a summary of the specs you should review to make sure it's the right size for you:
Weight Capacity: 260 lbs (recommended); 330 lbs (max load)
Upper Back Width: 19.3"
Backrest Height: 32.3"
Seat Height (from floor): 18.1 – 22.1"
Total Chair Height: 48.6 – 52.6"
Tilt Range: 40 – 180 degrees
Seat Width (not including raised sides): 15.4"
Chair Weight: 60 lbs
Wrapping Up . . .
We review a lot of chairs here, so we tend to be a little nit picky when it comes to the details. Yes, we always like to have the bells and whistles like depth adjustment, footrests, and executive level adjustments.
But, overall, I did not see too many flaws with this one. It's a comfortable and sturdy gaming chair with nice, sleek looks. That's what most customers want, and this one delivers.
If the price tag is too high, you should check out some of Vertagear's entry-level models. This includes the new PL1000, which we'll be reviewing in the near future.
But if you want a competitively priced premium level chair, the SL5000 won't disappoint.