Uplift vs Autonomous. It's the one debate that fans of the standing desk just can't seem to settle.
No products found.
When you think about it, that's hardly surprising. Both have proven themselves to be among the leading brands in the mid-market standing desk range, with their electronic-powered options, in particular, proving to be among the biggest best-sellers of the last few years.
Yet while some swear by the Autonomous SmartDesk 2's superior lifting speed, others insist that the Uplift V2 Adjustable Standing Desk is the better option thanks to its enhanced weight capacity and exceptional warranty coverage.
In this post, we've done the research so you can compare these two high-tech standing desk units in terms of quality, lifting mechanisms, warranties, and more.
In the end we'll provide our thoughts on who wins (hint: it depends).
Keep on reading to learn more.
Uplift vs Autonomous Standing Desk Comparison
Quality
It's fair to say that neither brand would enjoy the reputation they have if they produced poor quality products, so this round was a tough one to decide.
Both the Uplift V2 and the Autonomous Hybrid feature steel frames with premium-quality tabletop options including bamboo, laminate, and powder coated.
The Black Finish Desk Setup for Pros & Developers | Autonomous x @tim_sessions
The Uplift V2 also offers a standard hardwood version, though this tends to be at the very top end of the pricing scale. With that in mind, it only seems right to award the quality round to Uplift.
Stability
While it's a given that all desks should be stable as possible, it's not uncommon for some tables to give a little wobble if bearing too much weight and/or raised to maximum height.
In that regard, both Uplift and Autonomous quite literally hold their own remarkably well.
The Uplift V2 desk features a patented inverted leg design and a reinforced frame capable of supporting as much as 355 lbs of weight. In tests, the V2 stayed strong, firm, and stable even at maximum weight capacity and it was only when it was raised to around 42″ and beyond that any wobbling was noticeable.
This strength, stability, and superior weight capacity makes it a great choice if you're looking for a standing desk for two monitors or if you simply need a desk that can bear plenty of weight, this might be the best option.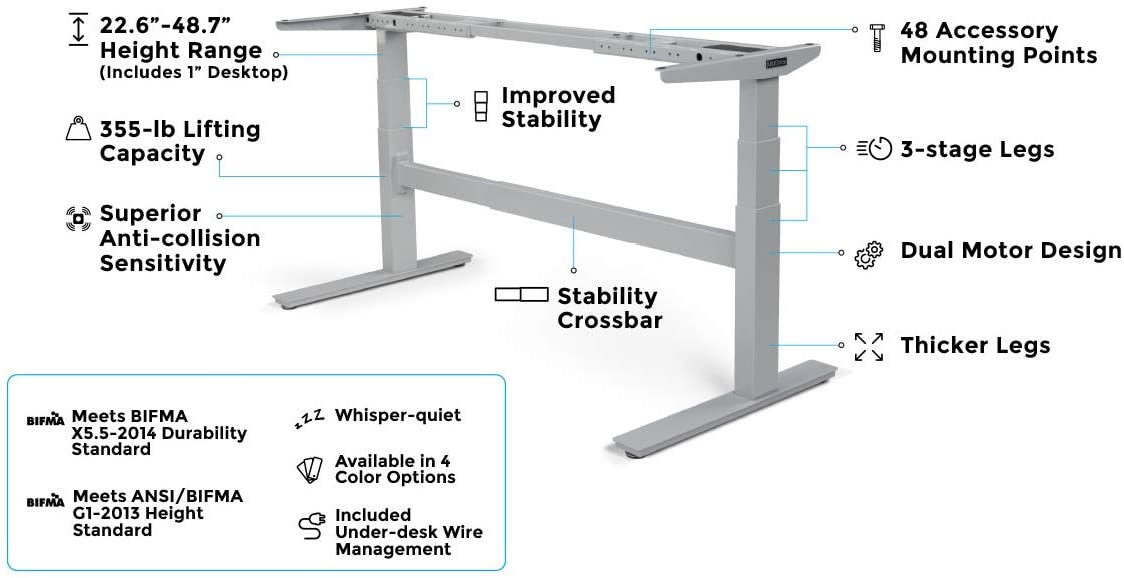 The Autonomous SmartDesk only has a maximum capacity of 300 lbs and -as we'll discuss later- doesn't extend quite as high as the Uplift.
Sure, that could be off-putting for some, but the restrained height and weight-bearing capability actually work in the SmartDesk's favor, meaning its strong base doesn't have to do as much work and thus provides a greater level of stability.
You can extend this one all the way to its limits without so much as a whiff of a wobble, meaning when it comes to stability, Autonomous takes the round.
Warranty
When you're spending a considerable amount of money on new office furniture, it's nice to have the peace of mind that if something does go wrong, there's a warranty there to protect you.
First of all, we should point out that both Autonomous and Uplift offer a 30-day money-back guarantee. So, if you're not happy with your new desk, there's no harm done – just send it back and get a refund.
If you decide to keep them, then the length of warranty coverage you'll have depended on which brand you go for.
Autonomous offer a one-year warranty on the tabletop and a five-year warranty on the frame, but Uplift offers an all-inclusive 10-year warranty covering both damage and defect.
This one round really is a no-brainer. The Uplift warranty is twice as good as the Autonomous one, so they take this by a clear margin.
Size
Size is one area where determining the best standing desk all depends on what you need.
If you're a person of particularly tall or short stature, then you might prefer the Uplift V2 Desk. it's adjustable frame can be lowered to 24.5″ or raised all the way up to 50″, and that's not including the extra couple of inches you get from the desktop itself.
Meanwhile, the Autonomous SmartDesk2 only has an extendable height range of between 28″ and 47″. Three inches on either side may not make a huge difference to everybody, but as many tall users will tell you, to those whom it does matter it can make all the difference between a comfortable day at the office or a day plagued by sore shoulders and a stiff neck.
That being said, the desktop itself is bigger on the Autonomous desk. It can extend from 42″ to 72″ across while the Uplift version can only go from 42.25" to 70". If you need -or simply prefer- extra desktop space then, Autonomous is the way to go.
To sum up – the Uplift is taller but offers less desk space. The Autonomous offers more desk space but doesn't raise as high. As such, we'll declare this round a draw.
Lifting Mechanism
As we mentioned right at the start of this guide, the Autonomous desk does have a faster lifting mechanism, boasting a dual-motor capable of raising or lowering your desk at a rate of 2.09" per second.
Speaking of the dual motors, Autonomous is proud of the fact that they make no more than 45 decibels (DB) of sound while the lifting mechanism is in motion, making it the quieter of the two desks.
It also comes with a programmable keypad pre-configured to the four most commonly used desk heights. If none of those quite work for you, you can adjust the desk to your preferred height and save it in the handset so that it's easy to readjust should another user come along and change things.
The Uplift V2 isn't exactly a slouch in this department, but it just can't match its Autonomous rival. It utilizes a single motor capable of moving only at 1.33″ per second and making 50 DBS of noise in the process, meaning it's both slower and noisier.
It too has a programmable keypad that enables you to set maximum and minimum height ranges, program in your preferred heights, and even lock the keys altogether so that nobody else can come along and ruin your perfect workstation.
In fairness, the Uplift's keypad is the better of the two, but since the Autonomous is both faster and quieter, it only seems fair to give it the win.
Uplift vs. Autonomous Standing Desks: Which is Better?
After comparing both desks in five key areas, each one won two rounds each and tied the fifth. So, if that's all we were going off, we could probably call this head-to-head battle a draw and leave it there.
Yet that's not what you came for, is it? We started this guide by saying we were going to settle the Uplift vs. Autonomous debate once and for all, so let's do that, shall we?
The Autonomous StandDesk 2 is both faster and quieter than the Uplift version and has a wider desktop surface area.
So, if you need a table that you can quickly adjust without an awful racket disturbing your colleagues, or if you simply need more desk space to get stuff done comfortably, this may be the way to go.
The Autonomous desk is also the sturdier of the two, but it only achieves that superior stability by sacrificing some height and weight-bearing capacity. The Uplift V2 can hold 50 lbs more weight and extends a good three inches lower and higher.
With that in mind, there's no question that it's the better option for multi-monitor setups or big and tall users. What's more, with an all-inclusive warranty that lasts twice as long as the one offered by Autonomous, the Uplift V2 must surely be considered the better of the two desks for a large number of users.