Let's face it: There's so many different types of office chairs out there that determining which one to spend your money can seem like a serious challenge.
After all, you likely clock up countless hours at your desk, so if you're going to invest some serious money in a good quality chair, then it pays to know that the one you choose is really best suited to your needs.
That's where we come in.
In this guide, we not only outline the key differences between ergonomic chairs, task chairs, and many other popular types of office chairs, but also offer our advice on which chair might be best for you and even recommend what we think are the best options for each category.
Different Types of Office Chairs
1. Ergonomic Chairs
Perhaps the most important type of office chair around, the ergonomic chair has changed the way we sit, work, and interact with our office environment.
In the most basic sense, ergonomics is all about taking a human-centered approach to design, building things that are perfectly suited to our anatomy and the way we move.
In terms of office chairs, this can be essential for promoting positive wellbeing and preventing a whole host of health problems.
With more and more of us spending countless hours at our desks, there's an increasing risk that we'll suffer not only with back pain, sore necks, and stiff shoulders, but also that we could develop serious conditions such as poor circulation (leading to fatigue), reduced lung function, and even depression.
Chairs like the popular Haworth Zody help prevent this by encouraging proper posture to keep us comfortable and healthy throughout the day.
Who Should Buy an Ergonomic Chair?
Anyone who works long hours sitting down will benefit from buying an ergonomic chair. If you only sit for a short time but suffer from a sore neck, back, or shoulder (or even hip pain) then you'll also find an ergonomic chair useful.
Which is the Best Ergonomic Chair to Buy?
As we mentioned in our guide to the 15 best ergonomic chairs around, there are a lot of seriously good quality options, though personally, we love the Branch Ergonomic Chair thanks to its combination of affordable pricing, exceptional comfort, and highly adjustable features.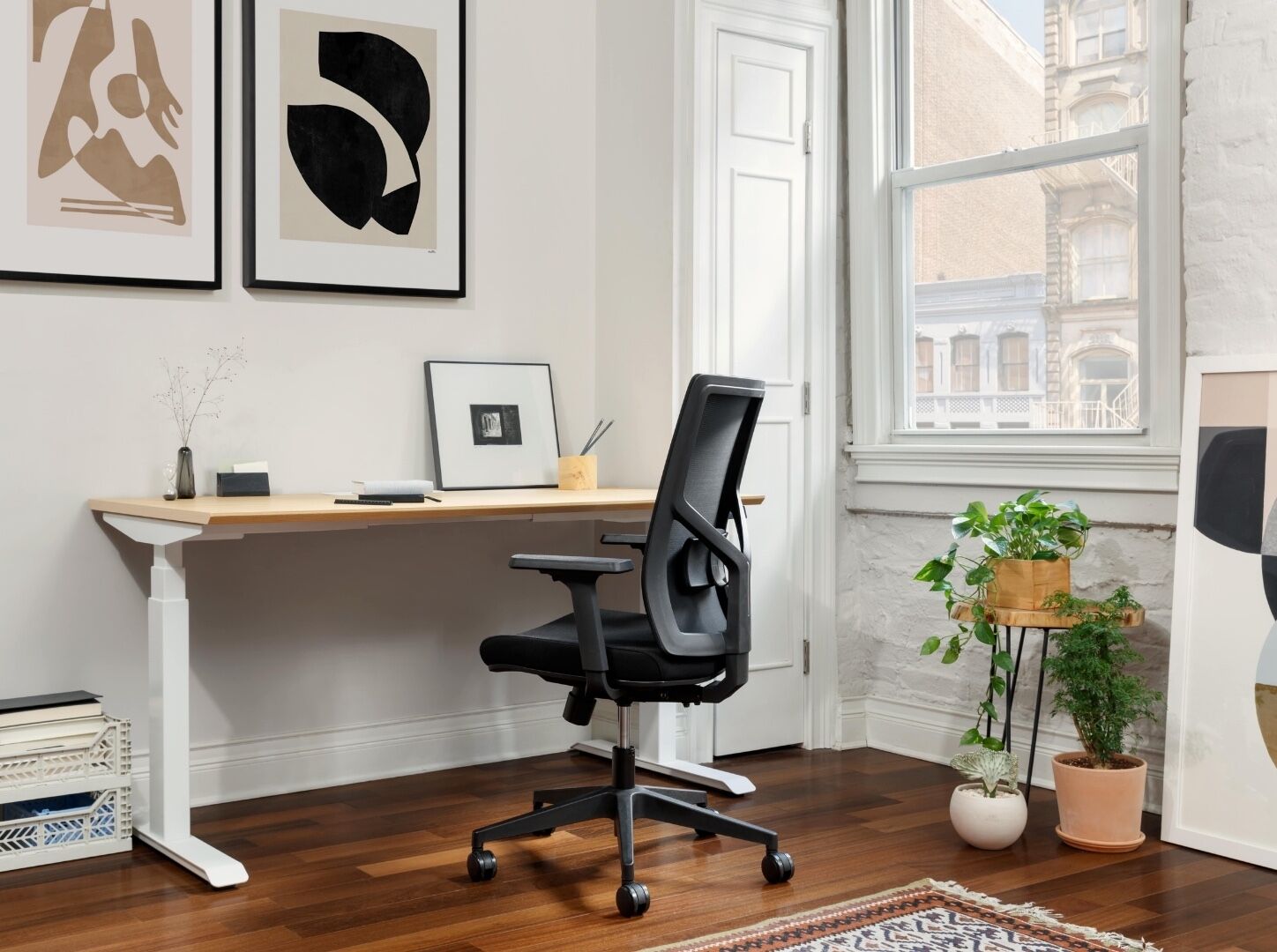 You can read our full review and product guide on the Branch Ergonomic chair here.
2. Active Chairs
For the most part, active chairs like The Swopper serve a similar purpose to ergonomic chairs in that they're designed to help us stay healthy while we work.
You've likely heard the expression that "sitting is the new smoking," a phrase which is meant to sum up just how unhealthy it is to sit down for a long time and is often used by advocates of the standing desk to justify their decision to stand rather than sit.
The truth, however, isn't so much that sitting itself is the problem, it's that once we sit, we tend to stay in the same position for hours at a time without moving. It's this sedentary way of being that causes an increased risk of heart disease, back pain, fatigue, and other conditions.
Active chairs combat this by forcing you to keep switching positions and moving around while you work.
Who Should Buy an Active Chair?
Anyone concerned about the effects of a sedentary lifestyle who wants to improve posture, minimize fatigue and soreness and even build muscle strength while they work. Read this post about the pros and cons of using a balance ball at work to learn more.
What is the Best Active Chair to Buy?
We're big fans of the Gaiam Classic Balance Ball Chair, a low-cost, high-quality option that encourages micro-movements throughout the day to keep your energy levels up and improve your posture.
You can find out more about this one in our guide to the best alternative office chairs for active sitting.
3. Executive Office Chairs
Easily the most expensive office chairs around, executive chairs are built with the focus on luxury and opulence.
Though they still have ergonomic design at their core, these chairs are as much about style as they are substance, usually boasting a high back and prominent design to create a sense of power and status, while the extra-thick padded cushions, Grade-A leather finish, and optional ensure the top executive enjoys the ultimate in comfort.
Who Should Buy an Executive Chair?
CEOs and company executives, or anyone who wants to treat themselves to the very best in comfort and style.
What is the Best Executive Chair to Buy?
The GM Seating Ergolux Genuine Leather Executive Chair scored the highest marks in our guide to the best executive real leather office chairs thanks to its superior quality and stunning modern design.
No products found.
4. Task Chairs
While executive chairs are built for luxury, task chairs are quite the opposite; they're designed for sitting down for a short period of time, getting stuff done, and getting up again. They're often the least expensive type of office chairs around, though this lower price tag can sometimes be at the expense of ergonomic features.
Who Should Buy a Task Chair?
Anyone who finds themselves only sitting down for an hour or so at a time, or is looking to spend as little as possible on a new chair.
What is the Best Task Chair to Buy?
The HON Convergence task chair has long been a firm favorite in our office. Though you'll certainly find cheaper task chairs out there, we like this one because it's ergonomically designed with comfort in mind without being too expensive.
For more on this chair, read our complete HON Convergence review.
5. Big and Tall chairs
Not all chairs are designed to suit all body types, so if you're a taller person or of a larger person, you may find that your everyday office chair is too uncomfortable and unfit for purpose.
This is where the best big and tall chairs come into their own, ensuring that people of all shapes and sizes can sit comfortably.
Who Should Buy a Big and Tall Chair?
Anyone who needs a little more room and safe support than they might get from a regular office chair.
What is the Best Big and Tall Chair to Buy?
The Payhere Big and Tall executive chair boasts an impressive weight capacity of 500 lbs and an extra-large frame, which is partly why it scored so highly in our list of the best big and tall office chairs.
No products found.
6. Mesh Office Chairs
Mesh office chairs like the Modway Articulate Mesh Office Chair feature a breathable mesh backrest which makes them ideal for preventing stickiness and sweating.
Who Should Buy a Mesh Office Chair?
Those who live in warmer climates or who find the office gets too hot for them will find a mesh chair helps to keep them cool throughout the day.
What is the Best Mesh Office Chair to Buy?
The Herman Miller Aeron features both a mesh backrest and a mesh seat, as well as excellent ergonomic features.
Read our comprehensive Herman Miller Aeron review here.
7. Leather Office Chairs
The mesh vs. leather office chair debate is one office workers have found themselves having for years. While mesh chairs are great for cool climates and contemporary office environments, there's something about a classic leather office chair that remains irresistible.
Who Should Buy a Leather Office Chair?
People for whom luxury comfort and lasting durability are a priority. Leather chairs tend to last longer and are easier to clean than their mesh counterparts.
What's the Best Leather Office Chair to Buy?
The Serta Executive Office Chair always gets top marks from us thanks to its plush seating and quality leather finish.
No products found.
8. Kneeling Office Chairs
Kneeling office chairs are a specific type of active chair which are designed so that you sit kneeling up at your desk with your legs at a 60-70 degree angle.
While they're often recommended for back pain, they're unfortunately not very comfortable and can result in cramps and poor circulation.
Who Should Buy a Kneeling Chair?
People who suffer with back pain and only need to sit for a short period.
What is the Best Kneeling Chair to Buy?
The Varier Variable Balans was the first chair of its type and remains the gold-standard against which all other kneeling chairs are measured. Another popular (and more budget-friendly) model is the Sleekform Kneeling Chair (full review).
If you're not a fan, you can find more recommendations in our guide to the best ergonomic kneeling chairs.
9. Sit-Stand Stools and Leaning Chairs
We've classed sit-stand stools and leaning chairs as one and the same because they both provide basically the same function – giving you extra support if you're working at a standing desk.
Though they can be a tad uncomfy if you use them for long periods, they're also great for taking the pressure off and giving your limbs a break if you've been on your feet for hours.
Who Should Buy a Sit-Stand Stool or Leaning Chair?
Anyone who works at a standing desk or stands up for long periods at work.
What is the Best Sit-Stand Stool to Buy?
The Active Collection Locus Mobile Stand-Up Leaning Seat deserves to be singled out for praise because not only is it of superior quality, it also boasts an in-built anti-fatigue mat which can prove invaluable if you're at your desk for long periods.
No products found.
10. Drafting Chairs
Taller than your average task chair though not quite as tall as a sit-stand leaning stool, drafting chairs are -unsurprisingly- designed for use with drafting tables and working at other surfaces that are higher than most standard office desks.
Who Should Buy a Drafting Chair?
Anyone working at a taller-than-average surface such as a drafting desk or counter.
What is the Best Drafting Chair to Buy?
In our guide to the best leather drafting chairs, we gave the top spot to the Laura Davidson SOHO Premier Soft Pad Drafting Chair due to its excellent ergonomic design, impeccable Italian leather, and dashing design.
No products found.
11. Gaming Chairs
As the name implies, gaming chairs are built for gamers, but that doesn't mean they should be ruled out of a conversation about office chairs.
Think about it: Gaming chairs are designed to keep you comfortable while playing video games for hours at an end, so there's no reason why they wouldn't be just as useful if you're putting in a marathon session at work.
Who Should Buy a Gaming Chair?
While the unique design may not make them suitable for a corporate environment, gaming chairs will certainly provide lots of comfort while working away in your home office.
What is the Best Gaming Chair to Buy?
We're spoiled for choice when it comes to great gaming chairs, but we're currently really enjoying the Respawn 110 Racing Style Gaming Chair, a stylish number with excellent lumbar support, padded seating and an all-important footrest.
12. Intensive Use (24/7) Office Chairs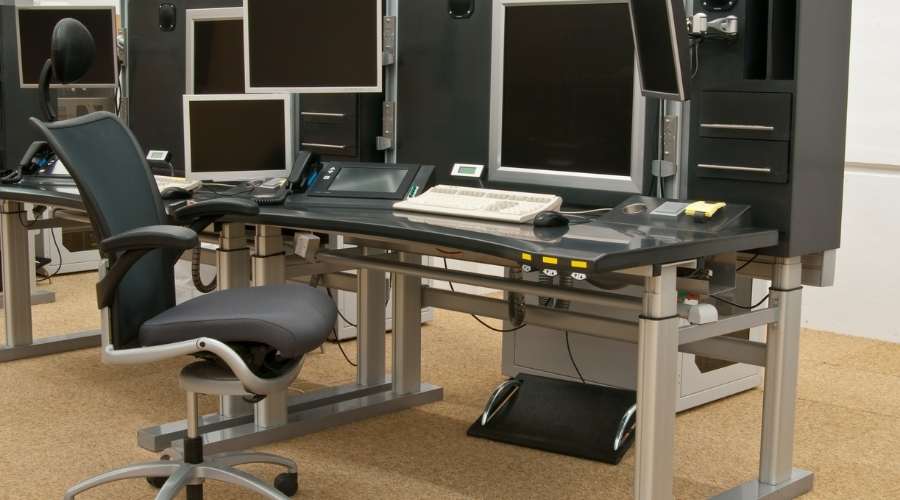 This is a separate category of office chair that's designed for intensive use scenarios. Similar to ergonomic office chairs, they offer plenty of adjustment options, comfortable materials, and lumbar support.
However, a true 24-hour office chair will be used by different workers, over multiple shifts, in demanding settings like call centers, control rooms, medical centers, security ops, and more. So, there needs to be even more stability, durability and comfort for long term, intensive use than you would find in a typical 8-hour task or office chair.
Have a look at our guide to the best 24-hour office chairs to learn more about these models and the design characteristics.
Final Thought: Choosing the Best Type of Office Chair to Buy
As you'll no doubt have realized by now, there's no such thing as the "all-around best office chair." Different types of chairs are better suited for different types of people, different types of work, and even different environments.
If you work in a hot climate, for example, then you'll really value the breathability of a mesh office chair, while the exemplary luxury of a top executive chair can be a real treat for both your home and corporate office.
That said, we'll always recommend good ergonomic chairs for anyone who wants to minimize the health risks associated with long periods and maintaining positive wellbeing.