All of us nowadays are looking to save the world in whatever way we can. We might be giving up meat or traveling by car, or a whole range of other things to try and live more sustainable lives.
One thing that a lot of people don't realize is that your office can also be sustainable. From recycled desks to recycled stationery, offices across the globe are edging towards a brighter, greener future. And this applies to office chairs too.
In this post, we'll be taking a look at some of the most sustainable office chairs on the market today, and hopefully find one that will suit your purposes perfectly.
Here's a quick rundown of our top picks:
The choices we've made are based on extensive market research, and an understanding of sustainable materials which are durable but functional.
When it comes to looking after our home, every little bit helps, so choosing from our list of the most sustainable office chairs will mean you're making small steps to bettering the world we live in.
Let's jump right into the chairs.
Most Sustainable Office Chairs
1. Steelcase Think
The Steelcase Think is one of the original sustainable office chairs. In fact, it was one of the first to receive c2c certification on the market. In addition to looking great, and being one of the most ergonomic chairs you could hope for, it is also incredibly eco-conscious and sustainable too.
The Steelcase Think is made from up to 99% recyclable materials and constructed from up to 44% recycled material. Because of this, the Steelcase Think is SCS Indoor Advantage Indoor Air Quality certified, as well as the aforementioned c2c Certification, which they hold a Bronze with a Gold for social fairness.
No harmful chemicals or poisonous gases being eked into the world and fully recyclable once it's done and dusted? Not bad for an office chair, we're sure you'll agree.
But it's not just one of the most sustainable office chairs out there, either! It also features adaptive bolstering where the seat actually adjusts to support you best, and has weight-activated features that give you seamless adjustments. You'll feel fully supported without feeling confined with the Steelcase Think.
For more information, check out our Steelcase Think Review.
Pros
Almost completely recyclable
Made from recycled materials
Wide range of colors to choose from
Cons
High price tag
Doesn't come with a headrest
Not as adjustable as some other chairs on the market
2. Herman Miller Mirra 2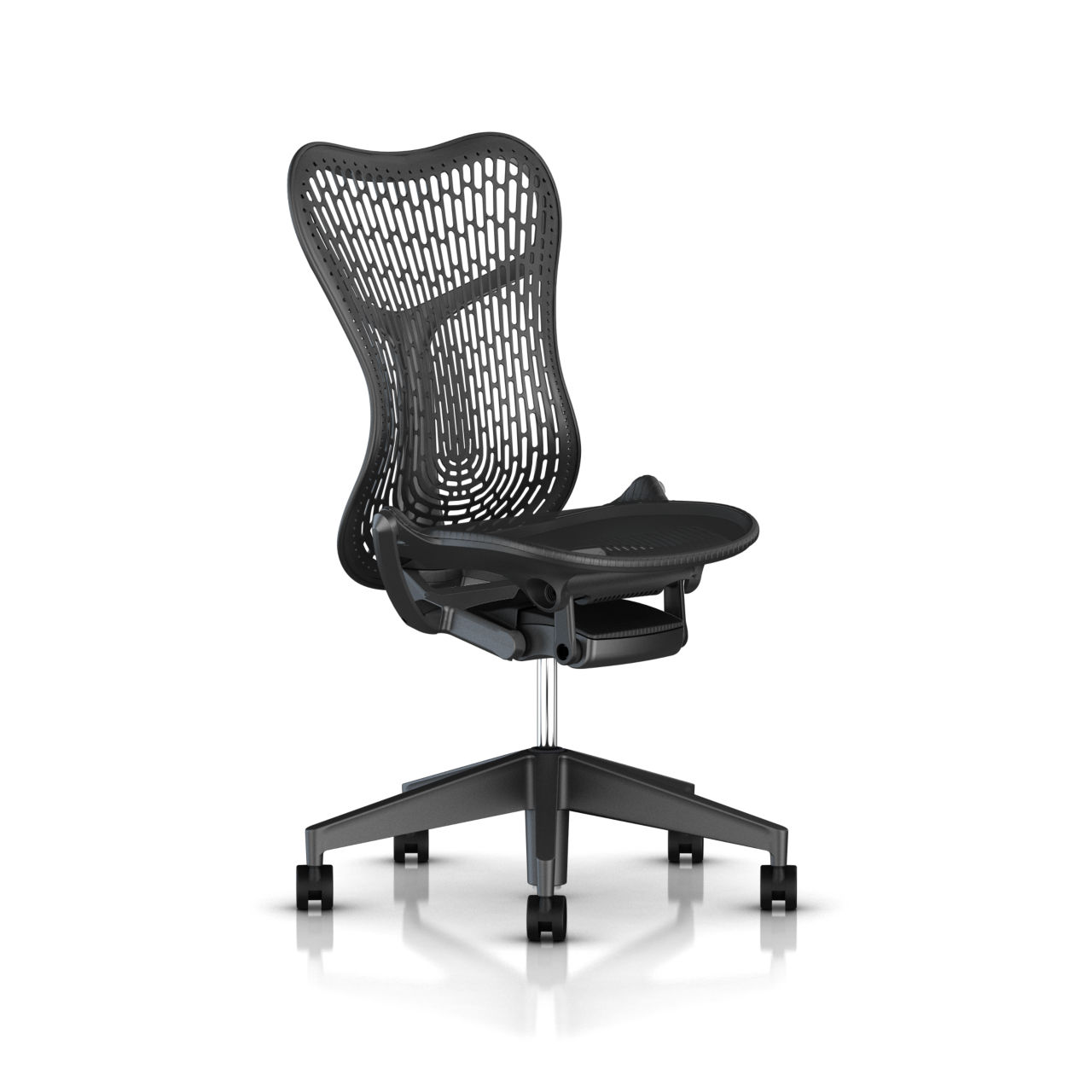 The Herman Miller Mirra 2 office chair is one for those of you who like to change position a lot. This is because it is highly adjustable and customizable, and designed after a running shoe. It has really fluid features, and adjusts automatically to even the smallest of movements.
From tilt mechanisms to the Butterfly Back, the Herman Miller Mirra 2 is outrageously comfortable and gives you all the support you could possibly ever need. PostureFit technology, responsive design, optional adjustable arms, and a myriad of colors makes the Herman Miller Mirra 2 quite possibly one of the best office chairs we've ever seen.
And that's not even starting on it's sustainability features. Made of 46% recycled materials, the Herman Miller Mirra 2 is 93% recyclable, and is in fact made in a greenhouse manufacturing facility that uses 100% renewable electric energy.
All these factors combined give the Herman Miller Mirra 2 a c2c Bronze certification, making it another of the most sustainable office chairs money can buy.
Pros
Lightweight & ergonomic
Responsive design
Very sustainable
Cons
Expensive price point
Adjustable arms cost more
Not as durable as other designs
3. Giroflex 313 Office Chair
At first glance, you'd be forgiven for thinking you're looking at a standard old office chair when you first cast your eyes on the Giroflex 313 Office Chair. But as with many things in our day and age, looks can be deceiving, and you wouldn't know that the Giroflex 313 Office Chair is actually one of the most sustainable office chairs out there today.
Created with careful environmental consideration, the Giroflex 313 Office Chair has had a Bronze c2c Certification since 2014. It doesn't use too many parts either, which means that fewer resources are required for its production, and the majority of the materials used in its manufacture can be recycled too.
So yes, it sure does warrant a space on our list of most sustainable office chairs! But how is it as an actual chair? Despite its minimalist features and sleek design, it can be used by multiple users due to its intelligent adapting features and self-adjusting tools. It also has synchronized mechanics, meaning the seat and the back align according to the user's weight!
Not bad for a small, lightweight office chair. And throw into that the consideration that it's one of the most sustainable office chairs that money can buy, and you're onto a sure-fire winner.
Pros
Lightweight & adjustable
Low price point
Recyclable
Cons
Quite simplistic design that can be limiting
No headrest available
Armrests are not adjustable
4. Steelcase Amia
It's no surprise that Steelcase has another one of the most sustainable office chairs on the market, being one of the leading manufacturers of office furniture in the world today, the Steelcase Amia.
It may not quite be as eco-friendly as their Think line of chairs, but the Amia still boasts a whole ream of different sustainability certifications, such as a Bronze c2c, a Gold Indoor Advantage Certification, and it is Greenguard Indoor Air Quality certified too. It's made from around 37% recycled materials, and is about 97% recyclable too.In addition to all of that, once you're done with your Steelcase Amia, you can use the Steelcase Environmental Partnership program to ensure your chair passes on in an eco-friendly way.
And as for ergonomic qualities, the Amia delivers in droves. With Live Lumbar technology, the backrest ends up adapting to your spine as you move about throughout the day. Plus, there's a tilt lock, adjustable seat height, and you can alter the tilt tension too – not only one of the most sustainable office chairs but also just a genuinely brilliant office chair!
Pros
Easy to recycle
Very reasonably-priced
Smaller in size
Cons
No additional options for headrests etc
Smaller size may not work for everyone
Lumber adjustments can be slightly trickier
5. Noho Move
Suppose you're looking for a chair that combines comfort and versatility with a dynamic, eco-friendly design that not only enriches your home or workspace, but also contributes to the well-being of our planet. In that case, you should look no further than the Noho Move.
Designed and made in New Zealand, the Noho Move is made from reclaimed materials, including ECONYL, which is nylon collected from old fishing nets and carpets and recycled post-industrial polypropylene. This makes it one of the most sustainable office chairs you could even imagine getting your hands on.
On top of their exemplary sustainability credentials, the Noho Move is also fabulously comfortable, with a mesh that will fit your form perfectly. The Best Design Award-winning backrest offers a dynamic forward tilt and recline flex support system, which ends up eliminating any pressure points and improves your circulation too.
In fact, you'll end up wanting to use your Noho Move for every activity – be that relaxing with friends after a hard day's work, eating dinner at the dining table, or even sitting back and watching a movie! It's that comfortable.
Pros
Made from 100% recycled materials
Excellent support for your body
Very reasonable price point
Cons
No headrest available
No armrests
Unsuitable for particularly tall people
6. Herman Miller Aeron
If there was an office chair that caused battle lines to be drawn, then it is the Herman Miller Aeron. With one camp hailing it as the beginning of the next generation of office chairs, and the other naysaying it by claiming it is overpriced and overrated, we can assure you that it even gives the Mirra 2 a run for its money.
With a Silver c2c Certification, the Herman Miller Aeron consists of around 39% recycled content and is 91% recyclable. On top of this, it is manufactured in a facility that is powered by 100% renewable energy, and the materials are sourced from environmentally friendly suppliers. Even the packaging they use is eco-friendly.
Does that make the Aeron the most sustainable office chair? It is surely up there! On top of this, not only is there a Herman Miller Aeron in the permanent collection of the New York Museum of Modern Art, but it's also got ergonomic features you didn't even know were needed.
With a bespoke posture fit that adjusts to your spine and adjustable armrests, you'll wonder what you did before you discovered the Aeron.
For a more detailed look, check out our Herman Miller Aeron Review.
Pros
Amazing sustainability credentials
Very comfortable and adjustable
Perfect for people with back pain
Cons
Extremely highly-priced
No seat depth adjustment capabilities
Seat isn't padded or upholstered
Most Sustainable Office Chairs – What to Look For
All offices need office chairs, and as time goes by, more and more of us will be wanting to make sure we leave as little impact on the earth as we can. There are so many ways to do this, but one of the ways that many people don't even consider is by looking into sustainable office chairs.
What should you be looking for, though? Let's take a look at some of the key areas to consider when taking the plunge into the world of the sustainable office chair.
Design
You might not think about the design of the office chair affecting its sustainability rating, but it can be a significant factor to bear in mind. Modern office chairs are often all equipped with all sorts of bells and whistles, extra add-ons, and administrative features, some of which you may never actually use in the chair's lifetime.
And when it comes to the end of the chair's lifetime, these features are often the most toxic and harmful to the ecosystem. Finding a chair that is simplistic in design and doesn't feature too many extra bits and bobs is a significant step towards finding the most sustainable office chair. For instance, the Noho Move and the Giroflex 313 are both really simple chairs.
You also might think that you need a great big comfy cushion for your chair, but these cushions are often packed with synthetic fibers that can cause untold damage to the environment. Choosing a chair with a mesh backrest or seat is a great way to minimize toxic textiles.
Materials
Most modern office chairs are made out of materials that are often packed full of nasty chemicals that can either release toxic gases into the environment or simply don't break down. The materials used in sustainable office chairs are often much better for the environment.
While in an ideal world, office chairs would be made of recycled or recyclable metal, wood, fabric, latex, cotton, and hemp, we aren't quite there yet. This is why you can't find an office chair that is 100% recyclable, as some synthetic materials have to be used currently. Looking at what the chairs are made of is your first step towards finding the most sustainable office chairs.
Keep your eyes peeled for recycled polyester being used in your chair, and try and avoid any chairs featuring PVC, chrome-tanned leather, polyurethane foam, and phthalates. You may also want to check if there are any carcinogenic dyes or flame retardants in the chair build too.
Certifications
There are all sorts of quality certifications today that let you know just what it is you are buying. Some of these have been around for many years, but others are relative newcomers to the sustainability scene.
The important certifications to look out for when you're looking for sustainable office chairs are c2c (short for Cradle to Cradle) and SCS Indoor Advantage Indoor Air Quality. These certifications in particular cover things like the social fairness of the product, whether it's used renewable energy, and the health of the material used too.
Other certifications to look out for are the CARB II, Greenguard Gold, and OEKO-TEX. In addition to the previously mentioned certifications, these will all offer you some reassurance that the chair doesn't give off any toxic gases or any volatile organic compounds (VOCs), both of which can affect your health and the health of those around you.
Ergonomics
While this isn't necessarily a sustainable feature for office chairs, you should always make sure that the chair you're going for is at least comfortable and will help you focus on your work. After all, you don't want to fork out for a chair that isn't particularly comfortable!
Posture while working is really important, and it is because of recent realizations, and claims that 'sitting is the new smoking', people have been turning to standing desks to help their posture and blood flow. If you're not quite at the stage for a standing desk yet, an ergonomic office chair can be just as functional.
Look out for things like lumbar support, height adjustability, and any extra features like adjustable armrests and headrests when you're taking the plunge into the world of sustainable office chairs.
Recycle
We know the by-word by now. Reduce, reuse, recycle. And it still seems to surprise people that you can apply this mantra to the world of office chairs. As you've seen in this article, there are a vast range of office chairs out there that are either made out of recycled materials, or are made of materials that can be recycled themselves.
You may notice too that some items aren't recyclable or they are not made of recycled materials. In these instances, you should take a careful look at how and where these items were made. For example, the Herman Miller Aeron uses carefully selected sustainable suppliers for the parts of their chairs that are not made of recycled materials.
Once your chair gets to the end of its life, as all things must, you'll want to make sure that you can dispose of it in an eco-friendly and sustainable way too. All the chairs we've mentioned here today in this article have some modicum of recyclability with them. Still, nothing beats the Steelcase Environmental Partnership program when it comes to a new lease of life!
Most Sustainable Office Chairs – Final Thoughts
So there you have it, a rundown of the 6 most sustainable office chairs you can find on the market today. With a price point to match everyone's budget, we're confident that you will find the perfect sustainable office chair for your workplace or home office.
Our choice has to be the Noho Move. It's all made of recycled materials, and not only that, it looks super stylish, is incredibly comfortable, and it won't break the bank for you to get your hands on it. In fact, for its sustainable credentials, it's one of the cheapest ones out there.
Do you already have one of the most sustainable office chairs that we've mentioned? Or do you have any thoughts about what we've chosen? Let us know in the comments!