In this Steelcase Think Review, we've set out to finally answer the one question that's most on many people's minds when they consider bringing one into their workspace.
Is this high-end "smart" chair really worth its expensive price tag?
Make no mistake about it, the Think is by no means a cheap office chair. But then again, this is your comfort, your health, and your wellbeing we're talking about, so the last thing you want is cheap.
Still, if you're going to spend money on any chair, then it's important to know that it can really deliver when it comes to all the things that are important to you – not just seat comfort, but size, durability, and ergonomic features, not to mention aesthetic appeal.
How does the Steelcase Think stack up in all those key categories?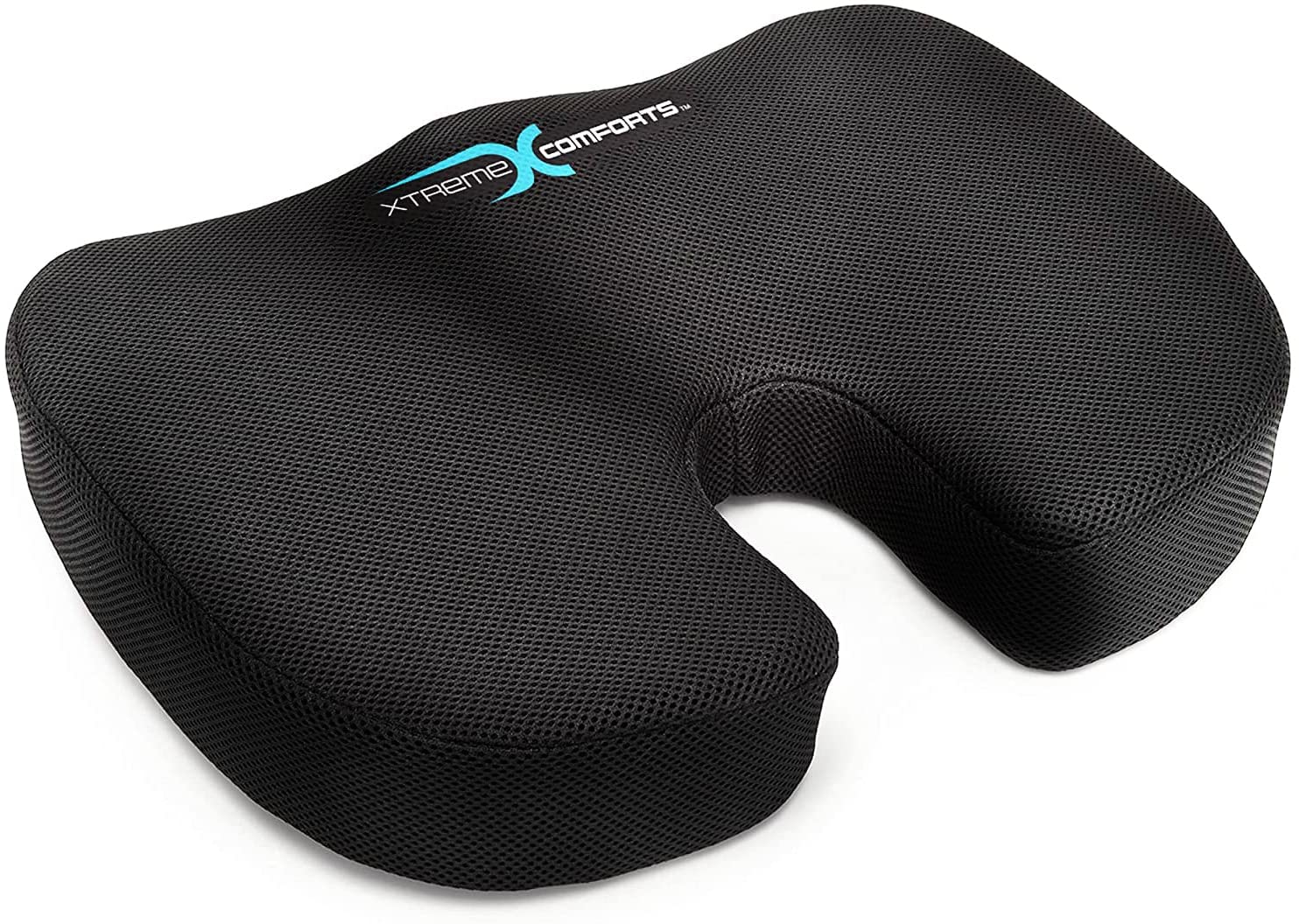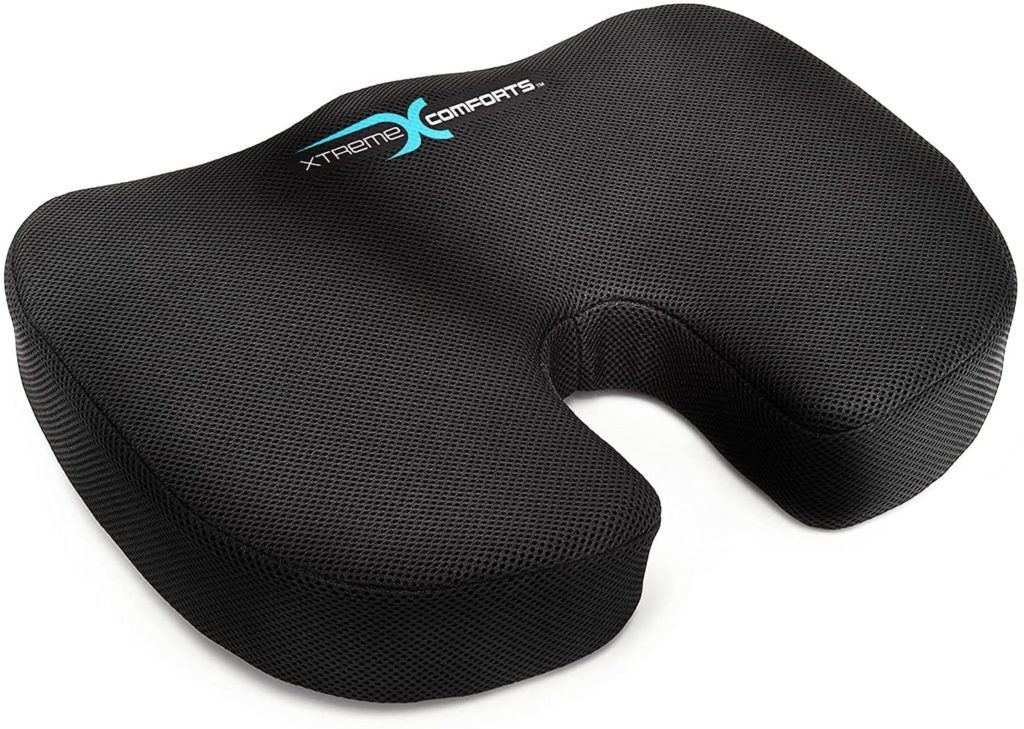 The Most Affordable Chair Upgrade
Make any chair instantly more comfortable with this affordable seat cushion from Xtreme Comforts. This chair cushion doesn't just promote lumbar support & relief, tailbone, and posterior discomfort – it also promotes a stronger seated posture.
Steelcase Think Pros and Cons
Pros
Superior comfort – The intelligent design means the chair responds to your movements so that you can stay comfortable throughout your day, even if you change positions multiple times.
Size and stability – The Steelcase Think offers a 400 lbs weight capacity and is a few inches taller and wider than other chairs, providing plenty of support for larger users or simply appealing to those who prefer a larger seat.
Aesthetic appeal – the ability to mix and match 14 different color options means you're bound to find a design you like.
Cons
Expensive price tag – The Steelcase Think is one of the more costly office chairs on the market, which may rule it out for budget-conscious users.
Limited adjustment features – Though the chair is self-adjusting, some users will inevitably prefer to adjust things themselves.
Lack of headrest – Though there is a taller-than-average backrest, an adjustable headrest would have been a welcome touch.
Keep on reading for a detailed look at this chair plus some of the best alternatives to compare it to.
Steelcase Think Review
First Impressions
Before you so much as take the Steelcase Think out of the box, the first thing you're drawn to is the brand name.
Thanks to chairs like the Gesture and the best-selling Leap, the Steelcase brand have developed an enviable reputation in the office furniture industry, frequently topping lists of the best office chairs around thanks to their premium quality, deluxe comfort, and superior construction.
By all accounts, the Think isn't the best chair the company have ever produced. Both the Gesture and the Leap outrank it in several key areas, but there's no denying that this is definitely a Steelcase chair, complete with all the high-end quality assurances that the company have built their reputation on.
Assembly
Once you do finally take the Think out of the box, you can't help but be impressed by the fact that it comes almost fully assembled.
The base, frame, seat, and backrest come fully connected out of the box. This not only saves you plenty of time and hassle, but it also provides a guarantee that your chair has been put together properly, all but eliminating the risk of the whole thing falling apart because you forgot to screw something up tight enough.
All you're responsible for is fastening the armrests in place, and this should take no more than five minutes. There are clear instructions that show you how to do this, but honestly, most buyers find the whole process so straightforward and self-explanatory that these aren't even necessary.
With pre-assembled parts, clear instructions, and a fast overall average time from unboxing to sitting, we give the Think high marks on assembly.
Design
Aesthetic may be all a matter of personal taste, but personally we quite like the way the Steelcase Think looks.
It has a striking, minimalist feel to it that shows the designers really put some thought into the style of their chair without creating something so over-the-top that it detracts from the interior design of your workspace.
What we really like though, is the range of different options you have available.
The chair comes upholstered in a translucent 3D knitted mesh available in 14 different colors. You can even mix and match colors, choosing one for the backrest, one for the seat, and another for the frame to create a design that's truly a reflection of your unique sense of style.
If you ask us, there's something rather fetching about the black backrest and frame with Blue Jay seat, but you can always play around to find something that works for you.
The combination of minimalist appearance with wide ranging color options is a definite plus. I will say, though, that with the minimal looks you do lose out on some of the extra cushioning that certain customers prefer.
Related: Check out our review of the Steelcase Series 1 for a model with similar color and styling options and a thicker seat cushion.
Size and Specifications
If you're looking for the best big and tall office chair to replace your existing seat, then the Think's 400 lbs weight capacity should at least put it on your radar.
There are many best-selling office chairs on the market such as the always popular Ergoal One that only supports up to 300 lbs while others, like those in the Smugdesk ergonomic chair range, for example, support even less than that, so it's good to find an option that can really offer extra support to those who find it helpful.
With a 400 lb weight capacity, the Think even qualifies for the ANSI/BIFMA large occupant seating standards.
Of course, the Think is a big chair all round, with the following key dimensions showing that it out-sizes many of its competitors by a good inch or two in almost all regards.
| | |
| --- | --- |
| Overall Chair Width: | 28.5" |
| Overall Chair Depth: | 29.5" |
| Overall Chair Height: | 37.25″ – 42″ |
| Adjustable Seat Height: | 16.5" – 21.5" |
| Adjustable Seat Depth: | 15.5″ – 18″ |
| Lumbar Height from Seat: | 6″ to 10.25″ |
| Distance Between Armrests: | 14″ to 21.25″ |
Comfort
Much as you'd expect from a Steelcase chair, the Think has a lot to offer in terms of comfort.
Part of what makes this a "smart" chair is that it comes with a weight-activated seat which responds to the way you sit to help you find a comfortable seating position quickly and effortlessly.
The seat itself is firm yet inviting, providing a soft, cushioned feeling while still offering a sturdiness and support that encourages you to sit up and maintain a good, healthy posture.
Some users find the seating too firm, though. In fact, one common complaint with this chair is that after a couple hours, you can actually feel the frame.
To offset the firmness, the chair is designed with a "waterfall" edge which alleviates pressure on the back of legs. This also promotes better circulation so that you can remain alert and active throughout your working day.
But the best part is that the waterfall edge seat will respond and adapt to how you sit, adding to its "intelligent" design and again ensuring that no matter how much you move around throughout your day, you're always fully and properly supported.
Overall, in terms of comfort, the Think is firm and supportive (like other Steelcase chairs), but also pressure reducing and adaptive. It may take longer to get used to. But the hope is that a chair like this will take on a custom fit after prolonged use.
Read on to learn how this all plays into ergonomics.
Ergonomic Features and Adjustments
Ergonomics is really where the Think comes into its own. The highlight of the smart design is the chair's self-adjusting capabilities.
The Integrated LiveBack System, found on other Steelcase models, takes a dual-energy lumbar support with a 4″ adjustment range, and enhances it with a flexible back frame comprised of linked flexors which respond to your movements.
This all sounds very technical and jargony (sorry), but just know that the idea is that you're always fully supported without having to manually adjust anything.
This type of design also has the added advantage of encouraging active sitting so that you're never putting too much weight on any one pressure point at any one time.
The weight-activation system also extends from the seat to the back, with the backrest tension adjusting itself depending on your weight.
All in all, this takes much of the hard work out of creating a healthier sitting experience, as the Think will intelligently adapt to what you're doing without you needing to touch anything.
If you do decide that you want to configure things manually, then there are a few features that will help you to do that.
These include the comfort dial, which moves your seat from upright to full recline with two additional positions in between, the adjustable seat-depth and the four-directional armrests.
While that does mean that the actual adjustments are somewhat limited compared to chairs like the aforementioned Steelcase Leap, the fact that the Think does most of the work for you renders them somewhat unnecessary.
Steelcase Think Frequently Asked Questions
Does the Steelcase Think come with a warranty?
Yes. Steelcase offers a global warranty which covers the seat, backrest frame, and armrests for life. Damage to the cushioning, upholstery, casters, and mechanics are covered for 12 years.
Is the Steelcase Think available in leather?
Yes. There is a leather option available, however, we prefer the mesh version for the added comfort and support.
Does the Steelcase Think have a synchro-tilt mechanism?
No. The chair does offer a four-position comfort dial so that you can adjust the recline, but this doesn't come with synchro-tilt.
Alternatives to the Steelcase Think
If you've read this far and decided that the Steelcase Think might not be for you, here's a few alternatives you might want to consider.
Steelcase Gesture
If you're a fan of the Steelcase brand but don't like the Think's limited adjustment features the lack of synchro-tilt mechanism, then the popular Steelcase Gesture may be a solid alternative.
Like the Think, it's a big chair with a 400 lbs weight capacity and superior comfort, but it also offers unbeatable adjustability, meaning you can really set this one up in a way that works for you.
Herman Miller Embody
The Herman Miller Embody is often regarded as the Steelcase Gesture's closest rival, and office chair aficionados have long debated which one is truly the undisputed king of workplace seating.
You can read our head-to-head comparison of the Steelcase Gesture and Herman Miller Embody here if you want to, but for now all we'll say is that the Embody proved to be the most durable and arguably the better looking of the two.
Steelcase Leap
We've mentioned the Steelcase Leap a few times now, so it would be weird if we didn't include it as an alternative to the Think.
Like the Think, the Leap offers the integrated "Liveback" design which responds to the shape of your body as you move around, but it combines this with excellent adjustability and even an optional headrest which itself can be adjusted.
Is the Steelcase Think Worth the Money?
The Steelcase Think may not be the best office chair Steelcase have ever produced, but that's a bit like saying the Rolls-Royce Ghost isn't the best Rolls-Royce car; it's still a fine product that meets all the exceptionally high-quality standards the brand is renowned for and it's still superior to many a lesser brand's best efforts.
While the advanced adjustability of the Leap or Gesture may make it a better option for some people, the self-adjusting smart design of the Think really does do a great job of ensuring you're comfortable and well-supported with minimal effort on your part.
Add in an exceptionally comfortable seat, wonderful design choices, and a bigger-than-average size and we'd have to say that yes, the Steelcase Think really is worth what you pay for it.