With the new Steelcase Series 1, the Steelcase brand has set out to take the premium comfort, quality, and design they're renowned for and combine it with a modest price tag, finally creating a high-end chair affordable for the everyday home office worker.
For anyone who takes their workplace comfort and wellbeing seriously, the very idea of this alone is a good enough reason to be excited.
After all, Steelcase is well-known for creating some outstanding office chairs which surpass industry standards and typically find themselves ranked among the best ergonomic chairs on the market. Still, those same chairs often come with pretty substantial price tags that can put them out of the reach of budget-conscious desk workers.
The Series 1 looks to change all that, but does its lower price tag also mean lower quality, or has Steelcase finally delivered the best of both worlds?
To find out, we put this popular ergonomic chair through its paces in this complete Steelcase Series 1 review.
Steelcase Series 1 Review
First Impressions
The first thing you notice about the Series 1 is that Steelcase has paid much more attention to style and aesthetic appeal than they do with their other chairs.
That's not to say that models like the best-selling Steelcase Leap are by any means ugly, but nobody is going to buy one based on looks alone.
The Series 1 is different in that it does look the part. From the seat's curve to the rounded armrests and ridges along the outside of the backrest, this is undoubtedly going to make an attractive addition to your office space, especially with its range of 9 different color options along with fabric and frame material options.
Assembly
Though it's often overlooked, assembly is an important aspect to consider when choosing a new office chair, as a chair that's too complicated is not only going to lead to a frustrating assembly process but also increase the risk that one wrong move could impact the stability and sturdiness.
Fortunately, the Steelcase Series 1 scores top marks in this category.
The chair comes almost fully assembled and can be connected in no time without the need for any tools or special equipment.
All in all, the hassle-free assembly process should take around ten minutes, though we've seen plenty of reviews from customers noting that they did it in under five.
Size and Specifications
The Steelcase Series 1 boasts a maximum height adjustment of 41.25″ and a weight capacity of 400 lbs. All being told, that's pretty impressive and should serve most people reasonably well. 400 lbs is on par with the best big and tall chairs we feature on this site.
That being said, while that is the maximum load capacity, our research and feedback from actual users suggests a lower actual weight capacity, closer to 300 lbs before it becomes insatiable and/or uncomfortable.
Still, the height range and build-quality (it is a Steelcase, after all), are very impressive for a chair of this size and price.
Let's take a look at other key dimensions worth your attention:
| | |
| --- | --- |
| Overall Height: | 36.5″ – 41.25″ |
| Overall Width: | 23.5″ – 27″ |
| Overall Depth: | 21″ – 23.75″ |
| Seat Width: | 19.5″ |
| Adjustable Seat Depth: | 15.5 – 17.75" |
| Adjustable Floor to Seat height: | 16.5" – 21.5" |
Comfort
When choosing the best chair for your office, few things matter more than comfort, and the Series 1 scores pretty well in this category.
The seat itself is a real selling point here. The proprietary seat cushion uses built-in air pockets that adapt to your seating position no matter how much you move around in your chair.
As a result, they help alleviate much of the pressure and pain that usually occurs when sitting down for long periods.
Yet, it isn't just the cushion that we like. The seat's design is also a highlight, with a smooth downward curve in the middle of the seat that hugs you in and provides ample support without being overly restrictive. Meanwhile, the flexible waterfall edge provides just enough bend to eliminate pressure building on the thighs' backs, which can be invaluable for preventing fatigue.
However, pouring through user reviews, we've found many Steelcase Series 1 owners who say that while the chair is excellent for working in your home office for a few hours at a time, it's not so great for those long-term marathon sessions at the desk.
Our take: Even though you'll find a higher weight limit than average task chairs, the overall comfort factor just isn't enough for heavier users who need a supportive seat for long days.
Ergonomic Features and Adjustability
Enhancing the overall comfort level is the Series 1's range of adjustable ergonomic features. Much as you'd expect from Steelcase's entry-level model, the Series 1 doesn't offer quite as much ergonomic flexibility as you'd get with the Steelcase Gesture, for example. However, it still certainly holds its own in that department.
The chair comes with Steelcase's trademark LiveBack flexor system, which conforms to the shape of your body and adapts to your movements to help you retain the natural S-shape of your spine no matter how often you switch postures.
If you're prone to back pain from sitting too long, you'll also like the substantial lumbar support, which has a 2.25" height adjustment range so that you can better position it to suit the way you sit.
We did note that adjusting this lumbar support can be a little tricky and take some getting used to and were somewhat disappointed that we couldn't also bring it forwards and backward.
Still, the level of support it offers combined with the height adjustability makes the lumbar support one of the Series 1's best ergonomic features.
We're also big fans of the 4D adjustable armrests, which can move up-down, left-right, forward-backward, and pivot at sideways angles. This ensures complete flexibility so that you can position those armrests to provide maximum support for your arms and shoulders and help reduce pain and fatigue in the neck.
Other adjustability features include seat pan tilt (2° range) and about 2.5 inches of seat depth adjustment. Both of these options can help create a more comfortable hip angle and sitting position.
Frequently Asked Questions About the Steelcase Series 1
Does the Steelcase Series 1 come with a warranty?
The Steelcase Series 1 comes with a lifetime warranty for the frame, base, seat shell, and stool footing and a 12-year warranty on all of the mechanisms. It's an excellent warranty that's among the best in the office furniture industry.
How long do Steelcase chairs last?
Steelcase produces highly durable products that are built to last. The brand claims that their chairs should provide 20 years of regular use, though this of course depends on how much you use your chair.
What colors is the Steelcase Series 1 available in?
The Series 1 is available in 9 color choices, including nickel (grey), blue, purple, graphite, black, green, orange, red, and cream.
Steelcase Series 1 Alternatives
If you've read this far and decided that the Steelcase Series 1 isn't for you, here a few alternatives you might want to consider:
Steelcase Leap V2
The Leap is often regarded as the brand's signature product and is often the first thing that comes to mind when most people hear the name Steelcase. It's renowned for its superior quality, high-end performance, and impeccable comfort, and it does outrank the Series 1 in all of those departments.
However, it's also significantly more expensive than the Series 1, with a price tag that can be off-putting for those looking to keep a firm grip on their wallet.
Read our full review of the Leap V2 right here.
Branch Ergonomic Chair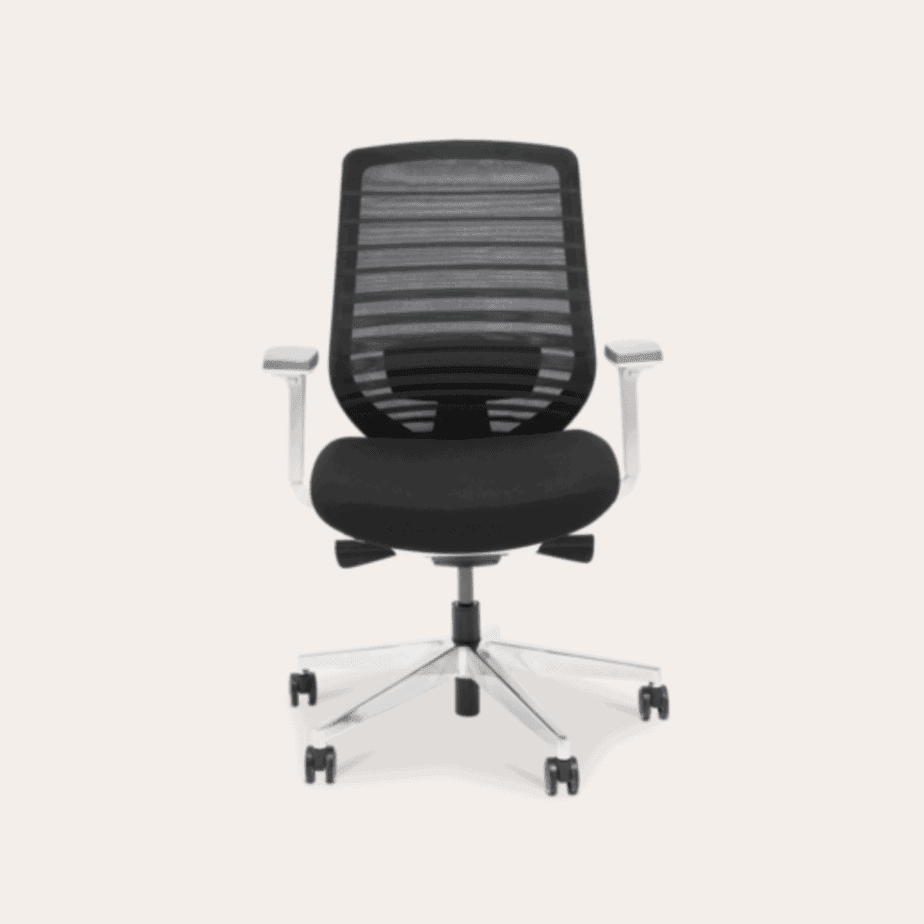 The Branch Ergonomic Chair is one of our favorites of this type. It topped the list of our 15 best ergonomic chairs and has inspired users' devoted fan base.
Should you try it for yourself, you'll soon see why.
As we mentioned in our complete Branch Ergonomic Chair review, the chair manages that rare feat of hitting the sweet spot between affordability and exceptional ergonomic design, providing the kind of comfort you'd get with the Steelcase Leap with the budget-friendly cost of the Series 1.
Some users think this chair isn't quite as solid or comfortable over the long hours when compared to models like the Leap V2 or Aeron Chair. That might be true. But the cost, styling and customer srevice really stand out with Branch chairs. Based on price and design, their ergonomic chair is worth evaluating alongside the Series 1.
Steelcase Gesture
If you'd instead stick with the Steelcase brand but find that neither the Leap nor the Series 1 are pretty big enough for you, the Steelcase Gesture might well be worth a look. This one boasts a weight capacity of 400 lbs and multiple seat height options ranging from 14.5″ up to 22.5″.
On the downside, the design of the Gesture isn't as simple and clean as the Series 1, and it is substantially more expensive. But, then again, it's not marketed as a work chair or task chair either. As far as top-end ergo chairs go, the Gesture is one of the best out there.
Is the Steelcase Series 1 Worth It? Our Verdict
So, you've seen how the Steelcase Series 1 fares in terms of quality, comfort, size, and style, but is it worth spending your hard-earned money on?
No products found.
Honestly, that all comes down to what you look for when choosing a new office chair?
If money is no object and you're simply looking for a chair that will provide superior comfort, maximum adjustability, and unbeatable ergonomic performance regardless of the cost, then you'll find more to like with the Steelcase Leap or another high-end brand than you will with the Series 1, but that's not to say that this is by any means a poor-quality chair.
After all, it's still very much a Steelcase, offering all of the quality that the brand is known for at a much more affordable price.
Combine that with a comfortable seat, excellent lumbar support, and an attractive design, and it's fair to say Steelcase has finally accomplished the feat of creating a high-end ergonomic chair that those of us on a budget can enjoy.