The Steelcase Leap has been rated among the best ergonomic office chairs in the world.
It's been proven to exceed industry standards in fit, movement, and support. And independent studies have even concluded that using the Leap over an extended period of time led to a measurable increase in productivity for a group of employees.
But if you're considering this chair for your home office, you'll still want to make sure it's worth the higher price tag.
Especially with so many lower cost ergonomic chair options out there these days.
The Steelcase Leap V2
Highlights
No products found.
Full range of adjustability and customization options
Breathable materials
Patented natural glide system
Higher weight capacity and long-term durability
In this guide, we'll provide a complete review of the Steelcase Leap V2, with all the specifications, pros/cons, and comparisons to other models, including the Plus and Leap V1.
By the end you should know whether it's the right chair for you.
Let's get started.
What is the Steelcase Leap?
The Leap chair from Steelcase, also known as the 462 series, is a high-performance office chair with finely tuned ergonomic features.
This chair has earned many loyal customers over the years who demand serious comfort and support over long stretches at the computer.
Currently, the Leap comes in 4 models: the standard Work chair, the Plus, the Stool (a taller drafting style chair), and the WorkLounge (a pricey executive model).
You can also get the standard Work chair with a headrest option.
No products found.
If you've seen mentions of the Leap V1 vs V2, that refers to the older Leap V1 model that was released in 1999, then later replaced by the V2 in 2006.
You can still find refurbished V1 models online.
We'll discuss the differences between these two versions below, but otherwise all the specs and features mentioned in this article are for the current V2 standard Work chair version.
Design Overview
The Steelcase Leap is a sleek looking office chair with a plastic outer shell, an exposed outer frame, and several options when it comes to color, fabric and configuration choices.
One of the signature design characteristics are the parallel slats on the backrest (for lumbar adjustment), sleek rectilinear armrests, and overall modern and simple design.
While it may look simple, this chair is built to last. For example, the basic nylon frame on the standard model can actually hold up to 400 lbs. And that's not even the Plus version (compared below).
LiveBack
The backrest portion of the chair is designed with Steelcase's patented "LiveBack" technology. This feature allows the chair to move and respond to the changing shape of your spine as you shift and modify positions throughout the day.
Since a hallmark of modern ergonomic design is to allow for constant movement, even while sitting, this is a very cool design feature. This is an adaptive design feature that sets many of the Steelcase models, including the Think (full review), from its competitors.
Upholstery and Cushioning
Upholstery on the Leap Work, Stool and Plus models is available in fabric, leather, vinyl or 3D knit options.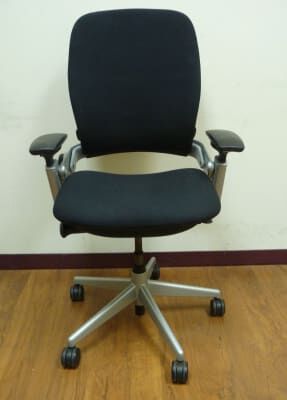 The 3D knit is the most popular for office users. This is because you get the benefits of a combination of breathability and comfort that comes with a 3-layer fabric and cushion construction.
The top layer is high-performance and breathable knit (similar to mesh textile), followed by a solid fabric that matches the outer color of the chair (to blend in), with a final under-layer of polyester cushioning to provide increased comfort.
With this type of layering, the cushions might look thinner than usual, but they are still dense and supportive without all the bulkiness.
Passive Seat Edge
The Leap is made with a "passive seat edge" to reduce pressure on the bottom of your thighs when sitting.
Also known as a "waterfall seat edge", this design feature improves blood circulation and makes a very noticeable difference in overall comfort, especially if you've been sitting for a while.
It's something you might not even notice because your legs just feel fine during the day – which, of course, is a good thing.
But unlike other chairs with the so-called waterfall front seat edge, the Leap doesn't just sag down a little in response to your weight.
Instead, the passive font edge flexes up to 1.5 inches for full relief, but still maintains its overall firmness, cushioning and shape.
Armrests
Most of us aren't too concerned with the "look" of the armrests on an office chair. The main issue is whether they're comfortable and adjustable. But you'll actually notice and appreciate the armrests on the Leap.
Unlike most conventional ergonomic office chairs, where the arms are padded, wide, and kind of oval shaped, the Leap is built with "rectilinear" armrests that have a very sleek and modern look.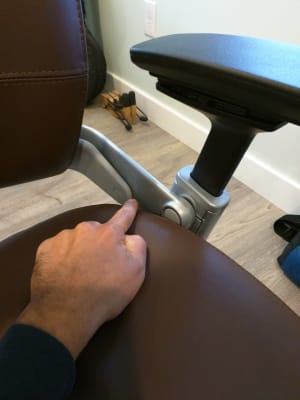 They are sturdy and padded too, so don't worry about losing out on comfort.
And they come with 4D adjustability, which we'll cover below.
Base
With the Leap, you get a nice and sturdy 5-star base that comes in standard black plastic or polished aluminum.
In either case, this base is the foundation for a chair that can hold up to 400 lbs.
Plus, it's built with a safe and smooth pneumatic height adjuster and dual-wheel casters.
The wheels are 2.25" in diameter and come standard in the hard nylon version. This type of wheel works especially well on carpeted floors.
But if you have hard floors or use a chair mat, you can opt for the soft wheel casters instead.
What are the Adjustability Options on the Leap Chair?
Chair adjustability is a key aspect of good ergonomic design. And the Leap gives you a nice range of options to make your chair as comfortable and customized as possible.
It's not overwhelming to the point of confusion, but there's really nothing lacking here.
Let's go over the options that most of us would actually use – and appreciate – during a normal workday.
How to Adjust the Steelcase Leap Chair
Height Adjustment
The ability to adjust the height of your office chair safely and reliably is a must. Any decent office chair will include this feature, but some are much better than others.
The Leap is equipped with a heavy-duty pneumatic height adjuster that gives you a smooth 5" range of adjustment. To operate, you simply apply the lever beneath the chair and raise or lower between a range of 15.5" to 20.5" from the floor.
If you prefer a higher starting point with more room to adjust the height, you can upgrade to a 7" adjustment option, with a height range from 17" to 24".
Also, the Stool version of the Leap actually comes with an 8" height range (from 22" to 30") which works really well if setting up at a high desk, as in a drafting style workstation, or with a sit-to-stand desk.
Finally, the Leap Plus comes with a shorter 4" height adjustment range (15.5 to 19.5"), with an option to upgrade to a 5" adjustment range if desired.
Backrest Adjustability
The standard Leap work chair model comes with a 5-point variable backstop. What this means is that you can lean back and lock the backrest into place in one of five different positions.
To do this, you just rotate the handle (located below the seat on the right side) up or down and lock yourself into place at the desired reclining position.
With the 5 stop points, you get a broad seat to backrest angle range of 96˚ to 120˚ (or 97˚ to 114˚ with the Plus model).
Additionally, you can increase or decrease the upper back tension on this chair, as well as control the lower back firmness with simple knob turns.
4D Adjustable Armrests
Armrests can help relieve much of the stress we feel in our shoulders and necks during the day. They can also help us improve posture while sitting. But only if you can get them in the right position.
Luckily, each armrest on the Leap can be adjusted in 4 different ways (hence the "4D") to find the optimal position depending on your size, the recline and seat pan angle, and your desk or table height.
First, you can adjust the height of each armrest with a range of 4". And you can adjust the width of the two armrests up to 4.5".
But our favorite feature is the option to change the depth of each armrest. Specifically, you can retract up to 3" from the default position.
Finally, you can also pivot the arm caps within a 30-degree range for ideal placement. This comes in handy when using a different desk or rolling over to a colleague's desk (or the kitchen table) for some collaboration time.
Note: This 4-way adjustability is one of the key differences when comparing the Steelcase Leap V2 vs V1, as we'll explain in more detail below.
Seat Adjustment
On the Leap, you can adjust the depth of the seat by 3". You can also adjust the angle of the seat pan from -1˚ to 3˚. On the Plus model, the pan adjustment range is 0˚ to 4˚. In both cases, you'll see that the seat pan tilt on these models offers more range than a lower priced Steelcase option, such as the Series 1 (review), which comes with a 2˚ seat pan tilt.
Tweaking both the depth and angle of the seat can help you find a sitting position that opens up your hip angle and takes pressure off your legs, leading to better blood flow and comfort.
Lumbar Adjustment
Leap chairs come with adjustable lumbar support with a 5" height adjustment range.
You can change the location of the lumbar support by using the tabs on the side of the chair and sliding up or down.
Does the Leap Come with an Adjustable Headrest?
Many office workers love the headrest option. Even on the chair like the Leap, which has a pretty high back that provides ample upper back and neck support on its own, the addition of a headrest can elevate the comfort and support of this chair.
The headrest option is only available on the standard model with a black plastic outer shell and fabric on cushion inside. You can adjust this vertically with a 2.25" height range.
Note: The headrest is not available on the Plus or Stool models of the Leap.
How's the Warranty?
Steelcase office chairs come with a lifetime warranty that covers the frame, base, outer shell, armrest structure, etc.
There is a 12-warranty on height adjustment, lumbar mechanism, headrest (if included), casters, armrests and more.
You can read the full warranty here.
But Does this warranty apply when you purchase the Leap on Amazon?
This is a good question and something you should consider whenever you purchase a chair on Amazon. In this case, yes, Steelcase is an authorized seller on Amazon and their 12 year warranty is applicable. You can read a good customer experience about this here.
However, make sure you are purchasing from the Steelcase store – not a 3rd party seller – so you know you're getting the real thing. This goes for many of the name brand office chairs you can find online.
Leap Standard vs. Plus Model
No products found.
You may be looking at either the Leap standard work chair or the Plus model.
If that's the case, below is a quick comparison of the relevant chair dimensions to see if it makes sense to choose the Plus model.
| | | |
| --- | --- | --- |
| | Leap Standard | Leap Plus |
| Key Specifications | No products found. | No products found. |
| Overall Chair Width | 27" | 31 ¾" |
| Seat Depth | 19" | 20.5" |
| Seat Width | 19.25" | 22.75" |
| Back Width | 18″ | 20" |
| Lumbar Flex Range | 5.25" – 10.25" | 11.25" – 16.25" |
| Width Between the Arms | 15 – 20" | 17.25 – 24.75" |
| Weight Capacity | 400 lbs | 500 lbs |
| Price | No products found. | No products found. |
As you can see, the main advantage to purchasing the Plus model is the increased width of the chair and higher weight capacity.
Should You Buy a Refurbished Leap?
In short, yes. If you're lucky, you can pick up a perfectly good refurbished Leap V2 model at a number of different online retailers with discounted pricing and the same ergonomic features as a new model.
Remember, buying a refurbished model is not the same thing as just buying a used Leap office chair.
Used models may come with some serious signs of wear and tear, odors from the prior work environment that are hard to remove, or faulty components from long-term use.
On the other hand, a refurbished model is a chair that's been professionally serviced by a furniture retailer, with updated fabric, frames and components to make it look as good as new and, in some cases, customized to fit the aesthetic of your home office or workplace.
Because of the high quality you can get from a reputable furniture retailer or restorer, and the potential bargains you can find, refurbished Leaps are in high demand. You can check out places like Rework Furniture to see if they have any deals on the V2 or the older V1 model.
Which brings us to the next section.
Steelcase Leap V1 vs V2: Is there any difference?
You'll notice that some websites are still selling the older version of the Leap 462 series, known as the V1.
If available, these may be significantly marked down in price.
But are you getting an inferior model of the Leap if you find a deal on the V1?
Not really, but there are definitely some differences to keep in mind.
Both are superior ergonomic office chairs with similar dimensions, adjustment features, and overall upholstery and performance specifications.
With the V1, you still get the Steelcase LiveBack technology, a safe and reliable pneumatic height adjustment, seat depth adjustment, upper back tension control and lower back firmness adjustment, tilt tension with variable backstop, adjustable armrests, a passive seat edge, and a sturdy base with dual wheel casters.
Then what's the difference compared to the V2?
First, with the V1 model, which was introduced back in 1999, you have a chair with a shorter, rounded backrest. It does not provide the same level of high back or neck support as the V2.
Plus, it just looks a little dated.
Also, the armrests on the V1 are only 3D adjustable, versus the 4D adjustability that comes with the V2.
What this means is that in addition to height, width and pivoting adjustments, you can also retract the armrests up to 3" on the V2. This might seem insignificant, but it's actually a really handy feature.
Plus, on the Leap V2 you get the sleek rectilinear armrests as opposed to a rounded and bulkier look with the older model. In fact, the V2 model in general is more modern, sleek, and stylish that the V1 model.
With the new model, you also have the option to purchase a Plus size, as noted above, with wider dimensions and higher weight capacity.
But, overall, these are small improvements when you consider the overall quality of the V1 chair.
So, if you're lucky enough to find a V1 at a significantly reduced price, then we say go for it
But if you're a little taller and need a higher backrest, and appreciate the modern styling that comes with the V2, then hold out for this one.
Overall Thoughts (Pros and Cons)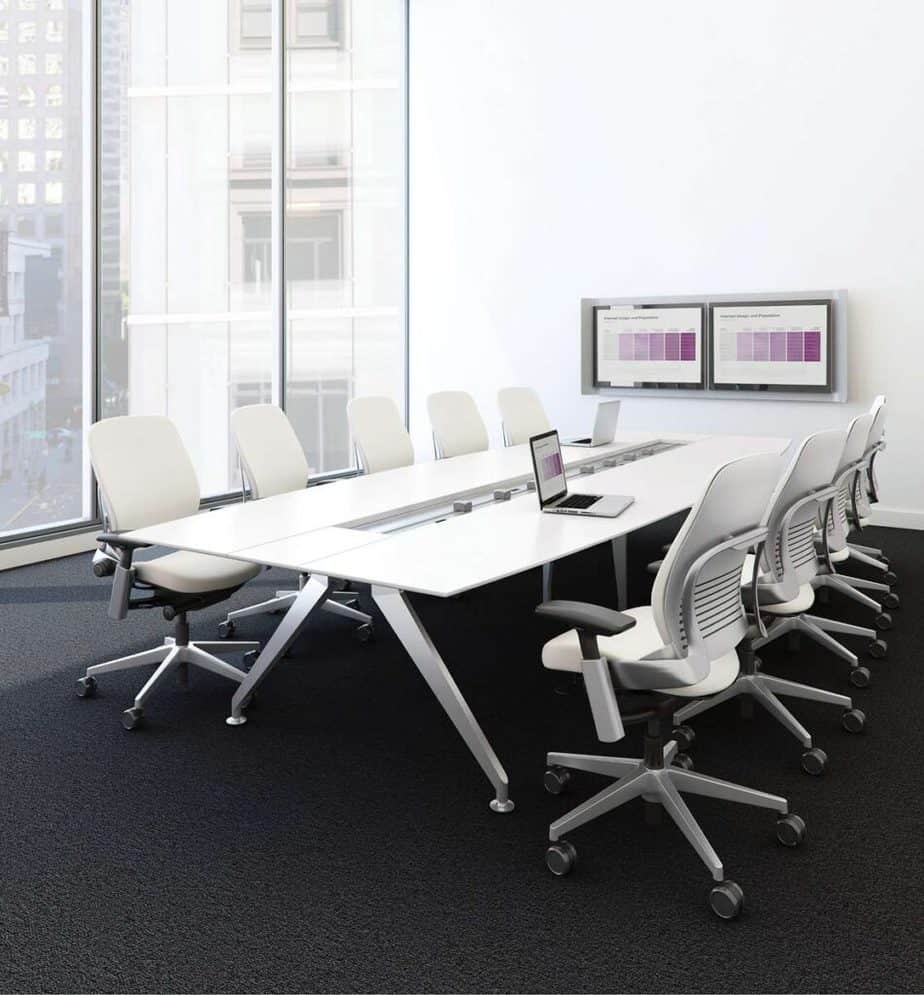 After reading our glowing review of this chair, you might be wondering if there are any negatives to the Leap.
Other than a higher than average price, there aren't many. Honestly most of the critiques come when comparing the Leap to other iconic office chairs, such as the Herman Miller Aeron or Embody.
If you are investing in a chair at this level, it's worth comparing, because you should be extra picky about the ergonomics, comfort, looks and customization options.
But one consistent complaint from some customers is that padding on the Leap chair is just too thin. For some, this doesn't provide the depth or density they need over longer periods of sitting. This is especially true when comparing this chair to executive style chairs.
Steelcase does actually sell an executive version of the Leap called the WorkLounge, with much thicker cushioning, a pillowed headrest and more cozy features. However, be aware: that model is very expensive!
If the price the standard Leap is too high, you can find some great alternatives with chairs like the Sihoo, SmugDesk or WorkPro for much less. There are plenty of others even under the $300 dollar mark too.
But if you want to go with one of the best chairs on the market, you can't miss with the Leap.