Office jobs should not come at a price. Your comfort while sitting in your office chair matters, which is why ergonomic chairs are becoming more and more popular every day.
The T50 is a highly adjustable ergonomic office chair from SIDIZ, a Korean company that specializes in ergonomic office equipment.
Though the SIDIZ T50 has already received multiple design awards and can be found throughout the world, we wanted to make sure the chair was up to our standards.
Read our review below for an in-depth look at how this chair holds up in comparison with other chairs on the market.
Note: This is an update to our original review of the SIDIZ T50
Now out with their new all black version, we thought we'd give this chair another test drive. And I have to say, the more time I spend in this chair, the more I like it.
Assembling the T50
One of the highlights of this chair is how incredibly easy assembly is.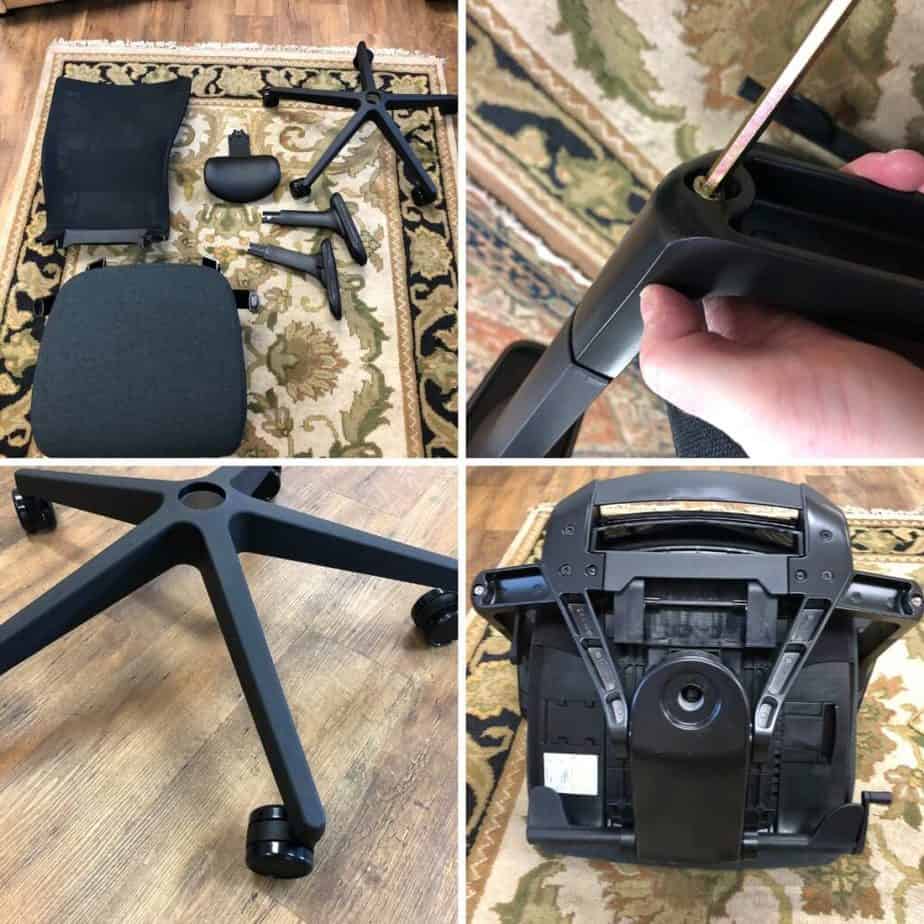 It comes nicely packaged with the separate components: backrest, seat base, armrests, and wheelbase. There's also the gas piston (for the chair lift) and a set of screws with a heavy duty hex key.
You'll notice we didn't mention the casters. That's because, unlike most chairs where you have 5 wheels that require individual attachment, this wheelbase came with the casters installed. That's a nice time saver right off the bat.
Assembling the T50 is a like a neat little puzzle. Simply attach the backrest with screws (everything lined up perfectly), screw in the armrests (one screw for each), connect the 5-star base and you're good to go.
Honestly, this whole process should take about 10 minutes max. And that's about how long it took me to go from unboxing to sitting in this beauty: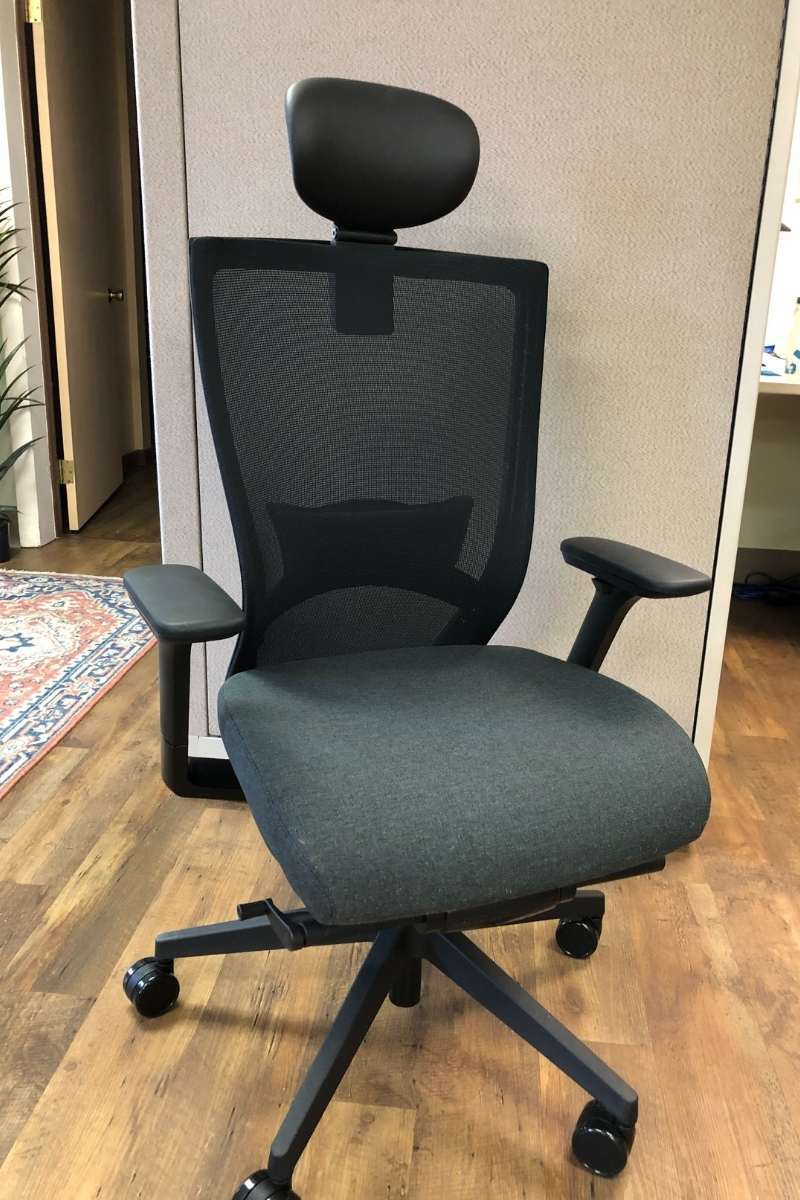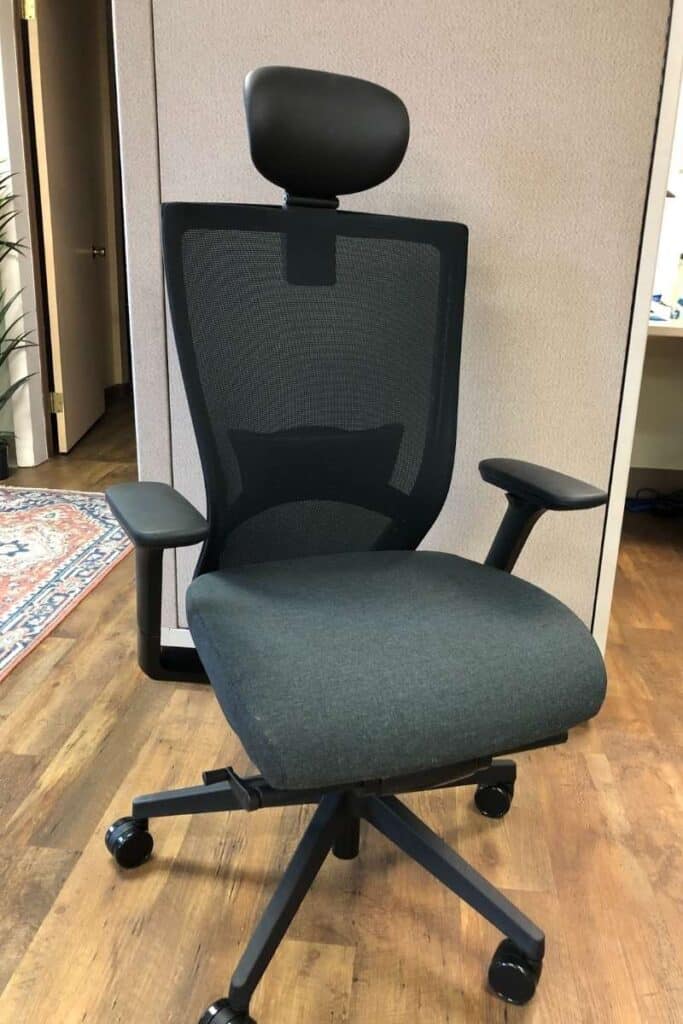 Ergonomics and Design
As mentioned, the more I sit in this chair, the more I like it. And that has everything to do with the ergonomic design of this chair. Apart from the frame and curved designed elements, which I'll mention below, the main reason this chair starts to grow on you is the number of adjustments it comes with.
No products found.
Once I figured out how to tweak the chair for my needs, I was able to find some very comfortable and ergonomic sitting positions depending on how I wanted to work:
a more focused upright posture
more relaxed reading or downtime posture, and
several adjustments in between to find comfortable positions during the day.
But, finding the knobs and figuring out how to control these adjustments took me some time.
To save you that time, let's review each adjustment point so you can understand exactly how to customize this chair to your needs.
SIDIZ T50 Adjustment Points
Height Adjustment
The height adjustment lever is located beneath the seat on the right-hand side. It works smoothly and gives you about 3.5″ of height range. Just lift and release the lever to lock in at your desired height. This part's easy.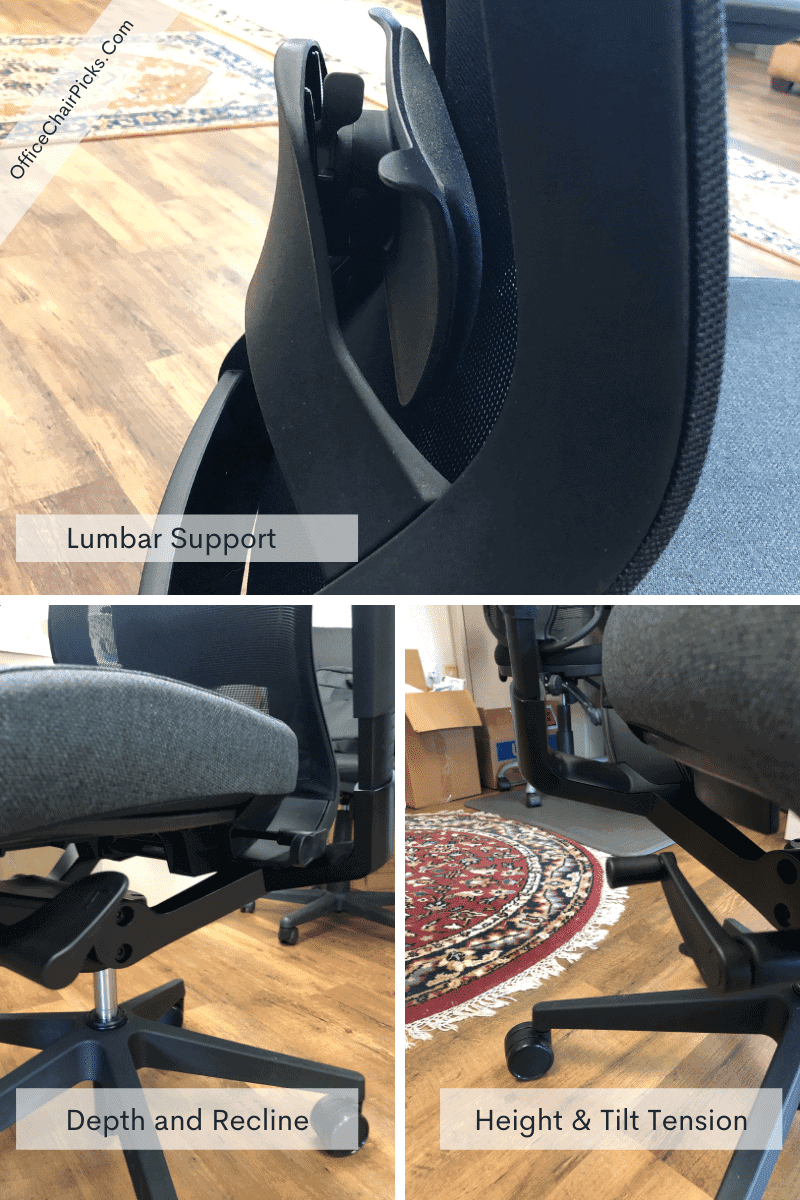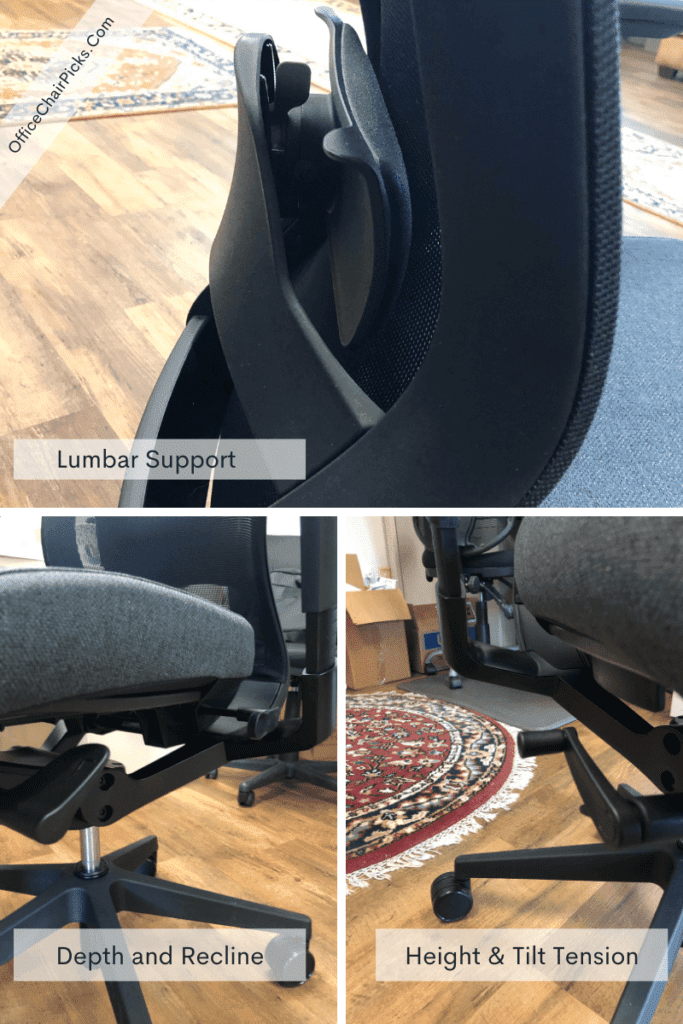 Seat Depth Adjustment
It look me a little while to figure out the depth adjustment. But I was glad I found it. Depth adjustment is a key feature in modern ergo chairs, and the SIDIZ mechanism is really simple.
To adjust the depth, you should get off the chair (that's where I was confused) and pull out the handle on the right side. Then you can slide the seat into whatever depth position you want. You can also do this while sitting, but it's best to try it off the chair first.
I always want a few inches out from the backrest for a wider hip angle. Luckily, this seat depth control has about 3″ of sliding depth range, and I could find a very comfortable distance for my needs.
Lumbar Adjustments
The SIDIZ T50 comes with a very nice lumbar support component. This is located on the back of the chair and can be adjusted by both height and depth.
This is honestly one of the most comfortable lumbar cushions I've used. It is nicely padded, and you can slide up using two handles on the right/left side, and change the intensity by adjusting the depth with a few turns of the lever in the middle.
With these controls, and the large and soft surface area of the piece, I was able to dial in on the perfect level of support for my lower back.
This chair gets a BIG thumbs up in the lumbar department.
Seat Pan Tilt
The T50 comes with a unique lever located on the left side of the seat, beneath the armrest. By pulling the lever up, you can tilt the seat angle downward. Changing this angle gives you more hip room, and combined with the tilt control, allows for lots of control over how you're sitting.
When using it, I almost felt like it was more of an active sitting posture, where the angle of the seat engaged the core muscles.
However, for long-term use, I will probably not use this adjustment much. I prefer a more level seat.
Multi-Limited Tilting
This might sound complex, but what this actually means is that you can recline into 5 fixed positions. With the lever beneath the left side of the chair, you can push down to lean all the way back, and lift it to set the tilt angle, so it will stop at certain recline points. I set mine at just past upright for a relaxing but productive posture.
When I first tried the recline, it was way too loose and I felt like it wasn't going to support my weight.
Then I realized there is a tilt tension knob on the other side of the chair – right next to the height adjustment. This unusual placement (it's usually a central knob located beneath the seat) was confusing at first.
But it works really well.
You just pull the handle out and turn clockwise to tighten to increase the tilt resistance, and counterclockwise to decrease it. This allowed me to get the tilt exactly where I wanted it.
Armrests
You can change the height, depth and pivot angle of these armrests. The height of armrest can be adjusted by over 3 inches. Also, you can easily turn each armrest independently to bring it closer or further from your body.
However, these are considered 3D adjustable armrests, so you'll notice there is no width adjustment. I didn't find this to be a problem, since you can change the angle to bring the arms closer or push them outward. Yet, some users still may need more width than the pivot can provide versus a width adjustment that moves the whole arm base. Keep that in mind if you typically require additional room between the armrests.
Tip: View the following image to confirm that the specifications will work for you:
Headrest
Finally, the curved leather headrest, which attaches separately to the backrest, is very easy to adjust both the height and angle. I found the angle adjustment to be key, as I needed to push it forward in order to find any support for my head and neck in a more upright sitting position.
My only issue with the headrest is that it feels a little flimsy in terms of support. I would prefer more stiffness to cradle my head and neck.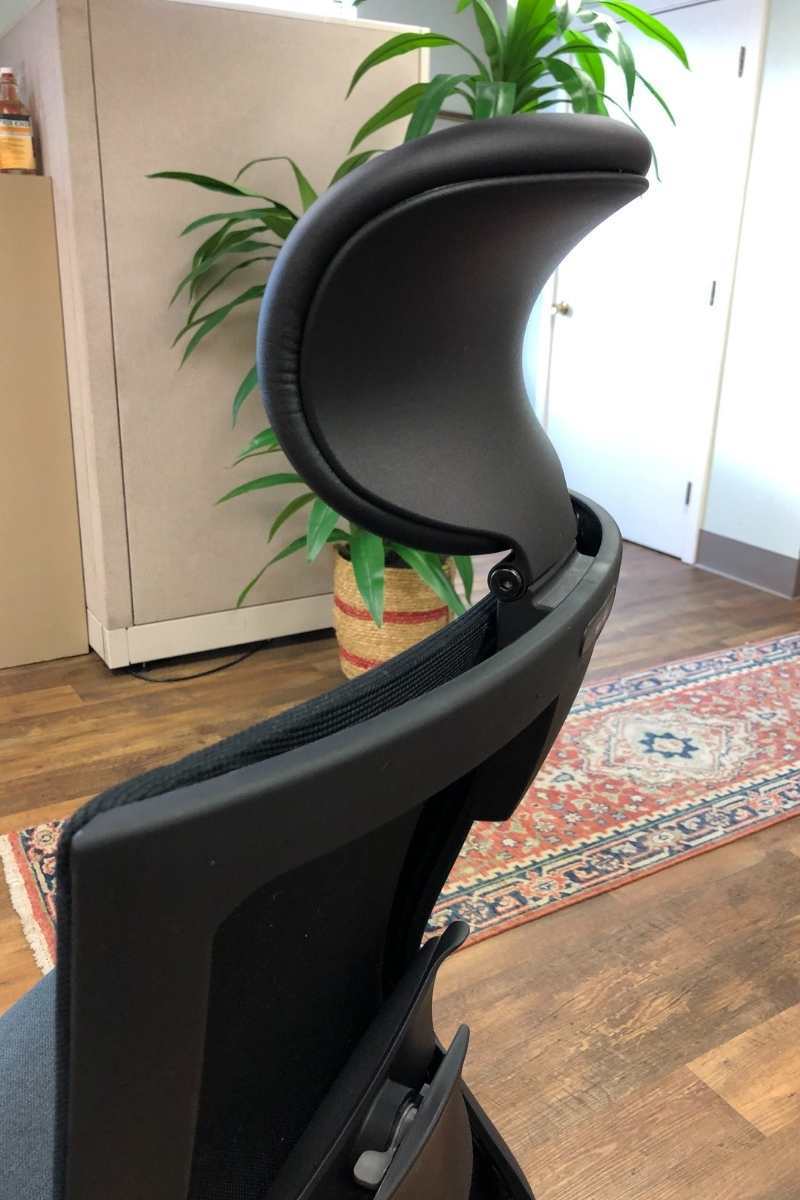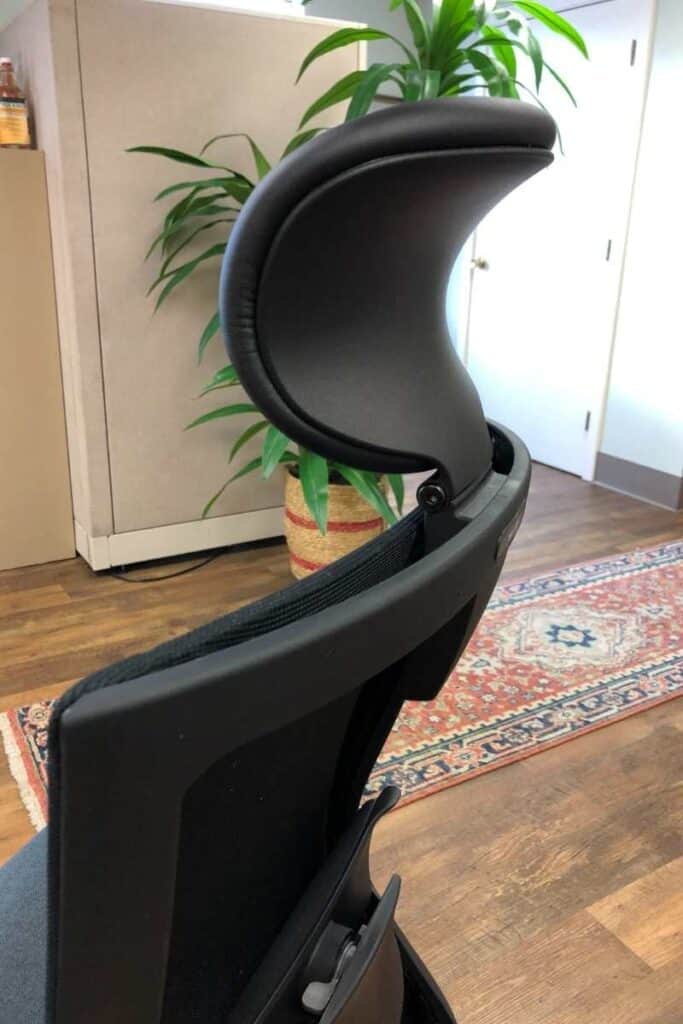 Overall, the SIDIZ T50 gets very high marks on adjustment. With all these controls, you'll be able to find several ergonomic sitting positions. And after using the controls for a few days, it becomes intuitive and easy.
If you do buy this chair, make sure you also follow this link and download the user guide. It will make things a lot easier.
Materials
Seat and Backrest
The SIDIZ comes with a very nice blend of upholstery and materials, each contributing the overall comfort of this chair.
First, this chair has a very lightweight and breathable mesh backrest. The mesh is tight and supportive, with plenty of airflow due to the ventilated design. At first, the mesh almost seems too tight, but after a few hours of sitting, you can tell it is starting to conform to your shape and weight.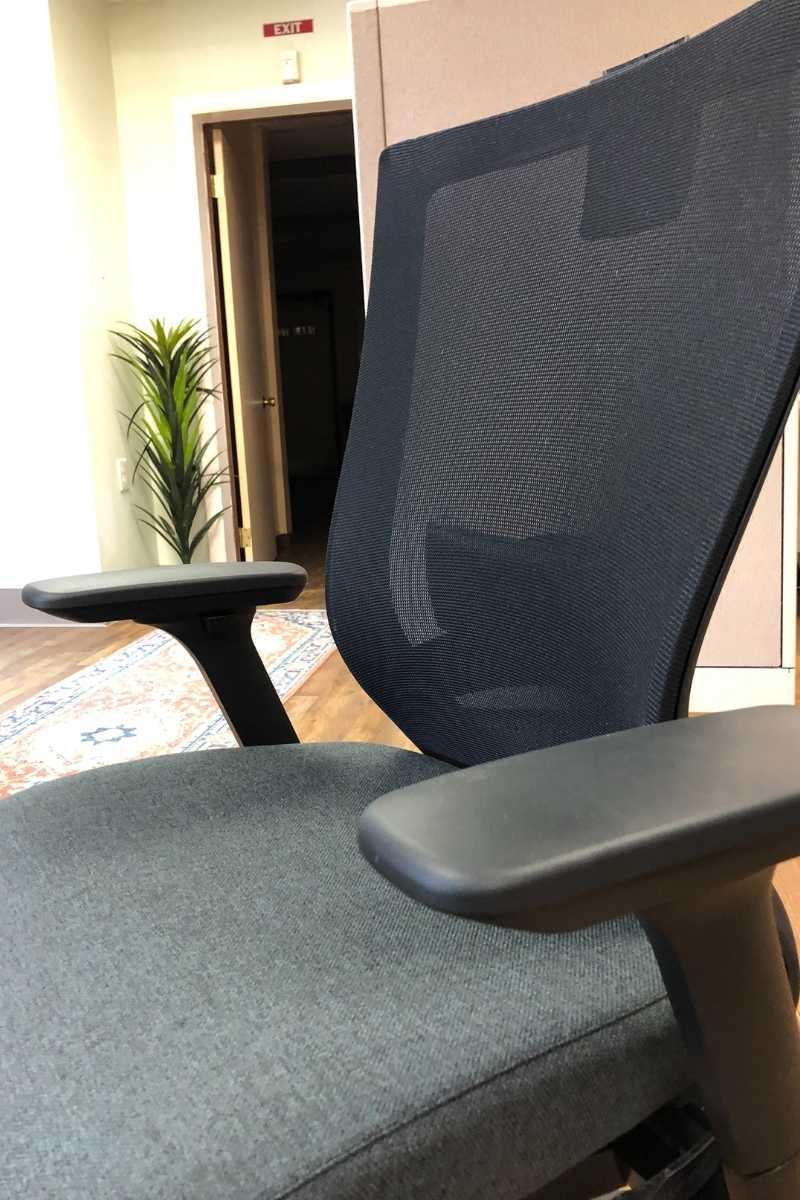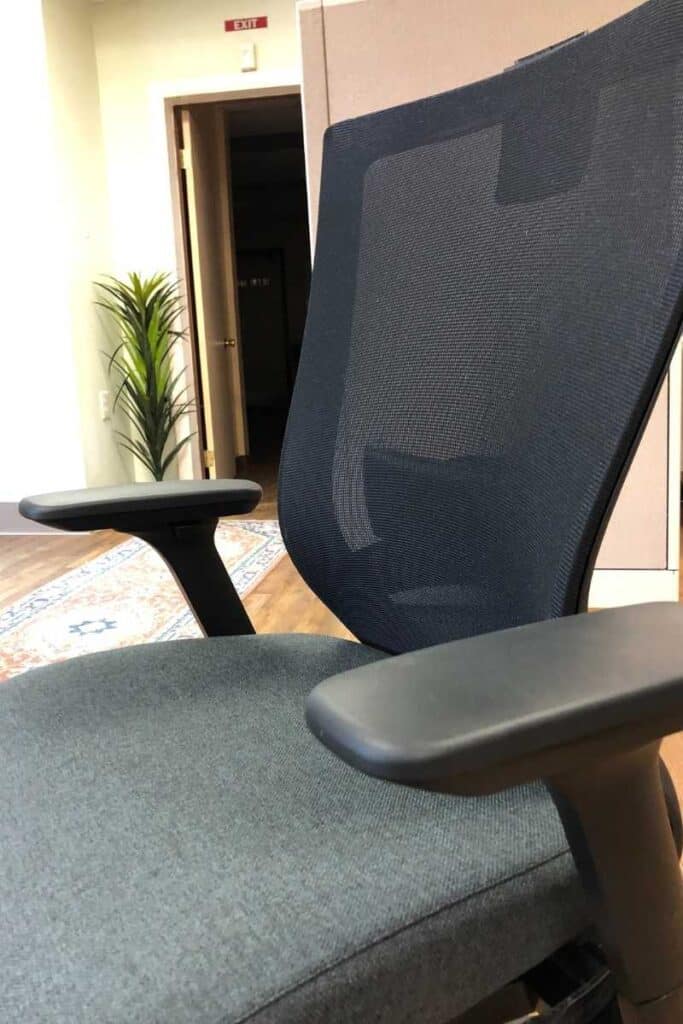 The chair on the standard T50 model is upholstered in a smooth and soft fabric. On the black model, the fabric is a shade or two lighter than the frame. Overall, it's comfortable and sophisticated looking.
However, I could see this textile getting a little warm in the summer months, as it may lack the breathability of typical mesh chairs. While I think it makes up for that with the softness and comfort factor, if you are concerned about the lack of breathability, the T50 does come in an AIR version with a full mesh seat.
Armrest and Frame
The frame is made from a combination hard plastic and metal components. Overall, it feels sturdy and well-made. The chair comes with nice hard nylon dual casters that roll smooth and quiet, even on my hardwood floors.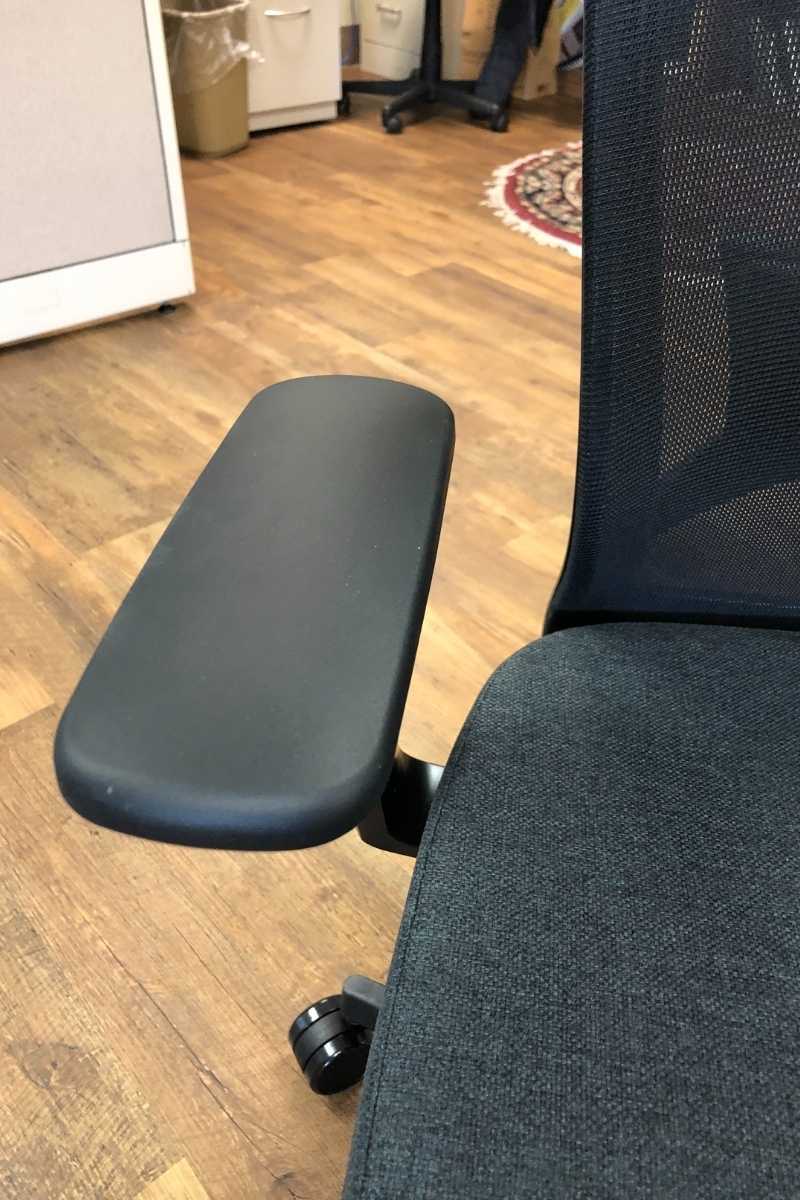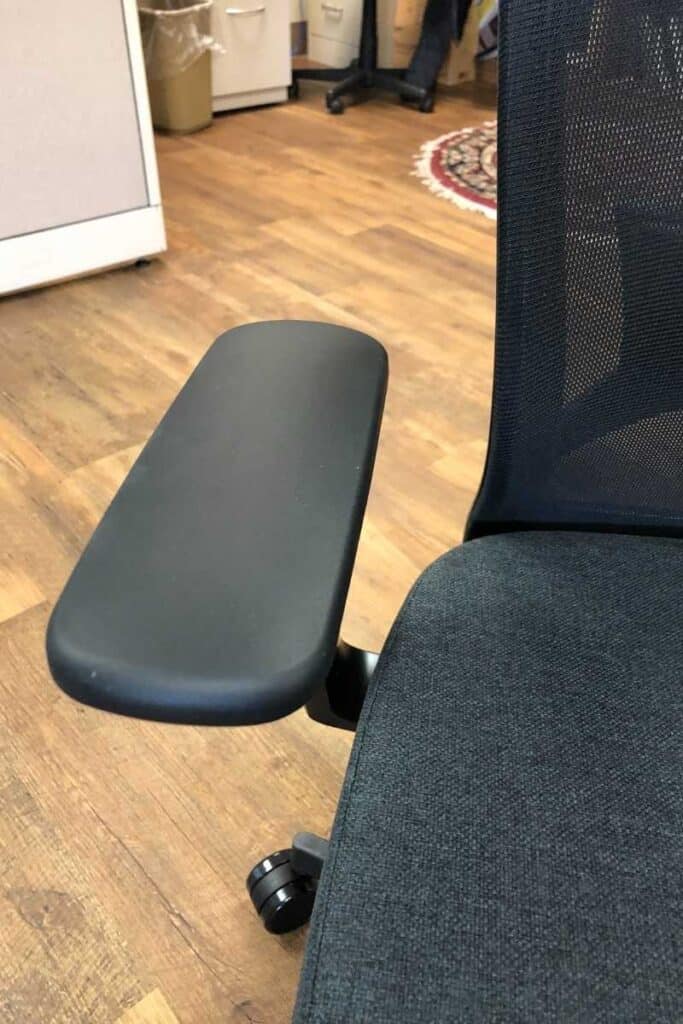 The best part, though, are the armrests. I was skeptical at first, because of how easy it is to change the angle, and I was worried they were cheaply made.
But the pivoting feature is actually very handy. And the materials include a soft padded armrest cap, with a soft plastic rubberized surface, takes all the pressure off my resting arms.
Finally, to top it all off, the headrest is upholstered in a soft leather material.
This blend of different materials, including mesh, fabric, leather, metal and plastic, gives the chair a uniquely modern appearance with well-thought-out comfort and design elements.
Review Summary
No products found.
Overall, the T50 is a performance oriented ergonomic office chair. What this means is that it will adapt to your body over time, and the adjustability allows you to customize the fit and position to meet your needs during the day.
However, be advised: It is firm and supportive, and therefore not immediately soft or comfortable.
In our opinion, that's usually a good sign that the chair was well-made. It seems to be the case so far with this one.
Pros
Comfortable and stylish ergonomic office chair with new modern all black design
Light and airy mesh backrest with comfortable and supportive fabric upholstered seat
Impressive ergonomic design elements (curved headrest, lumbar support, waterfall seat edge) with lots of intuitive adjustability options
Cons
Headrest is not that stiff and may feel too flimsy for real neck support
Fabric seat is not as breathable, although SIDIZ does make a full mesh version
Price might be too steep for those seeking a simple ergonomic task chair (this is a few steps above)
SIDIZ T50 vs T80
What's the difference between the T50 and T80?
Table could not be displayed.
The T50 is an excellent all-day task chair with options like the headrest and adjustable lumbar support to turn it into a full on ergonomic throne. On the other hand, for a bit more money, you can purchase the T80, which is the SIDIZ flagship model for German ergonomic design.
Read our full review of the SIDIZ T80 right here
The T80 has the same ergonomic features available on the T50 – the multi-limiting backrest, 3D adjustable armrests, breathable mesh backrest, and sloping front seat edge – plus a few more bells and whistles you would expect at this higher price point.
For example, with the T80 you get a true synchro tilt mechanism, where the seat pan and backrest adjust independently to help you find the right ratio for better sitting posture.
Plus, it still comes with an adjustable headrest and slightly wider seat and backrest dimensions.
There are some design features that set the T80 apart as well. For example, the tension adjustment knob allows for a more specific tuning feel than the lever mechanism on the T50.
And you get different color options with the T80, including the 2 Marvel edition options (Captain America or Iron Man) for the comic book fans out there. The Iron Man version actually comes with a PU leather seat for a real luxury gaming chair experience.
Is spending more for the T80 worth it?
If you plan on using your chair for gaming, need additional room or support, or just want a top-end ergonomic experience while sitting at your computer, you can't go wrong with the T80. It's up there with the likes of Herman Miller and Steelcase.
However, if you just need a very comfortable and ergonomic chair, with nice styling for your home office, the T50 will do the job just fine.
Similar chairs to consider:
Best Selling SIDIZ models on Amazon:
No products found.