Since it first hit the market, the SHW standing desk has found a firm fan base among those looking to enjoy all of the advantages of an electric-operated desk without the usual excessive price tags.
Indeed, whereas other high-end models pack in a plethora of features and place a heavy emphasis on aesthetic appeal as a means of justifying their costs, this quality, entry-level offering focuses on one thing and one thing only:
Simplicity.
No products found.
In this complete SHW standing desk review, we'll outline how this Keep it Simple approach affects everything from the design and functionality down to the assembly process itself, and what that means for you when it comes to getting your work done.
SHW Standing Desk Review
First Impressions
Forgoing the kind of unique looks that you'd get with other types of standing desks in favor of an understated design, it's immediately obvious that SHW have spent more time focusing on functionality, functionality, and features, than they have on pure aesthetic appeal.
Given that the whole point of a desk like this is to help you get stuff done, that can only be a good thing.
Yet despite all that, the SHW standing desk still looks the part, with a simple-yet-elegent design available in three colors (oak, black, or cherry) that ensures it will make an attractive addition to your office space.
Assembly
Of course, to get that simple-yet-elegant look, you first have to take the SHW out of the box and put it together, something which, though very easy, can be a little time-consuming.
One thing we loved was that all of the components utilize the same type of screw. If you've ever found yourself scrambling around trying to determine which screw belongs with which piece when assembling furniture, you'll no doubt appreciate how welcome this is.
You'll also like the instructions which are very easy to follow and the fact that there's nothing at all complicated about the whole process.
On the downside, due to the sheer size of the table and the number of pieces involved, you can expect to spend anywhere up to an hour putting it together.
Size and Specifications
The SHW electrical standing desk is on the smaller end of the scale compared to other models, but while it's smaller, it's by no means small.
If you really do need an extra-large desk, then some of the FlexiSpot options or other leading brands may be better suited to your needs. But for most average users, the desk provides both enough height for comfortable use and enough desktop space to avoid a cluttered work area.
The desk boasts an adjustable height range of between 28-45″. While that might not make it the best standing desk option for tall people, the height range does mean that anyone between 5ft – 6ft tall should be able to find at least one comfortable position.
The desktop surface area measures 55" wide by 28" deep, which makes it more than suitable if you need a standing desk for two monitors, or simply if you need plenty of spaces for sketches, documents or equipment.
Durability and Stability
Much as you won't find the SHW Standing Desk topping any "Biggest Standing Desk" rankings, you won't find it scoring the most points for weight-bearing, either.
The desk comes with a manufacturer's recommended weight capacity of 110 lbs. This is pretty small when you consider that other brands offer anywhere in the region of 150 lbs to 250+ lbs, though that in no way means that this isn't fit for purpose.
110 lbs is still fairly substantial, especially considering that the average computer monitor weighs between 10 – 20 lbs at most. As such, most users will get all of the strength and support they need out of this one.
In terms of stability, this is one area where the SHW really holds its own. The problem with some lesser-quality standing desks is that they have an annoying tendency to wobble, particularly when raised to their maximum height.
With this one, there's no wobbling, no shaking, just a solid, sturdy desk supported by legs made of high-grade industrial steel for long-lasting durability.
Related: SHW also makes a small, mobile unit that's great for portability and a favorite among shorter customers
Features
The SHW electrical standing desk may be all about simplicity, but that doesn't mean that it's completely void of features.
The highlight is the Digital Display Handset which allows you to control the fully motorized electric lift system to move the desk up and down.
This digital display also gives you the freedom to program four different height settings.
For example, rather than manually moving the desk every time you want to go from standing back to sitting, you simply create one setting for sitting and another one for full-standing and switch between both at the click of a single button.
Elsewhere, we love the handy cable management system consisting of a neatly-placed hole that you can thread your wires through and an under-desk cable management tray to hold everything in place.
This is a feature that you don't always get with even the higher-priced standing desks, so it's an especially nice touch that further enhances the SHOW's appeal as a great value-for-money option.
Review some additional tips on desk cable management right here.
SHW Standing Desk Pros and Cons:
Pros:
Value-for-money pricing
Good height-adjustment range makes it suitable for both standing and sitting
Four-button digital controls make it very easy to use
Additional cable management tools help to avoid clutter and keep things tidy.
Cons:
May not be big enough for taller users over 6 ft
Has a smaller weight capacity compared to other standing desks
Some users report that the electric motor can be noisy when adjusting the height
Frequently Asked Questions
Does the SHW Standing Desk come with a warranty?
Yes. The SHW electric standing desk comes with a standard one-year warranty. The manufacturer also offers the option to upgrade to an extended three-year warranty for an additional fee.
Are there other sizes available?
Yes. Although we've focussed on the standard 55" width version in this review, the SHW is available in a range of sizes and even comes in a corner-desk option for those with limited office space.
Is there technical support available?
Yes. Although the desk is very easy to use, if you're having problems with the digital controls or if something isn't working as it should then there is a support line you can call for help.
Alternatives to the SHW Standing Desk
While the SHW may be a great option for anyone looking for an entry-level electric standing desk that offers good value for money, we get that it may not be the most suitable choice for everybody.
If you've read this far and decided that it may not be for you, here's a few alternatives you might want to consider.
Flexispot EN1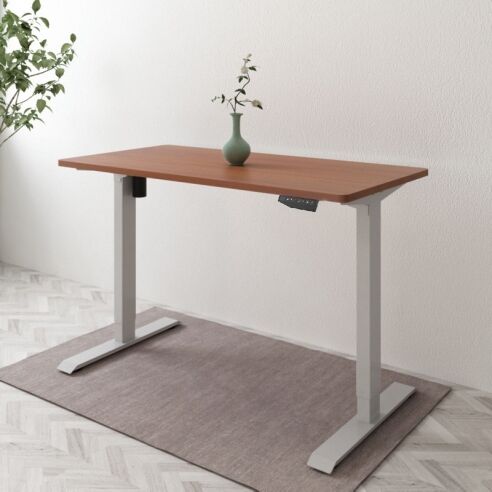 Flexispot are one of the leading names in the field of standing desks, and their popular Flexispot EN1 has long been considered their flagship product.
Though the desktop surface area is the same as the SHW, the EN1 does offer a few additional inches in terms of height adjustment, making it a better choice for taller users.
Varidesk Standing Desk Converter
If you're not yet sure whether you want to make the full commitment of a permanent standing desk, you may prefer the flexibility offered by the Varidesk Standing Desk converter.
As you may have guessed from the name, this can be placed on top of your regular desk to give you the freedom of either sitting or standing depending on how you're feeling.
The Varidesk Pro Plus 36 may be just one of many standing desk converter options, but it's also one of the best thanks to its 11 height settings, solid 35 lbs weight capacity and dual-handle design which makes it very easy to use.
Final Verdict: Is the SHW Standing Desk Worth It?
So, you've read what we think about the SHW electric standing desk in terms of its quality, design, and features, but is it worth spending your hard-earned money on?
The answer to that question all comes down to what you're looking for in a standing desk.
If you're way over 6 ft and need a desk that offers more than a 28-45" height adjustability range, then no, this may not be the one for you.
If you're less concerned with saving money than you are with getting the best high-end desk you can get then this one might not be enough for you.
However, if you're looking for the best entry-level standing desk that offers a level of quality beyond what you'd expect from its affordable price tag, then the SHW standing desk should definitely be on your radar.
Not only does it offer budget-friendly pricing, but it's available with a height range and maximum weight capacity that makes it more than suitable for most average users while the easy-to-use digital controls and very-useful four programmable settings mean you get to enjoy all the benefits of an electric standing desk with none of the excess costs.