The Nexvoo office chair is a unique and comfortable model with all the hallmarks of a well-built ergonomic task chair, including a wide and adjustable lumbar support piece, adjustable seat height and depth, and 3D adjustable armrests.
But, unlike most chairs we review on officechairpicks.com, this model comes with a little bit of extra technology.
Read on to learn more.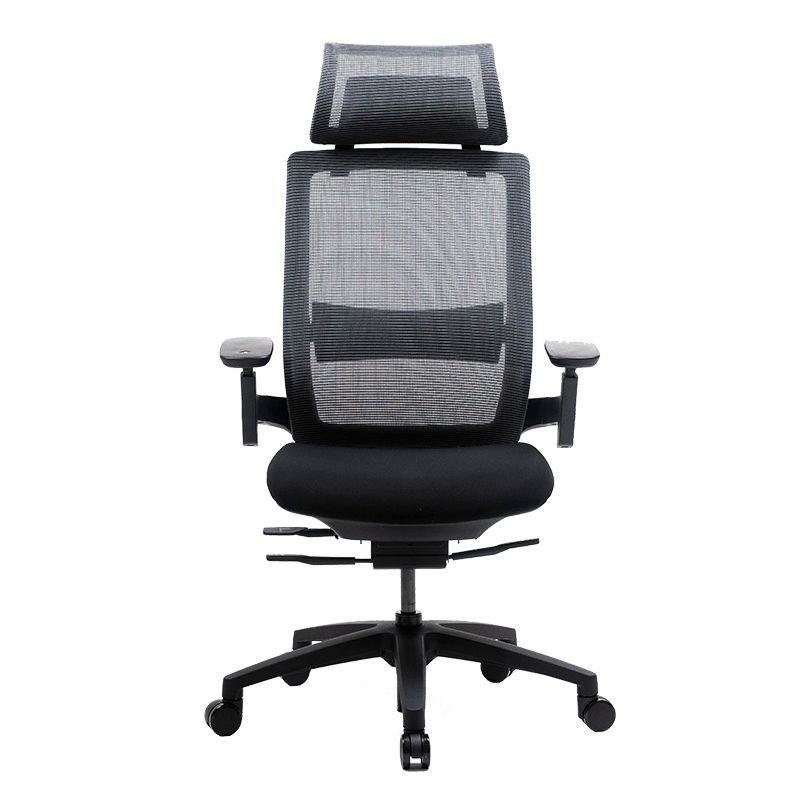 Pros
Clean and modern design

Comfortable and adjustable backrest, with lumbar support, and seat cushion

Wide, curved mesh headrest for additional neck support

Built in health monitoring technology with app
Cons
Assembly was a little complicated and time-consuming

Armrests seem a little flimsy
After testing the chair out for a few days, here's what stood out to us.
NEXVOO Ergonomic Office Chair: Design Overview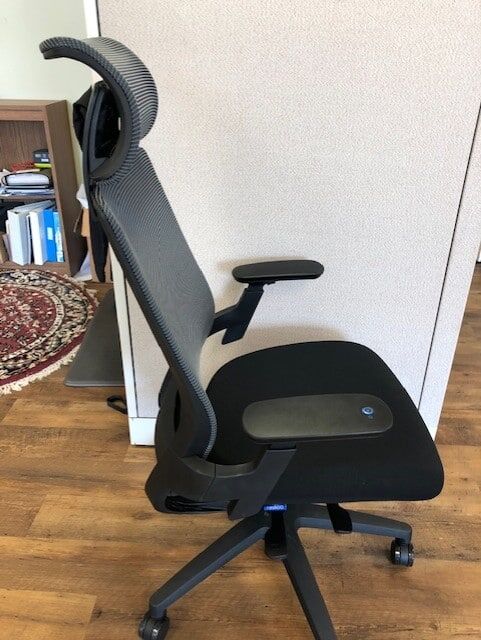 As you can see from the photo, the Nexvoo is a modern and stylish office chair. I was impressed with the design right off the bat. I just needed to spend a few working hours in the chair to assess the actual comfort level. Here's what I learned.
While the backrest is upholstered in a soft and breathable mesh (always a nice feature), the seat is actually covered in a soft black fabric with foam cushioning, offering a decent 2.3" of dense padding.
The padding is firm and comfortable. It's certainly not the softest seat we've tested, but thankfully the seat design includes that key waterfall design feature. As we've written before, the waterfall seat edge takes away unnecessary pressure from the back of your legs.
But my favorite aspect of this chair – by far – is the headrest.
We see plenty of office chairs that include a detachable headrest, almost as mere decorations. They don't actually cradle your head and provide any neck support.
But the headrest on the Nexvoo chair is different.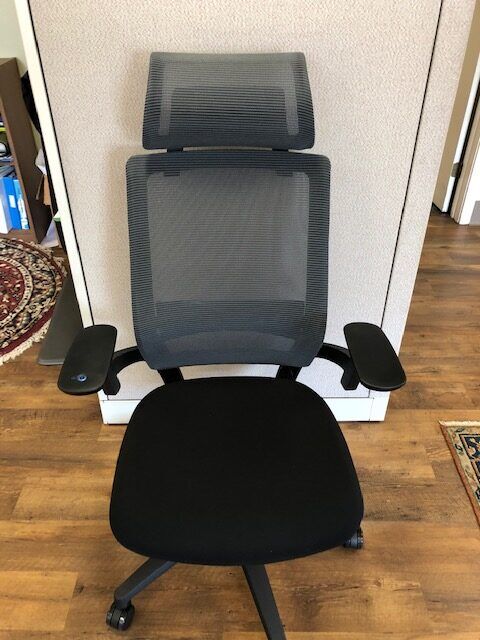 This headrest is wide, contoured and comfortable. Plus, it's positioned in a way that actually supports your head while working, and not just in recline mode.
Also, I liked the lumbar support piece. It's wide, adjustable and offers a minimal amount of lumbar support. I actually like the subtle pressure it provides to support the lower back.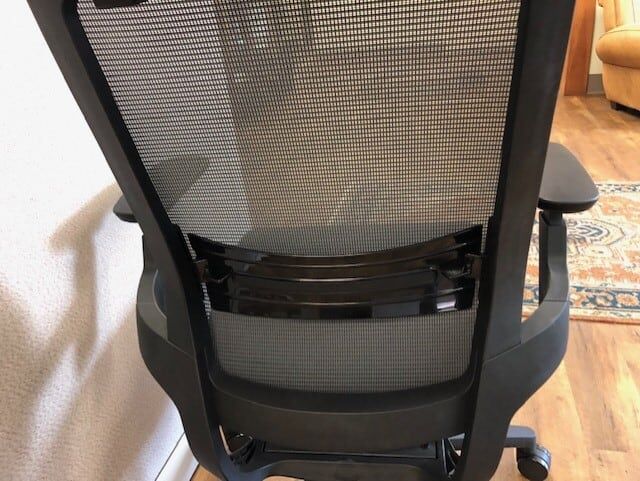 With some other chairs, like the Ergoal or Nouhaus 3D, that support piece can be too aggressive and actually decrease the comfort factor if you prefer a flatter backrest.
However, if you need more than average lumbar support, the Nexvoo might require an additional pillow.
Finally, while the armrests are 3D adjustable – meaning you can change the height, depth, and angle – the pivot angle adjustment moved a little too easily for my liking. It made the armrests feel a little flimsy.
Assembly
The chair comes neatly packaged with an instructional booklet, tools, and all components needed for a relatively hassle-free assembly (pictured below).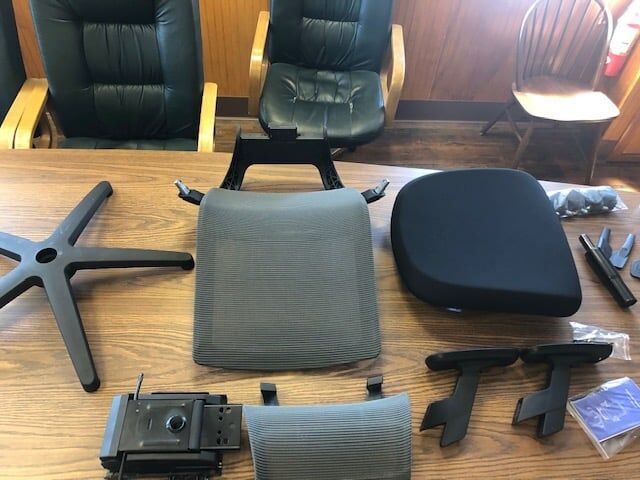 My only complaint with this chair was that is took a longer than usual to assemble. Although the chair came with screws in place, there were more attachment points than usual, which made the process take longer compared to similarly priced chairs like the Branch or SIDIZ T50.
But, unlike these other models, the Nexvoo comes with a very unique feature that makes it stand out from the crowd: a built-in health monitor.
Built-In Health Monitor
The health monitor is controlled via an app that measures your heart rate, blood oxygen level, Heart rate variability (HRV = the fluctuation in the time intervals between adjacent heartbeats) and fatigue index.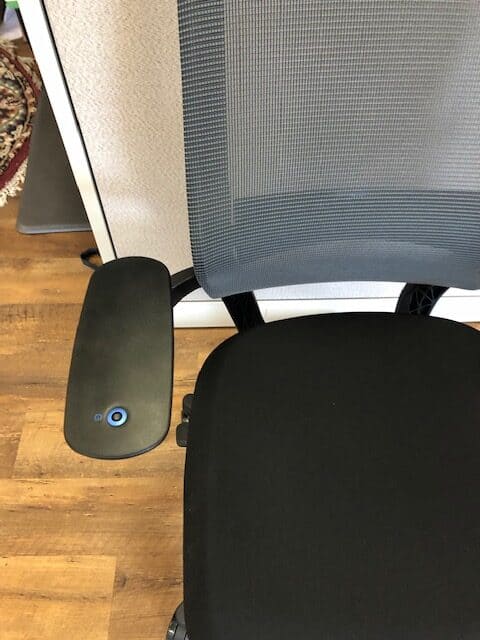 You might think: is that even necessary to have this info when I'm sitting in an office chair?
Necessary might be a strong word. But it's certainly helpful. In fact, anything that monitors our health while sitting will likely also encourage us to remain more active and switch positions more often.
And, of course, if you have a preexisting med condition, it could be a very helpful add on to your existing monitoring routine.
The chair also comes with a USB charging cord for the monitor. If you're not using it, though, you can simply turn the monitor off via a button on the armrest.
I kept it off most of the time, but here's a rundown of how the app works to learn more about the functionality:
Final Thoughts
The Nexvoo is a new model, so you won't find many customer reviews online. But we love the look of this chair and our initial impressions are that it is very comfortable and definitely as supportive as other popular ergonomic office chairs on the market, with the added bonus of the health monitoring tech.
Plus, the base of the chair is heavy-duty*, and the casters are smooth, quiet and very easy to install.
Our final verdict: the Nexvoo office chair is an excellent option for your home office or workspace.
You learn more about this chair here and be sure to watch the video below for a preview:
*While the base is metal and the chair feels stable, I'm not sure what the actual weight capacity is. If this is a concern, we suggest reaching out to the manufacturer to confirm the maximum load capacity of this chair