When you're looking for a PC Gaming Chair, it's obvious that you only want the best. You don't want to be spending money on something that isn't going to properly support you while you're gaming, of course! And we all know that the kind of materials that are used in gaming chairs can have a large impact on how good the chair is as a whole.
It can be hard to decide whether you should go for PU-Leather or fabric. Both options have a lot of positive and negative aspects, so it can largely depend on your individual desires. Thankfully, we've written this article to highlight the key things you need to know about both PU leather and fabric
What is PU Leather?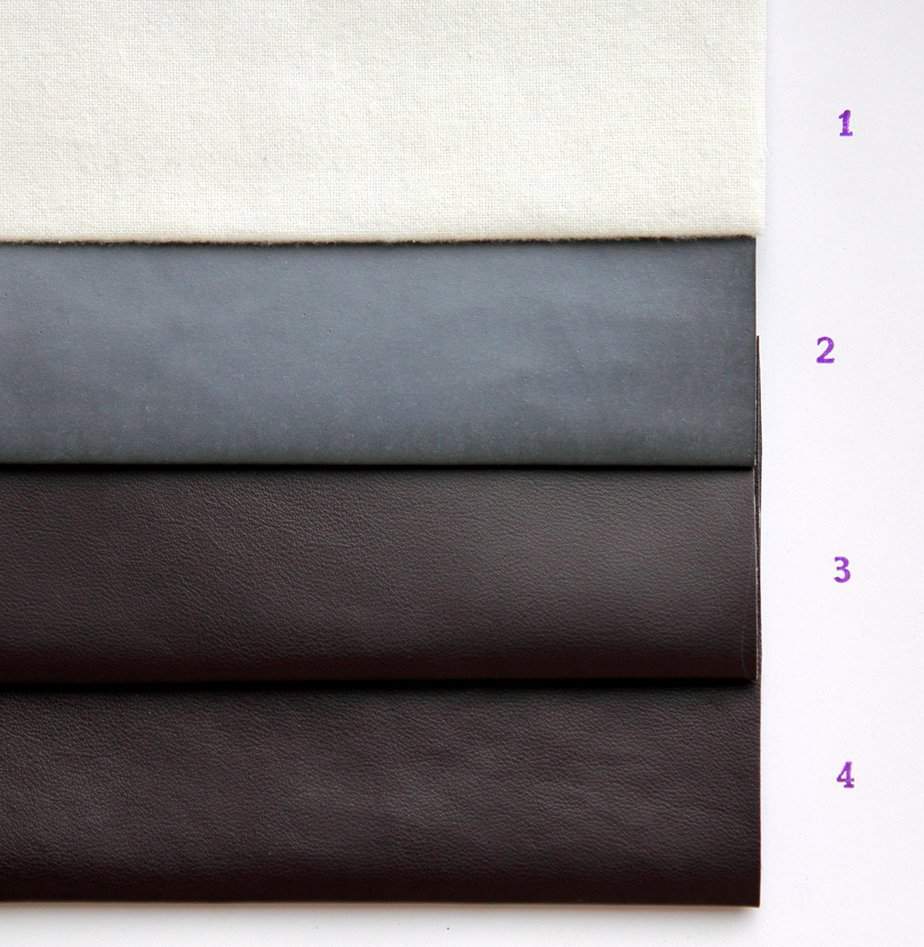 Steps of PU Leather fabrication. Via Wikipedia CC BY-SA 3.0
As you can imagine, PU Leather is like real leather, but it isn't exactly the same. This is a manufactured leather product that is constructed out of split leather.
This kind of leather is made out of the part of the animal hide that remains after making high quality leather, such as top grain or full grain leather. Because of this, the material is much cheaper and isn't quite as good as real leather, but it's certainly not bad.
Once the split leather has been removed, it is then covered in polyurethane and it's applied to the surface of the piece of furniture, the gaming chair in this case.
The chair will have a gossy finish that looks a little vintage, but not really realistic. A lot of vintage furniture like diner booths were made out of PU leather!
PU Leather PC Gaming Chair Characteristics
Okay, so what are the key things you need to know about PU Leather? Well, firstly – the look. A lot of people like the look of leather and while it isn't necessarily an enitrely authentic look, it still does look mostly like leather but it's much cheaper.
GT Racing Gaming Chair, via Amazon
Looks aside though, what else do these chairs have to offer?
Sweating
One of the biggest problems with PU Leather gaming chairs is that they can have the unwanted side effect of making you sweat a little more than usual – this is generally the main reason why a lot of people prefer not to use these chairs.
The material isn't particularly breathable so a lot of gamers can get pretty sweaty when they are gaming in the summer, which isn't the most comfortable thing. After a while you may get up to see that your seat is utterly drenched – not good!
With that being said, it really does depend on just how much you sweat. Not everyone sweats a lot, so this may not bother you.
Learn more about the differences in office furniture leather.
Stain Immunity
One particularly big selling point of PU Leather gaming chairs is that they're pretty much immune to stains. If you drop some hot cheese nachos on your gaming chair – no sweat! All you need to do is wipe the first of the seat so it's really easy to clean.
This may not be too much of a concern for an adult gamer who most likely doesn't drop food everywhere at this point, but if you're looking to buy the chair for a kid this could be useful.
The unfortunate thing about real leather is that you really need to be careful with how you are treating it. It's pretty expensive and damage can be pretty catastrophic. You don't need to worry about that with a PU leather based chair.
Durability Factors
Unfortunately, as with pretty much any product, a PU Leather gaming chair is going to become damaged due to abrasion and general wear and tear.
Most modern PU Leather gaming chairs are quite durable but time doesn't always favour gaming chairs. It should be noted, however, that this damage is very gradual, like we're talking YEARS. The chairs as a whole are actually very durable but they just don't always age well.
Looks
If you really squint, a PU leather gaming chair looks just like real leather. You can only really see the differences between the two when you started to look closer, and your average joe probably won't even notice at all.
The only person that's really going to know that this isn't 'real' leather is someone that works with leather a lot or is a bit of a leather fanatic. We don't know many leather fanatics that are also gamers, do you?
Customization Options
As we have already established, PU Leather is synthetic. Because of this, it can also be dyed easily, which means you can select a bunch of different colors for the chair (even a pink or purple gaming chair, for example).
You don't need to worry about the quality of the leather degrading because the manufacturer still uses polyurethane to coat it. If you want to pay a little more money certain companies even allow you to have custom designs, made by professional artists!
Fabric Gaming Chairs
Fabric is a bit of a loose term that is used to describe a bunch of different materials. Semantics aside though, fabric chairs are generally made out of a combination of cotton, linen, polyester and/or mesh. This fabric is a little rougher than PU leather but it's not painful to touch. It's also a lot more durable.
More about office and gaming chair materials.
Fabric Gaming Chair Characteristics
Image via Amazon
Fabric tends to be the go-to choice for a lot of gamers. So, let's look at why:
Breathability
The key selling point of fabric gaming chairs, as opposed to PU Leather gaming chairs, is that you don't need to worry about the sweating problem that you get with PU leather gaming chairs. You don't need to worry about leaving a sweaty mess behind on your gaming chair as it's designed to be breathable. One downside, however, is that it can mess up a little if you do sweat a lot, but this isn't much of an issue if you don't sweat a lot.
Stains
Stains are a bit more of an issue with fabric covered PC gaming chairs than they are with PU Leather. If you are a little bit of a messy eater and you do like to have a little bit of pizza while you play, you may want to avoid fabric gaming chairs because they can be a little trickier to clean. With that being said though, there are certainly easier ways to clean them, such as getting special fabric cleaners.
Durability Factors
Fabric gaming chairs are not exactly timeless – the material can start to rub after a while, the color can begin to bleach and the fibers can start to stick out, but this is more likely to happen after decades of use rather than a couple of months of years. You shouldn't really be too concerned about it, to be honest.
Affordable
Thankfully, this is something that Fabric gaming chairs and PU leather gaming chairs have in common – they are very affordable. This is mainly because the kinds of materials that are used to make it usually don't cost very much for the manufacturer to buy.
Fabric chairs tend to be made in order to help the company to reduce their prices simply because it's more affordable than a lot of other materials. So, if you don't have a lot of money then you can find some fantastic fabric chairs for a reasonable price.
Aesthetic Considerations
The issue with PU Leather is that it doesn't always look authentic. This is not an issue with fabric gaming chairs – they're going to look pretty much the same, no matter how hard you squint. This fabric is not trying to replicate another, it's just fabric really. The look will stay consistent, and you know what you're paying for when you buy a gaming chair made out of fabric.
Itchy
One reason why people aren't so keen on fabric gaming chairs is because the fabric can be a little rough on the skin. If you tend to do your gaming wearing short sleeves and pants then you may find that you experience discomfort because your skin can rub up against it. Ultimately this largely depends on the kind of fabric that is used but it certainly isn't as smooth as PU leather.
Maintenance
Because fabric chairs are a little more sensitive to any spills and stains, you are going to need to spend more time maintaining the chair. Even things like animals and dust are going to have more of an impact on the chair than they would on a PU leather chair. It's also harder to maintain them because the chair doesn't wipe as easily.
You are probably going to need to invest in a number of different sprays, rugs and brushes to get a stain gone, and you may even need to go through the gruelling task of picking crumbs out of the chair one by one.
Conclusion
So, those are the key differences between PU leather gaming chairs and fabric gaming chairs. Obviously, what you choose is going to be entirely up to you but those are the main things you need to know in order to help you to make your decision.