These mid-century modern office chairs will help you create a clean, stylish and comfortable working environment for your home office.
The Mid-Century Modern Office Style
Since you're looking for a mid-century modern office chair, the style and look of the chair is probably at the top of your list of buying criteria. So, before reviewing the chairs on this list, let's first define what mid-century style is all about.
The term mid-century in the world of design reflects the period between 1930 and 1970. But this style really took shape in the post-war era of 1945 to 1969.
But what characterizes this style? First, it's a minimalist type of design that blends organic colors and materials with bolder patterns and colors. There are also unique tapered elements, geometric patterns, and clean lines.
A well-known example is the original work of Charles and Ray Eames, who began designing furniture for the Herman Miller furniture company back in the mid-1940's.
Eames Soft Pad Executive Chair
As you'll see below, you can still find Eames inspired designs in office chair reproductions, with materials like wood, metal and leather blended into basic but modern chair designs.
Other design features include curved armrests, tapered legs, short chair backs, tall chair backs, wood and leather combos, metal frames, and many other distinctive features.
Is Mid-Century Modern Office Furniture Right for You?
First, look at how this chair will blend into your home or work office. These chairs work especially well in minimalist environments.
Are you looking to add a pop of color, or keeping things organic and natural?
Either way, try to find something that's inviting, stylish, and consistent with the design theme of your office.
But Don't forget about comfort and ergonomics
While style is important when looking a mid-century office chair, don't forget the comfort that is essential to help you get through the workday in a pain-free and productive manner.
These are still supposed to be office chairs, after all.
So, make sure you look at things like firm and thick cushioning on the chair, comfortable and breathable upholstery on the backrest and seat, ergonomic chair shapes (i.e. S-curved backrest for lumbar support), and essential adjustability options to control height, tilt, and other customization needs.
7 Mid-Century Modern Office Chairs We Love
Once you decide on the style that's right for your workspace, you can start looking at specific chairs that meet your criteria.
Below, we've chosen 7 excellent mid-century office chairs, each with great style, modern comfort and support features, and impressive durability for long-term use at your home office.
This top-rated mid-century inspired chair from Laura Davidson gets high marks for its sleek chrome frame and thick cushions.
This chair comes in 10 different colors, so you can easily find something that will blend right into your home office decor.
Is it a true ergonomic office chair? Well, it's almost there. Don't expect much in terms of armrest comfort or added ergonomic features like headrest support or depth adjustment.
However, the SOHO does still come with a pneumatic height adjustment, a nice S-curved backrest for lumbar support and the ability to recline.
And whatever else it's lacking in ergonomic support, it makes up in style.
Plus, the soft leatherette is easy to clean and comfortable. No wonder most customers love this chair.
You won't normally see suede fabric mentioned in our office chair reviews. But if you're looking for something that's unique and vintage-comfortable, this chair from the brand Ovios is worth checking out.
Suede fabric is a soft and warm upholstery that exudes vintage charm. You'll want to keep your favorite bottle of scotch next to this one. For when the workday's over, of course.
This chair has a unique design profile, with high-raised sides and a bucket seat design that's characteristic of many racing style gaming chairs these days.
Plus, you could easily swap this chair out for a gaming chair if you're so inclined.
This chair also has a sturdy five-star base with pneumatic height adjustment and a recline mode that takes you from 90 degrees down to a comfortable 150 degrees when it's time to relax
It's easy to assemble and can be purchased in a few leather/frame color combinations. Nothing too colorful, though. You're basically looking at different shades of brown, gray and black with this one.
If you want something that's less about the ergonomics and more about style, have a look at this sleek little task chair from Volans.
This chair comes with some cool details, such as the checkered wood pattern on the back with a soft and comfortable PU-based leather for the seat and backrest upholstery.
And while the backrest is lower than you'd find on a conventional task chair, and probably a little less supportive, this chair still has the pneumatic height adjustment (4-inch height range) and a surprisingly high weight capacity of about 265 lbs.
In fact, customers are surprised by how comfortable this chair actually is given its size.
Plus, you can find some pretty unique color options with this one, including creamy white, traditional black, and a vintage green.
Each color comes with contrasting checkered wood "shell", and can be purchased with or without armrests.
This chair is tall too, with a maximum seat height of over 35". It could perhaps work well as a leather drafting chair (or even a cocktail stool).
Note: This chair has a fixed 4-leg base. So while you can still swivel, there is no rolling between workstations with the Volans.
No products found.
If you're looking for a high-back mid-century chair with an Eames inspired designed, this chair is a cool option.
It's not cheap, but it will cost much less than a Herman Miller or Eames reproduction from other manufacturers.
The standout features on this chair include the sloped, padded armrests and contrasting hardwood shell behind the chair and backrest.
The leather is actually a PU-based leather that's durable, breathable, and easy to clean.
It has a sleek and stylish chrome plated 5-star base with casters and a 250 lb weight capacity.
While this chair could easily work in a variety of office motifs, it's actually a bit on the small side and not ideal for taller customers.
It is still height adjustable, however, so check the dimensions to see if it's the right fit for you and your workspace.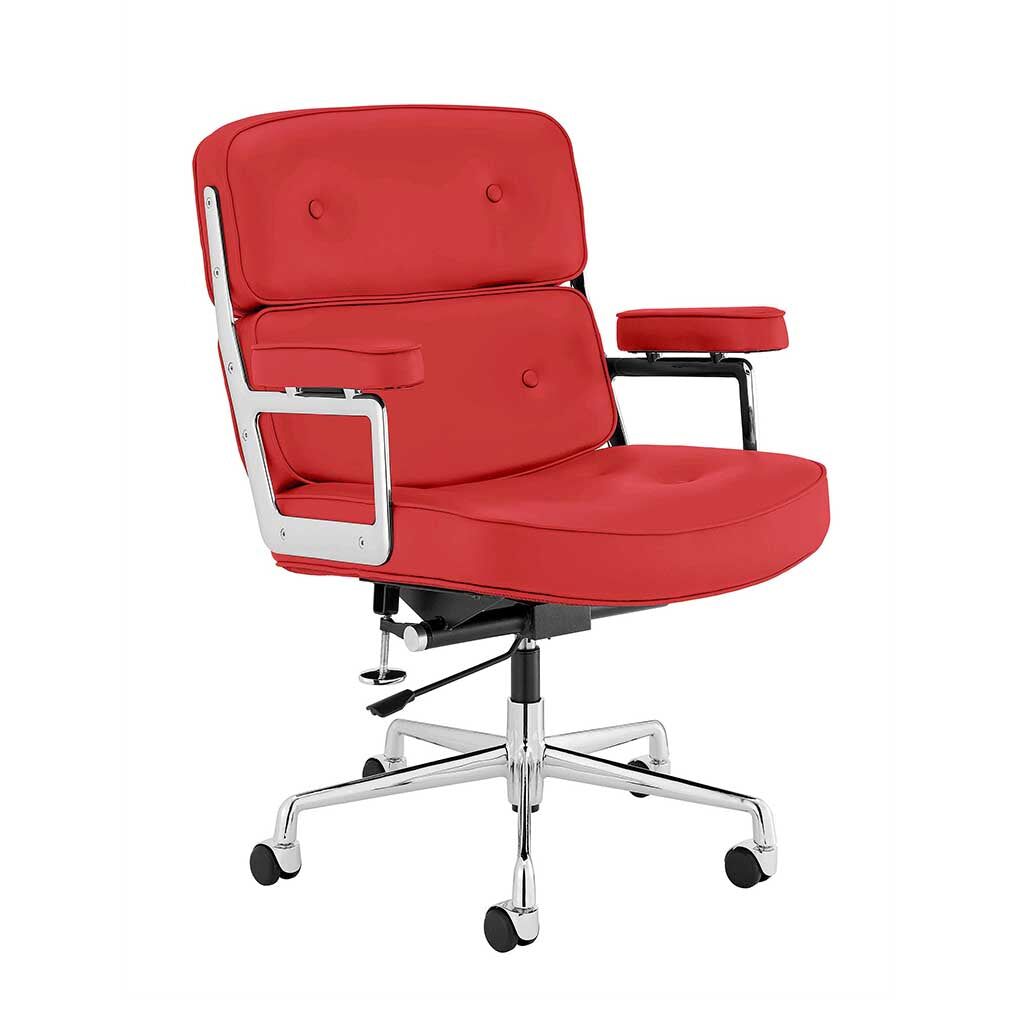 If you want a true mid-century iconic design for your home office, the Time Life Executive Chair will fit the bill.
This chair is based on the original Eames designed chairs used in the Time Life building during the 1960s.
While this is a reproduction model, it is still a custom-made chair with a much higher price tag than the previous chairs we've mentioned, plus a lead-time of 12 – 16 weeks.
Still, if you want the real thing (the authorized Eames chair, that is), you'd have to hop over to Herman Miller and shell out even more for this iconic throne.
That being said, with either model, you get the same essential design elements that make this chair so special.
First, you have the extra thick cushions and padded armrests. These guys knew how to put in some long hours at the desk, and these chairs reflect that need for all-day comfort.
But the reproduction model from Eternity Modern still comes with modern ergonomic design elements such as pneumatic height adjustment, tilt lock, tilt-swivel control, and smooth rolling casters.
And you still get an authentic top-grain leather and very sturdy die-cast aluminum frame that will hold up over the years.
Plus, the Executive Chair comes in several classic leather options, including black, red, white, brown and dark-bown.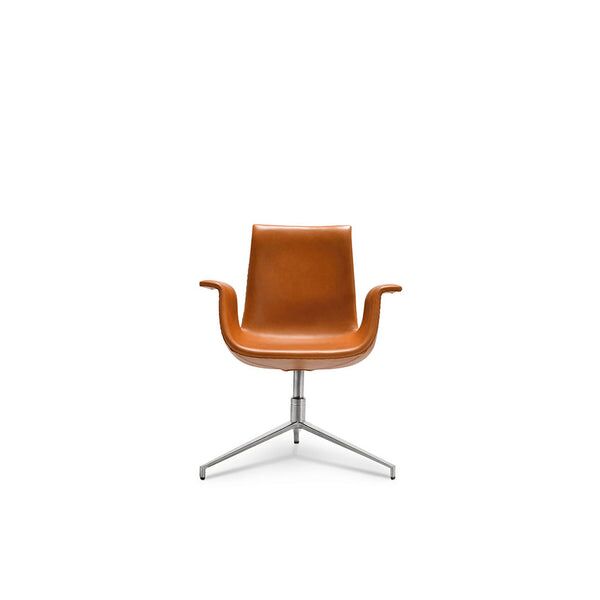 Sticking with the high-end designs from Eternity Modern, this Scandinavian designed mid-century chair is one of our favorite bucket style seats for a home office.
The FK stands for Fabricius & Kastholm, two Danish furniture designers who created beautiful designs using materials like steel, leather and glass during the 1960s.
This 1969 FK inspired model stays true to that original minimalist style. It is simple, comfortable and chic.
The chair comes with a very retro three-leg base and an award-winning bucket design that is constructed from molded fiberglass and upholstered in top-grain or aniline leather for a truly vintage look.
The FK bucket chair comes in a variety of colors, including black, cream, tan and red.
If you really want to stay true to the mid-century aesthetic, this chair is something you should consider.
This mid-back retro design from National Business Furniture might look like a no-frills business class chair, but it has several of the ergonomic touches we look for. Plus, it stays true to that mid-century style.
You'll notice that the Hadley has ample padding on the seat, armrests and backrest. It's upholstered in a faux leather that comes in basic colors like black, brown and white. This chair just looks so comfortable. And since it comes from NBF, we are confident it's plenty durable as well.
The Hadley sits on a chrome 5-star base with rolling casters. Combined with essential ergonomic features, including height adjustment, tilt lock, and tilt tension, we think this model strikes a nice balance between subdued retro looks and functionality for modern office workers.
Take a look and let us know what you think.
Bottom Line
If you're a fan of minimalist and retro design, why not bring that aesthetic into your home office? Finding a quality mid-century styled office chair is a great place to start.