Ahh the age old office chair debate: Mid Back vs High Back chair… which one is better? Will it make that big of a difference for you?
Does it even really matter?
The truth is, well, yes the difference between a mid back vs high back chair at your workspace can matter a lot depending on some key details.
Often times, it can be hard to decide between the two – especially because there are just so many darn office chairs out on the market.
Which is exactly where we come in to play. If you're here and reading this, I'll bet you're shopping around for your next computer chair.
And great news – you're off to a wonderful start!
You're already deciding whether to go with a mid back or high back design, and we will go over exactly what you need to know about both in this article.
Benefits of a High Back Office Chair
Right off the bat, the distinction of a high back office chair is immediately noticeable. Often times they have a headrest and they are larger than mid back office chairs.
The first benefit of a high back office chair we will talk about is the headrest and upper back support.
Throughout all of our time sitting on hundreds of different office chairs, we have found upper back support and a headrest helps you sit up straight more often. Naturally, if there's a headrest on your chair, it will be more likely you'll prop your head on it and refrain from slouching over the keyboard.
On top of additional support from upper back support and typical headrest, high back chairs tend to be more comfortable and are designed for more prolonged periods of sitting.
Typically, we recommend high back chairs for those who sit 7-9 hours daily for work.
No products found.
High back office chairs tend to be much more supportive for a few reasons, a few of which were mentioned above. Another often overlooked reason is that high back office chairs typically aren't "budget" chairs.
An example of one of our favorite high-back style chairs is the Aloria series from Oak Hollow Furniture. This premium level office chair is highly rated among taller users and provides full support from the backrest to the headrest.
Now, with that said, not all mid back chairs are cheap quality or "lower end".
High back chairs tend to be more expensive because more material goes into the manufacturing process. Hence the reason that if an office chair company wants to make a superior product and it's going to be more expensive in the first place… why not make it a high back chair vs a mid back chair?
See where we're going with this?
Overall, high back office chairs are great for those who plan on prolonged periods of time. Additionally, if you're bigger and taller than the average person, you'll likely benefit from a high back office chair versus a mid back office chair.
Benefits of a Mid Back Office Chair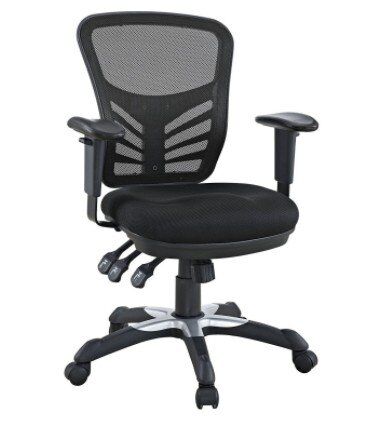 Mid back office chairs tend to come in more variety of style, color and overall look and feel as opposed to a high back office chair. Plus, they are typically less expensive than their high back counterparts.
Also known as task chairs, you'll likely sacrifice some of the ergonomic features by going with a mid back office chair, but you can still a supportive chair that fits your needs.
By rule of thumb, mid back office chairs are designed for more sporadic, less long-term sitting periods. There are a number of reasons why mid back office chairs should be considered when purchasing a computer chair.
When to look at a Mid Back Office Chair
First, let's start with the purpose of the chair and the place it will be going. Mid back office chairs are perfect for flex coworking spaces or computer stations that are meant for shorter sitting time periods.
Plus, they tend to fit better in tighter spaces – so if you're going for the minimalist look, or you simply can fit a big La-Z-Boy Office Chair in your desk space, a mid back option might be the way to go.
No products found.
One of our favorite mid back office chairs is the HON Convergence. This is an example of functional but comfortable task chair produced by a top manufacturer at a reasonable price point. It's somewhat basic, but you still get plenty of comfort and adjustability.
For a premium level mid back chair, you could look at something like the Setu from Herman Miller.
Next, let's talk about style. Mid back office chairs come in green, yellow, purple, leather, mesh; they come in ribbed styles, ergonomic styles, modern styles… you get the picture.
Typically high back office chairs are either ergonomic focused, big and tall, or computer gaming chairs. Mid back options on the other hand come in a much wider variety of just about every color imaginable.
An example is the AMQ Zilo task chair, which is available in over 72 different fabric designs.
No products found.
Last but not least, let's talk turkey. If you're not familiar with that saying – it refers to the price of a product or service.
Mid back office chairs tend to be on the more affordable, and sometimes much more affordable end of the stick.
There are a number of reason why this is the case, and here are the three biggest ones:
There are many more options and variety when it comes to mid back vs high back chairs.
Less materials go into producing mid back office chairs.
High back office chairs tend to be the "Cadillacs"; i.e. more research and development go into producing higher end, luxury office chairs. Mid back chairs are quite the opposite. Think of them like the "Honda" or "Hyundai" of office chairs. They are quality products built to last with no or few bells and whistles.
Mid Back vs High back Chair – Overall Thoughts
In review, here are the biggest decision criteria that go into choosing a mid back vs high back chair.
Budget
Mid back office chairs tend to be cheaper than high back office chairs.
Is your budget less than 100? Likely Best Choice: mid back.
Less than 200? Best Choice: Premium mid back to mid quality high back. (Related: Read our post on the best high back chairs for less than $200).
Less than 300? Best Choice: You can get a pretty darn nice high back office chair in this range. See the Argomax
More than 300? Best Choice: Your options really open up at this level. You've got a lot of options… See the Ergohuman
Desk Space
How big of a space do I have?
Did I take the proper measurements?
Do I want a minimalist look? Or do I care if there's a big honkin office chair at this desk space?
Purpose of Chair
Prolonged periods of long-term sitting (gaming, computer-intensive jobs): High Back
Sporadic sitting of 1-2 hours at a time: Mid Back or High Back
Flex space, tight spots, conference area, meeting rooms: Mid back
Ergonomics
High back office chairs tend to have more ergonomic features and have two critical components mid back office chairs lack: a headrest and upper back support.
However, there are plenty of mid back office chairs that offer the standard ergonomic features like lumbar support, adjustability and spinal posture support.
Ergonomics are a critical purchasing criteria when it comes to office chairs.
Make sure you know exactly which features you need – often times, ergonomic features coincide with the purpose of your office chair (above). The longer you sit, the better quality ergonomic features you'll need.
Have a look at these tips on how to set up an ergonomic home office and our office chair buyer's guide for more info on this ergonomics stuff.
---
Well, that's all folks! We hope this mid back vs high back chair comparison helps you throughout your office chair purchasing journey. All thing considered, there are plenty of high-quality office chairs under both categories. You simply need to evaluate which one is best for you based on the above criteria.
If you've made your decision on what type of chair you need, be sure to check out some of your options on our review here at OfficeChairPicks.com.
Anyway, thank you for reading, and as always…
Happy Sitting!