Let's face it: Working out how to clean a mesh chair for the first time can be a little more daunting than many of us would like to admit.
After all, compared to leather chairs, mesh chairs can present a few unique cleaning challenges thanks to that breathable mesh that we rely on for support throughout our working day.
Besides, good quality mesh chairs don't come cheap, and the last thing anyone would want is to attack with a wet cloth in such a way that it actually damages the unique breathable mesh that we rely on to provide us with so much support throughout our working day.
If you're nodding your head to any of that, this is the guide for you.
Below, we've outlined simple, step-by-step instructions on how to clean your mesh office chair the easy way.
How to Clean a Mesh Office Chair
1. Remove Dust and Debris With a Vacuum Cleaner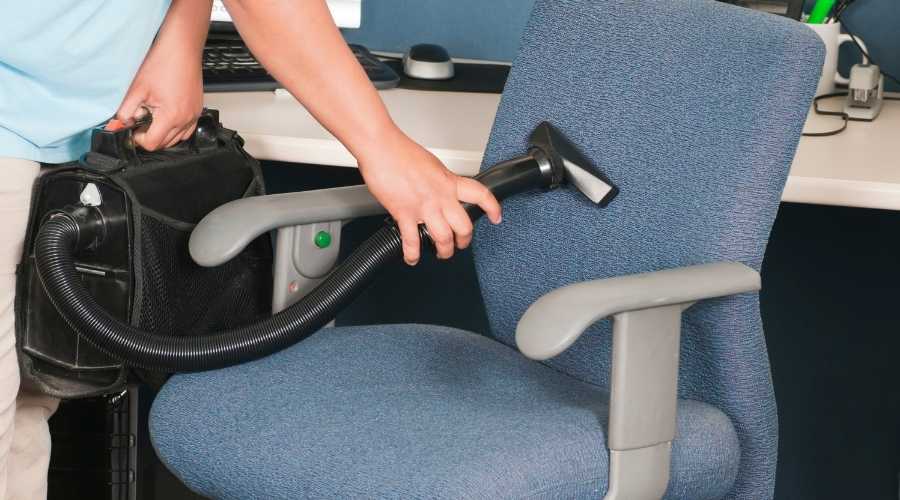 As tidy as you may think you are, all those working lunches are bound to leave at least the occasional smattering of crumbs in, on, and around your chair. That's to say nothing of the natural dust in your environment that can settle over time.
You can begin to clear away some of the more noticeable dust and debris by gently -and we stress the word gently here- going over your chair with a soft, dry microfiber cloth.
That's a good start, but it's unlikely to clear away everything, so your next task is get hold of a good quality handheld vacuum cleaner and work out all those crumbs that seem to be content to set up permanent residence in your furniture.
The kind of breathable mesh fabric you find on chairs such as the Modway Articulate may be excellent for keeping us cool and comfortable, but those tiny holes are a haven for dust, crumbs, and other debris. As such, you'll want to stick the hose attachment on your vacuum to really get at those stubborn bits of dirt.
No products found.
2. Detach the Detachable Parts of Your Office Chair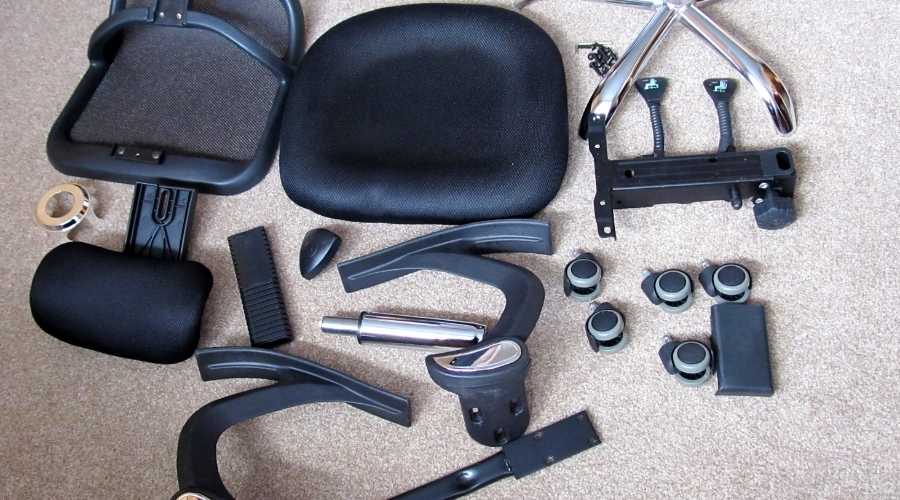 Yes, you can easily skip this step and it will be the quickest way to clean your chair, and if all you want to do is give the mesh back of your HON Convergence a quick wipe down, it's probably not necessary.
It is, however, the easiest way to get to all those tough, hard-to-reach spots (under the arm rests and the underside of your foot rest for example) as thoroughly as possible
So, if you're really committed to making your sparkling clean office chair the envy of the office, take off all those detachable parts and set them aside for the time being.
3. Spot Clean Those Stubborn Stains
No products found.
Remember when you spilled that full cup of coffee last week? Your Nouhaus Ergo 3D Chair certainly does, and it's got the unsightly pale brown blemish prove it.
These unsightly stains can prove a little tough to get rid of, so it pays to tackle those first.
To do this, grab a microfiber cloth and a good stain remover such as Gonzo Natural Magic Stain Remover.
Keep in mind that some stain removers can do more harm than good to your chair, leaving the fabric discolored or even damaging the quality and durability of it.
As such, you should first test out your chosen cleaner on a small patch of the chair, preferably on the underside or on another part where any adverse reaction won't be all that noticeable.
Spray it on that patch, leave it to dry, and if your chair looks just the same as it always did, go ahead and attack those stains. Let the disinfectant soak in and then get to it with your microfiber cloth.
The trick here is to apply enough pressure to break down that stain without being overly rough as attacking your chair too forcefully can actually damage the mesh fabric.
4. Wipe Down the Whole Chair
https://youtu.be/Df9h3FPenbo
Once you've removed those stubborn stains, let the chair dry out then go back to it with a quality disinfectant such as Pledge's Clean It multi-surface spray.
Again, you'll want to test it out on a small patch of the chair first to make sure there are no problems.
Spray a small patch on the underside of the chair and let it dry to check that it's safe to use, then give the rest of your chair a light spraying with the disinfectant and gently wipe down with a cloth.
If you find that the disinfectant spray does damage your chair, or if you simply don't have time to rush out and get any, a mixture of warm water and soap will do the trick just fine.
No products found.
5. Clean and Reattach the Attachments
While the main body of your chair is drying out, it's time to go back to those attachments we took off earlier.
You can use the same disinfectant spray or warm water and soap combination to wipe down any plastic parts such as the arm rests or any metal framing, and go back to any fabric covered parts (the head rest for example) with your microfiber cloth and handheld vacuum cleaner.
Leave those to dry too and head on to the final stage of the cleaning process.
6. Clean the Framework
The chair base, the wheels, and the chair's general supporting frame could also do with a good cleaning every now and again.
The wheels especially tend to pick up a lot of dirt and grime, so give them a thorough wiping down with either your disinfectant or your soap and water.
Let the whole thing finish drying before finally putting the pieces back together and voilà, your mesh chair looks as good as new.
How to Keep Your Mesh Office Chair Looking Clean
So, by now you've done everything you possibly need to do to get that Herman Miller Aeron mesh office chair looking just as pristine as the day you bought it, but how do you prevent it from getting that dirty again in the first place?
First of all, do away with those working lunches. Yes, you've got a lot to do, but as carefully as you might be while trying to type up that report and eat a sandwich at the same time, you're still going to spill the occasional crumb.
Over time, all those occasional crumbs build up and can leave your chair in a bit of an unhygienic mess.
Besides, we all know that sitting down for too long can cause back pain and other issues, so it's in your best interests to get up and move around at lunch time instead of parking at your desk.
That simple change will make a major difference to the cleanliness of your chair, but that doesn't mean you'll never have to break out the cloth ever again. In fact, the opposite is true.
To avoid having to spend an hour or so on a thorough cleaning job, simply take ten minutes out of your day at the end of the week to gently wipe everything down.
Friday afternoons is always a good time to do this as not only does it mean a few less minutes working when you've already mentally checked out for the weekend, but it also means you get to arrive at work on Monday morning to a sparkling clean office chair.