HON is a top-tier office chair brand that reminds us of one thing: we should actually enjoy the chairs we use for eight to ten hours a day while we work.
Their Ignition lineup offers the best comfort, posture control, and versatility of just about any office chair brand on the market today.
I've gathered a list of my top 5 models, and here is what they have to offer.
In a hurry? Here are our 3 top picks:
No products found.
Who is HON?
Before we review the chairs, it's always helpful to know a little more about the company behind the product you're investing in.
HON is a well-known name in the office furniture world. And it's not only because they make some of the best ergonomic office chairs in the biz.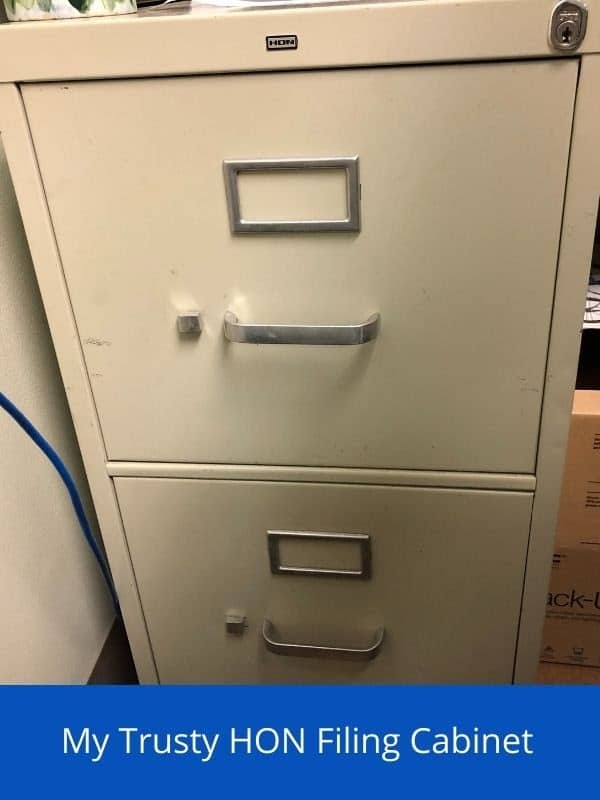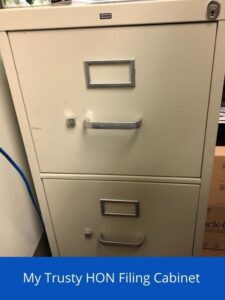 This company has been making rock solid office furniture and accessories out of their headquarters in Iowa since 1944.
And, if you're like me, you might already own one of their iconic vertical filing cabinets from as early as the 1970's.
We have several in my office and, trust me, these things are built to last. Which says a lot about their Ignition chairs.
–> Interesting fact: HON stands for "Home-O-Nize"
Here's an overview of their top models.
HON's number one Ignition chair is the sequel to the chair that started it all. The Ignition 2.0 Mid-Back offers the most significant level of comfort, stability, and customizable settings of any HON chair to date.
Thanks to the ergonomic lower lumbar support along the backing of your chair, the HON Ignition 2.0 will help correct your posture just from sitting in it. You can make as many adjustments as needed from tilt tension to seat height and more.
Apart from the adjustable and customizable features, the Ignition 2.0 also features a mesh backing to help with aeration throughout your workday. You run less of a risk of building sweat or uncomfortable heat in the back of your shirt while you work.
Assembly is relatively simple. The casters take a lot of pressure to apply, but everything else comes together pretty quickly. If you notice something is dented, damaged, or ruined during unpackaging, HON gives you a lifetime warranty to help make it right. Repackage it, contact them, and you'll be able to get a replacement.
Pros
Mesh mid-back provides comfort and posture protection
Includes a lifetime warranty with the purchase
Durable: designed to last for years to come
Includes advanced synchro-tilt technology
Cons
Armrests require adjustments to prevent from being flimsy
Casters are not built to last more than about five years of continued use
No products found.
Related: If you're looking for a great task chair with similar ergonomic support, check out our review of the HON Convergence
Mid-back chairs aren't typically a go-to for long-term back support, but HON made this chair with the right amount of ergonomics and comfort in mind to help you pull through eight-hour workdays like it's nothing.
The bottom cushion is thick enough to provide comfort but still rigid and stable to keep your body where it needs to be. The curvature of the upholstered back helps keep your spine in alignment to prevent slouching during use.
The seat contours to your pressure points, and when it doesn't feel quite right, you have numerous adjustment options available located underneath the chair. Some of them might take a while to get used to as you tinker with them, but you will find your optimal chair setting.
This Ignition chair is also available in a dozen different colors, so if you're not keen on the basic black finish that most office chairs have, there are other options available.
Pros
Cushioned upholstered back for extended levels of comfort throughout the day
Seat contours to your pressure points for better posture and lessened back pain
Easy to wash and keep clean
Includes synchro-tilt technology
Cons
Wheels will scratch up floors over time
Numerous adjustment options take a while to get used to
No products found.
The Ignition series continues with the Mid-Back Mesh Office Chair, which comes in an executive chair or a task chair variant, depending on what you want. While you can opt for an upholstered back, one of the great things about this mid-rise chair is the mesh backing for aeration.
Underneath the seat, you'll notice two levers. These are designed to help you find that perfect resting angle and comfort level. These can take a while to get used to, and you'll have to fiddle around with them before you find your ideal chair settings.
Comfort is key in the Ignition series. This chair has a slightly thinner cushion but the same great level of lower lumbar support that we've seen in every chair HON produces. When you correct your posture, you don't put as much pressure on the seat, so the thinner cushioning will barely be noticeable.
HON extends their lifetime warranty on this chair as well, so if you run into any packaging issues or you're missing pieces, contact them, and they'll make it right in no time. Out of all three of these top chairs (and the many others that HON offers), you can get the feeling that they focus on quality over quantity, and that comes out in terms of customer service as well.
Pros
Mesh backing provides excellent aeration and comfort
Durable construction: built to last for years to come
ANSI/BIFMA certified design
Customizable recline, height, and seat positioning
Cons
Similar issue with armrests requiring constant adjustments
Caster wheels may get stuck on chair mats
No products found.
It's as executive as it gets: the HON Ignition SS11 executive chair comes with some of the most comfortable armrests out there. These are pressure-activated, so the more you lean on the armrests, the more they work in your favor.
While the back isn't meshed and aerated as we've seen with a lot of HON chairs, it is fitted with cushioning and lower lumbar support to help with your posture throughout the workday. Out of every HON Ignition chair in their lineup, the SS11 executive chair is their most comfortable.
Underneath the chair, you have an extended lever for super simple adjustments. From the casters to the limbs and everything in between, HON pulled out all the stops. The only grievance here is that the chair is extremely heavy at 50 lbs, and your tilt tension can be a bit off. You may have to adjust the knob fairly regularly if you lean back in this chair often.
Pros
Extremely comfortable upholstered backing
Extended levers for ease of operation
Floating armrests provide pressure-activated comfort
Easy to assemble
Cons
Knob requires constant tuning to keep your tilt tension where you want it
Extremely heavy
No products found.
Looking for something a little different? HON makes this fantastic black mesh computer stool. It's not the first thing that anybody thinks about while sitting at the computer, but once you let the corrective lower lumbar support reposition you, you won't be able to go back to an executive chair.
HON is actually known for making comfortable drafting chairs and stools (i.e. the Volt series).
The extra height offered by this stool is an advantage for certain office setups, and it's also customizable. Extend this stool from 22.9" up to 31.75" with a simple push of the lever. Assembly is simple, although the casters are a bit difficult to pop on (no surprise there, right?).
Reaching those adjustment knobs is a bit of a stretch—literally. They're positioned pretty tightly underneath the chair, so you'll have to reach down there to adjust your seat while you're sitting in it. Other than that, the only other grievance is the lack of support in the armrests.
Pros
Excellent height adjustment options
Aerated mesh backing stays cool at all times
Lower lumbar support works well at all heights
Includes a full lifetime warranty
Cons
Adjustment knob and lever are hard to reach while sitting down
Armrests require more adjustments than they should
No products found.
HON Ignition Buying Guide and FAQ
What to Look for in Lumbar Support Office Chairs?
HON Ignition chairs come with plenty of fantastic features, but to find the right chair for you, we'll help you draw the differences between these HON Ignition chairs.
Backing Material: Fully upholstered or mesh are your options. Mesh backings provide aeration and prevent your back from getting sweaty. Full upholstered backings are thought of to be more comfortable.
Height Adjustability: Depending on your desk, your height, and what you want out of a chair, pay attention to the maximum amount of inches a HON Ignition chair can be altered.
Back Height: You have the choice between mid-rise backs and high-rise backs. For taller individuals, high-rise backs are your best option. Mid-rise don't offer the same level of full support all the way up to your neck that high-backs do.
Why is HON Ignition One of the Best Brands for Lower Lumbar Support?
Many office chairs simply make a curved backing to their chairs and call it a day. HON Ignition offers more tilt tension, adjustable angles, and actual lower lumbar support than most office chairs on the market.
Each one of these chairs is designed to be used for long days where you're stuck at your desk. HON doesn't want your back to hurt, so they built better chairs with proper ergonomics to help keep you secure.
How do You Put Casters on a Chair?
Most casters have a straightforward installation. While HON Ignition chairs are known for being easy to assemble, their casters can require a bit of tough love to attach properly.
The top of your caster wheels will have a small prolonged piece of metal referred to as a stem. Place the tip of the stem into the hole at the end of each limb on the bottom of your chair. Apply pressure until you hear a clicking sound (the caster will be noticeably closer to the limb). Repeat for each caster/limb.
What is Tilt Tension on an Office Chair?
Tilt tension refers to when you lean back in your chair, and the chair changes its resting angle to provide you with a comfortable tilt. It's a common feature in most office chairs.
This can be adjusted by the knob located on the bottom of your HON Ignition chairs. The tighter the tilt tension, the harder it will be to lean back and feel your chair tilt with you.
One of the Best Chairs on the Market Today
As HON mentions on their site, work has changed, and their Ignition lineup of chairs has responded. These are the very best chairs they have to offer in terms of lumbar support, adjustability, comfort, and so much more.
The HON Ignition 2.0 offers a good balance of budgeting and comfort, while the Ignition Series Mesh Chair gives you a lightweight solution that's aerated along the back. If you tend to lean towards the more premium side of things, the HON Ignition Mid-Back Computer Chair gives you the most comfort and posture control for your money.