With its breathable mesh back, 3-inch thick cushion, and adjustable arms, the HON Convergence chair positions itself as the perfect task chair for those long desk sessions.
And its cool-yet-compact design helps it stake its claim as an ideal addition to your conference room or meeting space.
But is it really all it's made out to be? More importantly, is the HON Convergence task chair right for you?
In this review, we'll see how this chair stacks up in terms of comfort, features, design and assembly. We'll also highlight some promising alternatives to this model and provide answers to common questions at the end.
No products found.
Key Takeaways:
Budget-friendly task chair with intuitive ergonomic design and features.
Nice thick cushion with pronounced waterfall seat edge that makes it comfortable for longer desk sessions.
Size and styling that's easily adaptable to different work setups.
Roomier features for its class.
Back support is lacking compared to full-fledged ergo chairs.
Some have complained that assembly is a bit complicated (it's actually very easy in my experience).
Doesn't have a tilt lock feature. You can only control tilt tension when reclining or lock into place at upright position.
HON Convergencence Chair Review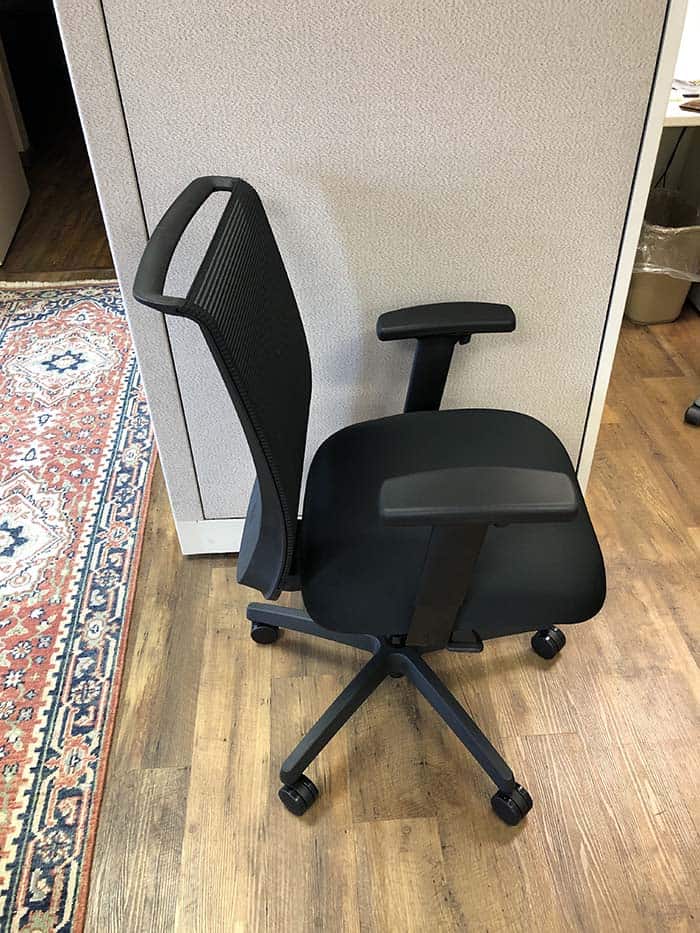 First Impressions
What first attracted us to the HON Convergence was that it combines the convenient size and design features of an everyday task chair with the aesthetic appeal of a much larger executive chair.
This makes it a great choice if you're looking for something that offers an upmarket style and superior comfort while sticking to a budget.
Chair Assembly
This chair is super easy to assemble. It took me all of 10 minutes. Honestly, it should have taken me less time. And if you watch this video, you won't even need to read the instructions.
First, HON products come with all the basic tools and parts you need for assembly. In this case, you get the seat, backrest, armrests, 5-star base, casters, and the pneumatic gas cylinder. Plus, 3 screws and an allen's wrench.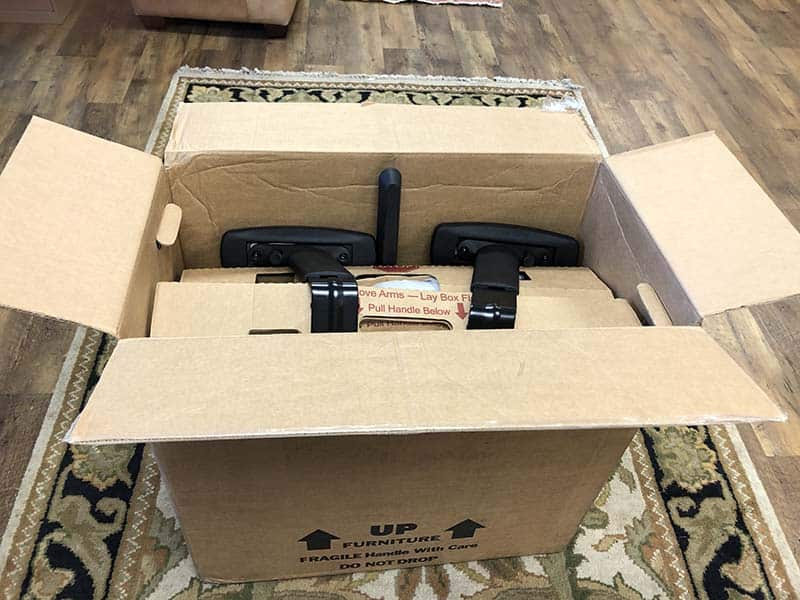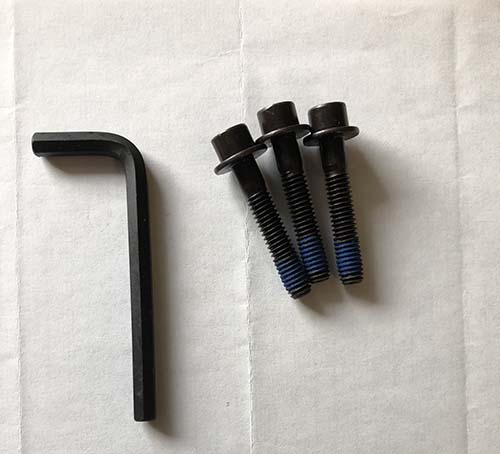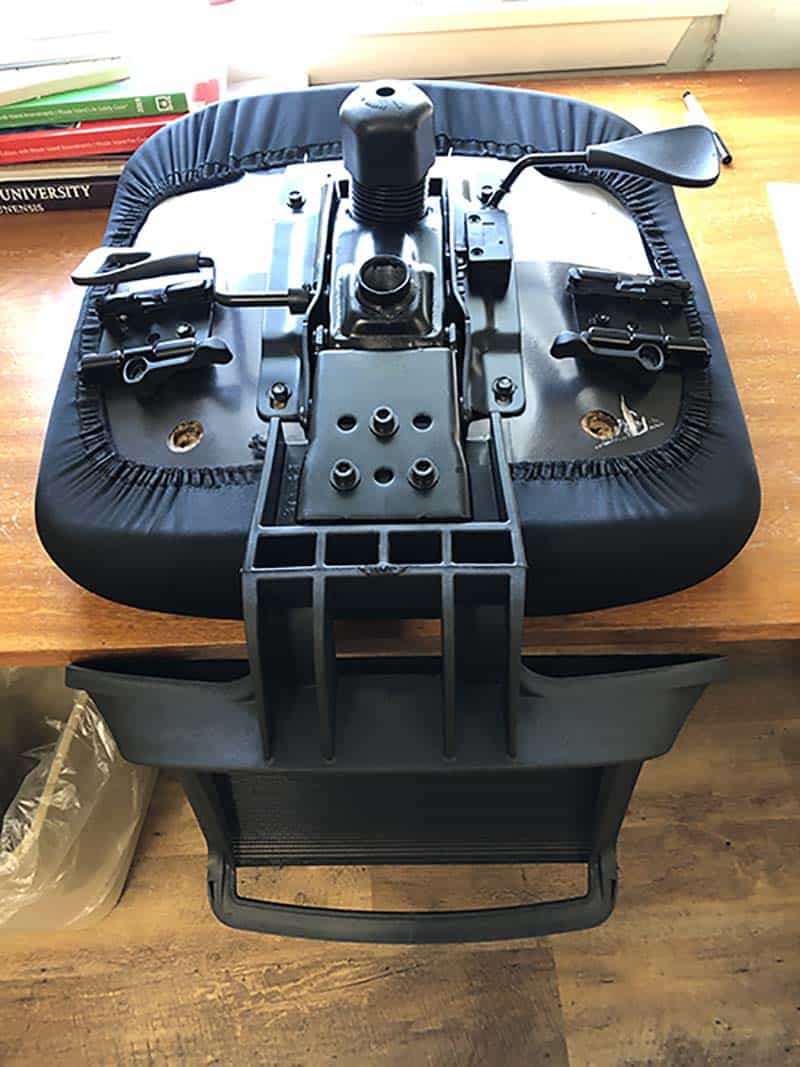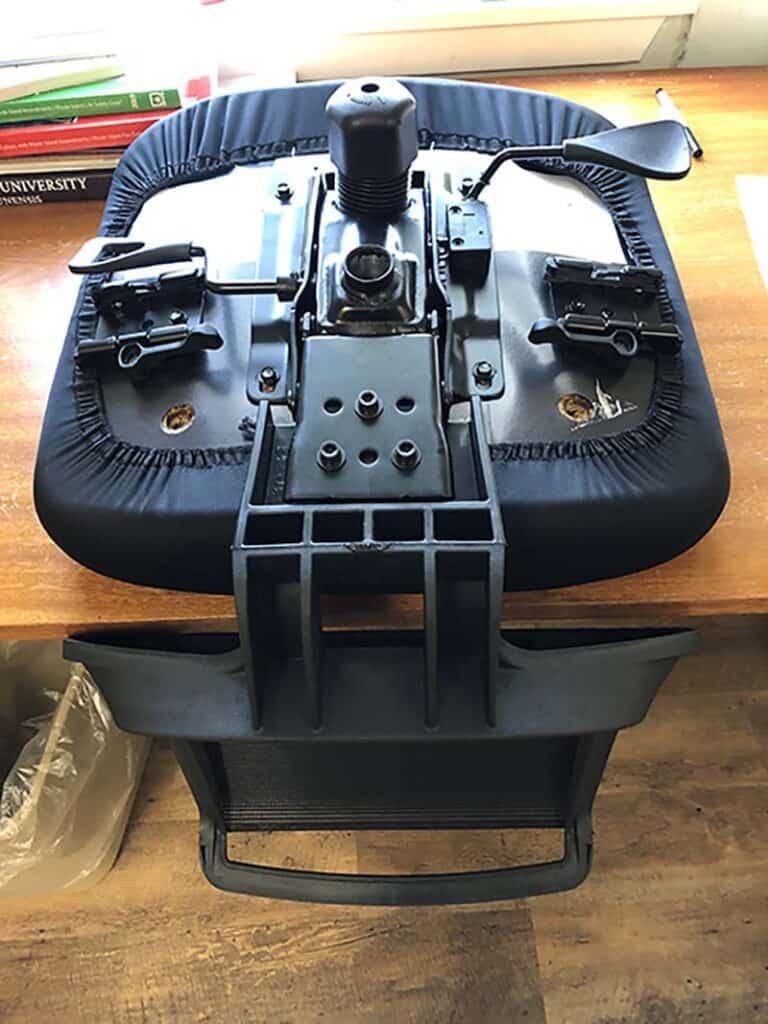 Just make sure you have a good sturdy surface for the first few steps – in my case I used a table and then the HON box when installing the armrests.
Once you bolt on the backrest and attach the width adjustable armrests (these just slide in and lock via levers), you can insert the casters to the base and pop in the gas cylinder. Then just position the chair on the ground with the bottom facing up and attach the base to the chair. It's very simple.
However, as is always the case, other customers had a harder time with assembly.
And some complained of missing parts and/or screws. First, please make sure you check the entire box for pieces. And if you still can't find something, contact the manufacturer right away.
While these complaints may be valid, just watch the video referenced above and you'll see how easy it is to assemble the Convergence.
HON Convergence Chair Design
If you like your office chairs to add a dash of color to your workspace, you may not find the HON Converge chair so appealing.
Though HON do offer different colored finishes for the seat cushion, this option comes at a premium cost.
Otherwise, what you're getting here is an all-black model that combines a contemporary style with a certain handsome quality that makes it an attractive addition to any space.
Design-wise, the biggest talking point is the breathable mesh back which not only adds a smart, modern look to your chair, but also keeps you cool and comfortable throughout your working day.
We also like the addition of the handle on the top of the backrest – it's helpful for moving the chair around but also a unique design element.
Speaking of comfort, you may potentially find this one a good fit if smaller office chairs just aren't right for you.
It would be deceptive of us to say that this is one of the best big and tall office chairs around as it doesn't boast the kind of 400+ lb weight capacity that such chairs tend to offer, but with an 18″ back width, width-adjustable armrests (more of which later), and a sizeable 275 lbs weight capacity, it's certainly bigger than average.
For example, compared to the Herman Miller Setu, another popular task chair with similar styling (but higher price tag), the Convergence offers about 2 inches more width and seat depth.
Chair Dimensions:
A decently-sized chair, the HON Convergence comes in the following dimensions:
| | |
| --- | --- |
| Overall Chair Width | 27.75″ |
| Overall Chair Depth | 27.5″ |
| Overall Chair Height | 42″ |
| Seat Depth | 19" |
| Seat Width | 20″ |
| Back Width | 18″ |
| Back Height | 22″ |
| Lumbar Adjustment | 3″ |
| Adjustable Arms Width | 17″ – 20″ |
| Adjustable Seat to Floor Height | 15.75″ – 20″ |
| Usable Seat Depth | 17″ – 19″ |
HON Convergence Comfort
Comfort is where the HON Convergence really shines. A highlight for us was the nice and thick 3-inch padded cushion seat with soft cushion fabric over a flexible, responsive foam. This means it's not just a pleasing place to park your posterior the first time around, but that it adapts to provide long-term comfort as you work your way through those long days chained to your desk.
The seat itself also boasts a contoured, waterfall edge which can prove invaluable for promoting proper circulation.
When we sit for long periods, blood tends to flow down into our rear where it builds up without properly reaching our legs. This poor circulation is one of the main reasons why so many of us suffer the dreaded 'afternoon slump' after sitting down for long periods.
Fortunately, with the HON Convergence chair, this shouldn't be an issue. The waterfall edge keeps the blood flowing exactly where it should flow right throughout the day, keeping you alert and attentive for longer.
The backrest is a wide, rectangular piece with an ergonomic S- curved design. The mesh is comfortable, but firm enough to provide full support when leaning back.
There is a separate lumbar support piece that can you can easily adjust by sliding up and down. This, combined with a relatively tall backrest for a task chair, gives the feel of a true ergonomic office chair.
Adjustability and Ergonomic Features
The Convergence is equipped with a nice selection of simple and practical adjustability options. Each one serves a specific ergonomic purpose, and it's not overly complicated like in many other ergonomic office chairs these days.
I would say that the one feature that's not typical with task chairs is the aforementioned lumbar support.
I personally like a flatter backrest, without the addition of any lumbar support. The S-curve shape is enough. So, I simply slid the lumbar piece to the bottom where it's more or less out of the way. Many people will like the additional support though. That's why adjustability is so important.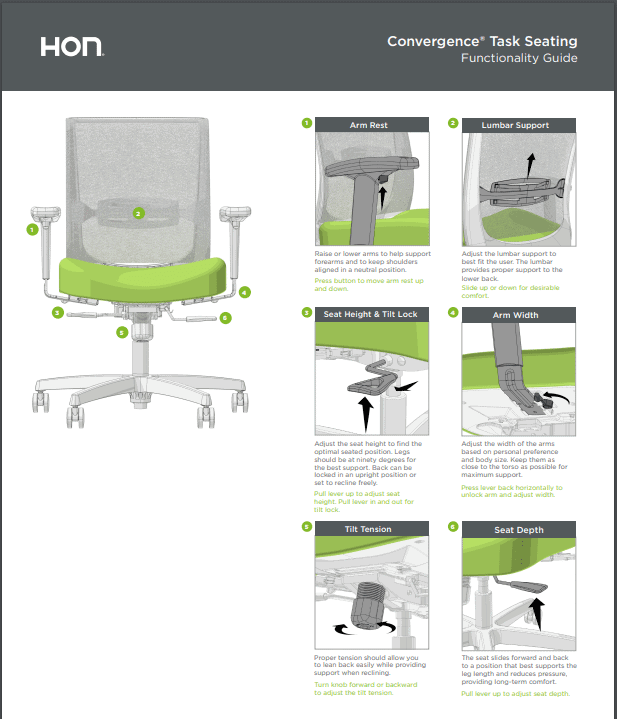 Synchro-Tilt and Seat Glide
If the lumbar support alone doesn't do it for you, you can always make use of the synchro-tilt mechanism to recline the seat in a way that helps you sit with the kind of posture that best helps you prevent those lingering aches.
Elsewhere, there's a handy seat-glide feature which really helps the Convergence's cause as one of the best task chairs for larger users. This allows you to adjust the seat depth so that you can find a sitting position that really works for you.
You can easily adjust depth by raising the lever below the left side of the seat and moving forward or back to find the right depth point. Then just lower the lever to lock into place. It's a very smooth mechanism that requires barely any force.
If you have tight hips like me, you'll really appreciate this sliding feature. It makes it very easy to find a more open and comfortable hip-to-thigh angle.
Adjustable Armrests
In our experiences, armrests can really make or break a good office chair. Those that are too stiff and inflexible can leave you with sore shoulders and biceps after a long shift at the office, which is why it's so important to find a chair with armrests that adjust not just in height, but width as well.
This is another reason why we score the HON Convergence so highly. The armrests are fully adjustable both vertically and horizontally, again ensuring that you can fully customize the chair to find the perfect position.
To change the width, there are small levers located at the base of each armrest. Simply unlock the levers and slide the armrest in or out to the desired width.
I had to play around with this for a little while to find a width that works. I also had to make sure the widths were the same on each side.
While the mechanism is easy to adjust, it would be helpful to have set adjustment points on these or a measurement guide. That being said, it's pretty intuitive and finding the right width doesn't take long at all.
And if you're the sort of person who prefers a completely armless office chair? As you'll notice when assembling the Convergence, those armrests can be completely detached and set aside without ruining the aesthetic appeal of your chair.
Is the HON Convergence Chair Right For You?
No products found.
So, we've looked at all the key features of the HON Convergence, but what's really important is whether those features make it a worthwhile purchase for your home or office space.
To help you decide, let's weigh up the pros and cons:
This Might Be the Best Chair for You If:
You're on a budget – HON proudly boast that the Convergence brings comfort and affordability together in one complete package, and we have to agree with them. This is one of their more affordable chairs, coming in even less than the HON Exposure (another popular task chair).
You value flexibility and adjustability – from the seat depth and height to the back position, lumbar support and armrests, all the important parts of this chair can be fully adjusted to create a range of custom seating positions that work best for you
You suffer with back pain and/or fatigue when sitting for long periods of time – The Convergence is truly a chair that's optimized for comfort. The combination of lumbar support, responsive foam seating and waterfall edge cushion are all designed to help you maintain positive physical well-being when working at your desk for hours at a time.
You're looking for a quality office chair for multiple environments – This provides all the comfort you need for day-to-day working with a stylish finish that means it will look right at home whether it's placed in your conference room or a tighter space at home. It even has a sturdy five-star base and hard casters that make it easy to wheel your chair between spaces.
It Might Not Be The Chair For You If:
You need a chair that's easy to assemble – While we're not saying you need a PHD in engineering or anything, the biggest disadvantage to the HON Convergence is that it's more tricky to assemble than other office chairs. However, I found this chair to be very easy to assemble. It took me all of 10 minutes. This tends to be a very subjective factor.
You need a big and tall chair – With a 275 lb weight capacity and generous dimensions, this is bigger than your average task chair but may still be too small for larger users.
Top Three Alternatives to the HON Convergence Chair
Reached this far and decided that the Convergence isn't right for you after all?
There are a few popular alternatives you may want to consider.
The Hon Ignition
No products found.
Available in 5 different models, the HON Ignition may be a great choice if you like the style, quality, and Made in the USA seal of approval that makes the HON brand famous but don't like the Convergence chair.
The Steelcase Leap
No products found.
The Steelcase Leap is widely regarded as one of the best ergonomic chairs in the world, making it a good alternative for anyone concerned about comfort during those long office sessions.
Herman Miller Setu
No products found.
You need a comfortable, stylish office chair but you're prepared to spend a little more to guarantee superior quality and a durability that's truly built to last. Sound familiar? If so, you'll definitely want to check out the luxurious Herman Miller Setu.
Frequently Asked Questions
Are the HON Convergence armrests padded?
They are not padded, but the rubber is soft enough. It's not a hard plastic material by any means. Plus, the middle is recessed a little bit to provide additional comfort.
What are the casters like?
The casters are smooth and quiet, even on hardwoods. However, the wheels are made from a hard nylon material, which works great on carpets and soft flooring, but some might find them to be too fast for harder surfaces. If this is a problem, you can always use replacement casters with soft PU wheels, or a chair mat or rug.
What's the warranty like?
As with all HON products, this one is backed by a lifetime warranty on the provision that you don't exceed the 275 lb weight capacity.
Does this come with 360-swivel?
Absolutely. You can rotate the chair right the way round for your convenience.
Overall Thoughts
Overall, it's fair to say that the HON Convergence represents good value for money as an affordable, mid-level task chair.
While the assembly woes may be off-putting for some, anyone looking for a quality chair that's purpose-built to keep them comfortable during those long eight-hour days will find a lot to like about this one.
The adjustable features, mesh back, and flexible lumbar support are all designed with well-being in mind, while the lifetime warranty speaks volumes about just how confident HON is in the sturdiness of their signature task chair.
What's more, the cool, contemporary design adds a certain aesthetic appeal that ensures this will make an attractive addition to your office, conference room, or wherever you decide to use it.