You have to admire designers who take the risky option, don't you? True it doesn't always pay off, but when it does you usually end up with something remarkable.
But is the Herman Miller Sayl a hit or a miss?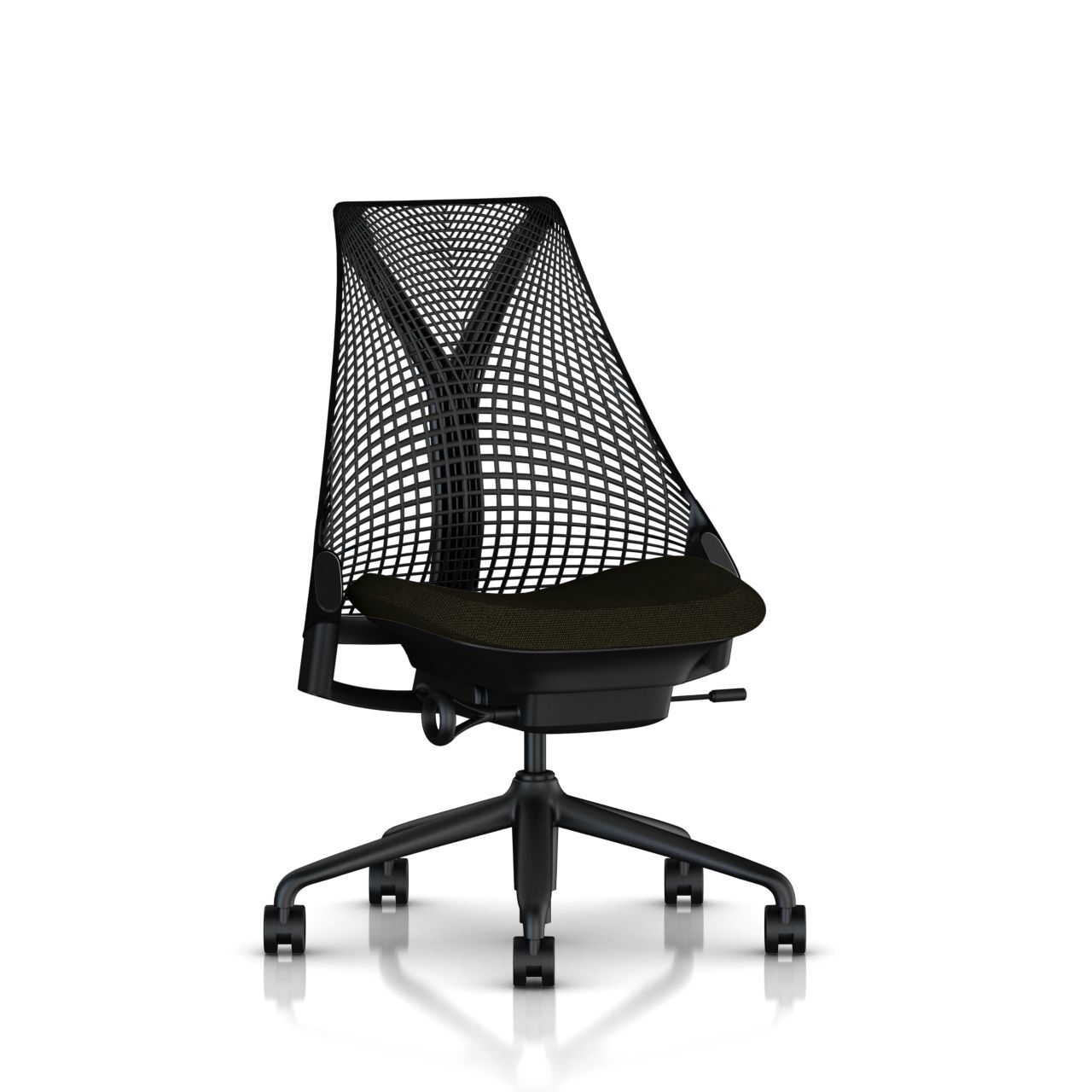 Choosing an office chair these days requires a lot of thought. If you're spending a lot of time in your home office you want something comfortable and stylish. But that is just the bare minimum, you have to also consider the assembly, adjustments, ergonomics, and more.
The Herman Miller Sayl is certainly striking from a design point of view. But does it offer anything else besides this unusual design? Looks and style aren't everything after all, especially when it comes to office chairs.
Like always we're putting the Herman Miller Sayl under the microscope to find out how it holds up. There is some tough competition out there right now so we'll be looking at the quality, comfort, durability, and more to see how good this chair really is.
So, if you are thinking of adding this office chair to your home office, first take a look at our findings in our Herman Miller Sayl review.
Herman Miller Sayl Review

Sayl Office Chair by Herman Miller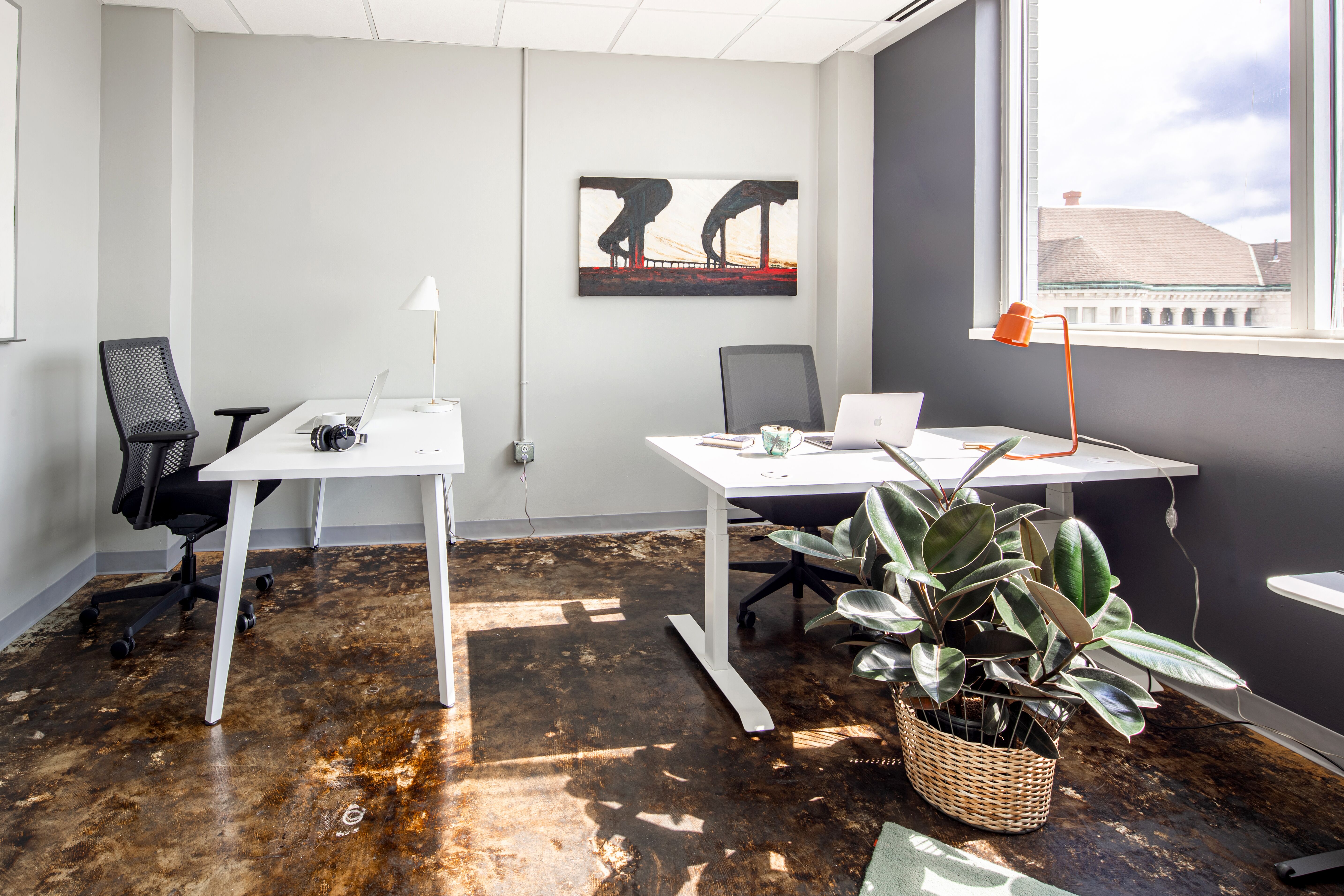 First Impressions
We promise we won't bang on about this endlessly, but there really is no denying this chair knocks it out of the park from a purely aesthetic point of view. The Herman Miller Sayl really does manage to distinguish itself from its competitors with its unique design.
This is certainly an impressive feat. The design, which was inspired by the Golden Gate Bridge, gives the chair its signature airy backrest. If you were to put just one of these chairs in a crowded office it would definitely stand out.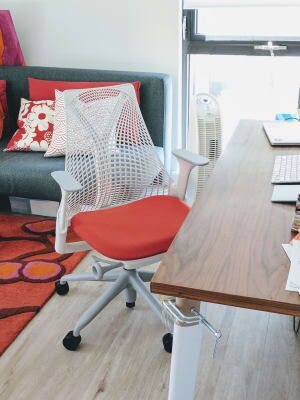 It's modern and maybe even a little futuristic in some respects. The backrest also has a notable slant to it. This makes the chair appear more comfortable and inviting. Black and red, are certainly the promoted color choice.
But there are plenty of options available. Including different colors for the backrest, frame, and of course, the upholstery.
These include white, grey, blue, and green. In general, most of the color options are quite dark though, apart from white.
Finally, while it's the striking backrest that will likely get most people's attention, the rest of the Herman Miller Sayl's construction looks equally impressive.
It's a good balance between sleek and chunky.
Now while we personally love the design. There is no denying that it won't be to everyone's liking. It might grow on you over time, but we have a feeling this is going to be a love it or hate it style for most people.
Assembly
It doesn't matter how stylish the design is, if you can't put the chair together, does it? Thankfully, the Herman Miller Sayl comes almost completely prebuilt. The only assembly required is setting the top of the base.
The instructions are clear and in the vast majority of cases, all the assembly can be done in under 5 minutes! There is only one step to the assembly process, so it definitely gets top marks from us.
Size and Specifications
Earlier we said the Herman Miller Sayl offered a fine balance between sleek and chunky. Often office chairs choose one of the other. While it's certainly good to see a chair with a more balanced-look, it can't be denied that this could also be a hindrance to some people.
The Herman Miller Sayl's size will still comfortably accommodate a wide range of people. But taller and larger individuals will likely find it uncomfortable. The backrest, while a design highlight, could be too small for some people and simply not offer enough support.
| | |
| --- | --- |
| Total Height | 33.75 – 40.75″ |
| Seat Height | 15.5 – 20" |
| Width | 24.5" |
| Depth | 16 – 18" |
Comfort
I think it's fair to say that we have been quite impressed with the Herman Miller Sayl so far. But comfort is always key. Now let's get the backrest out the way first. It's made from a rubberized mesh and was designed by Yves Béhar.
Herman Miller themselves describe it as a "new type of backrest". They even call it an "unframed 3D intelligent back", but is it comfortable? While it may take some getting used to, we're happy to report it is reasonably comfortable.
The mesh is strong but does have a certain softness to it. However, the backrest is on the short side which means taller people will likely find it uncomfortable after a few hours. The armrests are small, but comfortable and can be customized/ adjusted easily.
The seat isn't anything extraordinary, which is a little disappointing after seeing all the work that went into the design. The padding is quite thin, but overall it is still reasonably comfortable.
But we are left with the feeling that with a few extra-touches the seat could have made things even better. However, it could also be improved with a memory foam seat cushion.
Adjustability and Ergonomic Features
The Herman Miller Sayl is available in both a fixed and adjustable model. If you want maximum versatility we strongly recommend the adjustable model. Especially because this chair manages to offer easy adjustability and some impressive ergonomic features.
The backrest offers excellent air circulation and lumbar support. It can be moved up and down easily as well. The armrests can be adjusted in a number of ways including moving them up and down, forwards and backwards, and there is even the option to pivot them.
The chair can be tilted back as well and there are even limiters set at different angles. So, finding the perfect position will be much easier. Finally, the depth of the seat pan can also be adjusted along with the general up/ down movement you would expect with an office chair.
The Herman Miller Sayl really is much more versatile than you might first think. This is ideal for ensuring you are always comfortable during work, and it's nice to see plenty of options. However, be aware that even with all the adjustability on display some taller people may still find this chair uncomfortable after a while.
Build Quality and Durability
For our final area let's take a look at the build quality and overall durability of the Herman Miller Sayl. Herman Miller has gone hard with a more modern, eco-friendly approach. 90% of the chair is recyclable, and it's made in a 100% green-energy facility.
The chair overall feels quite strong and sturdy, especially the backrest which is again really the focal point of the chair. The frame is also quite sturdy, however some customers have reported issues with the padding.
Thankfully, this isn't in the seat but the armrests, as some customers have reported that they show signs of wear quite quickly. We also found that some of the adjustment levers could also feel a little flimsy. Nothing overly concerning but worth noting.
Frequently Asked Questions
Does the Herman Miller Sayl come with a warranty?
Overall the Herman Miller Sayl is quite impressive, when it comes to its durability and build quality. But warranty is always going to be appreciated. The Herman Miller Sayl comes with a 12-year warranty. Which is very good, although some competitors do offer lifetime warranties.
Is Herman Miller a good office chair brand?
Herman Miller is a very experienced brand. They have over 100 years of operational experience and are certainly pioneers when it comes to design. They have a great range of different chairs all with their own distinctive flair. Just take a look at their Embody Chair, to see another example of their striking design approach.
Now whether you like their unique design approach, is something that is going to be down to each individual's taste. However, we definitely think they are a good brand to consider when it comes to buying an office chair. Especially if you are a fan of more usual designs.
Could the Herman Miller Sayl be used as a gaming chair?
While there is no reason why it couldn't, there are going to be better/ more suitable options out there. Herman Miller themselves even have their own range of gaming chairs. Office chairs and gaming chairs and very different beasts after all.
If you want a chair that will be sure to keep you comfortable during long gaming sessions, then we don't really recommend choosing the Herman Miller Sayl. Instead look for a chair that is actually designed for gaming, like some of the KILLABEE Gaming Chairs available.
Verdict: Is the Herman Miller Sayl Worth It?
So, what do we have to say about the Herman Miller Sayl? Well like we said at the start we do admire risk-takers. Herman Miller is a brand well-known for its unique design approach. But a nice design is nothing without comfort and good build quality.
Thankfully, this office chair offers much more than just an eye-catching design. It's comfortable and versatile and can be adjusted in a wide range of different ways. With some great ergonomic features and plenty of color options, the Herman Miller Sayl looks like the whole package.
However, there are some potential issues. The chair, even with its useful adjustments, isn't going to be the best option for taller people. It's also not a budget option by any means. Especially when you factor in that the adjustable model is more expensive.
But all things considered, we definitely do give the Herman Miller Sayl a positive review. It's very quick and easy to assemble, comes with some amazing features, and that striking design is undeniably cool.