Is there really such a thing as the ultimate office chair? If so, the Embody Chair by Herman Miller comes pretty close.
While most chairs are simply manufactured to be places to sit, the Herman Miller company designed the Embody Chair with a more specific purpose in mind.
Form fitting backrest design and breathable materials
Excellent long-term comfort and support
May require an adjustment period to get used to built-in lumbar support
Durable and well-built, but expensive
Jeff Weber, one of the Embody designers, said, "The research and design of the Embody Chair is predicated on supporting people who sit for long hours."
So whether you are a hard-working employee who spends your day at a computer desk, or you are a dedicated gamer who plays epic sessions, this chair was specifically created with you in mind.
Read on for the full details, specifications, pros and cons of this chair.
What is the Embody Chair by Herman Miller?

Over 20 medical doctors and Ph.D. holders in ergonomics, physical therapy, vision, and biomechanics were consulted during the design and development of the Embody chair.
As a result, Herman Miller reset a higher bar for support for healthy movement, natural alignment, and pressure distribution.
The performance of the Embody surpasses that of other so-called ergonomic chairs, and this is due to the focus on functionality, support, and comfort.
In fact, that's basically the tagline of the Embody — "function you can see and feel."
To that end, let's take a look at what we can see and feel about the Embody Chair,
Who is Herman Miller?
For over 100 years, the company known as Herman Miller has produced the highest quality furniture. Since 1942, the company has specialized in producing innovative office furniture.
How expert are they? In 1964, they invented the office cubicle, which changed the workplace forever. Other major successes in the Herman Miller line include the Equa Chair and the Aeron Chair, also known as "Dot-Com Throne." The Aeron is one of the best-selling chairs in American history.
In between those landmarks, Herman Miller developed the Ergon Chair in 1976, the first chair specifically designed to improve the health and comfort of the human body. That's right, Herman Miller invented the ergonomic chair.
Herman Miller is also known as one of the leading producers of ecologically sound and sustainable office furniture.
For example, their current goals include zero air emissions, hazardous water discharge, waste generation, or landfill disposal. Herman Miller is committed to using 100% green/renewable electric energy.
The company even uses a special computer database to track every chemical used in its products to eliminate all harmful chemicals from the manufacturing process.
The Embody Design: Art Imitates Life
The Embody was purposefully designed to mimic the human back, so it has a visually-stunning central spine for support and even flexible ribs to promote healthy, supported movements.
The backrest of the Embody can be adjusted to line up with your spine's natural curve, thereby helping you achieve the optimal posture.
Rather than using the same foam padding found on other chairs' backrests, the Embody utilizes a suspended rubber canvas supported by the "skeletal" structure. As you move, twist, and bend, it conforms to your movement and continues to support your back muscles.
Turning the BackFit Dial decreases or increases the curve near the spine's thoracic part, giving you less or more support as needed. This also changes the support in the lumbar region, although to a lesser degree.
Instead of a traditional adjustable lumbar support or pillow, the Embody uses a non-adjustable lumbar curve. Although it does provide good lower back support, the lumbar curve can seem uncomfortable at first and may take some getting used to.
On the positive side, the lumbar curve probably only seems uncomfortable because it encourages users to sit with correct posture. This could be why any initial discomfort goes away after a few days, and the chair starts to feel even better.
Although the backrest height is not adjustable, the 23.5-inch high-back design comfortably accommodates 95% of adults.
Related: See how the Embody stacks up against the Steelcase Gesture, another one of our favorite premium level ergo chairs. 
Form and Function
Reacts to Your Smallest Movement
Another innovation found in the Embody Chair is the trademarked Pixelated Support System found under the seat.
Instead of the typical foam cushion, the Embody employs a suspended coil spring system that responds to your body's micro-movements, distributes your weight evenly, and reduces pressure and discomfort.
The seat itself comprises four distinct support layers that work together to keep you as cool and comfortable as possible.
Again, because the Pixelated Support System is an innovation, it may take some getting used to. While the vast majority of reviews talk about how comfortable the seat is, some users say they can feel every individual "pixel."
The contoured seat pan, already generous at 21.25 inches wide and 15 inches deep, is adjustable for another three inches of depth for larger people or users with longer legs.
The seat also works in tandem with the backrest when reclining via the synchro-tilt mechanism. The feature changes the seat pan's angle when the backrest is in the reclining position, keeping your body posture aligned and supported.
An Impressive List of Adjustability Features
Because the Embody Chair is the result of decades of research, it should come as no surprise that it includes a long list of adjustable ergonomic features.
And while some chairs on the market boast of having even more adjustability points, some of those seem forced, with no practical benefit.
BackFit — Lets you position the backrest to align with the natural curve of your spine
Tilt Tension — Lets you adjust the amount of tension required to comfortably recline 124 degrees while still feeling supported and balanced
Tilt Limiter — Limits the recline range to 92, 100, or 124 degrees
Seat Height — Ranges from 16 inches to 20.5 inches
Seat Depth — Adjustable from 15 inches to 18 inches
Arm Height — Movable from 4 inches to 8.75 inches
Arm Width — Adjustable distance from 11.5 inches to 21 inches
With non-ergonomic chairs, our bodies adjust to the chair, even if it makes us uncomfortable, causes lingering aches and pains, or even if it is harmful to our overall health.
Ergonomic chairs, on the other hand, adjust to our bodies, provide support to our bones and muscles, and promote healthy posture.
With that in mind, if you are new to a fully-ergonomic chair, it can take some getting used to because you have never felt this way in a chair before.
This is what sitting is supposed to feel like.
The adjustment period, no pun intended, can take weeks.
In Summary: Herman Miller Embody Chair Pros and Cons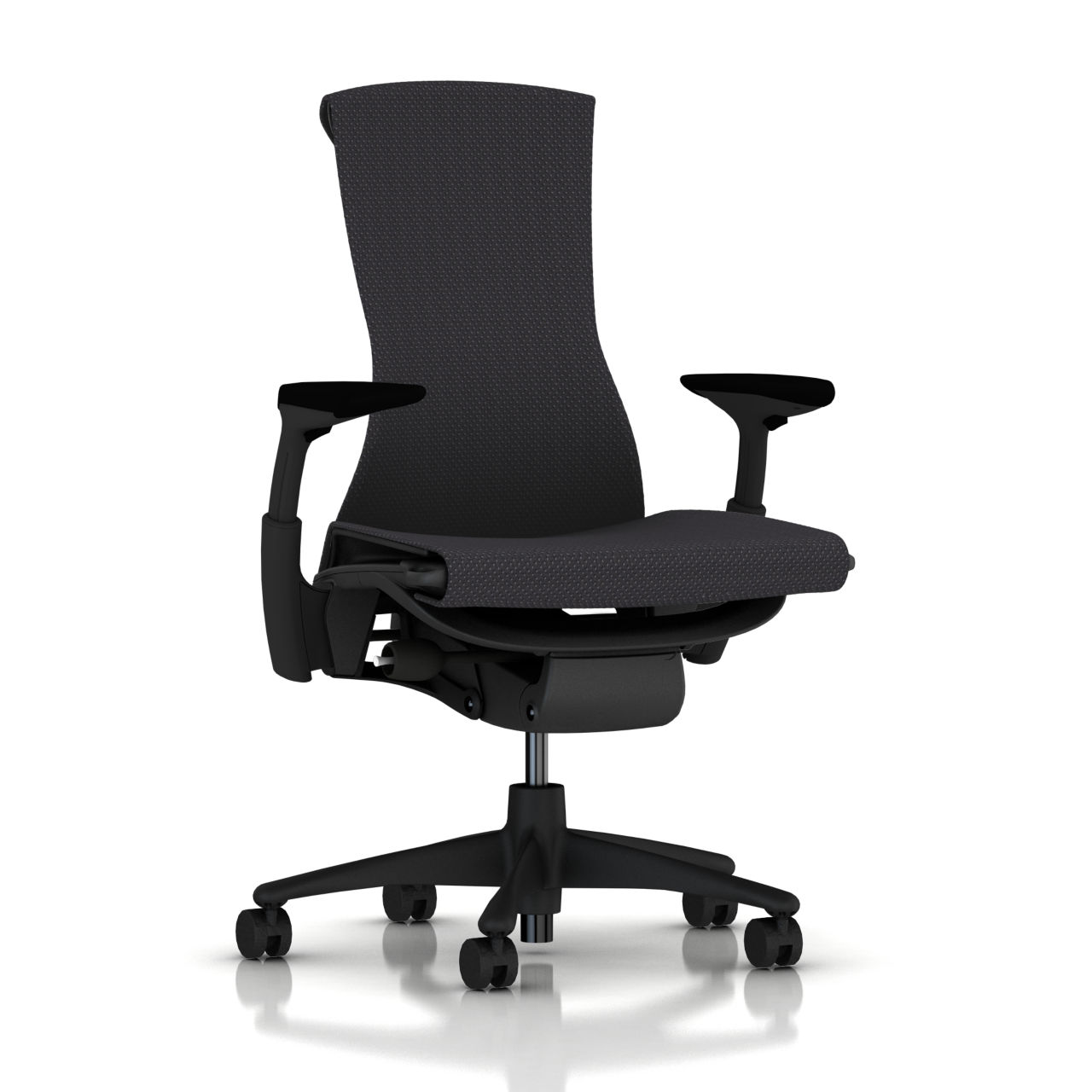 PROS
Herman Mills is an established leader and innovator in the office furniture industry
Made in America
Manufactured at a 100% green-energy facility
PVC-free
Made from 42% recycled materials
95% recyclable
Premium construction quality
Well-researched and thought-out ergonomic design
300-pound maximum weight capacity
Suitable for people between 5'4″ and 6'1″
Comes fully assembled
Ten color choices
Visually striking
Excellent back support
Very comfortable once properly adjusted
Trademarked Pixelated Support System
12-year Warranty, no parts excluded, to include necessary shipping at no charge
76% of customers give the Embody Chair a 5-Star rating
CONS
Very expensive (Worth it, but still expensive)
No adjustable lumbar support
Armrests lack forward-and-back adjustability
Pixelated support makes some users uncomfortable
But What are Customers Saying about the Embody Chair?
We can give you our take on this chair, but it's also helpful to hear what other customers are saying. Here's a few helpful quotes from actual customers to give you a better picture.
Positives
"Get the Embody if you want the most comfortable chair for the money, and ESPECIALLY if you spend all day sitting."
"…it has had a remarkable and profound effect on my body just after a week of usage. It even resolved two issues I didn't realize were related to my poor posture."
"Instant "fall in love," and "why the Hell didn't I buy one of these two years ago," feelings hit me."
"For the first time in my entire life, I am actually standing up straight, intuitively. It's all due to the chair — it forces good posture and sitting, and it has actually helped improve my natural posture."
Negatives
"The lack of padding on the seating really started bothering me, especially my tailbone area."
"It takes a while for your back to get accustomed to it. Weeks for me."
The Bottom Line
We noticed that even customers who gave the Embody less-than-stellar ratings all said that it is the most comfortable chair they have ever sat in. That says a lot.
On its own, maybe "comfort" is not enough to justify the price tag.
But when we also read reviews from other customers who spent the time to read the instructions and watch the videos and make the adjustments, we were struck by how many of them reported something more than just… comfort.
These customers were gushing about tangible benefits that extended beyond the time they spent sitting in their chairs. They mention noticeably-better posture, standing up straight, and an end to nagging aches and pains developed from years of sitting wrong.
In our own experience, the Embody is best for when you're working long hours at the desk. After a while, the back almost molds to your body so you don't even notice it.
There is an adjustment period, as we mentioned, but the payoff is worth it when you realize you are perfectly comfortable and ache-free after a long workday.
And THAT is something worth paying a little extra for.
Where can you find the Embody?
The Embody is a available at numerous online retailers, including: