Back pain can sneak up on you, especially when sitting all day in an office chair becomes an unquestionable habit. If you're looking for a cushion for tailbone pain relief, we've got your back (literally). Gel seat cushions are a great option for those who work from home or those who work in an office. We combed through the Internet to round up our top recommendations for the best tailbone relief cushion.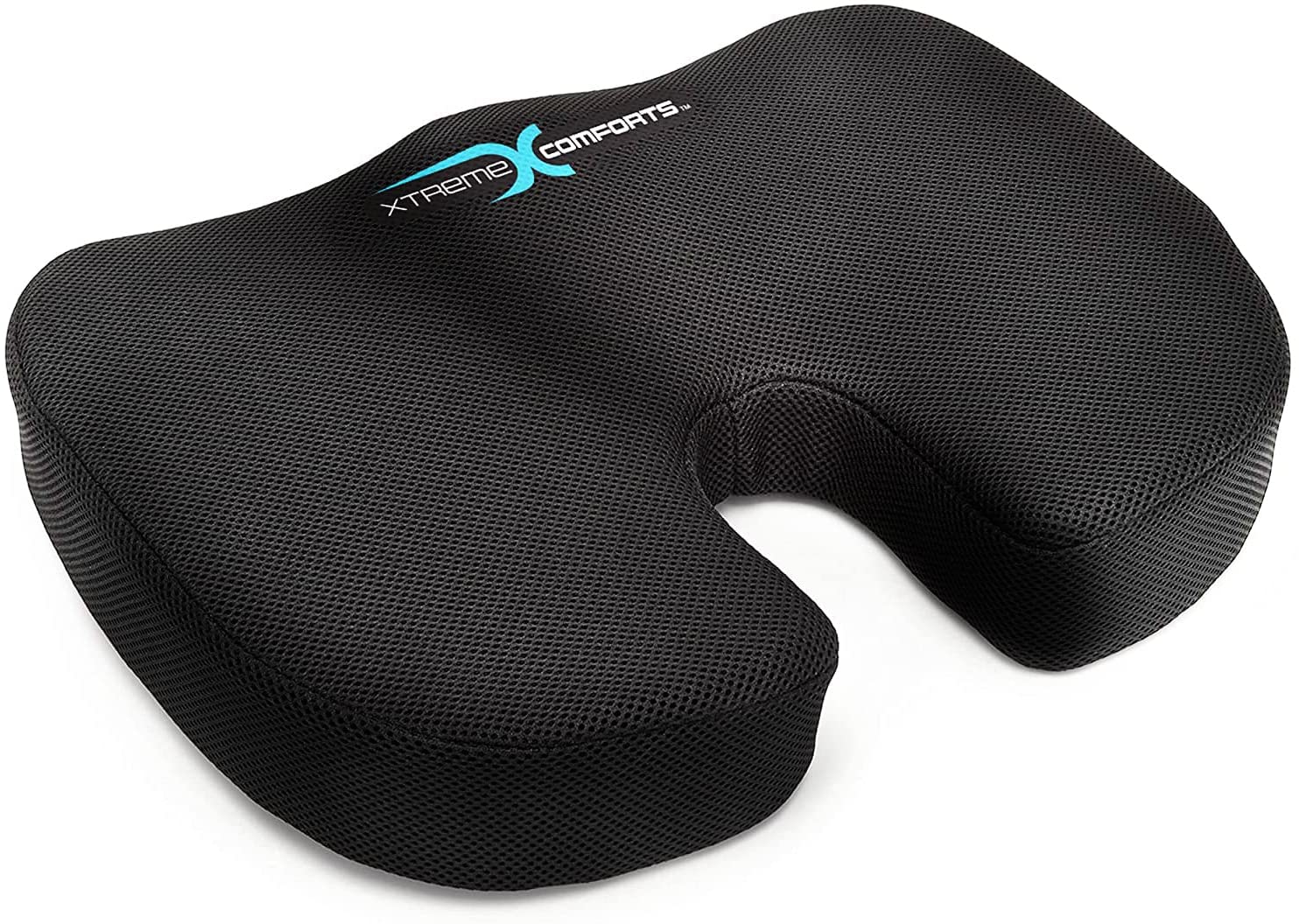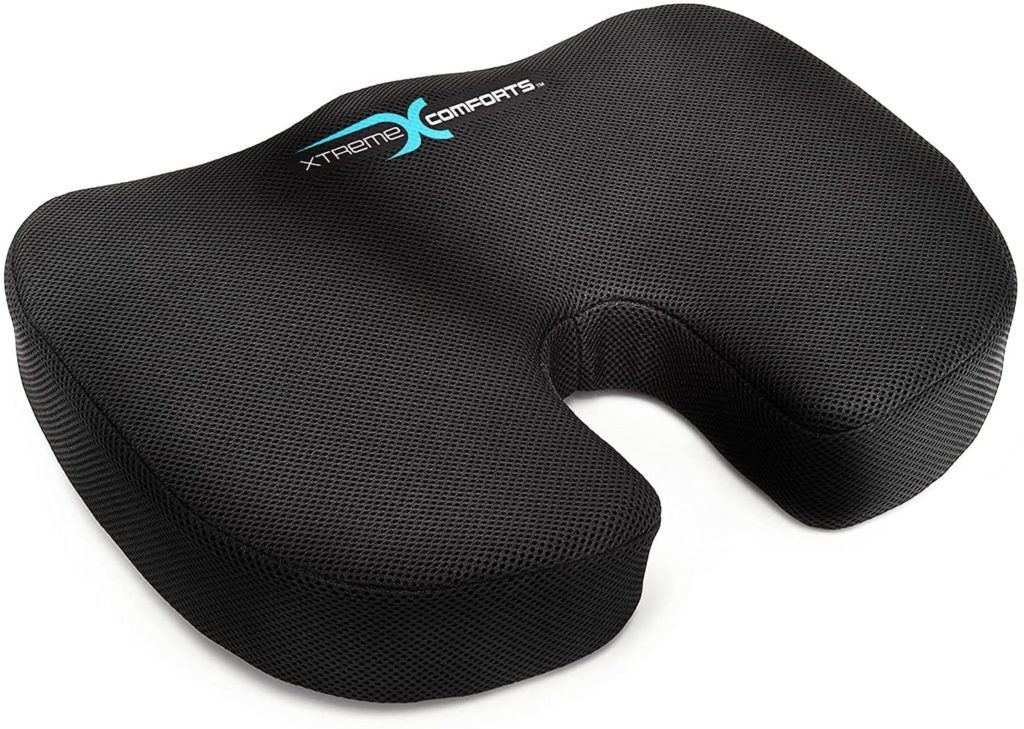 The Most Affordable Chair Upgrade
Make any chair instantly more comfortable with this affordable seat cushion from Xtreme Comforts. This chair cushion doesn't just promote lumbar support & relief, tailbone, and posterior discomfort – it also promotes a stronger seated posture.
The Best Gel Office Chair Cushions
The best gel seat cushion for an office chair is one that is firm, yet giving, supportive, yet soft. Gel cushions are a great option for sitting for long periods of time, and typically come in two forms: medical gel and memory foam. We've included both options in our top four list in order to provide a variety of options.
This purple gel seat cushion by the brand Selectsoma has a lot of useful features that make it an obvious choice for our top picks list. The insert inside this cushion is medical gel, which has a texture similar to silicone. This cushion is particularly thin and lightweight, making it a great option for travel.
If you travel for work, consider rolling this gel seat up and taking it to the office, or simply use it to cushion your seat while on a flight. A top feature of this product is the flexibility and portability of it, and it even comes with a washable non-slip cover so that sliding around in your seat is a problem of the past.
Buy on Amazon
This memory foam cushion by Comfilife is next on our list for its contoured design. This ergonomic office chair cushion molds to the body's natural curves, protecting and supporting the tailbone and lower back region. Cushions that are shaped like this are great tools for helping correct poor posture, a common curse among office workers.
Here's a tip for learning how to use this cushion to improve your posture: Try sitting up straight, allowing the cushion to support your tailbone. Plant your feet flat on the ground and don't allow any part of your back to touch the back of your seat. See how long you can go with this posture, and over time this sitting position will be easier to hold.
Buy on Amazon
This gel cushion by OMCOZY is thick, comfy and durable. It comes in four different colors: black, blue, green and purple. It has a similar honeycomb design as the Selectsoma cushion, and comes with a removable cover for easy cleaning.
The honeycomb design allows for better airflow, meaning the buildup of heat won't be a concern and you are less likely to be sweating at your desk and overheating from sitting in one warm spot for too long. This is a great cushion for the summertime, especially if your spot in the office gets a lot of warmth and sunlight.
Buy on Amazon
Lastly, we chose this memory foam gel seat cushion by Lifoyo for its unique shape and materials it is constructed of. Similar in shape to the Comfilife memory foam cushion, it is designed to support the tailbone and minimize pressure on the lower back.
Buy on Amazon
What makes this particular cushion stand out from the rest in this list is the layer of cooling gel that rests just beneath the surface. This seat can provide comfort for up to 10 hours – that's more than an entire work day. This would be a great option for people who tend to overheat easily, and this cushion is considered orthopedic.
Alternative Methods to Prevent Office Chair Back Pain
If you suffer from office chair back pain and have already tried to deal with the pain through preventive measures on your own, it may be time to consult your general practitioner. A doctor may be able to help relieve discomfort further. It's important to always consult a medical professional where your health is concerned. Some other methods to prevent or reduce back pain during the work day include:
Using a standing desk.
Choosing a more supportive desk chair (lumbar support).
Ensuring your chair is at the right height for your desk.
Ensuring your computer monitor is eye-level to reduce neck and back strain.
Wearing a corset (temporarily) for posture correction and posture training.
Bottom Line
Whether you need a seat cushion for work, travel, or everyday miscellaneous use, picking the right one based on your needs can make a world of difference. While working with your doctor if back pain persists, it's always a good idea to inform them of what has worked for you and what hasn't.
Lastly, if you are an office worker and struggle with posture problems due to your current seat or desk setup, it might be worth taking up with your boss to see if accommodations can be made. After all, your health and comfort should be a top priority. When it comes to workplace productivity, you are at your best when you feel your best.