No matter what kind of work you do, sitting in an office chair for any length of time can begin to feel a bit constrictive. Chairs with fixed or basic adjustable arms don't always offer the best comfort or flexibility. Fortunately, you can find an office chair with flip-up arms to suit your desk and your comfort preferences.
A chair with flip-up arms can help provide you with additional comfort if and when you want it. The customization level here is pretty unparalleled.
Why You Should Get an Office Chair With Flip-Up Arms
When you start thinking about how much time you spend in your office chair, you realize that it's definitely worth it to get all the features you can. So are flip-up arms a worthwhile feature? In most cases, the answer is yes, so let's explore why.
Versatility
Armless chairs easily fit under desks and are easier to get in and out of (unless you need to push off the arms for assistance). They're also considerably less expensive than other options. Office chairs with arms are more ergonomic, giving you a place to rest your arms, or lean on your elbows when typing. They add a touch of prestige, as well.
That aid, chairs with flip-up arms give you the best of both worlds. When you need an arm rest, they're right at your side. When those arms get in the way, like storing your chair in the evening, they get out of the way and save space. The flip-up design means never needing to compromise because you have all the options available to you.
Customization
Like we said before, you're going to spend a lot of time in your chair, so you better get the most that you can out of it. Flip-up arms are great, but chairs should also have convenient mobility, quality material that will last for years, lower back support and other ergonomic features. The sum total of all those features will decide if a chair is worth it. Fortunately, that still leaves plenty of options to choose from.
Sure, there are some inexpensive, low-quality office chairs with flip-up arms, but there are plenty of luxurious ones, too.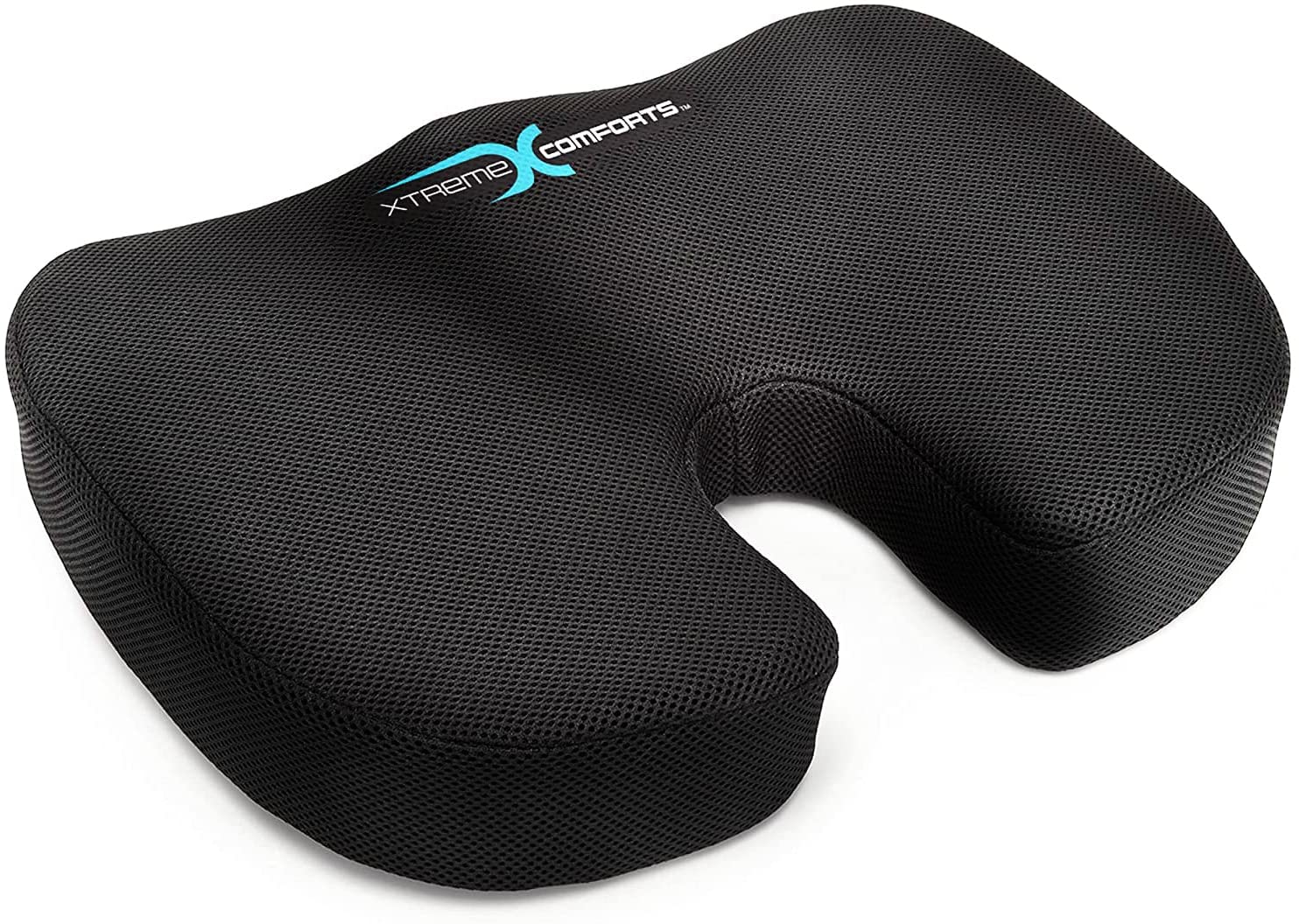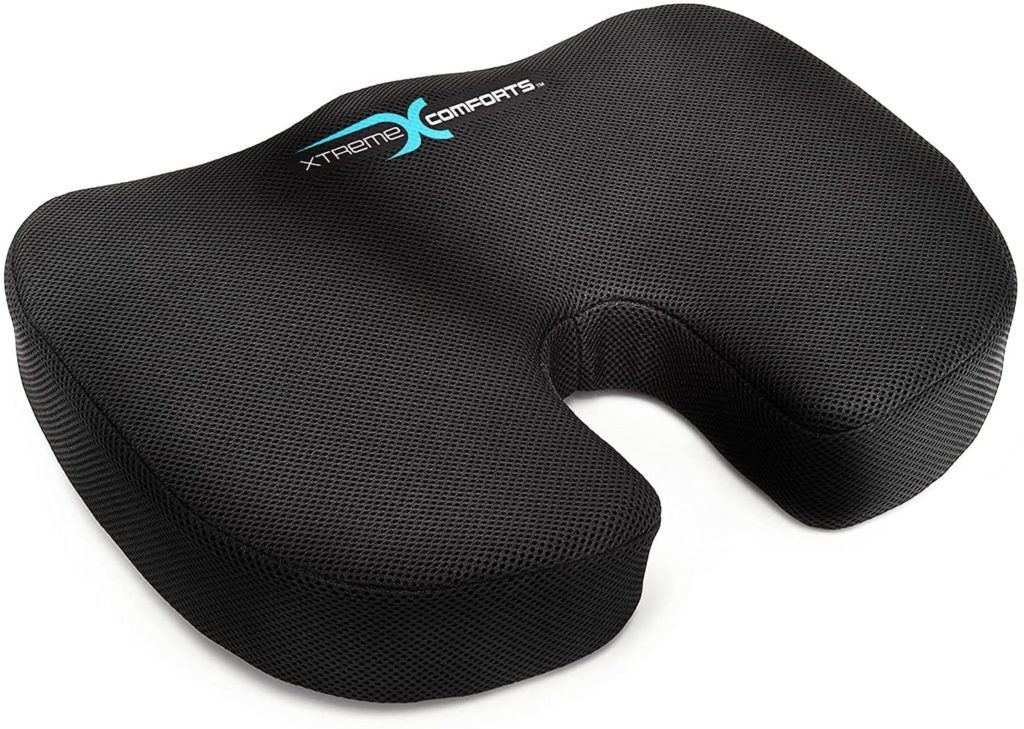 The Most Affordable Chair Upgrade
Make any chair instantly more comfortable with this affordable seat cushion from Xtreme Comforts. This chair cushion doesn't just promote lumbar support & relief, tailbone, and posterior discomfort – it also promotes a stronger seated posture.
7 Best Office Chairs With Flip-Up Arms
With that in mind, we've rounded up the best office chairs with flip-up arms for you here.
This chair is a fantastic pick because it looks professional but also remains comfortable at all times. It's great for private offices, multi-person offices, and even home offices. It also comes with all tools and accessories necessary for easy installation in as little as 15 minutes time.
The Funria chair is also a good pick because it's moderately priced but high in value. You can sit and work for long periods of time without worrying about sore back, arms, or legs. The waterfall-edged, padded, high-resilience foam seat with built-in lumbar support relieves stress on legs and improves circulation, meaning you stay comfortable even during long workdays. The chair is also lighter weight, so it's easier to move and roll around. It also features a wider-than-average seat and a 360-degree swivel.
If you're working from home and looking for comfort on those long days spent at your desk, this may just be the best chair for you. It's ergonomically designed with a breathable, mesh s-shaped back that curves to your spine. The armrests flip up so you can go armless when you want or save space when you push it under a desk.
That said, the seat depth isn't adjustable, which can be a pain for some, and the mesh is essentially a pet hair magnet. This chair would be better for those who don't have animals that shed.
Here are some other important features to keep in mind:
Overall Height: 39"-43"
Seat Thickness: 3"
Seat Size: 20.9"W x 19.3"D
Weight: 24.7 pounds
Weight Limit: 300 pounds
For those on the hunt for a new chair but not wanting to break the bank, the Hbada chair might be your perfect match. This chair has a low price tag but doesn't skimp on value or comfort. It's also compact and easy to move.
We like the Hbada because while the armrests offer support, they don't get in your way while flipped up. The backrest fits the curve of your spine, and it's easy to adjust to your comfort level. The sleek design suits all styles, and easy assembly is a perk everyone can enjoy.
Non-slip, shock-absorbing, wear-resistant nylon wheels and a 360-degree swivel and solid base also make this lightweight chair a durable and functional part of your office. You can also lock the recline for a sturdier base while working.
The ergonomic mesh backrest fits the natural curve of your lower back, potentially helping to ease back pain. High-density mesh is breathable and keeps your back cool while being supportive, too.
Beyond your spine, the thicker flat seat features a high-density foam cushion that supports your posterior during long days. Its 120-degree tilt tension makes this chair adjustable for all statures, and the lightweight form means it's easy to maneuver where and how you need it.
90 degree adjustable, flip-up armrests let you save space in the conference room, living room, study room, or office. Armrests don't get in your way when you type or lean back, either.
This chair has a lot of great qualities, but nothing is ever perfect. This Hbada chair seat isn't as cushioned as some other chairs and also features a lower weight limit.
In addition, here are additional features to keep in mind:
Overall Height: 35.8"-39.4"
Seat Thickness: 3.15"
Seat Width: 19.7"
Weight: 25.6 pounds
Weight Limit: 250 pounds
The Steelcase Gesture office chair is a fantastic pick because it's been specially designed to flex and mimic natural movements, along with a seat that's formulated for all-day sitting. It even ships fully constructed and comes with a 12-year warranty!
Other great reasons this is a good pick include the fact that the arms can rotate 360 degrees to give you support and a full range of motion. Plus, the backrest is contoured to fit the natural s-shape of your spine, and the flexible edge of the seat cushion gives your legs a break so you don't lose circulation.
The chair moves easily, even without a computer mat, and its sturdy design gives you all-day support and comfort. The seat cushion even has built-in air pockets that reduce pressure and conform to your body. Better yet, tthe adjustable seat depth and pneumatic seat height adjustment fit your comfort level.
This office chair moves with you, no matter what position you sit, unlike other office chairs. Its design is as advanced as the new devices we use to work. The 360-degree rotating armrests also move with you, which is great for those who need that kind of mobility. The armrests stay parallel to whatever surface you're working on, as well, which is incredibly convenient.
Especially compared to other chairs, the Steelcase Gesture tends to be on the pricier side. It also tends to squeak sometimes when you move it, but if you can handle that sort of auditory issue, then that's okay.
Some other features to consider:
Overall Height: 39.25"-44.25"
Seat Width: 20"
Seat Depth: 15.75"-18.5"
Weight: 61 pounds
Weight Limit: 400 pounds
This high back office chair from Gabrylly can be adjusted for your back, arms and head, making it an excellent contender against other chairs on this list. It's got a stylish, comfortable design and will keep you comfortable, even when you've been sitting for long periods of time. In fact, it ranks as one of the best office chairs under $300.
The Gabrylly chair is also great because the flip-up armrests give you more walking and office space. You don't have to spend hours on the assembly before you reap the benefits, though; it's easy to assemble in as little as 15-20 minutes, comes with instructions and all the tools you need.
This chair is best for those who are looking to sit for long periods of time and still be comfortable. This high back chair is best for people who want to adjust their office chair for their head, arms, and hips, not just their back. It's also an excellent choice for taller folks since it adjusts for those up to 6'3".
It's also great for anyone who runs toasty; the mesh offers breathability that feels cool, even after a long day. A one-year warranty also helps deliver peace of mind, especially if you're rough on office equipment. Of course, the high-quality nylon is strong and durable, which suggests longevity no matter how much use it gets.
You may also like the Gabrylly if you like to move around a lot. You can sit up straight or tilt back and recline anywhere from 90 to 120 degrees, and the five-pointed base keeps you feeling secure. PU mute wheels offer quiet, smooth-rolling, especially on wooden floors, another perk if you're in a home office or a corporate location where sound tends to echo.
With the push of a button, the folding armrests can be lowered or raised to wherever you like. You can easily adjust the backrest, seat height, and headrest, too. The armrests also fold up to easily fit under desks and tables, which is convenient for those tight on space.
Though this chair is a great option, it's got some imperfections as well. Unfortunately, this chair may not accommodate all heights. Additionally, it's heavier than other chairs, which can make it more difficult to move.
Here are some more attributes you'll want to weigh:
Overall Height: 49.6"
Seat Width: 20"
Weight: 41 pounds
Weight Limit: 280 pounds
The Statesville chair is a great pick for those who normally can't find chairs that fit them. This chair has a high back and a non-slip cushion that keeps you comfortable while alleviating pressure on your legs and back.
It's also a fantastic pick because you don't have to worry about readjusting every time you sit down with the locking mechanism for the backrest. It's got an adjustable waist for people of different heights, too, and the flip-up armrests are super-padded. A similarly padded headrest is a unique feature, but all-around high-density cushioning supports your legs, back, and head, too.
The Statesville chair is easy to set up and comes with all tools and hardware you need. It's an affordable option overall but also comes with a 12-month replacement warranty that adds to its value.
This chair is great for anyone who has to sit for long periods of time. It's made for long-term sitting. It's designed to keep you comfy while literally taking some of the pressure off of your body. It's also good for those who are bigger, with the larger seat size and adjustable backrest.
The flip-up armrests stay out of your way when you need a break, which is great for those who don't want armrests all the time. Additionally, these armrests are padded and flip down to keep you comfortable and supported.
This chair is great, but buyers should be wary of a couple of things. It's made out of plastic, not nylon, which could lead to some durability issues, along with how thin the leather can be.
Here are some additional specs to keep in mind:
Overall Height: 47.4"
Seat Width: 21"
Weight: 48.5 pounds
Weight Limit: 400 pounds
The Herman Miller Aeron office chair is a wonderful chair that comes in three different sizes: small, medium, and large. It's got an ergonomic design that's comfortable and high-quality. This chair is definitely built to last.
This chair is great for other reasons too, of course. For example, it's an iconic chair used by artists in recording studios and even by pro-athletes in locker rooms. It comes assembled and with a 12-year warranty. For anyone with an environmentally conscious shopping preference, the fact that it's manufactured at a 100% green facility in Michigan is worth mentioning.
If you're looking to make a statement in your office, then this is the chair for you. This chair is also great for those who are looking to customize their ergonomically designed office chair.
Its inclusive human-centered design centers on delivering comfort, and eight varying tension zones offer sophisticated support. PostureFit SL Technology keeps your shoulders back with your pelvis tilted slightly forward and your chest open, ideal positioning for long hours at the office.
Adjustable pads stabilize the base of your spine while providing you with lumbar support, and breathability is a priority as well. You can also customize the color, size, type of tilt, back support type, armrests, armrest pads, and wheels. Armrests are fully adjustable for angle, height, and depth, which makes them some of the most advanced armrests on this list.
Compared to other chairs on this list, the Aeron Chair is a bit pricier. Even though it's got varying sizes, there's a good possibility that even the "large" size may not fit those who are taller or bigger.
Here are additional specifications regarding the Aeron chair:
Overall Height: 38.5"-43"
Seat Width: 25.75"-28.25"
Weight: 40-43 pounds
Weight Limit: 300 pounds
This chair is a wonderful pick because it's designed with practical functions so its users have ultimate convenience and comfort. It's also ergonomically designed, so you don't have to worry about fatigue in your back, arms, or neck.
The B2CB is also great because it's easy to adjust with pneumatic controls. The soft leather exterior is easy to clean and won't scratch easily, and there's a thick-padded headrest you can lean back on. Easy assembly is another highlight that makes the B2CB a solid option.
The base is 'explosion-proof' and made of stainless steel, and that combined with high quality, scratch-resistant PU leather that's also easy to clean means this nearly-indestructible chair is a safe investment.
This office chair is the best for those who spend long periods of time sitting at their desk. This chair encourages good posture and movement while relieving pain usually experienced in the shoulders, back, and neck.
With a headrest designed to relieve neck fatigue and shape to the arc of the human head, this advanced chair has your comfort in mind. A bilateral arc backrest fits your waist curvature to protect the lumbar area and relieve spine stress, and the 5.9-inch padded seat cushion is an indulgent highlight.
Pneumatic controls on either side let you adjust the seat to your size and height, and the heavy-duty nylon base affords you a 360-degree swivel. Smooth-rolling nylon wheels give you mobility and stability, making this an excellent pick for larger offices. The ability to lower or raise the position of the seat using controls on either side is another functional flex the B2CB offers, making it easier than ever to stay comfortable while working.
These armrests are designed with your comfort and convenience in mind, flipping up and down with ease. It also allows you to save space or even protect your arms from the armrests.
This chair is made of leather, not mesh, which means it's not as breathable. This chair isn't great for taller people, either, because the backrest isn't very tall.
Here are other features to keep in mind:
Overall Height: 42.1"-45.3"
Seat Width: 20.5"
Weight: 47.4 pounds
Weight Limit: 350 pounds
Frequently Asked Questions
Why should I get an office chair with flip-up arms?
About twelve percent of your body mass is in your arms. So if you're sitting at a desk in a chair without armrests, you're holding up twelve percent of your body on your own. Imagine doing that for eight hours a day.
Research shows that chairs with armrests can reduce the stress put on your spine from holding your arms up by about ten percent. Research also shows that using armrests to stand up from a chair reduces fifty percent of the pressure put on your hips.
How are office chairs with flip-up arms designed?
Desk chairs with flip-up armrests are versatile and give you the option to choose. Maybe you need the support and want to rest your arms, or maybe you're in the middle of working and need the extra space.
If that's the case, you can just flip up the armrests without having to move chairs or look for a different space to work. Flip-up armrests are also great when you need to save space or want to push your chair under your desk without having it bump into the tabletop.
Generally speaking, chairs with flip-up armrests are more adjustable than chairs with normal armrests or without armrests at all.
What should you look for in an office chair?
Sometimes armrests need to be able to do more than just flip up. Some chairs feature armrests that swivel, like some of the chairs above. That added flexibility while you work means you can adjust to more than just one position while sitting at your desk.
Depending on the type of material your desk chair armrests are made of, they can provide extra comfort and support to you. Some armrests are padded or covered in a mesh material to keep you cool. Look for what is most comfortable to you and makes you feel the best when you're sitting for long periods of time.
Bottom Line
There are so many ergonomically designed office chairs out there, and we know it can be overwhelming. This curated list of the seven best office chairs can help you figure out the best option for you. You'll want to consider an office chair with flip-up arms if you're looking for comfort and support at your workspace.