As the gaming industry continues to boom, more and more accessories that you never knew you needed are bubbling up to the surface. And if you need a comfortable, supportive gaming chair, then you absolutely cannot go wrong with an Ewin gaming chair.
EwinRacing, the company that manufactures Ewin gaming chairs, was first founded in 2016 after many years of being a leading designer of OEM office chairs. They decided to turn their designing prowess and ergonomic know-how to the burgeoning world of gaming chairs.
Combined with their bespoke EwinRacing technology, all Ewin gaming chairs featuring a heavy metal frame, memory foam cushion, and high-quality leather upholstery.
The Ewin gaming chair is both ergonomic and reasonably priced, making it a great addition to your gaming setup.
Let's take a closer look.
Ewin Gaming Chair Review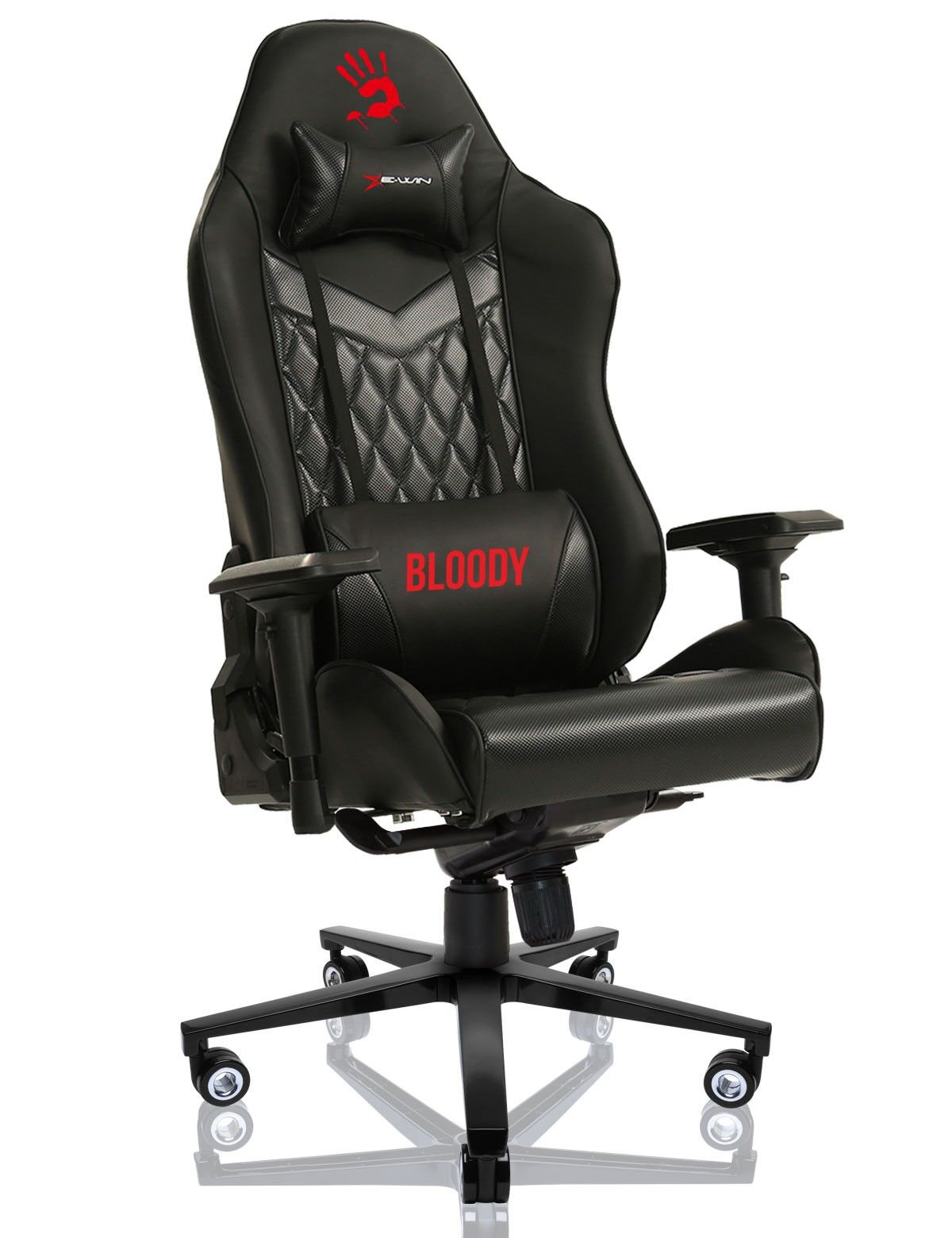 Different Models
EwinRacing offers up 5 different models of Ewin gaming chair, each coming with additional add-ons and alterations. EwinRacing pride themselves in making their chairs as bespoke and customized as possible, meaning that you can get just about the perfect chair suited for all your needs.
The different types of Ewin gaming chair you can get are:
The Ewin Knight
The Ewin Calling
The Ewin Champion
The Ewin Hero
The Ewin Flash
All Ewin gaming chairs come in a base color of black, but you can customize each one with different colors, making your chair a tangible expression of who you are, and turning it into a real statement piece.
Having a colored gaming chair is a real statement, and if you think that Ewin gaming chair colors are a little boring, then take a look at our picks of the best blue gaming chair picks. If that's not to your liking, then we've also found the best red and black gaming chairs and can help you find the best pink gaming chairs too!
First Impressions
Let's just put it this way – you'll know an Ewin gaming chair when you see one! While many gaming chairs on the market today can look similar, the Ewin gaming chair really stands out because it looks like a genuine racing chair, straight from a spaceship. They're not called EwinRacing for nothing, after all.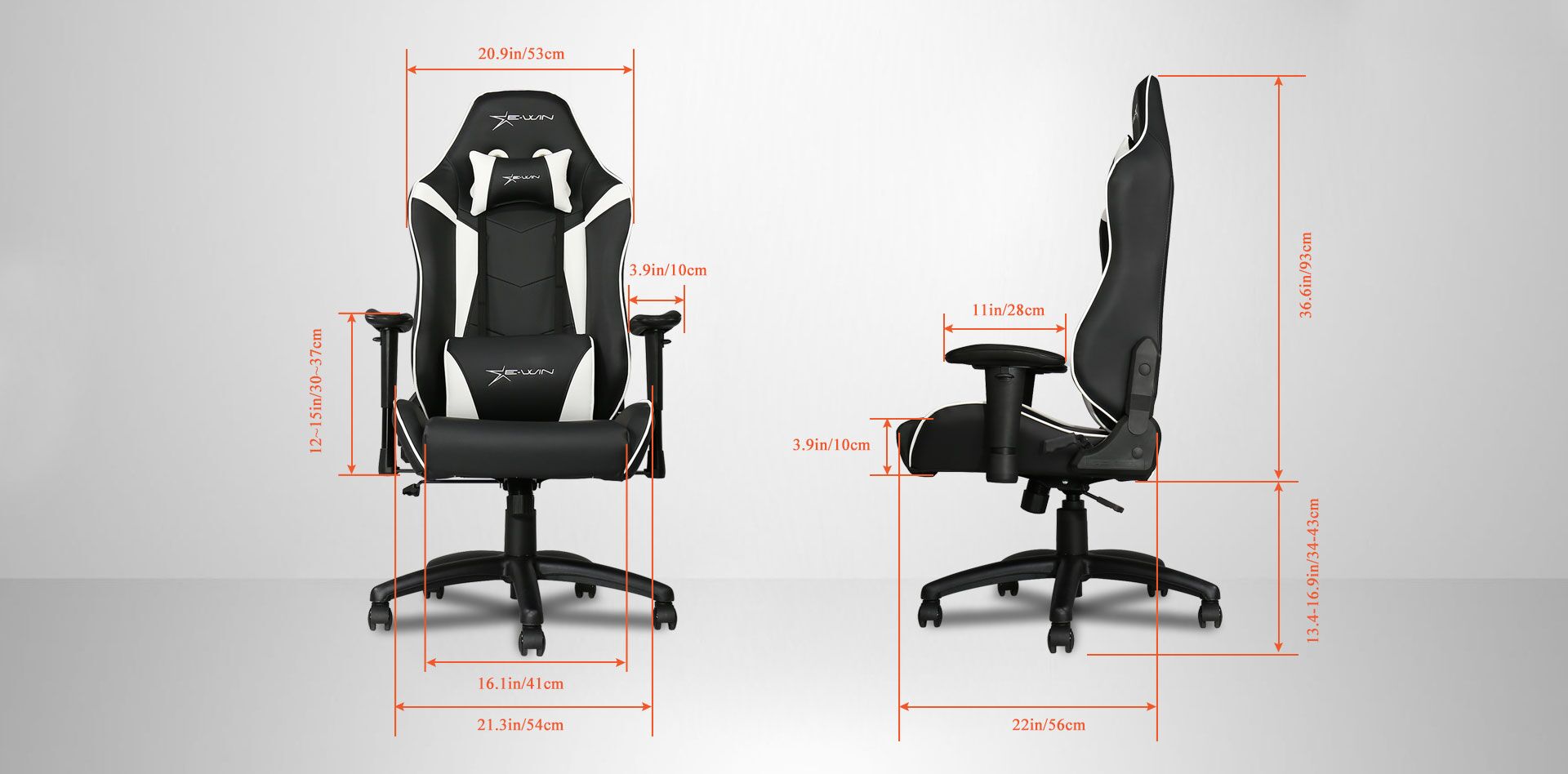 You may think that this means Ewin gaming chairs are all cut from the same cloth. Understanding the different types of gaming chairs is really important, as each different type can give you a different gaming experience, and is often set up for different formats – whether it's PC or PS5.
Whether you like simplicity in your chair, or you are looking for big plush cushions, an Ewin gaming chair has something to fit all tastes (and posteriors).
With a wide seat, excellent curved armrests, and gloriously comfortable too, the Ewin gaming chair can come in a variety of colors, with darts and dashes making it a modern statement piece of any gaming room.
Assembly
The bad news is that your Ewin gaming chair doesn't come already built. But the good news is that it is really easy to put together! Your Ewin gaming chair will arrive in a pretty large box, so you'll want to make sure you have plenty of space to unbox it all.
You'll find a pair of gloves inside, which will make it much easier for you to handle all the different pieces as you build it. It also comes equipped with a set of really clear and concise instructions, which will guide you through the building process.
All in all, it should take you only 15 minutes to build your Ewin gaming chair.
Size & Specifications
With 5 different models on the market, each Ewin gaming chair is slightly different. However, they do all share some specifications.
These include a 400lb weight capacity across all chairs (apart from the Flash series with a 500lb weight capacity), and a 5-year warranty – a warranty that not many gaming chair companies can rival.
Another shared specification they all have is the capacity to recline the backrest from 85° to 155°. And yes, you read that correctly – all Ewin gaming chairs are positioned at 85° instead of 90° like most other gaming chairs. It's a great feature to offer, as it encourages a slight lean forwards, helping your spine's position.
Sometimes, you might be looking for some extra support, especially if you think that some gaming chairs are a bit too large. Having a footrest can make all the difference – have a look at our top 5 picks of the best gaming chairs with footrest.
Let's go through the specific features of each Ewin gaming chair on offer.
Size
Suitable for people between 5'6" and 6'1"
Seat Width – 21.7 inches
Seat Depth – 22 inches
Backrest Width – 22.6 inches
Backrest Height – 33.9 inches
Total Height – 51.2 to 55.5 inches
Specifications
PVC upholstery
Flat, wide seat
2D armrests
Cold-cured foam padding
Size
Suitable for people between 5'6" and 5'9"
Seat Width – 21.3 inches
Seat Depth – 22.8 inches
Backrest Width – 21.3 inches
Backrest Height – 35 inches
Total Height – 50 to 53.5 inches
Specifications
Stain-resistant, PU leather upholstery
Smaller dimensions suited for smaller people
2D armrests
Cold-cured foam padding
Size
Best suited for people between 5'6" and 6'1"
Seat Width – 21.3 inches
Seat Depth – 21.7 inches
Backrest Width – 20.5 inches
Backrest Height – 37.8 inches
Total Height – 51.2 to 55.5 inches
Specifications
Adjustable seat height
4D armrests
Stain-resistant, PU leather upholstery
Seat angle tilt lock system
Size
Best suited for people between 5'9" and 6'5"
Seat Width – 21.3 inches
Seat Depth – 22.4 inches
Backrest Width – 22 inches
Backrest Height – 36 inches
Total Height – 53.8 to 57.6 inches
Specifications
2D armrests
Made with stain-resistant, PU leather
Extra-large backrest
Rocking function with tilt-tension
Size
Best suited for people between 5'7" and 7'
Seat Width – 21.7 inches
Seat Depth – 23.6 inches
Backrest Width – 22 inches
Backrest Height – 37 inches
Total Height – 54 to 58 inches
Specifications
4D armrests
Stain-resistant, PU leather upholstery
Extra-large backrest
Deeper seat
Maximum weight capacity of 550lb
Durability & Stability
All Ewin gaming chairs are really well constructed and feature sturdy steel frames. While other gaming chair manufacturers use 1.2mm steel tubing, Ewin boasts a very durable 1.5mm steel tubing thickness.
With many of their products having leather upholstery, it also means that they're stain-resistant and will last you for a while, no matter how long you're sat in them.

Even with the Ewin Knight gaming chair that features PVC, you'll find that after many moons of late-night gaming, it'll still look as fresh as the day you purchased it.
However,despite the sturdiness of the body, the armrests can feel a little flimsy.
When you're gaming, or even using your Ewin gaming chair for work purposes, you want to feel supported. After all, bad chairs can really damage your back and your posture if you're spending significant chunks of the day in them.
Ewin gaming chairs offer plenty of support, with their memory foam cushion and 4D armrests surrounding their almost indestructible steel frame.
Features
As we've seen, each different model of Ewin gaming chair comes replete with bespoke, top-of-the-range features and specifications. These give each chair a sense of individuality, and can help you narrow down exactly what kind of gaming chair will be right for you.
Let's take a closer look at some of the key features that come with Ewin gaming chairs.
4D Armrests
A feature of several Ewin gaming chair models is a 4D armrest. If this sounds pretty futuristic to you, you're not alone! In addition to the standard movements that you'd expect to find on any gaming chair, the armrest on some of the Ewin gaming chairs are almost completely adjustable.
This means that as well as moving up and down, you can move the armrest forwards, backwards, to the left or to the right, and even rotate them. With this kind of armrest, you can be sure of getting all the support you could possibly ever need.
Weight Capacity
Ewin gaming chairs all have a weight capacity of 400lb. This excludes the Ewin Flash and Flash XL models, which have a weight capacity of 500lb.
The weight capacity offered by EwinRacing is really impressive, and it means that no matter what size you are, you can enjoy and benefit from the comfort, durability, and stability of an Ewin gaming chair.
Backrest Recline
This is a particularly notable feature. All Ewin gaming chairs come with their backrests positioned at an 85° angle instead of at a 90° angle. There are only a couple of other companies that do this, including Maxnomic and SecretLab.
It may not seem like a big deal, but having your backrest tilted slightly forwards can work wonders for your posture, and can help your spine – especially if you're locked in for the long haul and are sat for several hours.
Cushions
One thing that customers come back to time and time again is the comfort of their Ewin gaming chair.
Using bespoke cold-formed memory foam encased in high-quality stain-resistant leather, the Ewin gaming chair gives you all the support you could need from a gaming chair. Ewin gaming chairs are some of the most ergonomic on the market today.
Ewin Gaming Chair Pros & Cons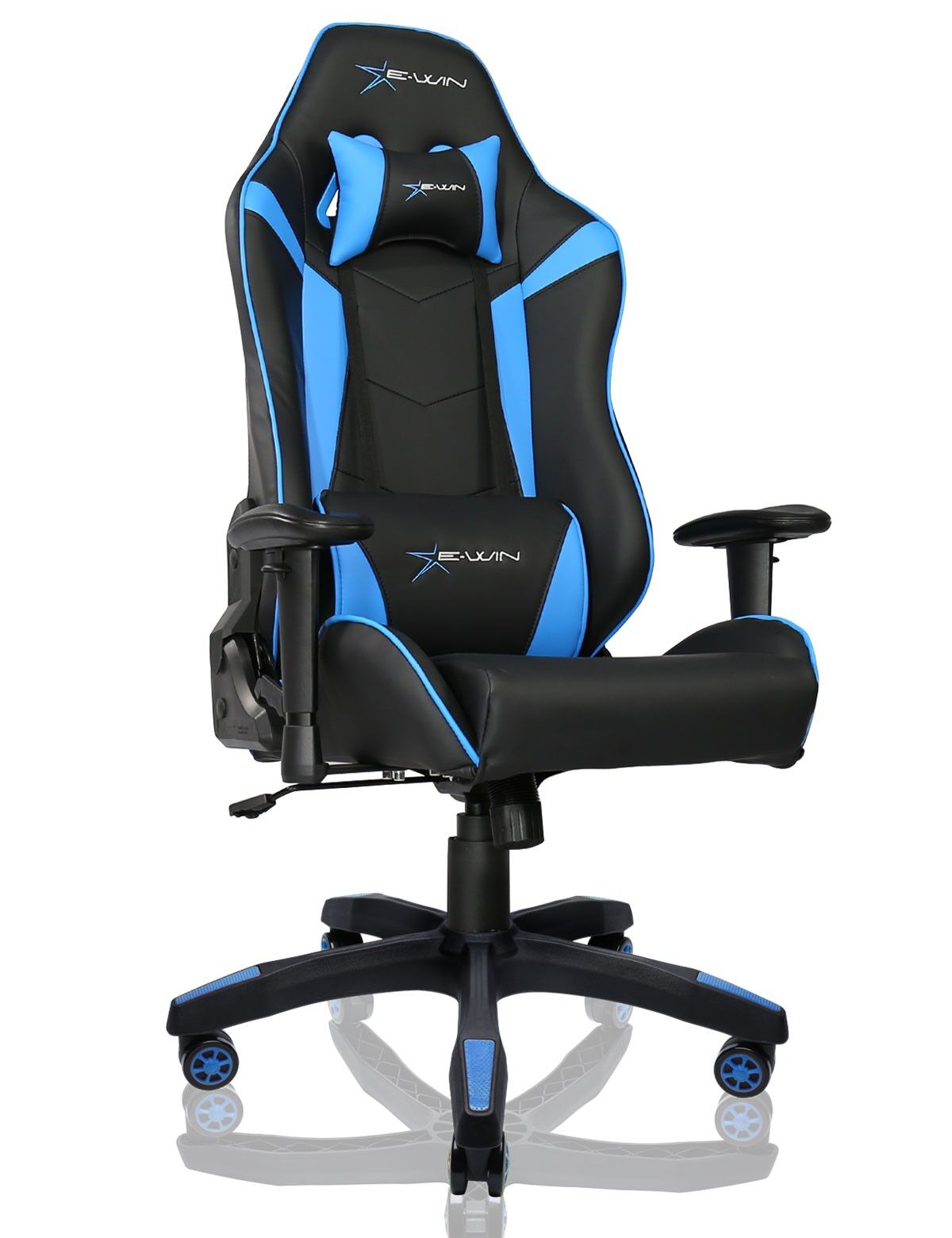 Pros
Easy to assemble
Fully adjustable
Helps with your posture
Smooth and silent wheels
5-year warranty
Cons
Can heat up quite rapidly
Armrests feel a little bit flimsy
Neck pillow is quite small
Lumbar support is not very good
Frequently Asked Questions
Are gaming chairs bad for posture?
Gaming chairs are actually very good for your posture, offering back, neck, and shoulder support. But you still need to keep proper ergonomics in mind. Have a look at these tips for proper gaming chair posture to get started on the right path.
Should I get a gaming chair for my home office?
While some gaming chairs don't come with as many adjustments or padding as you might find on an office chair, they are often great at making sure you keep a good posture for long periods.
How long does an Ewin gaming chair last?
If you take care of your Ewin gaming chair, you can expect to have at least 6 years of use.
Ewin Gaming Chair Alternatives
With so many gaming chairs out there nowadays, you may want to try another brand if you don't think Ewin gaming chairs tick all the right boxes for you. You may be a PS4 and want a look at the best gaming chairs for PS4, or maybe you're an Xbox player, so you'll be looking for the best Xbox One gaming chair instead.
If you've gotten this far in the article and don't think that a Ewin gaming chair is right for you, these alternatives might better suit you.
Clutch Chairz – Throttle Series
If you've spent any time on YouTube, you'll surely recognize PewDiePie. And if you have seen any of his videos, you'll notice that he uses a Clutch Chairz gaming chair like the Throttle Series.
With extra-wide, 4D armrests and a good wide seat, the Clutch Chairz Throttle is a great, comfortable, and ergonomic gaming chair, which definitely gives the Ewin gaming chair a run for its money!
AKRacing – Core Series
AKRacing gaming chairs are legendary in the gaming world, and their Core series can be spotted at championships the world over. And rightly so. These gaming chairs are made of breathable materials and also feature cold-formed foam cushions like you find with the Ewin gaming chair.
Ergonomic, comfy, and the choice of pro-gamers and competitors the world over, the AKRacing Core gaming chair has it all, and is an excellent alternative to the Ewin gaming chair.
Final Verdict
So there you have it – a full run-down of the Ewin gaming chair, and the various models they produce. But at the end of the day, you've got to ask yourself – do you want to be forking out for an Ewin gaming chair?
In short, we believe that you can do a lot worse than getting your hands on a Ewin gaming chair. They're really good for your posture, and are fully adjustable, meaning that you can basically get them to suit your exact needs and requirements.
Comfortable and ergonomic, as well as looking great and being easy to assemble, EwinRacing may not be as renowned as some of the more prominent gaming chair companies out there, but with their continued quality of products and an unbeatable warranty, they're sure to become a dominant brand in the gaming chair industry.
Bestselling EwinRacing Gaming Chairs on Amazon: