So where do you even start with finding the best standing desk for kids?
While you might think that an adult standing desk will be able to go low enough, unfortunately it won't quite work out for a kid.
Similarly, if you think that a standing desk converter could adapt to a child, you'll find that it may just be too big and tricky for the kid to use.
We've found the best standing desks for kids, and specifically for kids, so read on to find out more.
First of all, let's have a quick look at our favorite models featured in this article.
This list has been compiled after extensive market research and a great understanding of what parents and teachers alike might be looking for when on the hunt for the best standing desk for kids.
What makes these desks different is that many of them work on a sit-to-stand mechanism, meaning they can be used for seated work or standing.
The LVYUAN and the Vivo options come with additional chairs – but you don't have to use them!
Let's jump straight into our rundown of the best standing desk for kids, and see which one might be best suited for your needs.
Best Standing Desk for Kids
1. FlexiSpot Ergonomic Study Desk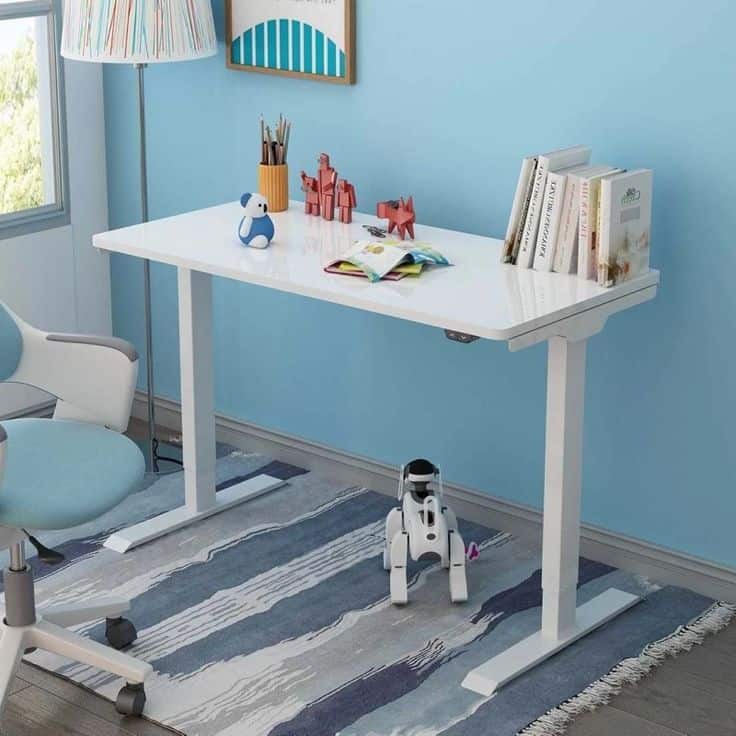 If you're looking for a large work surface combined with a really slick, sleek design, then look no further than the FlexiSpot Ergonomic Study Desk.
It's the biggest desk space of all our choices, and on top of that, it's motorized, meaning that kids can really easily and safely adjust the height of the desk with the simple push of a button.
The desk height adjustments make it perfect for any kids between the heights of 4'8" and 6'3" – meaning that it can last them well up until their teenage years.
You also get a choice of what color the desktop is – there are 3 different options. In addition, you can choose what color the frame is too, with another 3 options.
No products found.
The only downside we've found is that it can feel a little unstable, as the legs are quite small and there are only two of them. So if you have a particularly rowdy toddler, it may be upended quite easily!
If you're in the market for a large workspace with your standing desk, check out our list of best triple monitor standing desks.
Pros
Electrically adjustable
Large desktop surface
Sleek design
Cons
Not as stable as you might want it to be
Quite a high price point
2. Stand Up Desk Store Pneumatic Adjustable Height Desk
Our next choice comes from one of the market leaders for standing desks – and the clue is in the name! Not only is the Stand Up Desk Store Pneumatic Adjustable Height Desk one of the most straightforward height adjustable standing desks we've seen, using an innovative pedal system often found on office chairs, it is also on 4 lockable wheels.
This means that whether you're at home or in school, your child can move it to wherever they desire. In addition to this, it has a handy bottle holder and stationery tray, which means they won't have their pens and pencils rolling off and getting caught under the wheels or littered around the place.
Pros
Wheels for maneuverability
Useful stationery tray
Pedal-operated height adjustment
Cons
Pneumatic adjustment can break after a while
Wheels cause a bit of instability
No products found.
3. Vivo Adjustable Children's Desk and Chair Set
The Vivo Adjustable Children's Desk and Chair Set is a winner in our eyes, especially if your kid is between the ages of 3 and 10. Not only is it fully height-adjustable, making it a fantastic sit-stand option, but the desktop surface itself has an innovative tilt function, which can really help your child's posture.
In addition, there's also a pull-out drawer to make sure all their bits and bobs can be quickly and safely stored away. And with the added chair that is made to fit with the desk itself, you'll find that you have the ultimate set.
Our only gripe with this is that it isn't suitable for bigger kids. Plus, we've found that our little ones don't stay little for too long, and can quickly outgrow it!
Pros
Storage space
Desktop surface has tilting function
Additional chair
Cons
Quite small, meaning it may not last that long
Not as sturdy as other standing desks
No products found.
4. Belone Height Adjustable Computer Desk
Smart design? Lockable wheels? Large work surface? The Belone Height Adjustable Computer Desk has all these, and more.
Really simple in design, making this standing desk a real addition to any home, the maneuverability is second to none too, so wherever your kid wants to work, it can go anywhere.
Due to its size, this desk probably isn't ideally suited to kids under the age of 10 – it may be a little bit too tall for them, despite the height adjustment capabilities.
However, any kids over 10 and teens will be able to use this really easily and will find that it can handle quite impressive weight loads.
For more standing desks on wheels, check out our list covering the best of the best.
Pros
Four lockable wheels
Large desktop surface
Slick, modern design
Cons
Not ideal for smaller children
Tricky height adjustment screws
No products found.
5. LVYUAN Height Adjustable Children's Desk and Chair Set
While the previous selection was ideal for older children, this one is perfectly suited to smaller children. The LVYUAN Height Adjustable Children's Desk and Chair Set is your kid's perfect introduction to the world of standing desks, coming in eye-catching blue or pink and featuring a handy chair in the set in case they need to take a load off.
Like the Vivo, the LVYUAN features a tilt function on the work surface, but it also comes equipped with a large storage drawer, an additional upright surface for extra bits and pieces, and an in-built LED light too.
The height adjustments are fantastic too, with reviews saying how kids as young as 3 and as old as 15 have managed to still use it.
Pros
Fantastic height adjustment
Great storage facilities
Additional features like LED lamp and tilting desk
Cons
Design is slightly flimsy
Not as stable as other options
No products found.
6. Ergoton LearnFit Sit-Stand Desk
If you're looking for a more compact and easy-to-store standing desk for your kids, then look no further than the Ergoton LearnFit Sit-Stand Desk.
Replete with 4 smooth-gliding wheels, a bottle holder, and a handy slot to store papers, notebooks, or whatever else, the Ergoton is a sturdy design that comes with an industry topping warranty.
One of the best things about this smaller standing desk is the height range that it can manage – it leaps a whopping 16" if you need it to, meaning you can go from sitting to standing in a matter of moments, just by using the office chair style paddle for a quick adjustment.
Pros
Excellent height options available
Very sturdy design
Easy to move about
Cons
Worksurface is quite a lot smaller than other options
Desk has been reported to rotate
No products found.
7. Safco AlphaBetter Adjustable-Height Desk
This particular standing desk for kids stands out from the pack with the addition of a swinging footrest – a potentially minor feature for some, but a game-changer in reality.
Though it's not just the swinging footrest that makes the Safco AlphaBetter Adjustable Height Desk one of the best standing desks for kids.
With a substantial desktop surface, plus a handy lower shelf under the desk itself, the Safco AlphaBetter is ideal for students both in the classroom and at home.
But what's the deal with the swinging footrest, you might ask?
Well, it's been proven that small movements at a standing desk can really help burn off fat, so swing away!
Looking for more exercise ideas that you or your kids can do at a standing desk? Get some top hints and inspiration from our selection of the 10 best standing desk exercises.
Pros
Swinging footrest for additional ergonomic aid
Great storage options
Really sturdy
Cons
Quite tricky to move about
Lower shelf might get in the way
No products found.
Find more standing desks designed with shorter users in mind.
Best Standing Desk for Kids – What to Look For
While it may seem like a strange idea to get a standing desk for your kids, we think that there is no better way to get them clued up on the importance of ergonomics and healthy working. It allows for children to stay more active during their day and in their learning environment, whether that's at home or at school.
As curriculums are also slowly phasing out gym class and giving kids less outdoor time too, making sure that kids have some way of blowing off steam or at least keeping their blood flowing and their heart rate high is more important now than it has ever been before.
Plus, on the back of a year of homeschooling, many kids haven't had any chance to run and play.
So standing desks for kids is a good thing to consider. But with so many models, makes, and styles out there, how do you even go about choosing which is the best standing desk for kids?
Let's take a look at some of the most important things to look out for when on the hunt for a standing desk for kids.
Height Adjustable Desks
It may seem like an obvious thing to look out for, but being able to adjust the height of your standing desk is pretty much the most important thing to consider.
On top of that, you should also make sure that the desk's height adjustments are good enough that your kids won't outgrow it quickly. As we know, kids can grow like anything!
In addition, having a standing desk that isn't tall enough will actually counteract all the ergonomic benefits that come with having a standing desk, so ensuring that the standing desk will not only go low enough for your younger kids, but also tall enough for your older kids, is really important and worth checking.
It's always best to read the small print and make sure you know what you're buying. Unless your children are extremely tall, you shouldn't have any problems, but you could always consider a desk converter for tall people if you're considered about size.
Storage
Kids have all sorts of gizmos and gadgets nowadays. From colored pens and pencils to other bits of stationery, they seem to need and use all sorts of different bits and bobs. While we're all used to the clutter and chaos that comes with kids, you can take steps to minimize the madness and get a standing desk with storage capabilities.
Most of the standing desks in our list have some sort of storage capabilities – whether that is a simple bottle holder and notebook groove like you can find on the Stand Up Desk Store Pneumatic Adjustable Height Desk or the better storage options that come with the LVYUAN Height Adjustable Children's Desk and Chair Set.
Keep the chaos contained and keep your eyes peeled for storage options on your standing desk! Check out our top 5 picks of standing desks with storage for more inspiration.
Mobility
While normally mobility isn't an important feature for a standing desk, when you're considering the standing desk, you'll definitely want something that has some mobility.
Whether that's in the classroom or at home, being able to move their desk around can really help them, and can make your life a little easier as they can wheel over their work to you.
A lot of the standing desks we've gone through in this list come with wheels which means they can be moved about with ease. Though you've also got to double-check that the desk wheels have a locking function – else the standing desk will be too unstable and all hell might break loose!
Durability
We all know that kids have the capabilities of managing to break, chew, or batter just about anything that isn't bolted down to the floor, and if you don't want to have to cycle through a whole bunch of different standing desks, then you'll want to make sure that the standing desk you choose for your kid is suitably durable.
A standing desk like the Ergoton LearnFit Sit-Stand Desk is almost indestructible, with its metal casing and fewer moving parts, but it comes at a price. In contrast, the Vivo Adjustable Children's Desk and Chair Set is more affordable, but isn't quite as tough as the Ergoton.
Best Standing Desk for Kids – Final Thoughts
So there you have it. Hopefully, after reading our article on the best standing desk for kids, you'll have a much better idea of which one might suit you and your kids, and why it is a great idea to try and encourage them to spend more time standing.
We've tried hard to make sure that all price points and budgets were represented in this list as well.
While all 7 standing desks for kids are exceptional, if we only could choose one, it'd have to be the Ergoton LearnFit Sit-Stand Desk. It may be a bit pricier, but we can guarantee that it will last for years and years.
A close second was the FlexiSpot Ergonomic Study Desk, for those that want a desk that is slightly larger.
Current bestsellers on Amazon:
No products found.