How We Tested
We recommend these products based on an intensive research process that's designed to cut through the noise and find the top products in this space. Guided by experts, we spend hours looking into the factors that matter, to bring you these selections.
Click here for testing insights >

11
Models
Considered

352
Consumers
Consulted

37
Hours
Researched
Buying guide for
Best Serta Office Chairs and Alternatives
When most people think Serta, they probably think of the quirky mattress commercials with these sheepy characters: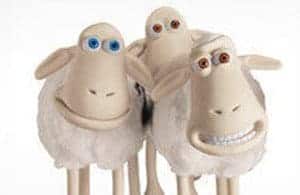 That is what Serta is best known for after all. The company makes some of the best mattresses out there, and bedding is a majority of their business. However, the sheepish company has a little known secret: they make some pretty darn good office chairs.
Serta office chairs fall right in the upper middle of the quality and price chart. While they're not the cheapest, Serta makes office chairs at a more reasonable price than some of their competitors like La-Z-Boy Office Chairs.
Further, if you're looking for an ergonomic office chair that has comfort components Serta is known for, you should consider one of the below options.
Our Picks: Top 5 Serta Office Chairs
IMAGE
PRODUCT

Maximum ergonomic comfort with AIR lumbar support
Padded arm rests
Stylish two-tone gray design

VIEW ON AMAZON →

AIR lumbar technology
Integrated head rest
Sleek modern design

VIEW ON AMAZON →

Plush Ergo-body support and comfort
Built in lumbar support
Soft bonded leather material

VIEW ON AMAZON →

Premium 5-layer cushioning system
Adjustable tilt and height
Unique champagne color design

VIEW ON AMAZON →

Higher weight capacity
Soft, durable bonded leather
Memory foam for comfort and support

VIEW ON AMAZON →
Keep on reading for the full details for each chair, including an overview of comfort and design features, as well as pros and cons.
We've also included a list of our favorite alternatives to these Serta models. You can see some pricier options with a touch more detail, plus some budget-friendly alternatives with similar comfort levels but the lack of brand name recognition.
Let's get started!
Serta Works Executive Office Chair with AIR Technology
The Serta Works Executive Office Chair with AIR Technology is the cornerstone Serta desk chair product. It's the big brother to the Arlington Executive and shares a lot of the same qualities as the below chair.
The big difference is the design in style and color tone. This Serta executive office chair, like the Arlington Executive, boast the Pivoting AIR Lumbar feature coupled with intelligently placed ComfortCoils™ throughout the chair.
Additionally, the Works Executive desk chair is ergonomically sound, with very supportive and comfortable padding and contours that support a healthy spinal curvature and posture.
The two-tone gray design give a bit of a spin on style, and it looks a little more low profile than the Arlington Executive. Other than that the chairs are very similar in just about every facet.
Here are the main features to know about this ergonomic bad boy:
Fitted with ComfortCoils™ and ergo layered body pillows for max comfort and support
Adjustable tilt and height
Padded armrests
Pivoting AIR Lumbar mechanism that follows the natural movements of your body
Integrated headrest
Stylish two-tone gray design
Made with durable bonded leather that will stand the test of time
Read the full Serta Works Executive Office Chair with AIR Technology
Sale
Smart Layers AIR Arlington Executive Chair
The Serta Smart Layers AIR Arlington Executive is a fine office chair to say the least. It's one of the more sleek-looking Serta office chairs, and it is power-packed with comfort and ergonomic features.
For starters, the body-contouring, plush foam padding is ten-out-of-ten comfortable. Plus, as soon as you sit in the Arlington Executive for the first time, you can tell how posture supportive it is.
On top of the comfort and posture-positive compliments of this chair, it has other nice features too; take for instance the AIR Lumbar functionality.
The AIR Lumbar feature moves when you moves – it adjusts to the natural sitting movements made when in an office chair. That's outstanding, especially at a chair in this price range. Here are the overall highlighted features of the Arlington Executive:
High back, ergonomic design supporting healthy posture
AIR Lumbar technology that contours to your natural sitting movements
Adjustable height and tilt
Padded armrests
Plush comfortable foam padding
Integrated headrest
Sleek design for a Serta executive office chair
Read the full Serta Smart layers AIR Arlington Executive Review
Sale
Serta Works Executive Office Chair
Think of the Serta Works Executive Chair as the little sister to the Arlington Executive. It's not quite as robust, however it does come at a lower cost.
Right off the bat, it's easy to tell that this chair in comparison to the latter is more lightweight. That being said, this is still a solid Serta computer chair because it's a flat-out great value for the price.
Plus, it still retain those critical features like a basic lumbar support, padded armrests and ergonomic adjustability.
While you won't get all the bells and whistles with the Serta Bonded Leather Executive chair, you will get a bang for your buck and a chair that will stand the test of time. Here are the main feature takeaways of this Serta brown leather office chair:
Ergo-body plush and supportive cushion throughout the chair
Built in lumbar support
Adjustable height and tilt
High back, ergonomic design for maximum posture support
Fitted with soft, bonded leather that is crack resistant
Read the full Serta Works Executive Chair Review
Sale
Verona Manager's Chair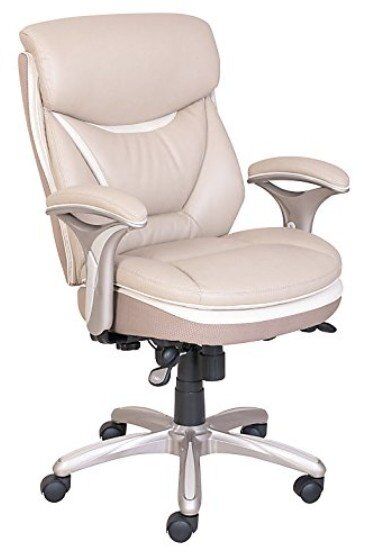 If it's one thing Serta does well, it's that they produce outrageously comfortable office chairs in a variety of different colors and sizes. The Serta Smart Layers Verona Manager Chair has a light, champagne color and is a rarity when compared to the mass market of leather office chairs.
Serta executed the Verona pretty well – this chair comes with the Serta Premium Elite 5-layer Cushioning System. Essentially what that means is the chair is fitted with individual foam wrapped ComfortCoils(TM) that contour to all of your natural body motions.
Serta used a lot of their mattress technology in this office chair, and it shows, because this chair is super comfortable. If you're in the market for a leather style office chair in a lighter, champagne color, you should seriously consider this Serta computer chair.
Here are the overall take-away features the Verona has to offer:
Serta Premium Elite 5-layer Cushioning System with ComfortCoils(TM)
Unique champagne color
Adjustable tilt and height
Built in lumbar support
Integrated armrest padding and headrest
Read the full Serta Smart Layers Verona Manager Chair Review
Hannah Office Chair, Microfiber
As mentioned in the previous review, Serta makes a wide variety of office chair styles in many different colors. Meet the Serta Style Hannah I Office Chair, Microfiber and all of its glory.
OK, so this isn't the most beautiful office chair we've ever seen, but it deserves a spot on this list for a few reasons.
First, it's a GREAT BARGAIN. Go head, click the "See Price" link above and see for yourself. Secondly, Serta at home microfiber executive office chair is surprisingly comfortable; what it lacks in style, it makes up for in comfort and plush padding.
Overall, it wouldn't be our first choice However, if you are strapped for cash and still want a solid Serta office chair, this might be the one for you.
Here are the best features of the Serta Microfiber Executive Office Chair:
Fitted with soft microfiber material
Integrated headrest and padded armrests
Contoured lumbar support that promotes healthy sitting posture
Intelligently placed foam padding that makes for an exceptional sitting experience for the price
Sale
Serta Valetta Dovetail Gray Home Office Chair
When it comes to style, the Valetta takes the cake for the most stylish Serta desk chair out there.
Now we will be straightforward – if you're top buying criteria is comfort and support, you should start with the other chairs on this list.
However, if you're looking for a chic, stylish office chair that has decent comfort components, the Valetta might be the one for you.
The Serta Valetta is surprisingly comfortable and is fitted with Memory Foam throughout the chair. Plus, the height is adjustable and there's an adjustable tension knob on the bottom of the chair too.
As for style, the chrome metal base and unique design make for the perfect fit in any modern or contemporary office. Ergonomic office chairs typically aren't too stylish; however, the style-first Valetta did their best to be as ergonomic and comfortable as this type of office chair can get.
Here's why we would write home about the Valetta:
Fitted with Memory Foam for additional comfort
Contemporary profile perfect for the modern work or home office
Chrome metal base for bonus style points
Adjustable height lever and tilt knob
Read the full Serta Valetta Review
Sale
Serta Big And Tall Office Leather Chair With Memory Foam
Serta doesn't have too many big and tall office chairs worth purchasing or even reviewing for that matter. After much research, our team found what we thought was unfindable: a quality big and tall Serta office chair.
The Serta Big and Tall Leather Office Chair with Memory Foam is a diamond in the rough to say the least, and we give it two thumbs up for those in need of a little extra support.
The first thing that struck a note with us about this chair is that it's one of the more affordable big and tall office chairs out there. Big and tall office chairs tend to come with a big and tall price tag; this chair, however, meets our expectation as reasonable.
It comes fitted with Memory Foam for comfort and support, plus it even has an integrated headrest and built-in lumbar support. Anyway, here are the most notable features of this office chair:
Weight capacity is up to 350 lbs
Fitted with soft, durable bonded leather
Adjustable height and tilt
Padded armrests
Integrated headrest and lumbar support functionality
No products found.
Best Serta Desk Chair Alternatives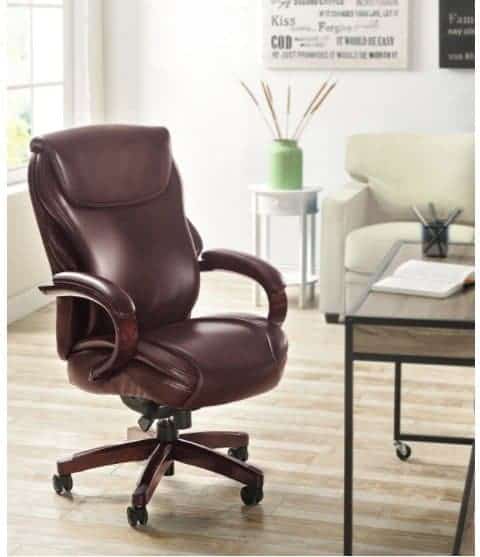 The La-Z-Boy Hyland Executive is one of our favorite standard office chairs and if you're shopping for a Serta, it's an excellent alternative to consider.
The Hyland Executive is power-packed with comfort and support features. Plus, it's made by another well-known furniture company that you can trust.
This Serta office chair alternative comes with an enhanced style profile when compared to previous chairs on this list; with enhanced looks also comes an enhanced price tag, so be ready for that.
We love this chair. We love La-Z-Boy. The Hyland Executive is one of their flagship office products and also one of our most popular reviewed chairs. Here's what make this chair so great:
Advanced cushion layering system made with ComfortCore Plus and Memory Foam
AIR Lumbar Breathability Design
Advanced lumbar support technology that adjusts with each persons sitting style
Adjustable height and tilt
Layered cushioning and padding system that reduces strain on pressure points
Read the full La-Z-Boy Hyland Executive Review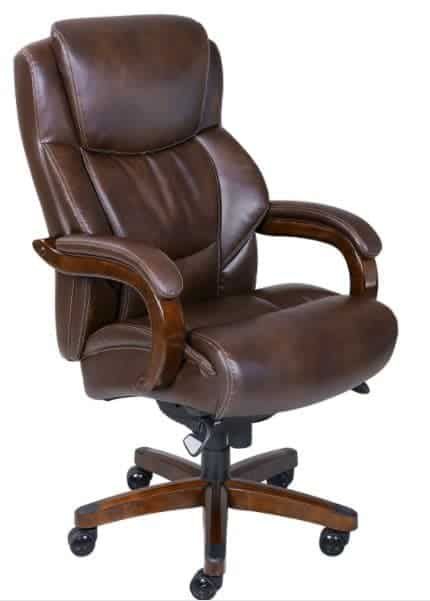 Like the Hyland Executive, the La-Z-Boy Delano is one of, if not our all time favorite and most recommended big and tall office chairs. La-Z-Boy is one of those brands that puts quality craftsmanship at the forefront of their priorities. Coincidentally, the Delano and most other office chairs made by the trusted brand are superior products that are worth every penny.
The La-Z-Boy Delano comes fitted with a soft, durable bonded leather and has intelligently placed foam padding throughout the seat and back for enhanced ergonomic support and comfort.
Plus, it has a wood finished base and frame making it give off executive vibes to any home or work office space. Here are the main reasons why our team loves and highly recommends the La-Z-Boy Delano:
Max weight capacity is up to 400 lbs
ComfortCore technology coupled with premium Memory Foam
Generous, layered body pillow promoting maximum comfort and ergonomic support
Fitted with smooth and durable bonded leather that is crack resistant
Adjustable tilt and height options
Read the full La-Z-Boy Delano Big & Tall Review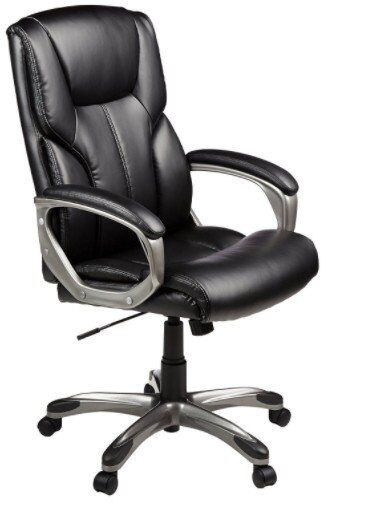 Recently, Amazon started its own line of generic branded products called AmazonBasics. It has recently TAKEN OFF and Amazon is making tons of different types of homegrown items, one of which they did very well: The AmazonBasics High-Back Executive Chair.
That's right folks, just like there's an Amazon Kindle, there is now an Amazon Office Chair. And it's wonderful. Now, it may not have all the bells, whistles and looks as some of the other ones on this list.
That being said, it makes up for those things with a price conscious, utilitarian design that has all the basics which make up a quality office chair.
This isn't a "bells and whistles" office chair, but it does get the job done at a very reasonable price point. Here are the highlighted features of this Serta computer chair alternative:
Fully bonded black leather fitted with PVC
Extra padding on the back and seat to maximize comfort
Padded armrests
Adjustable height and tilt
High back for optimal support
Read the full AmazonBasics High-Back Executive Chair review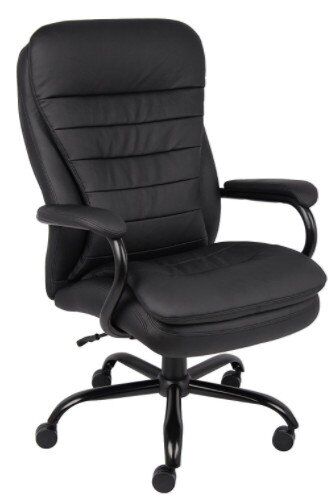 Read Customer Reviews on Amazon
Last but very not least, the Boss Heavy Duty Plush LeatherPlus Big and Tall Office Chair. This Serta office chair alternative is a solid big man's chair and it is what its name says: heavy-duty.
With extra-padded plush cushioning fitted throughout the entire chair coupled with a sturdy, metal frame, you can't go wrong with the Boss.
It comes standard with padded armrests and comes in several different colors. Plus, it runs on the more affordable side compared to some of the other office chairs that fall under this category. Overall, we like the Boss LeatherPlus. It's a good chair and a definite value for the price point.
Here are the main features that come along with the Boss:
Adjustable height and tilt
Comes in a few different color options
350 lb weight capacity
Fitted with very soft bonded leather
Sturdy metal base and frame
Overall Serta Office Chair Conclusion
Overall, Serta makes some nice office chairs — however, they can be tough to identify and some can be considered diamonds in the rough. Good thing you're here though, cause we sifted through all the options and picked the very best ones just for you.
Whether you choose to go with a Serta office chair or not, We hope this article helps you throughout your office chair purchasing journey. If you're still unsure, we've done TONS of research and have many, many in-depth reviews for your reading pleasure. Be sure to check out some of our other posts if you want to explore different brands or styles of office chairs.
Well, that's all folks! The team here at OfficeChairPicks.com sincerely thanks you for reading, and as always…
Happy sitting!
Other Products We Considered
The Office Chair Picks editorial team researches hundreds of products based on consumer reviews, brand quality, and value. We then choose a shorter list for in-depth research and testing before finalizing our top picks. These are the products we considered that ultimately didn't make our top 5.