How We Tested
We recommend these products based on an intensive research process that's designed to cut through the noise and find the top products in this space. Guided by experts, we spend hours looking into the factors that matter, to bring you these selections.
Click here for testing insights >

10
Models
Considered

249
Consumers
Consulted

28
Hours
Researched
Buying guide for
What's the Best PS4 Gaming Chair? Our Top Picks
Many gamers don't realize how much damage they can do to their body just by sitting for too long. This is especially true if you aren't using a proper gaming chair.
We've reviewed some of the best gaming chairs available today, so you don't have to do all the research on your own.
Check out our reviews of these four gaming chairs and stop sitting cross-legged on the floor or in that hard wooden chair.
The Best PS4 Gaming Chairs
The GT890M chair is at the top of our list because it offers the most comfortable and immersive gaming experience with your PS4. The chair has built-in Bluetooth speakers, so you can ditch the cumbersome headset and enjoy your game.
The chair is designed with ergonomics in mind, so there is excellent lumbar support and a cushioned backrest that hugs your back while you game. The armrests are also soft and adjustable, so you can avoid hand or wrist cramps from supporting your controller for too long.
With the GT890M's incredible sound quality and reclining mechanism, you can also use the chair for an after-game nap or to enjoy your favorite TV shows.
The GT099 is the cushiest chair on our list, putting comfort and ergonomics before anything else. If you like to game for extended periods and get sore or achy from time to time, consider getting the GT099, the pinnacle of gaming comfort.
This chair has many ergonomic features, but we want to highlight the incredible lumbar support pillow that corrects your posture and stops back pain in its tracks. The detachable neck pillow is also well-padded so you can relieve neck tension from holding up your head.
Not only is this a wonderful chair for hours and hours of PS4 gaming, but it also works well as an office task chair. So if your workstation doubles as your PlayStation 4 area, this chair works for both activities.
Maybe you're having some trouble getting to that next level or destroying this final boss. Maybe you need to relieve some tension whilst gaming. Cue the Ficmax Massage Gaming Chair, the chair that massages your sore muscles as you game.
The chair has thick cushioning, so it is very comfortable for long gaming sessions and uses ergonomic properties in conjunction with massage pillows. So you can enjoy a lumbar massage without pausing your game. The chair also has a retractable footrest and a full recline feature, so it can also be your favorite recliner to watch movies in.
To kick things up a notch, we wanted to include this Vitesse Gaming Recliner. That's right, it's a recliner, not just a chair. If you want to take your gaming comfort up a level, this recliner is the way to go.
This is one of the best chairs for just relaxing and crushing enemies on PS4. Like any recliner, it has a footrest that flips out to foster a cozy reclining position. The recliner is designed to relieve tension from your spine and focus on lumbar and neck support. If you want a chair that is equally ideal for gaming and chilling out, this recliner is the best option.
The only downside is that some users report the seat is a bit narrow, putting slight pressure on the outside of their hips.
Advice to Buyers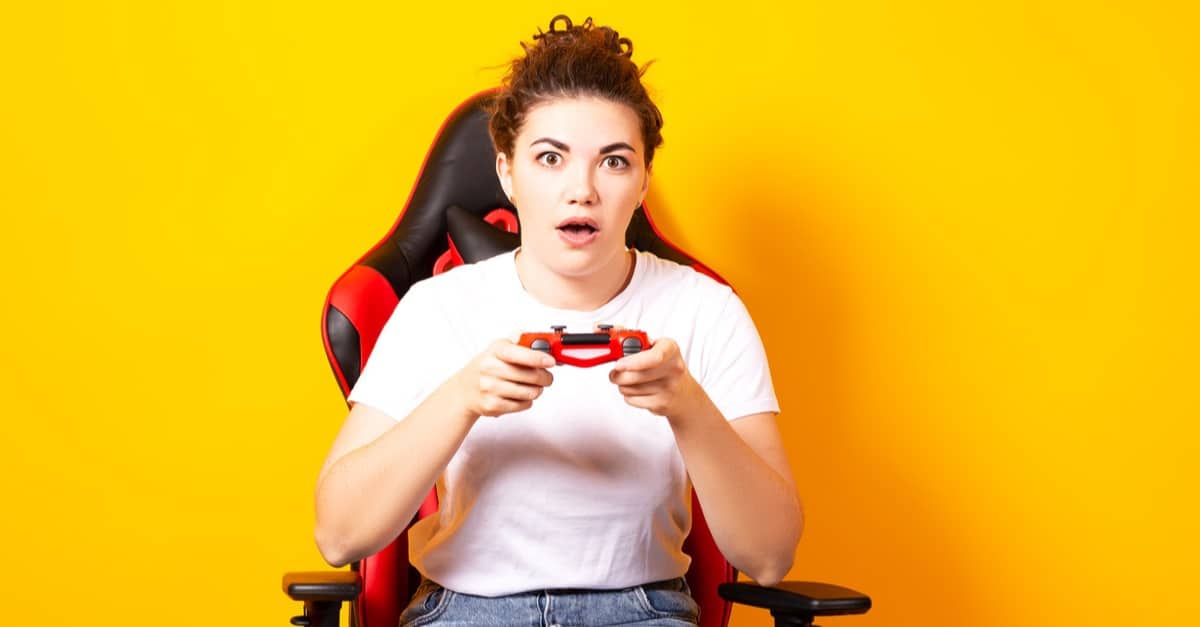 Ergonomics
Gaming is such a fun way to spend your free time, or your professional time if you're lucky enough to receive compensation for gaming. But many gamers, just like office workers, neglect their bodies when sitting for hours. Sitting for prolonged periods can take a significant toll on your spine and muscles.
If you've sat on your PS4 for hours at a time and begin to feel an ache in your neck or soreness in your lower back, you need to adjust your ergonomics. The chairs on our list all focus on ergonomics, so follow their lead and prioritize your bone and muscle comfort.
Price
Gaming chairs can cost between $100 and $1,000. So before you start shopping, you should set a budget for yourself. A high price doesn't always mean it's higher quality. And we believe, as our list exemplifies, that there is no reason to spend more than $250 on a chair to get quality craftsmanship and materials.
Additions/Features
When shopping for your ideal gaming chair, consider what add-ons and special features you want to prioritize. Does the massage feature sound like heaven to you? Or do you hate your headset and want to opt for the built-in Bluetooth speakers. The more features, the more expensive the chair will be, so you need to decide what features are important to you.
Comfort
This one is sort of obvious, but we want to say it nonetheless. If you sit in a chair that has every ergonomic feature and every PS4 add-on, but you don't find it cozy, it isn't right for you. You need to enjoy sitting in the chair, or it will result in an unpleasant gaming experience, which we know is the last thing that you want.
Gaming Style
Every gamer has a slightly different gaming style, so consider yours when shopping for a chair. If you like to lean forward, go for a flexible chair that will move with you and give consistent lumbar support. If you like to lean back, get a chair with a high degree of recline so you can relax.
Bottom Line
If you're addicted to your PS4, it's time to upgrade your seating situation. These are the top chairs for PS4 gamers because they heighten the overall gaming experience.
If you want to comfortably game for hours on end without having to get up and do an hour of yoga to feel okay, buy one of the phenomenal gaming chairs we reviewed. You're guaranteed to improve your gaming experience, and maybe you'' even bust through that stubborn level.
FAQ
Q. Do I need a gaming chair?
A. Need is a strong word, but yes, you need a gaming chair if you pay PS4 for more than 6 hours a week. Sitting in a bean bag or some random chair for hours on end is horrible for your spinal health. It leads to bone disorders and chronic neck or back pain. If you love your PS4 the way we think you do, you should spring for an ergonomic gaming chair.
Q. How long can you sit in a gaming chair?
A. The maximum duration experts say you can sit in an ergonomic gaming chair is no more than 4 hours, but after 2 your body will likely exhibit signs of stress and tension, like a sore neck or stiff back.
Other Products We Considered
The Office Chair Picks editorial team researches hundreds of products based on consumer reviews, brand quality, and value. We then choose a shorter list for in-depth research and testing before finalizing our top picks. These are the products we considered that ultimately didn't make our top 5.