How We Tested
We recommend these products based on an intensive research process that's designed to cut through the noise and find the top products in this space. Guided by experts, we spend hours looking into the factors that matter, to bring you these selections.
Click here for testing insights >

11
Models
Considered

318
Consumers
Consulted

40
Hours
Researched
Buying guide for
7 Best Office Chairs for Small Spaces
Having the right office chair is a crucial element of any comfortable workspace. While the best office chair for small spaces can depend on a multitude of factors — including comfort, durability, and style — choosing one is not necessarily as straightforward as it might appear.
While the easiest option would be to look at the dimensions of your favorite models, pick the smallest, and call it a day, it's not what we would recommend. By doing that, there's a good chance you may end up with a chair that is uncomfortable, not durable, and overall bad for your body.
Instead, we suggest getting an ergonomic office chair that is comfortable, versatile and even matches your personal workspace style and aesthetic.
To that end, we've tried out dozens of the chairs currently on the market to help you find the best one for you.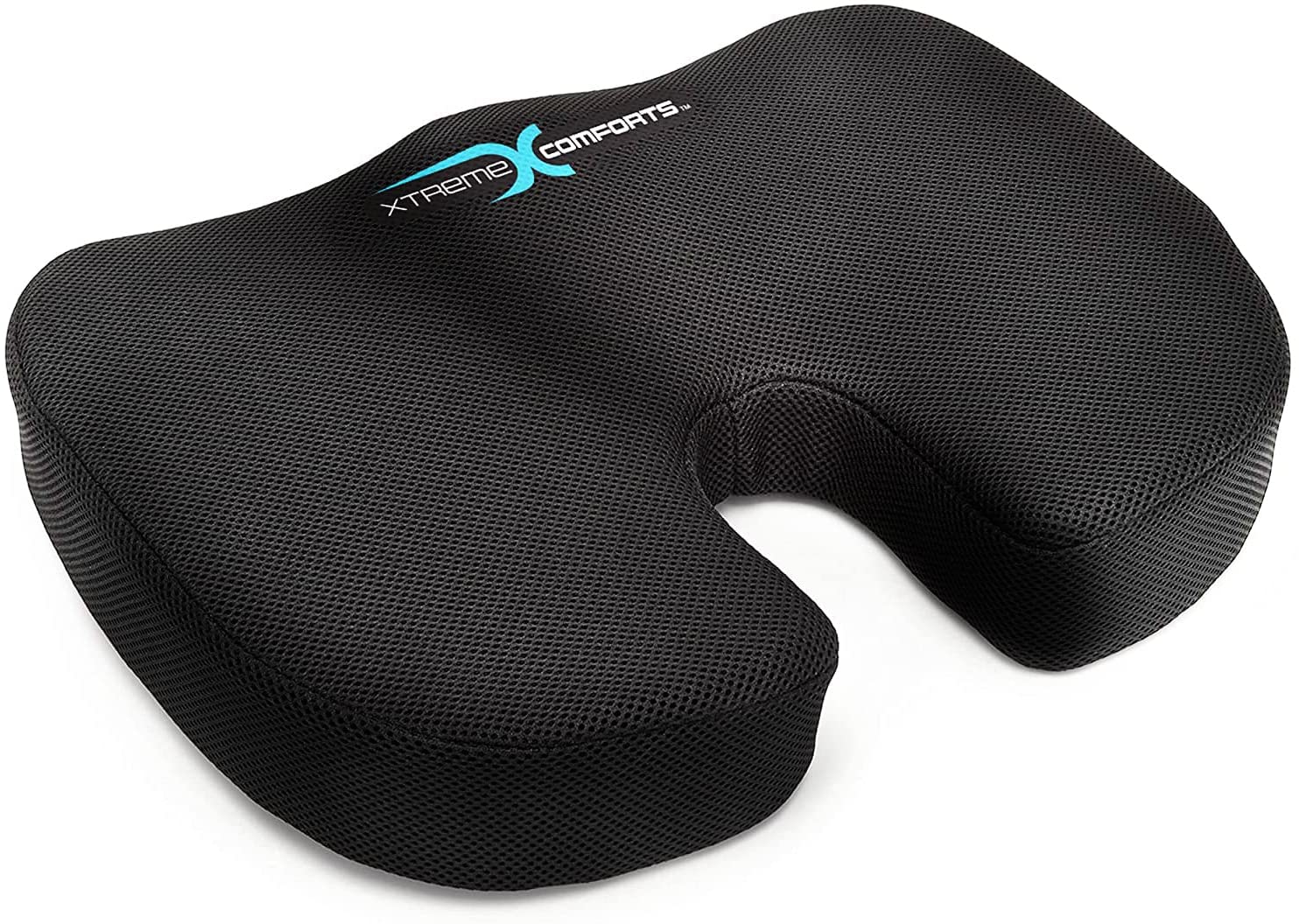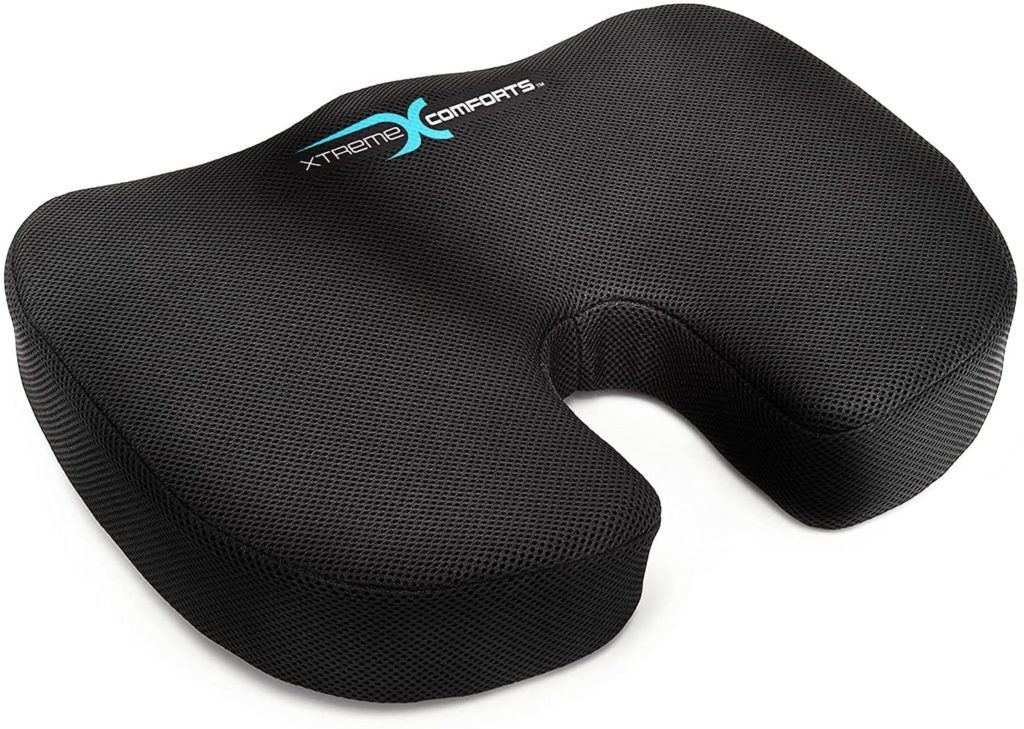 The Most Affordable Chair Upgrade
Make any chair instantly more comfortable with this affordable seat cushion from Xtreme Comforts. This chair cushion doesn't just promote lumbar support & relief, tailbone, and posterior discomfort – it also promotes a stronger seated posture.
Buyer's Guide: How We Picked the Top 7 Best Office Chairs for Small Spaces
Out of all the office chairs suitable for small space, we've picked out seven that are the best of the best. They offer the highest standards of quality, comfort, and all-around value for money.
Here, we're outlining exactly what we looked for when making these selections — as well as what you might need to consider before buying a new office chair for your workspace.
All-Round Comfort Level
When it comes to office chairs, comfort really is key. After all, you could have a chair that fits beautifully into your workspace, but if it's unpleasant to sit on, it defeats the purpose.
Comfort was the deciding factor in all of our choices, and for good reason — picking the right office chair can have long-term effects on your health, body, and overall well-being.
Although comfort is a relative and personal metric — what may feel great for one person may be uncomfortable for another — looking out for features such as mesh backs, ergonomic design, lumbar support, and padded seats is a good way of ensuring you're picking a chair that's going to support you and your body.
Durability
Second to comfort, durability is the next most important factor in choosing the best office chair.
No matter your budget and price point you're targeting, you want to ensure that your desk chair is a good investment and built to last.
While looking at the manufacturer's recommended weight limit can always be a good indication of how strong a given chair is, it's a good idea to look around and get first-hand reviews from other users to get a sense of how the chair holds up over time, as well.
Armrests
When choosing the best office chair for a small workspace, deciding whether or not to get one with an armrest should be an important factor in your decision-making.
While armrests can add to your comfort level by preventing sore shoulders and reducing neck pain, they can also take up a lot of room. Depending on the size of your desk, they also may not fit under it once you're done for the day.
With that in mind, you might want to look for chairs that do not have armrests, or that have flip-up armrests. Doing so can help you save valuable real estate in your workspace.
Style
Style may not be the most crucial factor in choosing an office chair, but it's important nonetheless.
The chair, after all, is an investment — you'll likely be using it for hours per day for months or years to come. Having a chair that matches your personal style can help you create a workspace that you feel happy and at home in.
In the guide below, you'll find a mix of different styles of chairs bound to match your aesthetic. And while we definitely recommend placing a higher priority on comfort and durability, it's still worth considering how your chair looks and fits in with the rest of your space.
7 Best Comfortable Chairs for Small Spaces in 2022
1. Branch Task Chair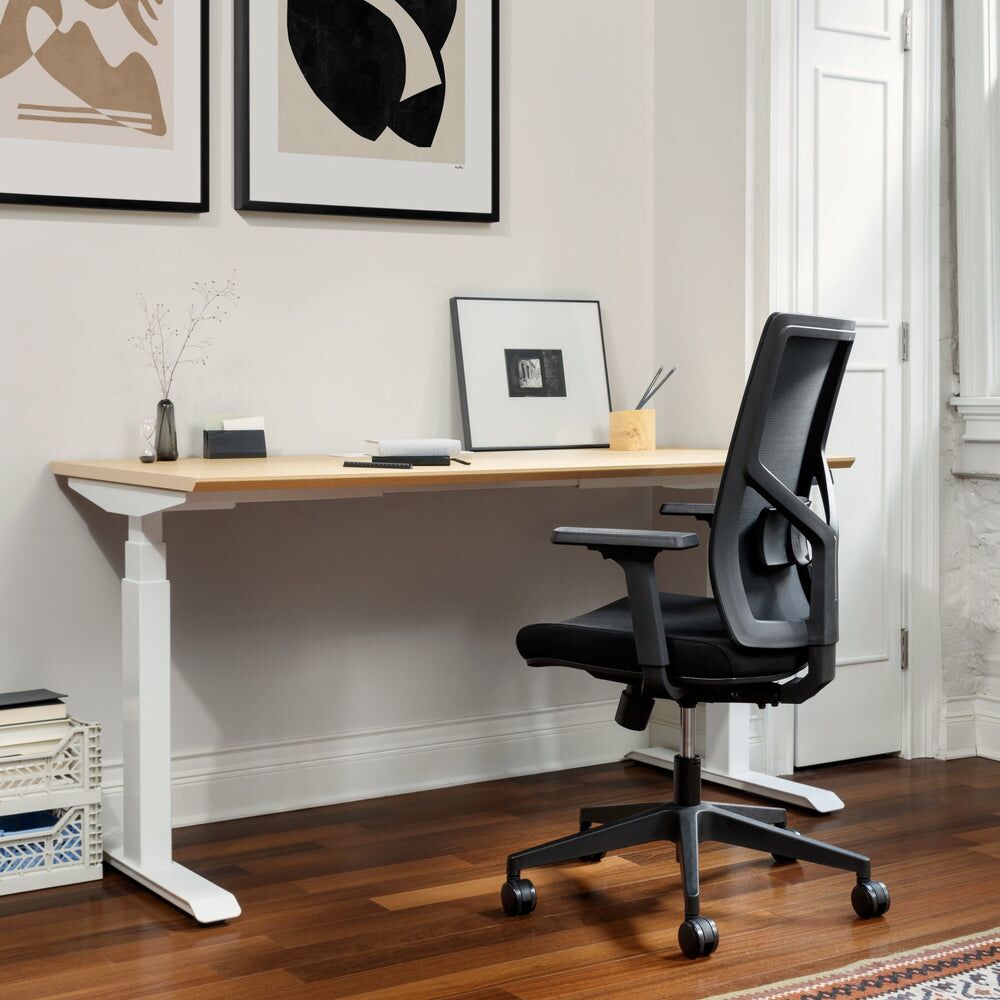 The best-selling Branch Task Chair is a high-quality office chair with a budget-friendly price tag. If you're looking for a classic office chair at an affordable price, you can't go wrong with this one.
Ultimately, though, it's the ergonomic qualities that make the Branch Task Chair our pick for one of the best office chairs. It combines an adjustable lumbar rest and breathable mesh backrest — both of which provide ample support for hours of work. The high-density foam cushion ensures even weight distribution to prevent the buildup of soreness on key pressure points.
It also has five adjustable points, including armrest heigh, tilt, tilt tension, overall height, and the aforementioned lumbar support. These customizable features can help you find the perfect position for comfort and healthy posture.
The Branch Task Chair is also a breeze to assemble, and fits perfectly into small spaces without compromising on comfort and quality.
Also working in its favor is the fact that it's a breeze to assemble and fits perfectly into small spaces without compromising on comfort and quality.
Additionally, if you're sold on the Branch Task Chair but prefer something slightly bigger, the Branch Ergonomic Chair might be a better fit.
Branch Task Chair Dimensions:
Height: 48″ – 52″
Width: 25″
Depth: 25″
2. Herman Miller Aeron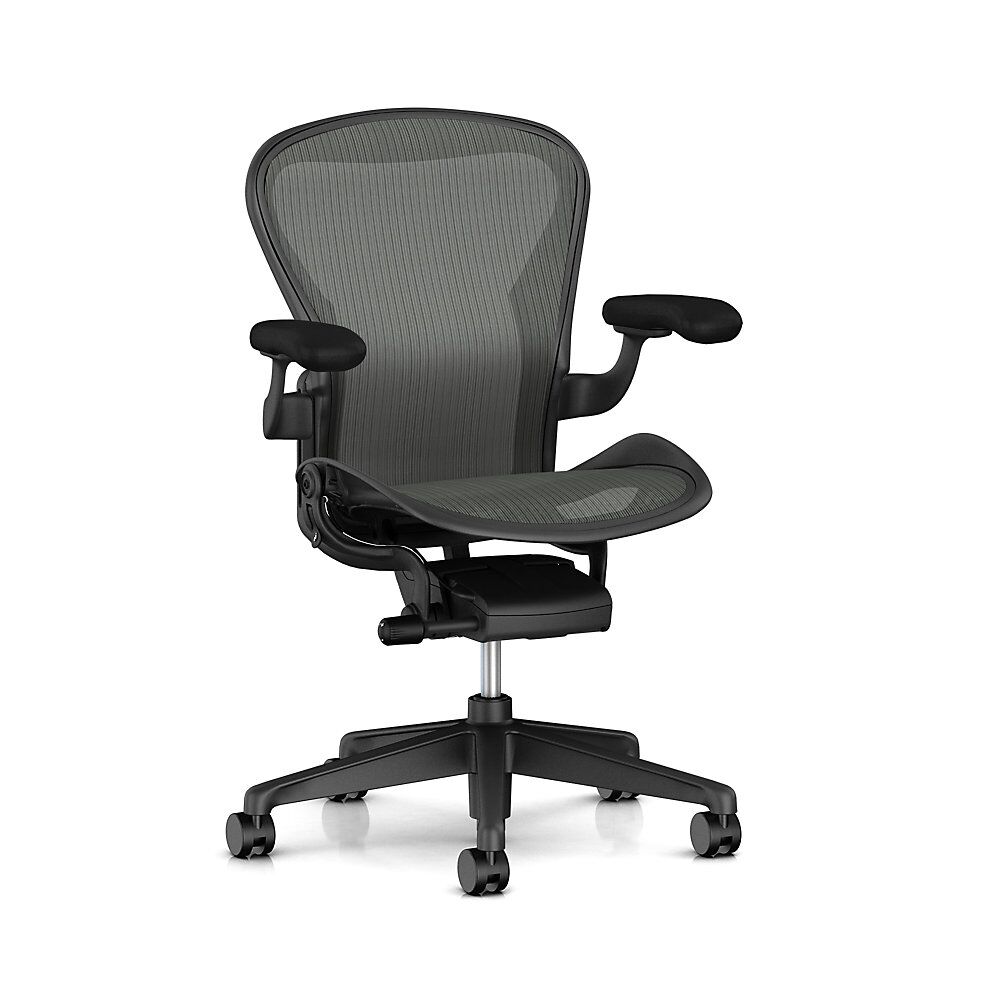 The Herman Miller Aeron isn't just one of the best office chairs for small spaces, it's one of the best office chairs in general.
It's highly praised for its durability, contemporary style, and emphasis on ergonomic design. It comes in three different sizes, so you're bound to find a version that fits just right. The Aeron also comes with adjustable armrests that can be pulled back or flipped up so that you can neatly nip your chair away when not in use.
But what we really like about the Herman Miller Aeron chair is the comfort level.
As we've noted in our Herman Miller Aeron review, the chair has inspired a devoted fan base thanks to its superior comfort, thanks in no small part to its patented 8Z Pellicle.
This patented elastomeric weave runs from the top of the backrest to the smooth, water-fall edge of the seat and responds to the way you move in your seat. By doing so, you're always fully supported and comfortable no matter how much you move around or switch positions in the chair.
The mesh design also has a tension adjustment, which helps provide ample suspension and makes it a good choice for active sitting.
Though it's certainly one of the most comfortable office chairs on the market, the Aeron is one of the most expensive. While we believe it's worth it if it fits within your budget, there are certainly more affordable options to look into.
Herman Miller Aeron Dimensions:
Height: 38.5″
Width: 25.75″
Depth: 16.75″
3. YAHEETECH Adjustable Task Chair
The YAHEETECH Adjustable Task Chair is one of the most unique-looking office chairs for small spaces.
The white, polyurethane leather (PU) gives the chair a distinctly cool and modern appearance that makes it a popular choice for minimalist work environments. The striking chrome frame also adds to its appeal.
That's not to say the chair is all style in no substance, though.
The YAHEETECH Adjustable Task Chair gets high marks from us due to the lack of armrests. That feature makes it an ideal candidate for working in small spaces because it doesn't take up a lot of room, and can tuck effortlessly under your desk when you're done working.
On the flip side, though, the YAHEETECH doesn't come with high-quality ergonomic support you might find in other office chairs. While the height can be moved up and down and the generously padded seat provides added comfort, it's otherwise fairly limited on the ergonomic and comfort front.
YAHEETECH Adjustable Task Chair Dimensions:
Height: 35.8″
Width: 19.5″
Depth: 19.5″
4. Humanscale Diffrient World Task Chair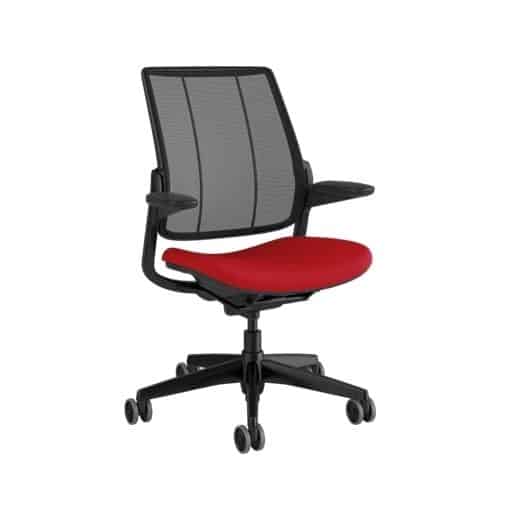 Humanscale's Diffrient World Task Chair is built with longevity in mind.
A full-function task chair with a unique tri-panel backrest finished in breathable mesh, this one feels light, airy, and gentle despite being made from seriously heavy-duty materials for plenty of support.
In fact, designer Neils Diffrient did away with traditional adjustability mechanisms in favor of designing a chair that harnesses the laws of physics. It puts your own body weight to work in creating the ideal seating position for each individual user.
It should be no surprise, though, that such an innovation comes at a premium price tag. And while it didn't quite make our list of the most expensive chairs in the world, it's still the most expensive office chair for small spaces.
If you do have the budget for it, though, you'll no doubt love the he lightweight mesh and minimalist design, the latter of which makes this one tailor-made for small spaces.
Humanscale Diffrient World Task Chair Dimensions:
Height: 39″
Width: 25.75″
Length: 25″
5. Amazon Basics Low-Back Adjustable Office Desk Chair
While the Amazon Basics Low-Back Adjustable Office Desk Chair may not look all that remarkable, it packs a strong punch.
Rather than focusing on fancy features and elaborate designs, this Amazon Basics chair has kept things simple. Instead, it prioritizes maximum comfort and support for minimal cost.
Unlike other budget-friendly desk chairs, the Amazon Basics Low-Back Adjustable Office Desk Chair comes with a mesh back. In fact, it's reminiscent of a feature you might find in the more premium options on this list. It does a good job of helping you to maintain a healthy posture while allowing plenty of airflow to keep you cool and comfortable during long workdays.
The 2-inch padded seat is also highly-praised, due to the way it provides ample cushioning and avoids the buildup of sore spots — or the dreaded numb backside.
Like others on this list, your adjustability options are limited only to moving the height up and down. That said, you do get a nice choice of four different colors that may suit your aesthetic. The chair is a popular choice for sewing rooms, art studios, and similar small spaces, as well. It offers a level of comfort and quality beyond its modest price tag.
AmazonBasics Low-Back Adjustable Office Desk Chair Dimensions
Height: 32.8″
Width: 20.5″
Depth: 21.5″
6. KOLLIE Small Desk Chair
The KOLLIE Small Desk Chair is another great, budget-friendly option to put on your radar. It boasts a compact frame but a substantial amount of comfort.
It will take up less space in your workstation, too, since it doesn't have armrests. The KOLLIE Small Desk Chair is made in the USA and offers an impressive level of durability, stability, and strength. It supports a maximum weight recommendation of 250 pounds.
The high-density mesh back, well-made ergonomic lumbar support, high-resilience foam, and affordable price tag all combine to earn this chair a spot on our list of the best office chairs for small spaces.
KOLLIE Small Desk Chair Dimensions
Height: 33.1″
Width: 18.1″
Depth: 17.7"
7. DJ·Wang Grey Desk Chair
No products found.
The DJ·Wang Grey Desk Chair is a popular alternative to the cult-favorite Herman Miller chairs. It combines an attractive style with superior comfort and a human-centric design.
It's a great option for those who suffer from back pain due to long hours of sitting due to the ergonomic backrest. It helps you maintain good posture and keep the natural S-shape of your spine rather than slouching, crouching, and crunching it into a painful C-shape.
The padded cushion provides ample support for your posterior, but isn't too firm or uncomfortable. It also makes for a stylish addition to any small office space.
A downside of the DJ·Wang Grey Desk Chair is that it doesn't have many adjustable features. While the chair's height can be changed to make it suitable for both tall and short users, there's no recline, tilt, or armrest adjustments.
That said, if you do find that the somewhat peculiar-shaped armrests are taking up too much space in your small office, you can always remove them. The chair will still look just as good and be just as comfortable without them.
DJ.Wang Grey Desk Chair Dimensions:
Height: 36.25″ – 39″
Width: 18.75″
Depth: 18″
Which is the Best Office Chair for Your Small Office? Our Verdict
This all begs the question: What is the best office chair for your small office? It can certainly be a tough decision, and undoubtedly a financial investment.
The answer, though, is that it depends on what's most important to you.
If you're looking to spend as little money as possible, then the AmazonBasics Low-Back Adjustable Office Desk Chair should be at the top of your list.
But if you have a substantially larger budget and don't mind paying top price for top quality, you can't go wrong with the Herman Miller Aeron — it's a fan-favorite for a reason.
If you're looking for the best all-around office chair for your small office, though, the Branch Task Chair fits the bill nicely. It combines an affordable price tag with a high-end aesthetic appeal, premium-level comfort, and more adjustability than you'd find with most small space-friendly chairs. It's the true definition of maximum quality at minimum size.
Other Products We Considered
The Office Chair Picks editorial team researches hundreds of products based on consumer reviews, brand quality, and value. We then choose a shorter list for in-depth research and testing before finalizing our top picks. These are the products we considered that ultimately didn't make our top 5.