How We Tested
We recommend these products based on an intensive research process that's designed to cut through the noise and find the top products in this space. Guided by experts, we spend hours looking into the factors that matter, to bring you these selections.
Click here for testing insights >

11
Models
Considered

302
Consumers
Consulted

35
Hours
Researched
Buying guide for
7 of the Best Office Chairs for Tall People: Our Picks
As anyone of substantial stature will no doubt tell you, the best office chairs for tall people can make a marked difference not only in the way you work while you're sitting in one, but also for your long-term health as well.
After all, it probably goes without saying that squashing yourself into an ill-fitting chair can wreak havoc on your back, neck, and shoulders.
That's to say nothing of the impact on your circulation (and all the health problems that go along with it) caused by having your legs in an awkward position all day just for the sake of getting some work done.
In a Hurry? Our Current Top 3 Picks:
No products found.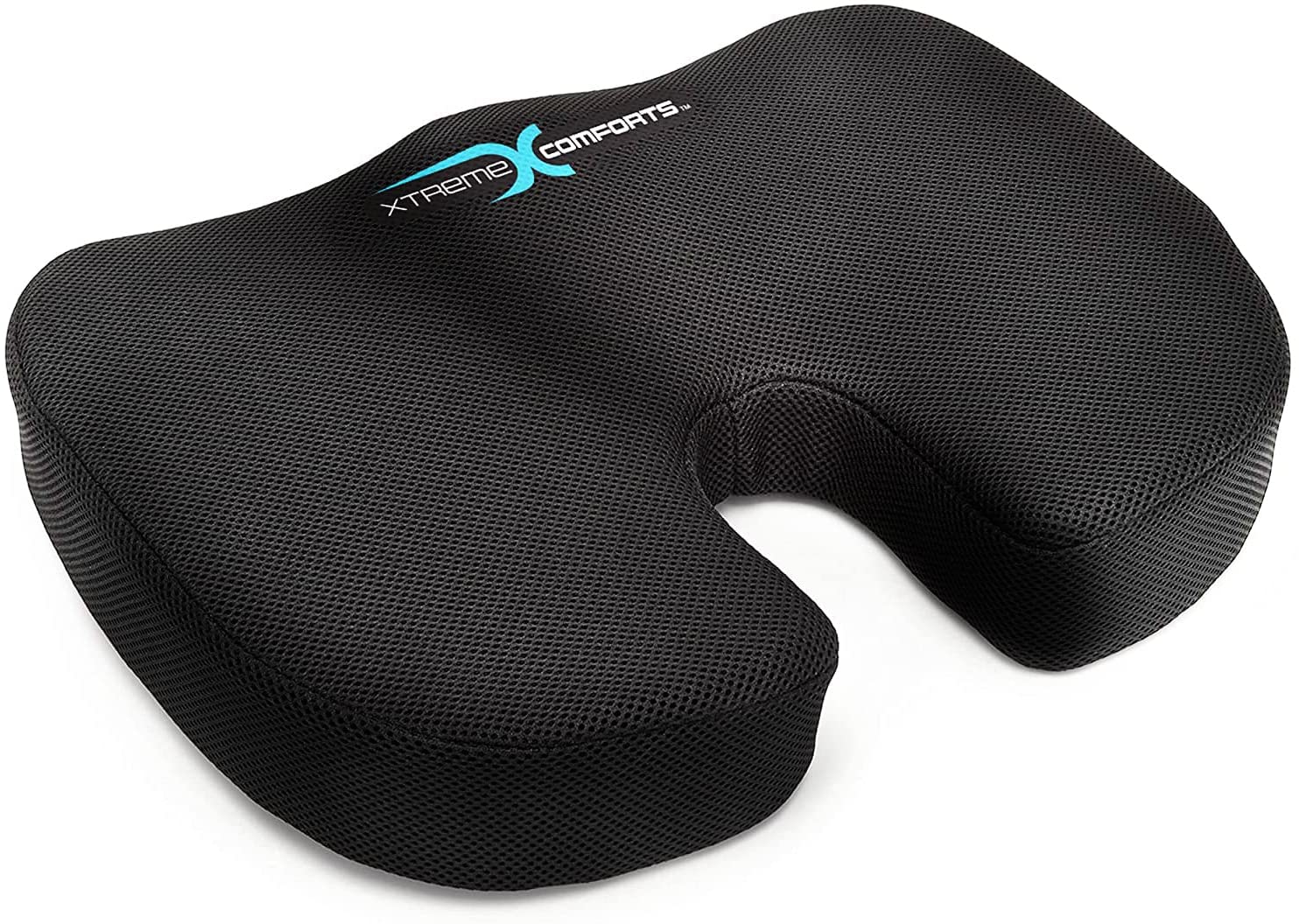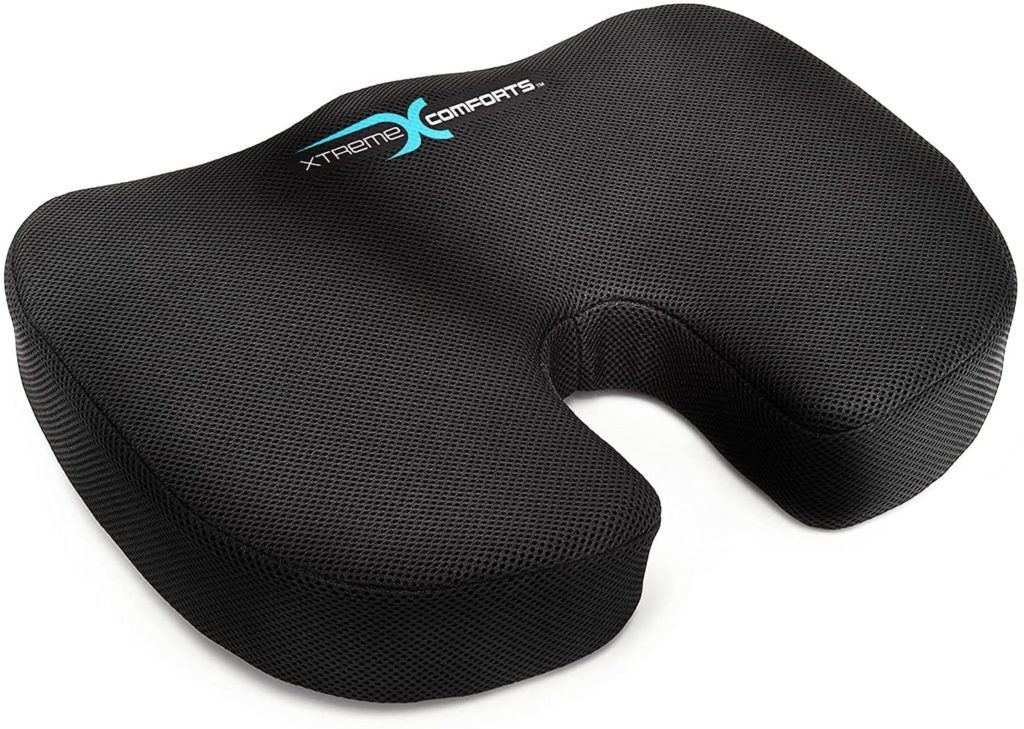 The Most Affordable Chair Upgrade
Make any chair instantly more comfortable with this affordable seat cushion from Xtreme Comforts. This chair cushion doesn't just promote lumbar support & relief, tailbone, and posterior discomfort – it also promotes a stronger seated posture.
So yes, choosing office chairs for big and tall guys and gals is important for those who find that their current chair just isn't fit for purpose, but that doesn't mean that any old model will do. You still deserve a whole lot of day-to-day comfort and, let's be honest, a little bit of style too.
How do you find one that ticks all those boxes while still staying within your budget?
Simple:
You start here, with our guide to the top 7 office chairs for tall people currently on the market.
How We're Defining A Tall Guy or Gal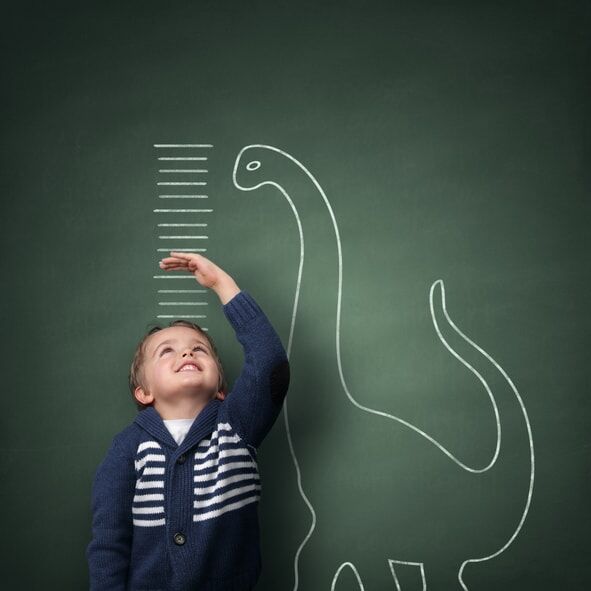 Of course, height is a pretty relative concept. A person who is 5'8" can seem tall to someone three or four inches shorter, so how exactly are we defining a "tall person" for the sake of choosing good office chairs for them?
It made sense of us to think of the word as meaning "above average height."
According to the latest available data published in 2018 by the Centers for Disease Control and Prevention (CDC), the average height of adult males in the United States is 5'9″, with women measuring an average of 5'4″.
Give or take a few inches, we decided that any chair suitable for people 6ft+ would be eligible for this guide.
Buyer's Guide: How We Picked the Top 6 Best Comfortable Office Chairs for Tall People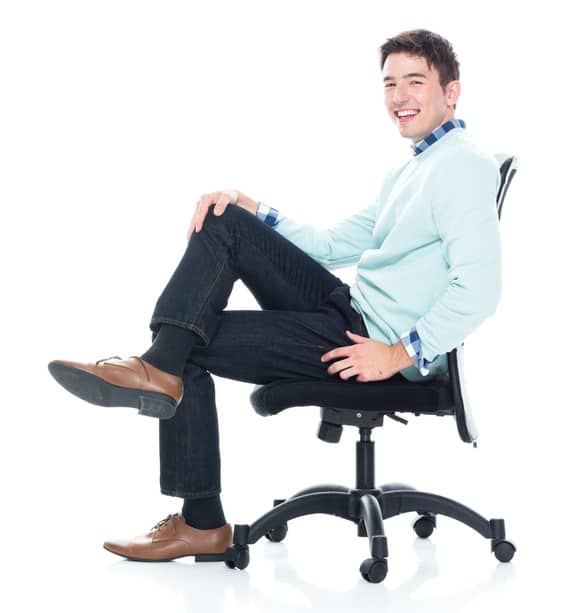 Deciding on the six very best office chairs for tall people was no easy task. We invested countless hours of research trying out and testing no less than 20 of the best-selling chairs suitable for 6ft+ users until we could determine those that provided all the support and comfort people need when working in an office chair for long periods.
To do that, we scored each chair on how they fared in terms of size, adjustable features, overall, comfort, and durability.
Here's why all of these elements were so important to us, and how they might influence your decision when it comes to choosing a new office chair of your own.
Size
OK, so it might seem like a no-brainer to suggest that if you're going to buy an office chair for a tall person, then it needs to be big enough to accommodate them, but there's more to this than simply buying the biggest chair possible.
The two key things to look out for are seat height and seat depth, particularly in terms of how adjustable they are. After all, while a chair may technically be big enough to support you if you're 6'2″, 6'3" or taller, there's no guarantee that's necessarily going to provide a snug, comfortable level of support right out of the box.
Being able to adjust both features, however, will ensure you can sit properly in a way that doesn't just make you feel comfortable there and then, but minimizes the kind of pressure and awkward posture that can result in long-term health issues.
Adjustability
Seat height and depth adjustability are important, but they're not the only adjustable features that we looked for. Adjustable armrests, backrests, and headrests also help you to customize the chair to the seating position you find most comfortable.
Those chairs that offered greater levels of adjustability, for example, a greater degree of incline on the backrest and four-directional armrests versus three-directional, scored higher in our lists.
Comfort
If you're going to spend any significant amount of time in your office chair, then comfort absolutely matters. With that in mind, we gave high marks to chairs with breathable mesh designs as these can not only provide soft, comfortable seating but also promote airflow to keep you cool.
Alternatively, chairs with thick, molded-foam seats for those who prefer a plush seat were also included in our guide.
Durability
Whether you're buying a simple task chair or a high-end gaming chair, durability always matters when it comes to buying new seating. If you're spending a reasonable amount of money, then it's only natural that you'll want that chair to be built to last for years to come.
That said, this factor is even more important for taller users, many of whom will need the extra reassurance that a higher-than-average recommended weight capacity can support them.
Best Office Chairs for Tall People – Our Picks
1. XEUR Ergonomic Office Chair
When selecting our favorite big and tall office chairs, we were looking for those that were sufficiently sized to accommodate larger users, provided plenty of comfort in terms of seating, back and armrests, and adjustable features, and were strong and durable enough to support taller users.
With that in mind, it should come as no surprise to learn that the XEUR Ergonomic Office Chair topped the chart for best tall-person friendly office chair of the year as it scored the highest marks in all of those categories, and then scored extra marks for looks, ergonomics, and superior seating quality.
First of all, there's the size factor.
From the tip of the floor to the top of the headrest, the whole chair can extend to as tall as 62″ with an adjustable floor-seat height of between 18.5″ – 21.65″. Add in a seat width of 19.9″ and an adjustable seat depth of between 16.14″ and 17.71″ and what you've got here is a chair that's very suited to those of a larger frame.
Yet what really sets this one apart from the crowd is the way it's been ergonomically designed to deliver maximum comfort.
Take the seat, for example. The dipped, curved design with waterfall edge relieves pressure on the back of your legs which improves overall circulation to help you maintain focus and energy throughout your day, while the breathable mesh design ensures proper airflow to keep you cool and comfortable.
That mesh is extended to the backrest, where you'll find enhanced lumbar support and 99° – 119° adjustability so that you can find the perfect position to suit you.
Elsewhere, the PU leather armrests can be adjusted in three directions (up-down, left-right, back-forth), and while there are those that do offer four-directional adjustability, it really isn't a deal-breaker when you consider how comfortable this one feels after all-day use.
Finally, we should point out that the XEUR Ergonomic Office Chair also proved excellent in terms of durability, with the manufacturer's maximum weight capacity of 300 lbs that means it's going to provide exceptional support for a long time to come.
Pros
Easy to assemble with full ergonomic features at a reasonable price point
Lumbar support piece and contoured backrest help keep a healthy working posture
Full mesh breathability, from the seat up to the adjustable headrest
Cons
Users who need extra padding and/or wider seat dimensions may find a contoured seat and curved lumbar support uncomfortable
2. Oak Hollow Aloria
No products found.
The one thing we love about the Oak Hollow Aloria more than anything else is the flexibility and a sheer number of variations and customizable options.
The Oak Hollow brand offer this popular chair with a choice of leather, fabric, or mesh seats, with or without the headrest, and with your choice of supporting base, not to mention three separate colors.
This means you can pick and choose components to pick a model that delivers all of Aloria's trademark comfort, strength, and high-caliber ergonomics with important finishes tailored to suit your tastes and seating preferences.
Ultimately though, it was the version with the soft, fabric seat, mesh back, and attachable, adjustable headrest that earned the Oak Hollow Aloria a place on our list simply because those three components deliver the best of all worlds.
That seat is made from a thick, high-density molded foam which provides the kind of soft seating you can sink into while still feeling well-supported. It's finished with a high-performance fabric for maximum protection against rips and stains.
Meanwhile, the mesh seat amplifies that comfort level when putting in those long sessions at the office.
Then there's the adjustability factor: 4-D adjustable armrests, a synchro-tilt mechanism on the backrest that locks in four different comfortable positions (as well as offering an unlocked setting for those days if you prefer a chair that moves with you), and ample seat-depth adjustment.
User reviews from people 6'4″ – 6'6″ tall and above report that this chair more than meets their needs, confirming our own verdict that this is undoubtedly a quality chair that should be on any tall person's radar.
Pros
Tall and comfortable backrest with a full range of adjustability
Comfortable backrest and seat materials
Multiple options for customization, including materials (mesh, leather, combinations), cylinder size, and optional headrest attachment
Excellent customer service
Cons
More expensive than many competitors
Some users found mid-back support lacking
3. Steelcase Gesture
No products found.
Strong, smart, and effortlessly stylish, the popular Steelcase Gesture has proven to be one of the best-selling office chairs of all time thanks to its superior comfort and unbeatable durability, boasting a maximum weight capacity of 400 lbs.
That weight capacity, along with three different seat height positions ranging from 14.5″ up to 22.5″, a substantial 20″ wide seat, and an adjustable seat depth of 15.75 – 18.5″ all help make the Gesture an essential addition to any list of the best office chairs for tall people.
Still, as you might imagine, there's much more to this excellent chair than simply the ability to accommodate larger users.
The proprietary seat cushion itself is both a work of art and a feat of engineering, utilizing built-in air pockets which adjust and adapt to your body to minimize the kind of pressure that can gradually build up over the course of all-day use.
The backrest is something special, with a contoured design that helps keep your back in its natural, S-shaped alignment to reduce back pain, while the adjustable 4-D armrests can likewise help prevent sore, tired shoulders.
If you're looking for a good chair for eliminating neck pain while you work, you can also opt to add on an adjustable headrest for extra support.
Pros
A top-end ergonomic chair with a high back for taller users
Sleek modern styling with heady duty frame
Full range of adjustability and premium materials for comfort and breathability
Cons
The backrest is not wide enough for some users
Yes, it's a Steelcase, so expect to pay a bit more!
4. Ticova Ergonomic High Back Office Chair
No products found.
Fans of the Ticova Ergonomic Office Chair heap praise on its innovative design, with a cool, curved backrest and headrest which promotes proper posture while also responding to movements, meaning no matter what tasks you're taking on at your desk, you'll always be well-supported.
It's for this reason, along with the high-elastic breathable mesh and larger-than-average armrests with a concave design, that we felt compelled to include the Ticova when deciding on the best ergonomic office chairs, and it seems we're certainly not alone in that opinion.
Those who own a Ticova insist that its ample cushioning and game-changing lumbar support make it a great choice for users with health conditions such as arthritis and sciatica, while taller users 6'2″ and above say it's a great alternative for those who like models such as the Herman Miller Embody but need a greater range of seat and height adjustability to support their frame.
Pros
Modern design with excellent ergonomic support in the lumbar area
Thickly padded seat with a sturdy base
Consistent quality ratings over hundreds of reviews and reasonable price point
Cons
Best for users who need extra lumbar support. If you prefer a low-profile backrest with minimal lumbar, the separate lumbar component might be too much on the Ticova.
5. Bowthy Big and Tall Executive Chair
No products found.
Unlike the other chairs on this list, which feature mesh materials and separate headrest attachments, the Bowthy is an executive style chair with big and tall attributes.
So, while the Bowthy can easily accommodate users up to 6'5″ tall, it also has a high weight capacity of up to 400 lbs. If you want a big, cozy chair and don't mind the look or feel of PU leather (common on many mid-range executive style chairs), then this one is worth checking out.
Reviews of the Bowthy are overwhelmingly positive. What we find most appealing, aside from its generous seating proportions, is the combination of ergonomic design elements that add even more comfort and support than we see with many typical oversized chair models.
For example, with features like built-in adjustable lumbar support and a breathable recessed backrest, the Bowthy delivers a surprising level of comfort and support for your back. You'll have a harder time just sinking and letting your poor posture take over with this one.
Plus, it comes with a very thick headrest to keep your upper back, neck, and head supported when working. If you're tall, you know this type of upper body support matters.
The Bowthy is built with a sturdy metal base and basic mobility and adjustability features like height adjustment, tilt tension and lock (with a rocking range of 90° – 120°), and 360° swivel casters.
While we do find this to be a comfortable and supportive model for taller users, the Bowthy does lack a few key design elements.
For example, the armrest and headrest are fixed, so you won't be able to make those subtle but important tweaks to find the absolute perfect sitting position. Also, the seat is not depth adjustable, which can really help if you have long legs.
All in all, however, we found that the comfort factor on this one easily makes up for these flaws.
Pros
Big and comfortable chair suitable for users up to 6'5″ tall with a high weight capacity of 400lbs
Thickly padded and supportive headrest
Adjustable lumbar support
Cons
Lacks adjustability in armrests and headrest
6. Komene High Back Computer Chair
No products found.
If you're on the lookout for the best office chair for tall people with back issues, then the Komene High Back Computer Chair is undoubtedly worth a look.
Much like the Steelcase Gesture we looked at earlier, the Komene model offers an ergonomically designed backrest designed to match the natural S-shape of the human spine to encourage proper, comfortable posture, alleviate lumbar pain, reduce lower back pressure and even provide significant pelvic support.
Meanwhile, the tension-adjustable mesh back and movable headrest both respond to your body's movements, adapting to the way you work to ensure you maintain all that support and comfort as you work.
Like many of the other chairs in this guide, the Komene High Back Computer Chair supports a manufacturer's recommended weight limit of 300 lbs which is hardly surprising when you consider how heavy the chair itself is.
Weighing some 35+ lbs, this is certainly not a flimsy product, and its substantial size is a good indicator of just how durable it is.
Finally, it's important to point out that many reviews from users 5'10 – 6'3″ note that this sizable chair more than suits their needs, those some users taller than that report that it just isn't quite big enough for them.
Otherwise, what you're looking at here is another quality product with the kind of superior back support which will be much welcomed by anyone who knows how distracting and unpleasant lower-back pressure can be during the working day.
Pros
Lots of ergonomic features and high-end design for a reasonable price
Bonus features like fully adjustable headrest and flip-up armrests
Full mesh design with lots of airflow
Cons
Some users had issues with sizing (too narrow) and durability (users report that the company will send over a new chair if you spot durability issues upon receipt)
7. MOOJIRS Ergonomic Office Chair
No products found.
Last but by no means least, the MOOJIRS Ergonomic Office Chair deserves a solid mention more so for its advanced ergonomic features than its admittedly rather ample size.
The 300 lbs weight capacity, the 17.71″ – 21.65″ floor seat height adjustability, and the 20″ seat width all make it plenty suitable for users 6ft and above. Indeed, we've read many customer reviews from those 6'2″+ who note that it's plenty sturdy and offers just the right balance between spaciousness and snugness.
However, it's those ergonomics that really appeal to us.
The bionic-curve backrest boasts a contoured design that mimics the shape of the human spine to promote good posture and reduce lower-back pressure. And if you don't like the fully upright position, you can take advantage of three different tilt settings with a locking mechanism to get a position that fits you better.
The 3-D armrests can be adjusted up-down, left-right, back-forth, the headrest and seat height can both be adjusted. And you can even play around with the tension of the elastic mesh on the backrest to improve your seating position even further.
All of this is presented with a distinctive, minimalist design that's almost guaranteed to make the MOOJIRS Ergonomic Office Chair a striking focal point in your office space.
What is the Best Office Chair for Tall People? Our Final Verdict
So, you've seen what we consider to be the top tall-person friendly office chairs currently on the market, and you even know how we chose those six models out of all the countless options available.
Still, if there's one key thing you should take away from this guide more than any other, it's that determining the absolute best chair for you is all a matter of catering to your own individual needs, tastes, and preferences.
If like many people, you suffer from back pain after a long time sitting at your desk, then models like the popular Steelcase Gesture and Ticova Ergonomic Office Chair with their curved, ergo-designed backrests and superior lumbar support should definitely be on your radar.
If you like the idea of combining high levels of durability with the flexibility to choose from a range of materials, you may consider the Oak Hollow Aloria.
But if you're simply looking for hands-down the best office chair for tall people that money can buy, then the ample size, support, and adjustable features make the XEUR Ergonomic Office Chair a clear winner in our opinion.
Other Products We Considered
The Office Chair Picks editorial team researches hundreds of products based on consumer reviews, brand quality, and value. We then choose a shorter list for in-depth research and testing before finalizing our top picks. These are the products we considered that ultimately didn't make our top 5.