How We Tested
We recommend these products based on an intensive research process that's designed to cut through the noise and find the top products in this space. Guided by experts, we spend hours looking into the factors that matter, to bring you these selections.
Click here for testing insights >

11
Models
Considered

201
Consumers
Consulted

30
Hours
Researched
Buying guide for
Best Office Chair with Massage: Top Models for Comfort and Relief
The best office chairs with massage will deliver more than the basic comforts of your standard ergonomic task chair. These chairs take that comfort and pain relief to another level.
In this guide, we've done the research to cull out some of the top office chairs and accessories with built-in massage technology. Let's dive in.
What to Consider in a Massage Office Chair
First, though, it's important to understand what you should consider in a massage office chair.
After all, many office chairs do have a massage feature, but they are far from equal. The large variety in features and functions can have a huge impact on just how effective these massages are, if at all. Here are a few things to look out for when looking at massage chairs.
Massage Points
One of the most important questions is just how many parts of your body the chair can massage. These chairs will tell you how many massage points it has. You might find as little as four, or as many as 10 or 12. Equally important is where those massage points are located. Are they only on your back? How many are on the lower back (a common pain point)? Do any of them massage your neck? What about your thighs and glutes? Make sure you get as much massage as you want.
Speeds, Settings and Modes
Once you know how many massage points you have, the next question is what they can do. Some chairs only have one or two massage speeds, whereas a more luxurious model might have five or six. Look for a variety of massage modes as well. If it can do kneading, spot, and Shiatsu massage, you have a lot of potential.
Luxury Features
Look out for other features to make your office chair as relaxing and therapeutic as possible. A common feature is a heating function, which goes perfectly with a good massage. Some are only mildly warm, while others can feel like a strong heating pad. Some other good features are footrests, reclining function, remote control, and the ability to save your favorite settings.
Best Massage Office Chairs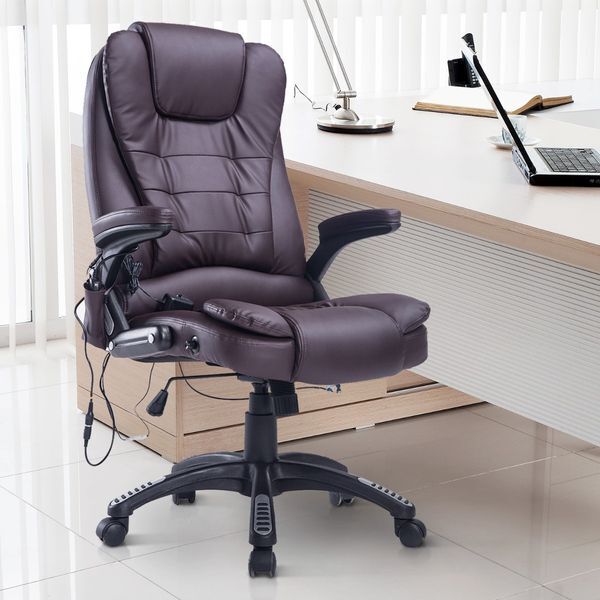 With HOMCOM's High Back Heated Massage Chair, you'll be able to feel completely in control as you choose from six heating and vibrating massage points to target your discomfort. It has a solid five-leg base with 360° swivel wheels, and a padded seat, armrests, and backrest.
The upholstery is made out of high-quality PU (polyurethane) leather, and you can choose from solid black, brown, cream white, or red.
Along with the six different massage points, HOMCOM integrated a heating and timing feature into the chair. You can also fine-tune your comfort by controlling the massage intensity (strong/middle/weak) and heating temperature (140 – 158 °F). Plus, everything can be controlled by a remote, which you can place in the attached storage pocket when not in use.
Key Specifications:
Overall Dimensions: 24.4″ W x 26.8″ D x (43.7″ – 47.6″) H
Adjustable Seat Height: 17.5″ – 21.5″
Seat Width: 21.5″
Back Thickness: 5.5″
Seat Thickness: 4″
Weight: 41 pounds
Weight Capacity: 365 pounds
Before you turn your nose at having a gaming chair instead of a traditional, plain, office chair, the VON RACER may be able to change your mind.
The chair itself does not have any massage features. Instead, it comes with a USB-powered, adjustable lumbar massage cushion, which is beneficial for anyone whose pain is centralized in their lower back. Of course, you can use this as a basis cushion, without massage mode, or remove it completely if it gets uncomfortable.
The cord measures approximately four feet or can be substituted for a different cable. Although the massage function is limited to the lower back, other ergonomic features such as neck support, angle adjuster, retractable padded footrest, and adjustable armrests provide a comfortable experience.
The exterior is made from high-quality PU leather and is available in black or black with gray accents. The armrests can be adjusted in all directions, up, down, left, and right, and the chair back can be positioned upright at 90° or recline backward up to 135°. It can be locked at any angle. The seat height is also adjustable. It can be swiveled 360°.
With purchase, you receive a one-year limited warranty that covers any defects or errors in quality, as well as everything you need for assembly: necessary tools, hardware, and instructions.
As opposed to other chair designs, this VON RACER is much smaller, with the width and depth only measuring approximately 18 inches on each side.
But the chair does not have raised sides, like many other gaming chairs, which at least allows for a little more room.
Key Specifications:
Overall Dimensions: 26.8'' x 26.8'' x (48.8''- 52.0")
Seat Dimension: 18.1'' x 18.9'' (W x D)
Backrest Dimension: 20.9'' x 32.2'' (W x H)
Weight: 43 pounds
The stylish and affordable PC Gaming Massage Chair by BestOffice is the most reviewed chair we've covered so far with tons of customer insights to explore. Compared to the VON RACER reviewed above, both chairs are similar, but BestOffice provides a wider seat and more flexibility.
It's important to note the chair itself does not have a massage function but is provided in the lumbar cushion. The lumbar pillow comes with a USB cord for charging, so you can relax wire-free while you work or play, a consumer favorite feature. It uses a remote-controlled vibrating setting to reduce fatigue and relax your lower back muscles.
Kick your feet up and take a break using the retractable footrest and adjustable seatback. It can be locked into any position ranging from 90° to 155°. The headrest is also adjustable. It can swivel 360° and be raised or lowered within a range of six inches, great for a chair used by different people.
Key Specifications:
Overall Dimensions: 28.74" x 26.7" x 53.5"
Weight: 43.4 pounds
Backrest Angle: 90 to 155°
The Massage Desk Chair by BestOffice sports a traditional, sleek, faux-leather style.
Unfortunately, the massage features offered aren't an upgrade compared to their gaming chair. It doesn't provide any in-depth control, merely an on or off switch that only activates vibration.
The chair utilizes a PU (polyurethane) leather and foam construction, with hand-tied coil springs for plush comfort. A tilt tension control knob is on the bottom of the chair so that you can adjust the degree of rocking. The headrest, lumbar support, and cushioned armrest provide ergonomic comfort.
Key Specifications:
Overall Dimensions: 30" x 26" x 47"
Seat Height: 19.7" – 23"
Seat Width: 21" W x 21" D
Weight: 38 pounds
Steering away from the synthetic leather found in most office chairs, Kealive designed an ergonomic office chair with fabric upholstery, memory foam interior, and unique massage features.
The base of the chair is durable and can withstand up to 300 pounds. The casters are smooth and secure, providing for quiet rolling and full 360° rotation. Even when you're not receiving a massage, Kealive designed their chair with your comfort in mind.
The ultra-high back has a wider, thicker backrest and seat cushion, with additional support for your head, shoulders, and neck. The back can be locked at 90° or reclined up to 120° with the push of a button.
With the remote control, you have full control over the massage, vibration, and heating options. Choose from five massage modes: rap, beat, pat, auto, comfortable, and three durations, 15, 30, or 60 minutes—30 minutes is the default. With it, you can massage your back, lumbar or thighs.
Many massage chairs only have the ability to massage your back, while Kealive integrates technology into the seat of the chair. Additionally, the chair can be heated with temperatures ranging from 104° to 122° at the massage points. You can also control the vibration intensity from weak to strong.
Since it is made of thick cotton and fabric exterior, it takes up to half an hour to heat up and is not as effective as heated chairs with a leather exterior.
Key Specifications:
Overall Dimensions: 25.4'' x 27.9'' x (43.3''-46.8'') (W x D x H)
Cushion Dimension: 20″ x 18.5″
Adjustable Seat Height: 18.5''- 22''
Weight: 42.7 pounds
Weight Capacity: 300lbs
If you have a chair that you love and would prefer not to search for a replacement, the Shiatsu Back Massage Chair Pad by Comfier may be the right solution. Shiatsu helps eliminate fatigue, stress, and aching muscles.
You can use this chair accessory anywhere. It can fit in the average office chair, home recliner, and even on a couch by using an integrated strapping system. The provided cord falls just short of six feet long.
After using the included demonstration function to take you through the various features, you can choose from a full-back, upper-back, or lower-back shiatsu. The shiatsu rollers have four rotating nodes that can move up and down, replicating kneading hands. It has two intensity options, high or low. In addition, the shiatsu nodes have a heating feature that can be turned on or off when preferred.
There is also a spot function that allows you to stop the nodes from moving up or down and instead focus on one specific area. Up and down arrows shift the nodes' location to give you full control of the massage. It comes with a detachable intensity flap that can be removed if you want a deeper massage with less padding between you and the shiatsu nodes.
The seat itself has a non-slip rubber bottom and can vibrate on three intensity settings to help relieve tension in the hips and thighs.
Key Specifications:
Package Dimensions: 25.7" x 18.2" x 5.1"
Weight: 8.55 pounds
Includes cushion, adapter, manual, and packing box
The Windaze Massage Office Chair is a classic, faux-leather office chair. Its ergonomic design is complemented by the unique massage features.
It comes with a remote that allows you to customize your experience; choose from four massage modes (pulse, press, wave, auto) or normal to use on six locations, two back points, two waist points, and two thigh points. You can coose from three separate timers, 15, 30, or 60 minutes, and either a high or low vibration to accompany your massage.
In addition to the massage features, Windaze also incorporated a heating feature that can be adjusted between 140°F and 158°F. Heat is commonly used in massage therapies to stimulate the blood vessels, which helps alleviate joint pain, cramps, and sore muscles.
The upholstery is made of soft PVC (polyvinyl chloride) leather with eco-friendly recycled foam padding as the interior. The frame, composed of five durable casters and a gas lift-rod, provides stability.
While it does have the ability to swivel 360° completely, the wire for the massage and heating is attached to the back of the chair, so you'll have to disconnect it, or risk tangling the chair. For extra comfort, the chair unlocks to allow for reclining.
Key Specifications:
Overall Dimensions: 27.16″ W x 29.5″ D x (43.7-47.6)" H
Space Between Armrests: 21"
Lowest Seat Height: 19.6″
Weight: 46.2 pounds
FAQ
Q. Why should I buy an office chair with massage?
A. Massages provide lots of health and mental wellness benefits, and shouldn't be limited to the nail salon or spa. They improve circulation, joint mobility, relaxation, and, most importantly, reduce muscle tension. Sitting in an uncomfortable office chair with poor posture, on the other hand, can hinder blood flow and cause prolonged back pain.
Q. What should I look for when buying massage office chairs?
A. Everyone is different. That means while your muscle pain may be concentrated in your shoulder blades, other people deal with pain in their hips, lower back, and thighs. The most important thing to look at before investing in an office chair with massage features is the massage location(s). If you're concerned about specific muscles, make sure the nodes or heat will be able to reach them. After this, make sure you're satisfied with the various strengths or intensity of the massage.
Q. Do I need to plug the massage chair in?
A. Yes, the majority of office chairs with massage will need to be plugged into an outlet. While they provide a long cord, it can still be challenging to maneuver the chair around without running over the cable or getting tangled. So keep this in mind. Some manufacturers provide a charging option for wire-free use, but it can run out of power in the middle of a massage.
Q. Should the chair be heated?
A. Not all office chairs with massage offer heating capabilities, but it's beneficial to have. Heat stimulates blood vessels, which then helps to alleviate joint pain, cramps, and other discomforts. It can also be great to have during cold winters. The two features go hand in hand.
Other Products We Considered
The Office Chair Picks editorial team researches hundreds of products based on consumer reviews, brand quality, and value. We then choose a shorter list for in-depth research and testing before finalizing our top picks. These are the products we considered that ultimately didn't make our top 5.