Ask any adult that spends their day behind a desk, and they'll tell you how important it is to have comfortable and ergonomically designed furniture.
For growing children, quality furniture that's comfortable and promotes healthy posture is even more important.
With most children's furniture, it's easy to get swept up in the hype of fun colors and cool designs.
What's most important is that you select a desk chair that's comfortable, ergonomic, and puts kids in the best position to learn.
In a hurry? Here are our top 3 picks:
Today, we're going to be covering the best kids desk chair options, so you can cut through the noise and select the best chair for your child.
Read on as we cover everything you'll need to know.
9 Best Kids' Desk Chairs
Without further adieu, let's dive in and look at the seven best kids desk chairs available today.
Each of these chairs is packed with innovative features and eye-catching designs that will make learning fun for your child.
The first thing you'll notice about the TechOrbits Ergonomic Desk Chair is that it's equipped with an ergonomic backrest shaped almost like wings, unlike many flat or curved back chairs. Aside from looking cool, the shape promotes the perfect posture and provides extra-wide lumbar support to hug your kid's back in just the right spot.
From a brand that specializes in home-work solutions such as standing desks, monitor mounts, and mobile workstations, TechOrbits makes this desk chair as convenient and comfortable as possible for your child.
You can move the mesh fabric seat as low as 14.2″ to as high as 20.1″ with easy-to-use rotary knobs. This helps accommodate younger kids who can adjust the height as they grow and the fabric doesn't stick to their legs after long periods of time like some synthetic leather seats do. You can also lift the backrest from 31.1" to 37" and right-fit it to their posture.
This chair is very convenient for the kid who's always on the go, whether it's rolling into the kitchen to complete homework or into the den to play some video games. The back includes an easy-grip handle for perfect portability and locking casters on the wheels to stay in place… once they've decided where that is.
Pros
"Wing" backrest for comfort and support

Easy to adjust backrest and seat for a comfortable fit

3 bright color options (pink, blue, or green)

Locking casters and easy-grip handle

Sturdy mesh fabric seat
Cons
Seat size isn't suitable for bigger kids (10+)

Height maxes out at 20 inches

No armrests
TechOrbits Ergonomic Kids Desk Chair
SEAT AND BACK ADJUSTMENTS: Kids growing fast? Our ergonomic desk chair helps you save money through the years. Raise the seat height from 14.2" to 20.1" with rotary knobs. The backrest also lifts from 31.1" to 37" to match your child's height and posture.
ANGEL WING ERGONOMICS: Give your child a pair of angel wings to lean on. The split design offers a wide lumbar area for added support. With the right height adjustment, this comfortable desk chair helps ease pressure off the back even during long sitting.
The Ringo chair from SIDIZ is an award-winning design that is completely adjustable according to the child's height, weight, and shape. This innovative chair has taken home Red Dot and IF awards in Germany for design and functionality.
This chair is ideal for children over 55 pounds, and it's marketed for kids 6-13 years old, although younger or older kids can certainly enjoy this chair as well.
This ergonomic model features a 4-level adjustable backrest and seat, which allow kids to customize their chairs to find the perfect comfort level.
The height of the backrest, the width of the seat, and the overall height of the chair are all adjustable. There is also a detachable footrest that kids are sure to love, and it's especially handy for children under five feet tall.
Sit-lock casters are a nice addition to this children's desk chair, and they lock in place as soon as the child sits down. As we know, kids love rolling desk chairs, and they can present a major distraction to children who would rather roll around than concentrate on their studies.
Once there's 55 pounds or more of weight in the chair, the casters lock, providing a stable base so kids can focus.
The Ringo chair is available in mint green and rosy pink, and the cushion and backrest are both replaceable, which is a major benefit when it comes to children's furniture.
If the seat becomes stained, discolored, or rips, changing it out is incredibly simple.
Pros
Four adjustment stages – perfect for growing children
Replaceable seat and backrest covers
Removable footrest
Casters lock in place when kids sit down – prevents distraction
Cons
Expensive
Levers and handles could be more heavy duty
Related: The Best Gaming Chairs for Kids
SIDIZ Kids Desk Chair
🌈【ERGONOMICS FOR YOUR GROWING KID】 Experience the growing adjustment feature with Ringo. Ringo is carefully designed for a growing child, helping to have a healthy sitting posture.
🌈【4-STEP GROWING CHAIR】 The backrest can be adjusted leaving more seat space. This allows setting the chair in the most comfortable form as your children play, learn, create and grow.
Although better known for their line of standing desks, FlexiSpot also makes some very comfortable and ergonomic office chairs. One of our favorite models is their ergonomic study chair for kids.
If you're looking for a reasonably priced chair with good support and high-density foam comfort, this is a great option. Many customers have actually reported that this chair improved their child's posture.
This study chair comes in a clean and neutral gray and white color combination. This means it will work for a boy or girl.
At about 24lbs, this is a light-weight desk chair. But the sturdy frame allows for a weight capacity of up to 100 lbs.
It's height adjustable with a nice rounded seat and armrest design. And the backrest features a subtle S-curve to provide adequate support to your child's spine when sitting, while helping them stay in an upright posture.
This FlexiSpot also features locking casters, so your child won't be rolling all over the room when trying to concentrate. It's a simple but important feature, since rolling can be a major distraction for some kids.
Pros
Rounded seat and armrest design for ergonomic comfort
High density foam seat and backrest
Locking casters and sturdy base
Modern design with light and neutral colors
Cons
This chair gets high marks from most users, but some Amazon customers have reported missing parts with their shipment
The neutral gray color might not be as fun for your child if they want a brighter color
An ideal chair for any child, this executive chair has a more adult-like look and feel than many of the other chairs on our list, making it ideal for older children and any kid that wants to feel like a grown-up when sitting at their desk.
This chair features a breathable mesh back and seat, so it's breathable and comfortable, which helps keep kids comfortable and attentive as they study, browse online, or do homework.
A sturdy, heavyweight metal base is durable and long-lasting, and your child should get years of use out of this chair.
The back of the chair is ergonomically curved to support good posture and provide children with the comfort they need to focus on their work.
The chair's base features heavy-duty rolling casters and a hydraulic height adjustment so kids can easily move the chair up or down depending on the height of their desk and their comfort level.
Best of all, the chair is available in eight different bright and eye-catching colors, so every kid will be able to choose their favorite.
Pros
Affordable
Heavyweight metal base with casters
Ergonomic back
Available in eight colors
Cons
Thin seat cushion wears out quickly with regular use
Hydraulic height adjustment may fail with repeated use
Sale
Kids' Mesh Office Chair with Lumbar Support
✿[EASY TO SET UP] - Office chair comes with all hardware & necessary tools. Follow the instruction, you'll found easy to put together, and estimated assembly time in about 10-15mins. Office chair desk chair mesh chair computer chair.


✿[ERGONOMIC DESIGN] - Our new mid back office chair designed with human-oriented ergonomic construction that lasts long and thickly cushioned for maximum comfort. Office desk mesh computer chair.


This affordable and feature-rich desk set is ideal for parents who need a full desk setup for their child.
This desk is available in two different sizes to fit the needs of growing children, and each kit includes a desk, chair, adjustable LED reading light, book rest, and a plastic tool that clamps to the edge of the desk to help children achieve good posture.
Each desk is available in blue or pink, and the smaller desk measures in at 27.5" wide by 18.1" deep, while the larger measures 31.5" wide by 19.3" deep.
The desk and chair both offer a sturdy steel frame built for years of use, and both pieces have multiple height adjustment points so that the desk and chair can continue to grow with your child.
The chair is ergonomically designed to help children achieve good posture. The included orthotic that clamps to the edge of the desk helps prevent kids from hunching over, so they'll be able to practice good posture while they're learning.
One of the most noteworthy features of this desk is its tilting top, which adjusts up to 45-degrees to provide children with an optimal reading, writing, or drawing angle.
The larger desk also offers a pull-out tray for books, pencils, and other accessories.
Pros
Available in two sizes
Desktop tilts up to 45-degrees
All-steel frame for durability
Cons
Design may be a bit "too young" for older kids and young teens
FatCat Kids' Desk and Chair Set
🏅【Multifunctional】This table and chair set is designed for function. No matter what task your child has, this table can do the job. This is very suitable for children to study and draw easily and happily at home. This will be a happy gift for children!
🏅【 Safe and Durable Construction】A sturdy steel frame and non-slip legs on tables and chairs ensure stability and durability. This ergonomic desk set is suitable for sitting and proper positioning, and prevents your child from slouching when finishing work. Durable rubber pads prevent table and chair kits from rubbing against the ground and causing damage.
Also Check Out: The best chairs with desk (or tablet arms) attached. These are great for kids too.
If you want a simple, affordable and ergonomic study chair for your young learner, this desk chair from Office Factor is a popular choice.
The first thing we noticed was the circular base. Although the chair has a three-star base, it actually sits on 6 casters due to this design. This adds both stability and mobility – two crucial factors when looking at a kids computer or desk chair.
Another interesting design element with this chair is the ventilated backrest. Unlike textile mesh, which naturally provides a breathable backrest, this chair is made from a polypropylene material with a series of holes to increase airflow. It will keep your child cool during the day.
But, be advised, this material is firm and some users found it to be uncomfortable.
All in all, the soft seat, light and modern colors, and overall ergonomic shape of this chair earned it a spot on our list.
Plus, it can hold up to 175 pounds, which actually makes it suitable for a wider range of students (i.e. up to 13 years old).
Pros
Ventilated backrest

Ergonomically shaped seat with soft padding

Nice color range (light blue, light gray, pink, and white)

Affordable price point
Cons
The backrest is too firm for some customers
Office Factor Kids Desk Chair
Stylish Kids Chair: Bring some style into your child's room with this revolving kids' chair from Office Factor. Designed with the same features an functions as the executive chairs, it will delight the heart of any kid with its 360 degree swivel.
Polypropylene Breathable Back: The open mesh design of the back ensures proper air circulation around the back so that your little one doesn't get hot or tired while sitting on the chair. The chair can be easily adjusted for height, making it suitable for growing kids.
This no-frills desk chair from GreenForest is a versatile option for children who need a desk chair to study, do homework, or use the computer or tablet.
This chair offers many features you'd expect to see from an adult desk chair, such as rolling wheels, height adjustment, and 360-degree range of motion.
The chair weighs in under 10 pounds, so it's lightweight and easy to transport anywhere you need it to go, and it's available in hot pink or light blue.
While this chair certainly fits the bill for kids, it's the perfect size and style; there are a few caveats you'll want to consider.
With it's PU back and seat, it isn't especially comfortable for long study sessions.
Unlike most chairs on our list, it's also made almost entirely from plastic, so it isn't as durable as other options.
Pros
Easy to assemble with no additional tools required
Lightweight and easy to move
Adjustable height
Smooth-rolling casters
Cons
More expensive than it should be
Uncomfortable
All plastic construction
GreenForest Kids' Desk Chair
Ergonomic low back student computer chair with lovly colorful PP back & seat with hollow star.
360-degree swivel computer chair, smooth-rolling colorful strong casters flexible move, fit for children and students' homework desk.
A boldly styled and versatile chair that's perfect for young children, teenagers, and even adults, this computer chair is comfortable and has plenty of useful features that kids will love.
This chair features an ergonomic backrest that's contoured to provide comfort even during long study sessions. The lumbar region offers a comfortable support pad, which lends an additional layer of comfort during long periods of studying.
Both the seat and backrest are covered in a highly breathable mesh with excellent breathability to keep you cool and comfortable, and it's available in three eye-catching colors that are sure to make a statement.
As for technical features, this chair from Giantex offers smooth, quiet casters that roll effortlessly across practically any floor.
The chair rotates 360-degrees, and it offers pneumatic height adjustment so kids of all sizes can set their chair to the perfect height.
Don't be fooled by the lightweight construction of this chair, because it's actually quite heavy-duty.
The all-steel frame ensures that this chair can stand up to years of abuse from the kids, so it's an ideal choice for parents hoping to get many years of use from their child's desk chair.
Pros
Ergonomic design
Highly breathable mesh material
Durable steel frame
Lightweight and easy to transport
Cons
No armrests
Seat isn't heavily padded
Giantex Low-Back Kids Computer Chair
✿ Small Desk Chair for Various Occasions ✿ No matter where you put it, the unique bright color kids computer chair will bring more vitality to the room. This kids desk chair will be great in the dorm, study, child's room.
✿ Comfortable Task Chair✿ This small armless chair is designed with the ergonomic backrest which built-in lumbar support provides improved lower back comfort for 8-12 kids students teens, optimizing the sitting experience.
This chair and desk set from Umitay is another solid option if you're searching for a complete workstation for your child.
Both the desk and chair are adjustable, so you'll be able to raise the height as your child grows. While the manufacturer suggests it's for ages 3-18, that range is a bit unrealistic; this workstation is better suited for kids ages 3-8.
While it may look a bit like a toy, this desk features a steel frame, so it's built to last. This desk set is available in blue and pink, and two sizes, 27 ½" or 30 ½" wide.
The chair doesn't offer much padding on the seat or the backrest, but both pieces have an ergonomic design that makes them comfortable for long study sessions.
Both the seat and back are ventilated, which helps provide some airflow to keep kids comfortable while they work or play.
The desk includes an LED reading lamp with three brightness levels, and it tilts from flat to 45-degrees so kids can read, write, or draw at an optimal angle.
Children are sure to love the additional features, like a book rest, integrated stationary storage, and a pull-out shelf to store everything they need inside their desk.
There is also an orthosis that can be attached to the front of the desk to help reinforce good posture.
Pros
Durable steel frame
Chair and desk are both adjustable
Includes light and accessories
Tilting desktop
Cons
Only suitable for young children
Height Adjustable Childrens' Desk and Chair Set
⭐⭐ 70cm Style size, 27.5''x18.1'' ⭐⭐ 80cm Style size, 31.5''x19.3''
⭐⭐ [ADJUSTABLE HEIGHT] The height of the desk and chair can be adjusted to suit fast-growing children. This ergonomic design helps children to have a perfect sitting position and gives your children a better sense of comfort.
Finding a Kids' Desk and Computer: A Buyers Guide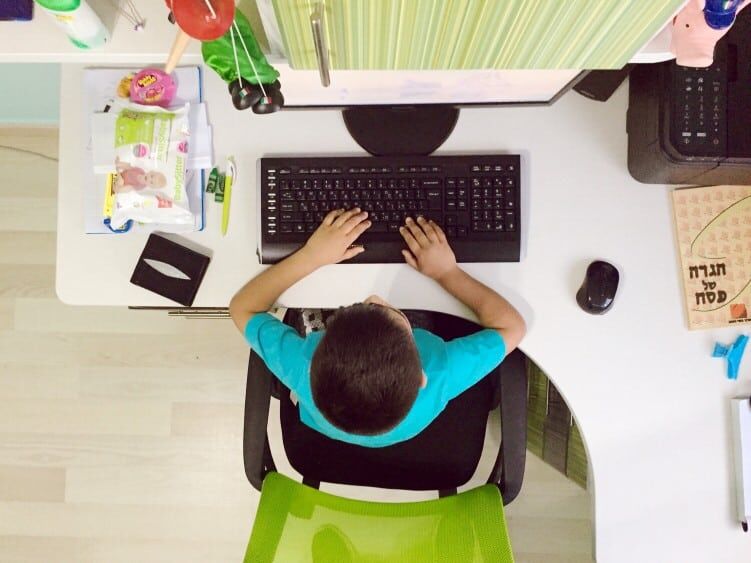 Now that we've covered some of the best kids desk chairs, let's take a closer look at the different attributes and characteristics that will help you select the best desk chair for your child.
What Size Desk Chair is Best for Your Child?
Size is perhaps the most important consideration to make when you're shopping for a children's desk chair. You'll find a broad range of options for everyone, from preschoolers to college students.
The size of the chair will dictate whether or not it's suitable for your child.
The best way to identify the proper size for your child is to have them sit in a comfortable chair with their feet flat on the floor. Next, measure from the bottom of their feet up to the bend in the back of their knee. That measurement is the chair height you'll need.
What About Assembly?
Desk chairs are notoriously difficult to assemble, even when they're child-sized.
While chairs for younger kids are usually fully assembled, most chairs for kids require some assembly, especially the high-end options that are highly adjustable so they can grow with your child.
Depending on how comfortable you are with putting together furniture, you may want to choose a chair that requires little to no assembly or one that you can put together without additional tools.
Here's a general guide to office chair assembly to help you get started.
What About Posture and Ergonomics?
Teaching children good posture is vital to their health and helps establish a healthy habit for their entire lives. The best kids desk chairs are ergonomically designed to promote proper posture.
Ergonomic chairs also tend to be more comfortable, so kids can focus on their work with less fidgeting and distraction.
Here are some key points to consider when it comes to ergonomics:
Your child should be able to sit with their feet flat on the ground, thighs parallel to the floor
They should maintain full contact with the backrest when sitting; not bent forward or arched at the lower back. A properly designed chair with an S-curve and lumbar support helps here.
Head and neck posture is very important. Make sure they sit at a correct height so their computer screen is at eye level, and they can comfortably maintain a neutral head and neck posture (not straining to look up or angled downward).
Shoulders should be relaxed when sitting. If you have armrests, set them at a height so the they are not shrugging their shoulders up. If your chair does not have armrests, set the height so they can rest their arms on the desk at an even level. The forearms should be close to parallel with the floor. This helps protect the wrists as well when using a keyboard.
Read this section from our main buyer's guide for more info on proper posture and ergonomic settings.
How Important is Adjustability?
Every kid is constantly growing, and unless you want to replace their desk chair at the same rate they go up a shoe size, you'll want to choose an option that can be adjusted to grow with your child.
The best kids desk chairs offer multiple adjustment points for the seat and backrest and can grow with kids from their preschool years into high school.
Even chairs that don't offer the same level of adjustability usually allow you to adjust the height, and you'll want to choose a model that provides a height adjustment of three inches or greater. It might not seem like much, but those few inches of adjustability should provide your child with many years of comfortable use.
Related: Learn about some of the best height-adjustable standing desks for kids.
How About Materials?
What the chair is made from is also an important consideration, particularly if you want a chair that will last your child many years.
The first aspect you'll want to consider is what the frame is made from. Look for chairs that offer a steel frame, as they're much more likely to stand up to years of use. Plastic is fine if it's covering a metal frame, but plastic chairs are far less durable.
You'll also want to consider what the back and seat of the chair are made from. The ideal chair should offer ergonomic support with a molded cushion made from high-density memory foam. Breathable fabric covers or mesh designs are usually preferable, as they can be cleaned or replaced, and they allow for plenty of airflow to keep kids cool and resist odors.
Chair Style
Another consideration to make is the style of the chair. You'll want a chair your child likes using for many years to come, so keep in mind that you're not only shopping for today but tomorrow as well.
You may want to avoid something that's too "kiddy," instead opting for a more contemporary option that will be suitable for years to come.
Desk Setup
Many of the best desk chair options on the market come as complete sets that also include a desk. Purchasing a full workspace for your child is usually a money saver, and a matching desk and chair set can be a great addition to their bedroom or playroom.
When purchasing a desk and chair setup, pay close attention to the measurements provided. Many of these sets are much smaller than they seem in pictures and are better suited to pre-school and kindergarten-aged children.
Conclusion
While each of the seven chairs above makes a fine choice as the best kids' desk chair, one chair, in particular, is best suited to provide your child with years of comfort and enjoyment.
The chair from TechOrbits offers many features, the most room for adjustment, and the most ergonomic support for your child. Whether they're studying, reading, drawing, or using the computer, this chair from TechOrbits is the best option for children of many ages.