Unless you're completely new to the world of gaming chairs, you're probably already familiar with one of the most popular names in the gaming furniture industry: GTRACING.
They consistently earn high-marks for gaming chairs that are comfortable, stylish, cost-effective, and easy to assemble.
That's a good starting point.
But did you know they currently have SIX different series of chairs, with different models and variations within each series?
Now you just need to pinpoint which GTRACING gaming chair is right for your setup.
That's where we come in.
After extensive research and testing, we've handpicked 8 of the best models in the full GTRACING lineup.
Read on to learn about all the details and find the chair that will complete your gaming battlestation.
Here it is: the top-rated chair in the GTRACING Gaming Chair brand. This chair is the one that covers all of the bases.
The GT002 is a perfect choice for avid gamers, and even those who would even consider themselves professional.
With a proven ergonomic design, you'll be able to game in superior comfort. The chair is supported by a sturdy metal frame created to provide users with a comfortable seat.
Gamers spend a lot of time in the seated position, so the thick padding along the chair's back and seat raise the comfort level even more.
Professional and amateur gamers alike tend to want a multi-functional chair.
The armrest and seat height are both completely adjustable, and the chair offers up to 170-degrees of reclining and rocking without falling over.
The base is locked with five heavy-duty rolling casters. Plus, the headrest comes with a removable pillow and lumbar cushion for maximum comfort.
The PRO Series chair is made from high-quality synthetic leather, for easy maintenance and durability, and comes with an added seat cushion and head pillows.
What's more, this is the ideal seating option for those who spend hours gaming, working, or studying at a desk.
The chair comes in seven colors, so you should be able to find a style that meshes with your gaming setup.
What Others Say
Many customers who have purchased this chair praise the easy-to-assemble quality and modern comfort. However, buyers also note that the lumbar support pillow is awkward and "unnecessary."
This is a typical complaint with gaming chairs.
We've found that these lumbar cushions are hit or miss on most modern computer gaming chairs. What's important is that you can remove it if necessary.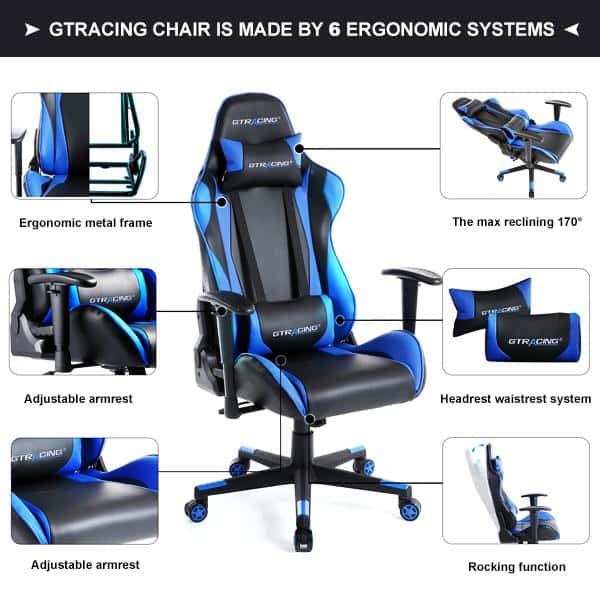 Here's a snapshot of the GTRACING Pro Series so you can decide if it's worth a closer look:
Specs
Ergonomic Design
Full-length backrest for comfort
Adjustable armrests
360-degree swivel
90-170 degree tilt and reclining/rocking
Class-4 Hydraulics
Weight Capacity of 300 lbs
Pros
Easy to assemble and comes with all tools required
Looks modern and fits in with most room designs
Neck and back pillows offer additional support
Holds up to 300 pounds
Adjustable armrests provide comfort for everyone
Cons
Tends to be a bit narrow in the back
Wears over time; creaks and makes some noises
Seat cushions wear down easily
The lumbar pillow is a little unnecessary and awkward
The rocking feature is hard to adjust
Learn more and check pricing:
The Music Series GT890M Gaming Chair is the highest-rated music gaming chair that GTRACING offers.
As this is a bona-fide music gaming chair, of course it comes equipped with two Bluetooth speakers for that full surround sound effect.
You definitely get an immersive entertainment experience with this one. The audio is delivered with strong bass and clear, static-free transmission. It can easily be connected to smartphones, tablets, or other Bluetooth-enabled devices.
Like the other gaming chairs offered by GTRACING, the music chair provides a metal frame that is strong enough to promote and support many hours of work or gaming in comfort.
Plus, the seat and back of the chair are padded with an extra-thick cushion to provide maximum relaxation.
We were awed by the number of functions this chair offers. Let's run through a couple so you know what's packed into this beast.
First, the Bluetooth speakers provide up to six hours of audio play. The armrest and seat height are both easily adjustable.
You also get a combination of the 360-degree swivel, 170-degree reclining, and steady rocking.
And it comes with a removable headrest and extra seat cushion for added lumbar support.
What Others Say
Many buyers praise the high-quality of the leather and padding of this gaming chair. However, some point out that the leather fabric can break down over time through repeated use.
This isn't necessarily a flaw in the chair, but rather an issue with this type of material.
Wear and tear is common when it comes to PU based leather.
However, if you take care of the leather and maintain it, it will last longer.
Read our leather guide to learn more.
Specs
Bluetooth speakers
One-piece steel frame
Removable pillow
Full-length backrest
Adjustable armrest
90-150 degree adjustment
High-density sponge cushion
Max weight capacity of 300lbs
Pros
Shipping is relatively quick with well-packaged materials
Easy to assemble with simple directions and all tools included
The overall quality of the leather holds up and feels nice
Bluetooth speaker runs well and lasts as long as expected
The seat padding is very comfortable and provides excellent lumbar support
Cons
Fabric may wear down over time and through excessive use
Does not support weights closer to the 300lb limit well
Some issues connecting to the Bluetooth audio
Armrest adjustments may stick over time and require manual adjustments
Learn more and view pricing:
ACE Series S1 Gaming Chair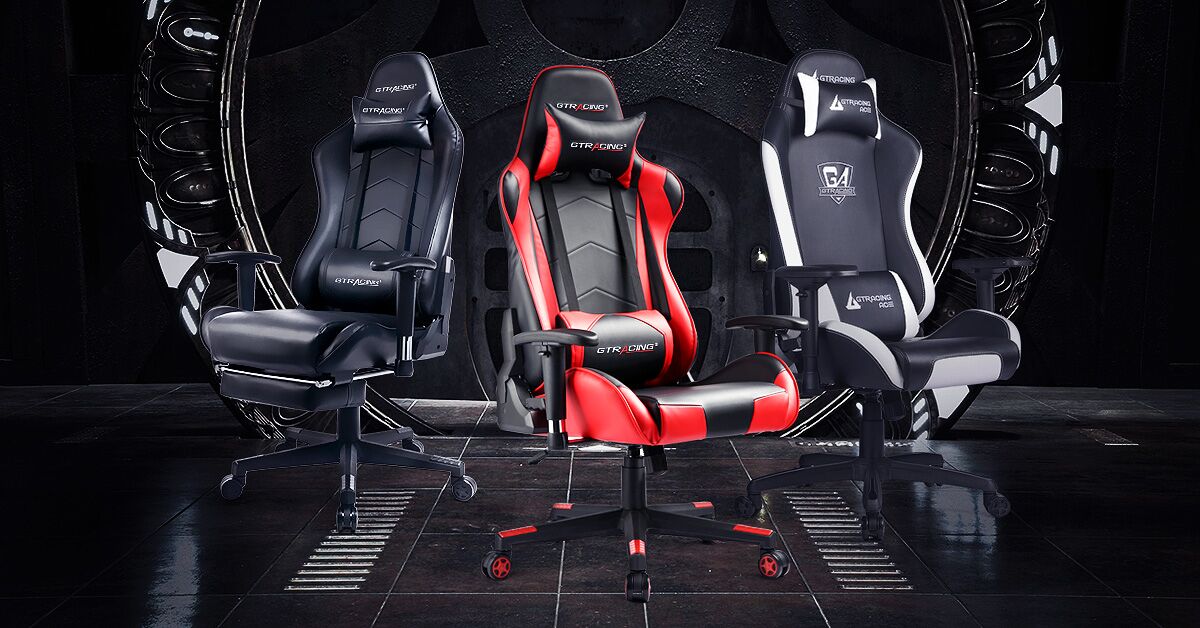 If you're really digging into what GTRACING has to offer, you'll want to check out the ACE series. It's their next level of comfort and detail with a budget-friendly price tag.
The S1 has an ergonomic design with a fully supported metal frame specifically designed to keep users comfortable while in a seated position for long hours of gaming.
Like many GTRACING chairs, the chair features a thick back with padding to take the chair to a new level of comfort.
The ACE Series S1 is made from the highest quality materials and features an exceedingly soft fabric surface.
There is an added cushion on the seat, lumbar, and headrest to offer the user extra comfort and support while in use.
The base is created with heavy-duty materials and nylon casters for easy rolling and stability of the chair.
Something to note: The maximum weight capacity on this chair is slightly less than other GTRACING chairs.
It caps out at about 280-290 pounds. While still impressive, it's surprisingly low considering that this chair comes with the same full metal frame construction. You'll find other racing style chairs, like the EwinRacing series, with steel frame construction but a max load capacity of up to 400 lbs.
If you need more weight capacity, you'll want to check out our next pick in the list (the Footrest series).
Of course, the ACE series still comes with the assurance of a five-year extended warranty and includes all instructions needed for assembly.
What Others Say
Many customers love the comfort and ease of this chair's recliner and stability functions, and the fabric's quality.
However, some buyers note that the sturdiness does not hold up to other GTRACING brand chairs.
Specs
Large, adjustable 4-dimensional armrest
High-density foam
90-170 degree reclining and rocking
Sturdy metal base
5-year extended warranty
Pros
Reclines easily and holds as long as the lever is locked into place
Budget-friendly option (especially with their direct to consumer pricing model)
Wheels work well on all surfaces, including carpet
Comes with full instructions making assembly easy and fast
Cushions can be broken in well over time
Good quality fabric chair
Cons
The seat is initially stiff and takes time to wear down
The tilt is hard to manage
The seat as a whole feels a bit less sturdy than other chairs from GTRACING
Armrests do not adjust easily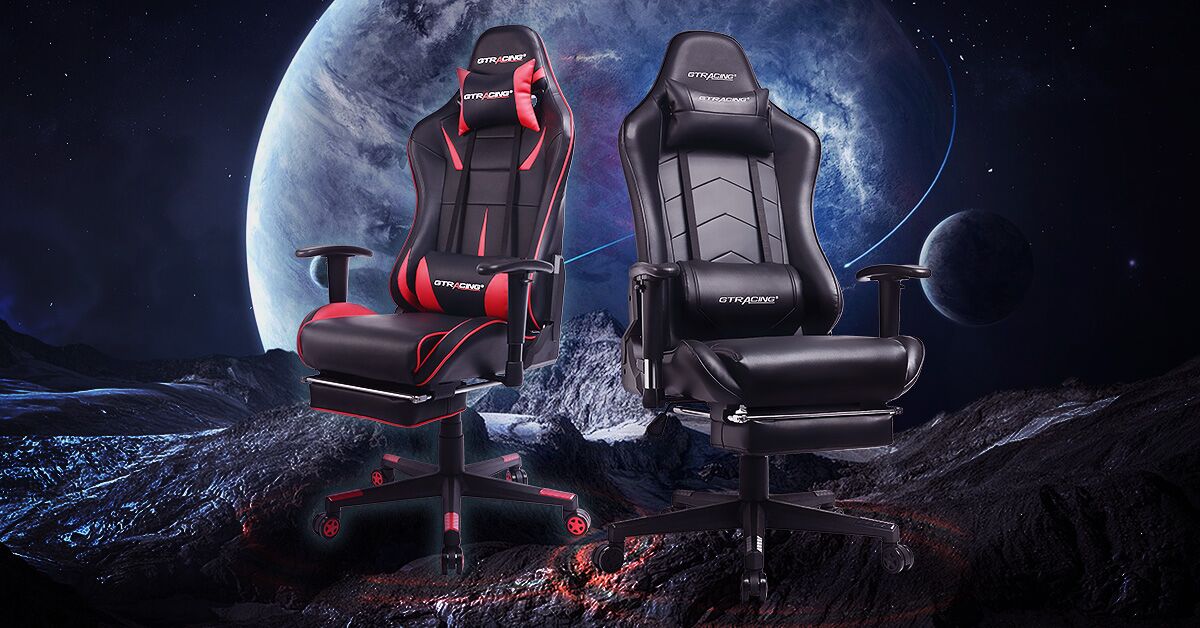 Just like other GTRACING gaming chairs, the FOOTREST Series GT901 chair is another great gaming chair. These chairs are guaranteed to make the most out of any gaming experience.
Also referred to as the "big and tall" chair, this chair supports up to 350 pounds and features a metals frame designed to withstand hours of use and promote a comfortable seated position.
The chair comes with thick back padding and seats and a footrest that can be retracted to make it more comfortable than other gaming chairs out there.
The height and armrest are adjustable, and movement in this chair is comfortable. You can take reclining and tilt back to up to 170-degrees.
The nylon casters are adaptable to all floor types, including carpeted rooms for smooth rolling and maximum stability and mobility.
What Others Say
Customers have highly recommended this chair because of the uniqueness of the recliner's footrest feature and stability.
However, some customers say that the chair is bulky and heavy, making it hard to move from room-to-room.
Of course, that's the trade off when you need a larger, higher weight capacity model for your battlestation.
Specs
Headrest pillow (removable)
Adjustable armrests
Tilt-angle adjustment
Adjustable seat height
Thick, padded seats
Retractable footrest
Pros
Easy to assemble and clear instructions are provided
Packaged neatly and damage-free
Comfort levels adapt to every size, great for tall customers, and eliminates back pain
Footrest and recliner are stable and do not fall easily
Everything is easy to adjust
Cons
The leather creaks when moving, not a quiet chair
Armrests give over time and tend to wiggle in places
Very heavy and not easy to relocate
Padding is a bit stiff and needs to be worn in
Learn more and check pricing: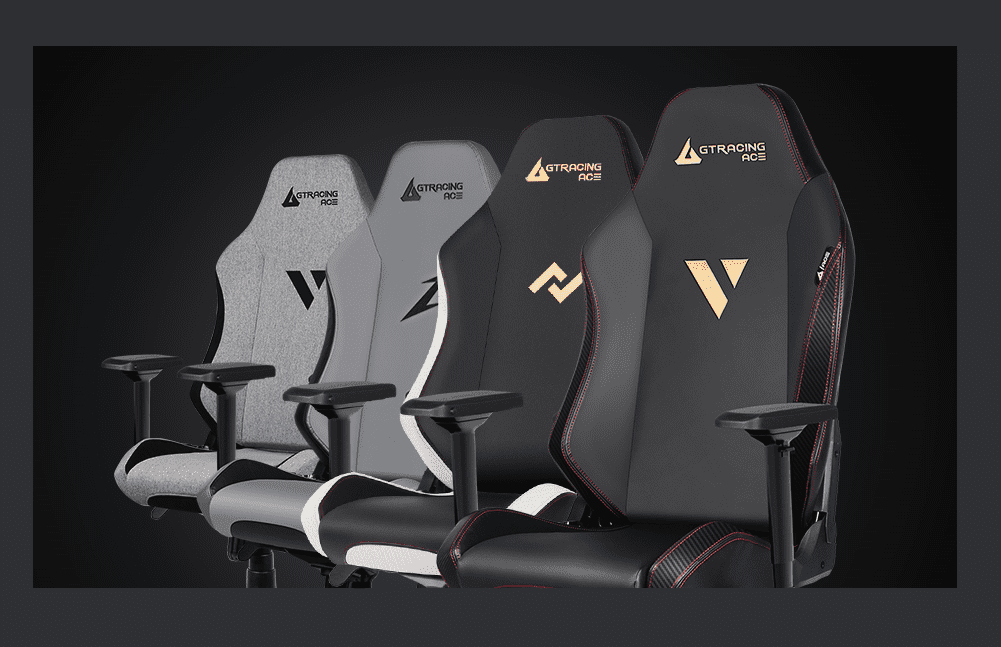 Back to the ACE series, this model is an upgrade in performance (and price) compared to the S1 Gaming chair.
The M1l offers users the best comfort and durability when it comes to long hours of work or gaming.
The ACE Series M1 Gaming chair is made from cold-cured foam, which is more comfortable and breathable than most other chairs. It features elasticity and anti-oxidation, meaning that the chair is durable and breathes well.
The ergonomic design structure and built-in backrest and headrest allow gamers to focus clearly on the game (or work) while ensuring that lumbar and back support is the top priority. The chair promises pain-free, all-day usage, and extra padding for back support and comfort.
The seat height and four-dimensional armrest are both easily adjustable. The chair offers up to 170-degrees of reclining. It also has an advanced lock function to keep the tilt in place without falling over.
The headrest and lumbar cushion are both removable for a fully customizable sitting experience during long games or heavy workloads.
GTRACING ACE SERIES-The Best Gaming Chairs
What Others Say
Customers love the warranty plan and the durability of the fabric with this series of chairs.
However, some note that the chair is bulky and heavy, which makes it hard to move.
Specs
Premium leather materials
Ergonomic design
Strong aluminum base with a rocking mechanism
Removable headrest and lumbar support
Adjustable 4-dimensional armrests
Carbon fiber wrap
90-170 degree back recline
Pros
Armrests are easy to adjust
The chair is sturdy and able to hold up to 300 pounds
The tilt is sturdy and locks into place, does not collapse easily
Comes with a five-year warranty plan
Fabric is soft and does not wear easily
Cons
Takes a while to assemble
Bulky, not ideal for smaller rooms
Not an ideal chair for office work, more of a gaming chair
Not the prettiest chair to look at
Learn more and check pricing: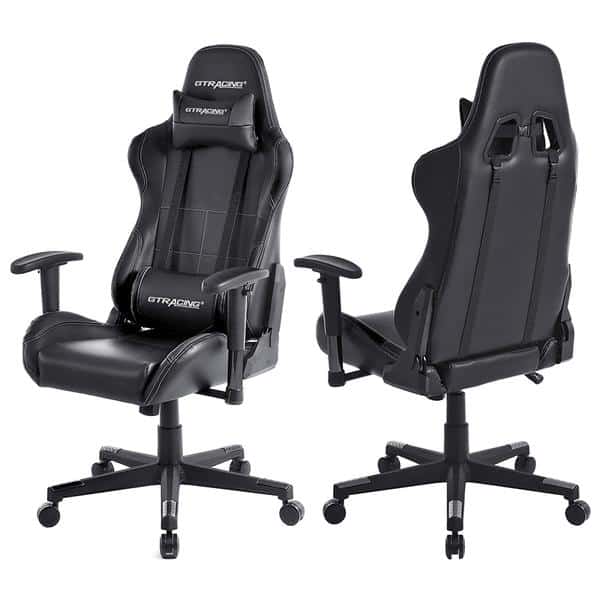 Much like the other PRO Series chairs from GTRACING, the GTBEE Reclining chair has a lot to offer all gamers.
The PRO series chairs are created for professional and beginner gamers alike. This chair is perfect for gaming and has a weight capacity of up to 300 pounds.
This reclining chair features a robust and ergonomic design built on a metal frame created to promote super comfortable seating for long periods.
Like all other GTRACING models, these chairs have thick back padding and seats to take the level of comfort even higher.
This chair is created with smooth, bonded leather and added cushions in the seat with lumbar and headrest pillows to provide gamers with added comfort and support.
The base is made from heavy-duty nylon and features smooth-rolling casters that function well on all surfaces so gamers can easily maneuver around the room without getting caught on the flooring.
What Others Say
Buyers of this product praise the ability of this chair to cater to taller customers with ease. Some buyers note that the cushions are stiff and take some time to break in for full comfort.
Specs
Headrest and lumbar back pillow
Adjustable armrests
Adjustable tilt angle
90-170 degree reclining and rocking capability
Class four hydraulics
Pros
Reclines as far as advertised
An excellent option for taller gamers
Generous back support and comfort
Easy to assemble and includes all tools needed
Quality and price go hand-in-hand
Cons
A lumbar pillow is not necessary
Some pieces are held together by one screw and may break easily
Cushion takes some time to break-in
Armrests and cushions are not as soft as expected
Learn more and check pricing:
LUXURY Series GTK002 Gaming Chair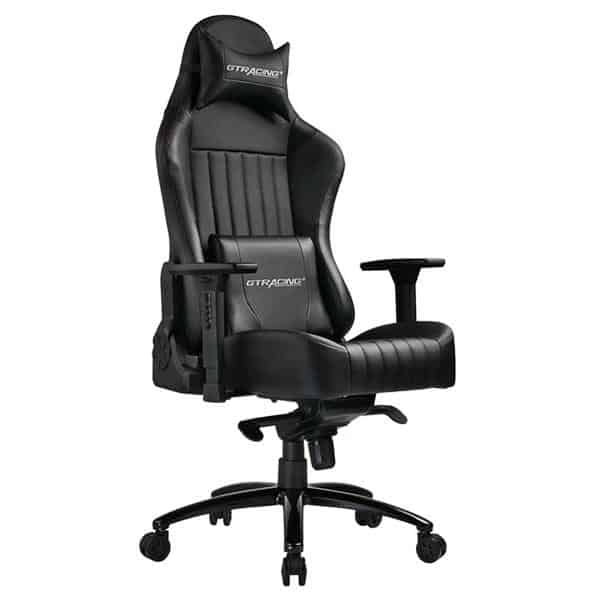 The GTRACING LUXURY Series GTK002 chair is a professional-looking computer desk chair that doubles as a gaming chair.
This chair is made from high-density cold-cured foam and premium leathers to give customers luxurious and maximum comfort.
When these chairs were created, comfort and quality were the only things in mind. The chair was inspired by chairs in race cars and is based on a racing chair's appearance.
Much like other chairs in the lineup, the ergonomic frame and minimalist design allow the chair to stand out from other competitive gaming chairs.
The LUXURY series chair is fully adjustable and can be reclined up to 170-degrees. The armrests are flexible and can be adjusted across four dimensions.
Furthermore, the rocking features are safe and sturdy to provide users with extra comfort and cushioning for long gaming hours.
This is an upgraded chair from other GTRACING versions, which looks more sophisticated and professional while remaining easy to use.
What Others Say
Many customers love the sturdiness and support that this chair offers for long hours of gaming. However, a few have noted that the lumbar support is a bit awkward, and the chair is actually more comfortable without it.
Specs
Upgraded PU Leather
Soft headrest and lumbar support pillows
Adjustable armrests
Cold cure foam padding
Durable metal frame and base
Back tilt and height adjustment
Pros
Solid structure and sturdy base
Easy to put together and well packaged
Very comfortable and great for gaming
Offers plenty of support for users and long term gaming
Cons
Armrests are a hassle to move
Lumbar support is bulky and awkward
Bulky and takes up a lot of space
LUXURY Series GTX320 Gaming Chair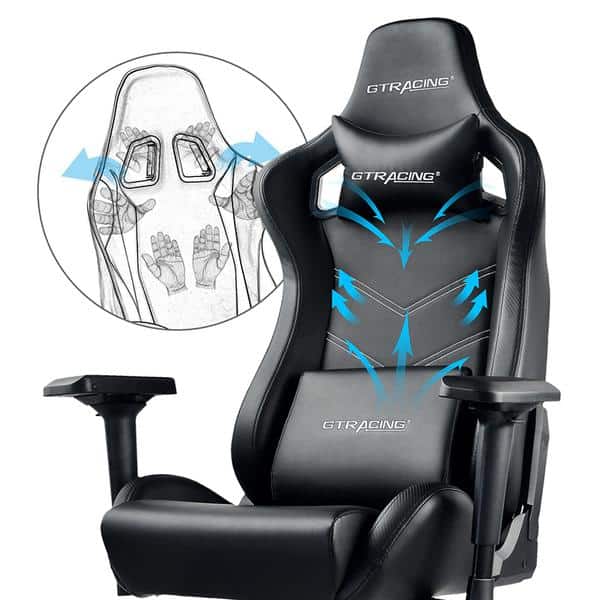 Though this chair is in the same class as the LUXURY Series GTK002 gaming chair, the GTX320 is different in some respects.
The LUXURY series boasts professionalism in their gaming chairs and advertising them as computer desk chairs. They are made with high-density foam that has been cold cured and wrapped in premium PU leather to give gamers the ultimate comfort experience from their chairs.
These chairs are fully adjustable and come with 4D armrests that can be moved up and down with ease to fit the user comfortably.
The minimal design and stitching in the leather make this chair stand out from other typical gaming chairs. The chair offers a high-end appearance in a smooth black color to blend into any room design seamlessly.
Remember: You can integrate the chair easily into a more office-like setting, so that it also passes as an executive chair.
What Others Say
Customers say that this chair's ability to cater to more physical builds is appealing, and it does not lack comfort. However, some buyers mention that the frame is slightly more narrow than other chairs from GTRACING.
Specs
Upgraded 2.0 PU Leather
Soft headrest and lumbar pillows
Fully adjustable 4D armrest
Cold cured foam padding
Durable metal base
Tilt and height adjustment
Pros
Easy to assemble and comes packaged nicely and compactly
Weight capacity of 300 to 400 pounds
Looks nice and fits most rooms
Comfortable and durable leather
Cons
Takes some time to break-in, a little stiff at first
Armrests are not easy to adjust
A lumbar support pillow is not necessary
Narrow frame, not great for those of a broad build
Overview of GTRACING Gaming Chairs Series
Pro, Music, Luxury, Ace, & Footrest
GTRACING promises quality and comfort in gaming chairs. When it comes to creating gaming chairs, finding the best quality is not always easy, and a high-quality chair needs to be constructed by actual gamers to know what is required.
GTRACING is run by a team of engineers, designers, and technology experts who are well-versed in the world of gaming.
And thanks to a direct to consumer pricing model, with 4 US based warehouses for cost-effective distribution, you can these chairs for a very good bargain.
As mentioned, the chairs are segmented into different series. Each is intended to serve a specific need in the gaming community.
Here's a quick summary of the different series:
The PRO Series
The PRO series gaming chairs are racing-style gaming chairs that are designed for beginning gamers. They are engineered specifically to reduce a gamer's risk of pain, discomfort, and injury when gaming creates a perfect seating experience.
Gamers can reach their full potential throughout the day with a high-quality chair that offers good ergonomic support.
The MUSIC Series
Marked as the company's "best option," the MUSIC series gaming chairs are great on many levels.
The Music Gaming Chair is fantastic for onboard gaming, enjoying hours of music, and watching movies.
The Bluetooth speaker puts the user in the middle of the action with its surround sound capabilities.
The Music chairs provide a new level of luxury combined with the performance for an all-inclusive gaming experience.
The LUXURY Series
The LUXURY Series gaming chairs are ranked as the company's most famous chair system.
These chairs were designed with a specific group of gamers in mind: eSports Gamers. These chairs are boasted as the best gaming and office chair out there in terms of its ergonomics.
The LUXURY series chairs are considered more sturdy, comfortable, and spacious than any other gaming chair on the market.
The ACE Series
The ACE Series from GTRACING boasts the perfect combination of luxury and comfort. These chairs were created out of years of research on how to give gamers the best and most comfortable gaming experiences possible. ACE is different from other products in the GTRACING brand.
They feature a different design and high-density foam. They can hold a high level of weight and come with a five-year extended warranty. These chairs are the ultimate comfort chair.
The FOOTREST Series
The FOOTREST Series offers users a more versatile and stable chair option.
These chairs are more suited to fit those considered "big and tall" and those who want a little bit more comfort from their gaming chair.
They are the only chair series from GTRACING that comes with a retractable and sturdy footrest to maximize comfort.
What Sets GTRACING Gaming Chairs Apart?
GTRACING began when a group of people dreamt of bringing great gaming chairs to customers in the market.
As the company started with a few gamers and a passion for comfort and quality, the brand emerged.
GTRACING brings some of the finest materials and unique designs to create gaming chairs that are different from what is typically expected. GTRACING knows what is missing from contemporary gaming chairs and promises to bring that to the market.
Ergonomic Design
Every GTRACING gaming chair is designed ergonomically. This means that the chairs align perfectly to the user's neck and spine to provide optimal position when remaining seated for an extended period.
The chair perfectly curves to the spine's contours for maximum back lumbar support to keep gamers positioned in the correct posture for as long as necessary.
Adjustable ArmRests
Every GTRACING gaming chair comes with adjustable armrests.
Regardless of a customer's height and weight, making sure that perfect comfort is achieved takes a top priority to ensure that the armrests can be maneuvered to fit the person's exact specifications using the chair.
170-Degree Reclining Ability
The engineering team at GTRACING calculated that 170-degrees is the most optimal angle to recline at and still enjoy all of the chair's comforts.
The system is stable and sturdy, so it will not fall out from underneath users while gaming. Reclining ensures that the body is in the most comfortable position possible to enjoy game time hours.
Comfortable Fabrics and Cushion Support
Many of the GTRACING gaming chairs feature comfortable mesh fabric. This fabric allows for maximum breathability and comfort throughout long gaming sessions.
This chair material is also excellent for hip and buttocks support, as those areas tend to become strained after many hours of sitting upright.
Strong Frame
Each GTRACING gaming chair is constructed from strong metal and features a metal frame that braces gamers of all shapes and sizes for hours.
Gamers should never have to worry about the chair collapsing or falling after long days of sitting and spinning around.
These chairs were built to last, and that is what they do.
Headrest and Footrest
The chairs come with a removable headrest that is stuffed with a fluffy and comfortable cushion to support the head.
Some of the chairs are also equipped with a retractable footrest and full-strength support.
The GTRACING chairs promise to provide maximum comfort while gaming and offer more than most competitors do in that respect.
Frequently Asked Brand Questions
With so Many Choices, Which Option is the Best?
Depending on what a user is looking for in a chair, it can be hard to determine which one will be the best fit.
If a more luxurious experience is desired, the Luxury or ACE models are optimal. If a customer wants a more professional gaming experience from their chair, they should consider the PRO series.
The MUSIC series offers a range of chairs that provide surround sound for those who wish to be immersed in the game.
For those who wish to fulfill the professional use but want a little extra comfort, the FOOTREST series may be the best fit.
The best chair depends on the user and what experience they are looking for from their gaming chair.
Why is GTRACING the Best?
GTRACING commits to quality above everything else. Technology and quality combined make for the best gaming experience, and that is what GTRACING aims to achieve. The gaming chairs stand out from the rest, and there are plenty of testimonials to attest to that.
Can Products be Personalized?
The answer to this question varies widely on the chair and the creator of that specific product. The product page outlines all of the available options. If there are customization options, they will be located on that page. Most chairs come with multiple color options, and with a wide range of chairs to choose from, everyone will be satisfied.
Does GTRACING Sponsor Gamers?
The short answer is yes. Just run a quick search on YouTube and you'll see plenty of examples of sponsorships.
If you're a gamer with a decent following, reach out to the company on this page to inquire about sponsorship.
Where Can I Buy GTRACING Chairs?
The best place to a GTRACING chair is directly from their website, as they have a direct to consumer distribution model with discounted pricing and several US and international warehouse locations.
Of course, you can also find these chairs on Amazon.
What are some good GTRACING Alternatives?
While we think these are some of the best options in the budget-friendly price bracket, there are a few good gaming chair alternatives with similar features and price tags.
Autofull
Autofull is a popular brand that makes decent quality gaming chairs at affordable prices. You won't find the same level of quality or styling compared to GTRACING, but overall these chairs feature ergonomic designs, comfortable padding, sturdy frames, and plenty of color options.
You can read our full overview of the best chairs in the Autofull lineup here to learn more.
Nokaxus
Nokaxus makes a nice racing style gaming chair with plenty comfortable features (i.e. rounded corners, passive front edge, massaging functionality). These chairs feature a cool retractable footrest.
Check out our full Nokaxus review to learn more.