Kneeling chairs have been around for over 40 years but only recently made it mainstream because of their many benefits, such as improved posture, quality, mobility, and more.
When it comes to finding the best kneeling chair, you may have to navigate a range of different brands, designs, and materials before you identify the perfect one for you.
Read on to find out more about these designs, their features, and how to find an ergonomic kneeling chair that's right for you.
In a hurry? Here are three of our favorites:
Best Ergonomic Kneeling Chairs
Given that they can be a big investment, it's critical to recognize that every ergonomic kneeling chair has qualities that make them unique and advantageous.
Let's dive into the best kneeling chairs, covering pros and cons, specifications, and which one may be suitable for you!
A kneeling chair with thick, comfortable cushions, angled seat, and adjustable stool for the home and office at a mid-range price is made possible with the DRAGONN by VIVO Ergonomic Kneeling Chair.
If you're looking for back and knee support, then this ergonomic kneeling chair might be for you. Not only is it equipped with three-inch-thick cushions, but the seat is angled at a comfortable 90°, encouraging a healthy and active upright posture. Also, the design naturally distributes your body weight when kneeling, allowing you to use different muscle groups for better alignment.
The four casters on the bottom allow for easy movement when using the chair at your desk or changing tasks. Plus, it's an adaptable option since it can conform to most desks with an adjustable height from 21 inches to 31 inches.
Thanks to its impressive height adjustments, this chair is ideal for kids and adults.
However, if you're looking for more flexibility than basic height adjustments, this model may not be the best choice.
Key Specifications:
Material: Metal base, some plastic with faux leather
Dimensions: 26 x 21.5 x 16.75 inches
Weight: 18.92 lbs
Maximum Capacity: 250 lbs
Height Range: 4'3 to 6'5
Pros:
Adjustable seat from 21 inches to 31 inches
Three-inch thick cushion padding
Four casters for easy mobility
Metal frame for durability
Mid-range price for budget-conscious
Cons:
Concerns with wear and tear of the faux leather
The DRAGONN by VIVO Ergonomic Kneeling Chair presents ample opportunities for adjustments, significant for those who may share to the chair or require height adjustments.
It doesn't get any more original than the Varier Variable Balans Kneeling Chair, as its design first came on the scene in 1979. Peter Opsvik, among others, was a pioneer in the industry, and this kneeling chair has remained a high-quality standard since then.
The Varier Variable Balans Original Kneeling Chair is a Norwegian design, with all parts manufactured in Europe. There is a wide range of colors to choose from, all made with sustainable material.
Its sophisticated design encourages a natural posture with its kneeling platform, gently tilting the pelvis forward. After sitting, you'll find your back and shoulders relaxing with a strong core, providing minimal pressure to the spinal discs.
Further, the chair's gently curved wood and tilted seat boosts natural movement, stimulates muscles, and helps counter the adverse effects of stationary sitting. What's more, the kneeling pads are separate to encourage better balance.
Varier prides itself on "Scandinavian simplicity," so it's no surprise that this chair is lightweight, free of mechanical adjustment parts, mobile, with minimal cleaning required.
While this kneeling chair is great for those getting started, it does come at a hefty price. Nonetheless, those with more experience looking for a higher-end kneeling chair may enjoy what Varier has to offer.
Key Specifications:
Material: Wood and fabric
Dimensions: 28.8 x 21.3 x 4.1 inches
Weight: 14.35 lbs
Maximum Capacity: 240 lbs
Height Range: 4'5 to 6'4
Pros:
High-quality Scandinavian design, manufactured in Europe
Durable yet elegant wooden design with soft fabric
Environmentally friendly
Wide range of motion with rocking
Excellent warranty (five years)
Flexible wood with no additional crossbar required
Easy assembly
Cons:
High-end price
No adjustments
The Varier Variable Balans Original Kneeling Chair is perfect for those looking to experience the true form of kneeling chairs, as it's an original design dating back to 1979. However, if you're looking for an adjustable chair, you may want to consider alternatives.
Related: Still curious about the benefits of kneeling chairs vs standing desks?
You can enjoy an impressive level of back support with the SleekForm Austin Kneeling Chair that features a four-inch-thick seat, memory foam knee cushions, and three wood crossbars.
This ergonomic chair is durable with its 20-ply (rather than 14-ply) birchwood for extra strength, holding up to 265 lbs—15 lbs more on average than the competition. If you're on the taller side, then you'll be glad to hear that this chair has a max height range of 6'6.
The rocking movement is great for increasing blood flow, energy, and maintaining focus. Besides that, it can help to balance and strengthen the core while providing comfort through alignment. This rocking motion can also counteract the numbness that may occur in the legs from sitting on kneeling chairs for too long.
The Austin from SleekForm is versatile, as its posture corrector can accommodate any use, whether it's meditating, office work, studying, writing, gaming, and more. Ideally, the chair can fit a 29" table height.
The seat provides an open hip angle, encouraging a straight back and correct posture. As a result, it may reduce the pain that comes with static sitting.
Key Specifications:
Material: 20-Ply Wood, Breathable Fabric
Dimensions: 29.1 x 21.7 x 22.4 inches
Weight: 15.4 lbs
Maximum Capacity: 265 lbs
Height Range: 5'2 to 6'6
Pros:
Lightweight
Great for tall people up to 6'6
Durable 20-ply wood frame
Breathable fabric for comfort
Memory foam knee cushions
Holds up 265lbs, more than most kneeling chairs
Rocking motion for increased circulation
Good customer service
Cons:
Complaints about a manufacturing defect
Cannot adjust
The Sleekform Austin Kneeling Chair provides extra motion with its rocking, which you may want to consider if you're looking to boost blood flow while stationary.
Read our full review of the Sleekform Austin here.
This ergonomic kneeling chair has three-inch-thick foam cushions with an adjustable seat from 21 inches to 28 inches. The Defy Desk Kneeling Chair is excellent for kids and adults, especially given that it comes with an angled seat that discourages hunching over desks.
It has a strong metal frame that's easy to assemble and sturdy enough for long hours of office work. Reflecting that, the Defy Desk features adjustments that support a max capacity of 250 lbs. The chair is a compact size, fitting in small rooms or areas. For added support, its four casters not only allow for optimal mobility but can lock to stay in place.
Because of its design, your upright posture is enhanced as the legs are given more room to move, avoiding numbness or knee pressure.
Key Specifications:
Material: Metal base and leather fabric
Dimensions: 27 x 19 x 8 inches
Weight: 19 lbs
Maximum Capacity: 250 lbs
Height Range: 4'11 to 6'5
Pros:
Adjustable height from 21 to 28 inches
Three-inch foam padding for maximum comfort
Suitable for children and adults
Four lockable casters
Angled seat to prevent hunching over for better neck support
Cons:
Concerns about seat smell, although customer service says they will make adjustments
Overall, the Defy Desk Ergonomic Kneeling Chair is suitable for the classroom or home office, as the adjustable height caters for children and adults.
If you're looking for an affordable, lightweight option, consider the Flash Furniture Mobile Wooden Ergonomic Kneeling Office Chair.
This kneeling chair provides firm support for the back, with two-inch foam covered in breathable fabric. The adjustable frame's natural wood finish supports various height ranges to enable better posture. Also, dual casters on each bar on the bottom encourage mobility, with its compact size well-suited for small spaces.
The Flash Furniture Mobile kneeling chair is made from commercial-grade material in Taiwan, passing the ANSI/BIFMA X5.1 Standard for office chairs and safety standards. The upholstered seats provide support on the knees, padded with CAL 117 fire-resistant foam.
Key Specifications:
Material: Textile, Wood
Dimensions: 26.5 x 17.5 x 24 inches
Weight: 16 lbs
Maximum Capacity: 200 lbs
Height Range: 5'0 to 6'4
Pros:
Affordable, entry-level kneeling chair
Lightweight
It fits in small spaces
Black fabric upholstery with fire-resistant foam
Natural wooden frame finish
Cons:
Concerns about durability
Max weight limit of 200 lbs, below average
In all, the Flash Furniture Mobile Kneeling Chair may be best for those who want an entry-level kneeling chair without breaking the bank.
The Maxkare Ergonomic Kneeling Chair has a unique backrest for additional support and correcting posture. The max weight is 330 lbs, roughly 30% more weight capacity than the average kneeling chair.
No products found.
The design of this kneeling chair is optimized for maximum comfort and incorporates high-quality polyurethane. What's more, the chair's material is comfortable and easy to clean since it's made of upgraded PVC material. Further, the base is made of heavy-duty steel, with an armrest for stability.
In terms of ergonomics, this chair fits the natural shape of the human body while its adjustable height accommodates both adults and children. The multi-point adjustment ensures the correct fit to align the body, providing relief for the back and neck.
Its soft sponge kneeling pads reduces any stress the kneecaps may encounter. The kneel cushion can also adjust about 4.7 inches so you can find the perfect kneel cushion height.
Key Specifications:
Material: Polyurethane, steel base
Dimensions: 22.6-26.4 x 18.5 x 30-33 inches
Weight: 23
Maximum Capacity: 330 lbs
Height Range: 3'6 to 6'2
Pros:
Backrest for added support
Multi-point adjustment; five levels for different heights
High-quality polyurethane
Easy to clean
Holds up to 330 lbs
Soft sponge kneeling pads
Kneel cushion adjustments
Steel frame for durability
Arm-rest for better stabilization
Cons:
Complaints about seating after long periods
The Maxkare Ergonomic Kneeling Chair can offer you lots of flexibility, particularly given its adjustable height and kneeling cushion. If you've been in the market for a sturdy chair, then this may be one of the best options out there since it can hold up to 330 lbs.
The Office Star Ergonomically Designed Knee Chair is one of the most budget-friendly kneeling chairs available. While it offers only simple functionality, it can be more than enough for anyone who wants a correct posture at a low price.
The metal base makes it stable enough, with four casters for movement. It is lightweight at 16 lbs yet can hold up to 250 lbs.
With cushions made of memory foam, the Office Star contours to your knees to reduce soreness after long periods. This kneeling chair is an excellent entry-level option at an affordable price.
Besides its ergonomic design, the black finish looks stylish, fitting in any office or home.
Key Specifications:
Material: Metal base with memory foam
Dimensions: 25.25 x 17 x 20.5 inches
Weight: 16
Maximum Capacity: 250 lbs
Height Range: 5'0 to 6'4
Pros:
Lightweight
Budget-friendly
Four casters for movement
Memory foam cushions for maximum comfort
Metal base frame for sturdiness
Cons:
The foam may not be thick enough
Ultimately, if you're looking for a budget option that looks stylish and benefits the back, the Office Star Ergonomically Designed Knee Chair is a great choice.
The Master Massage Ergonomic Steel Kneeling Chair provides six different height adjustments and a maximum weight of 440 lbs, ideal for those who need more support.
This lightweight, ergonomic kneeling chair is compact enough to store in small spaces. It's also durable with PU leather and a steel frame. Its foam cushions provide ample padding for the seat and knee pads.
Its features make it perfect for any office or home, as it provides outstanding whole-body support ideal for good posture. Best of all, this entry-level chair is budget-friendly despite the durable materials it incorporates.
Key Specifications:
Material: Steel metal base with foam cushions
Dimensions: 28 x 18.9 x 7.9 inches
Weight: 16.5
Maximum Capacity: 440 lbs
Height Range: 3'6 to 6'5
Pros:
Six different adjustment options
Four wheels for easy transport
Durable steel metal base frame
Weight capacity 440lbs
Foam cushions
High-quality PU leather
Cons:
Complaints of poor assembly instructions
If you want a kneeling chair featuring a steel metal base and robust materials with optimal height adjustments, the Master Massage Ergonomic Steel Kneeling Chair may be the one for you.
The OMECAL Ergonomic Kneeling Chair is an affordable knee chair with thick comfortable cushions, an angled seat, and lockable casters with three adjustable heights.
This kneeling chair has a metal frame coated with anti-scratch black paint, providing durability and wear-and-tear resistance. Its four casters facilitate movement, with the two front casters locking to stay in place.
The height adjustment is from 21 inches to 28 inches, ideal for children, teens, and adults. Due to these adjustments and an angled seat, you may find that you can maintain an upright posture for longer. The three-inch foam pads beneath the high-quality faux leather provide added padding to reduce friction.
Key Specifications:
Material: Metal base with foam cushions
Dimensions: 29.53 x 19.69 x 9.84 inches
Weight: 20.7 lbs
Maximum Capacity: 250 lbs
Height Range: 3'6 to 6'4
Pros:
Durable metal base frame
Anti-scratch paint to resist wear-and-tear
Adjustable seat height from 21 inches to 28
Affordable
Suitable for children, teens, and adults
High-quality faux leather
Cons:
Buying Guide: Best Kneeling Chair
Now that we've covered the best kneeling chairs, let's look at the different features that will help you purchase the right chair.
Types of Kneeling Chairs
Currently, there are three types of kneeling chairs:
Sled base: High-quality, flexible wood that provides a rocking motion with individual knee pads. No adjustability.
X-base: Typically, four casters to move, made from a metal base and cushions with adjustable seats.
5-star base: This design looks like an office chair with a cushion for the knees and five wheels. It comes with adjustments and a backrest. Some models come with an armrest.
The design is also based on the materials, which can impact the price.
Assembly
You will have to assemble the kneeling chair, and most come with clear instructions for all the parts ready. However, some may be more complicated, with missing parts, undrilled holes, and/or unclear steps.
Easy assembly separates the best chairs from the worst, as proper set-up ensures the chair works as intended.
Kneeling chairs that need little to no adjustments tend to be the easiest to assemble. If you are of average weight and height, it may be best to purchase a kneeling chair that does not have adjustments.
Functionality
Kneeling chairs come with various features that boost functionality while adding comfort.
For instance, a kneeling chair with an armrest or backrest increases support for the whole body, specifically the midsection and back. A rocking motion from sled base designs allows for better circulation and increased focus.
If you need adjustments, some chairs provide different levels for the best fit.
If you're someone who needs extra cushioning, added features for maximum comfort may be in your best interest.
Adjustability
Children, petite, and tall people tend to find it the most challenging feeling comfortable in kneeling chairs. If you're too short, you will lean forward and will not fully adjust into the seat. If you're too tall, there will be added pressure on the knees, with no room for the legs.
Luckily, some chairs have adjustments to the height, including the knee platform.
Find a chair that can adjust four inches or more to cater to your height.
Quality and Materials
Ensuring your chair is durable and sturdy enhances your experience, making sure you get the most of correcting posture and alleviating any discomfort.
Most kneeling chairs are made from wooden or metal bases. Metal bases tend to hold more weight. High-quality wooden frames are often the sled design. However, some wooden frames may also be budget-friendly, but the wood will be of lesser quality.
Sled designs cannot be adjusted but provide durable wood. If you are an average size, this may be the best option. However, if you need adjustments, a metal base may be a better option.
Breathable or durable fabrics that won't wear-and-tear easily provide a longer-lasting chair. Also, the fabric is a massive part of the chair's comfort factor, as the knees will be in one position for hours.
Note: As a general rule, to combat poor circulation and injuries that result from staying in a stagnated sitting or kneeling position for too long, make sure you get up and move around at regular intervals throughout the day (every 15 minutes or so).
Seat and Knee Comfort
Kneeling chairs are unique with knee pads, which may be uncomfortable in the beginning. Especially if you are too tall for the chair, your knees may become sore, especially at first. Memory foam may be an option on some models to prevent sore knees.
The seat also matters, which is why the material must be soft to reduce soreness. Most seats are adjustable, allowing the angle to be customized.
Look for high-quality fabric padding to prevent discomfort regarding the seat or knee pads.
And added thickness always helps. We find that knee cushions with 3" or more of padding provide the best relief for those sore knees (or preventing soreness in the first place).
Corrective Posture
The main objective of a kneeling chair is to correct your posture.
The seats tend to be at an angle, tilting your pelvis forward, encouraging better posture. Your feet will be flat, chest upright, with less pressure on your spine.
As a result of better posture, neck and back pain can be alleviated. Issues such as sciatica, scoliosis, spinal problems may feel lessened.
Of course, to experience the benefits of kneeling chairs, you must meet the height and weight requirements to prevent any discomfort.
Range of Motion
Sitting in any chair, including the kneeling chair, may provide discomfort after long periods. However, kneeling chairs with a rocking movement, such as the sled-types, tend to get the best praise as they help shift this discomfort.
If you want motion while sitting, which may encourage flexibility, consider rocking kneeling chairs.
Mobility
Moving around the office, home, classroom requires a kneeling chair that is easy to transport. Many kneeling chairs come with casters ready to move and lock when you want to be stationary. The best mobility chairs tend to be the X base designs or 5-base designs, as they both have wheels.
If you're someone who moves around a lot, having casters instead of wooden bends may be more helpful.
Kneeling Chair Brands to Look For
If you're looking for the best in kneeling chairs, there are three main brands to look out for:
Varier: Norwegian company with high-quality parts from Europe
Sleekform: Known for functionality and adjustments for taller individuals
VIVO: Homegoods company that produces the most popular kneeling chair, DRAGONN, and others
The prices of these brands will be mid-range to high-end. However, it's important to balance budget with comfort when choosing a brand.
Price
Kneeling chairs come in a wide price range, depending on brand and materials.
If you're hesitant to try a kneeling chair but want to experience the benefits, such as encouraging correct posture, consider an entry-level kneeling chair at an affordable price.
If you're looking to dive right into the best kneeling chairs at high-end prices, look for Varier, SleekForm, or VIVO brands.
Frequently Asked Questions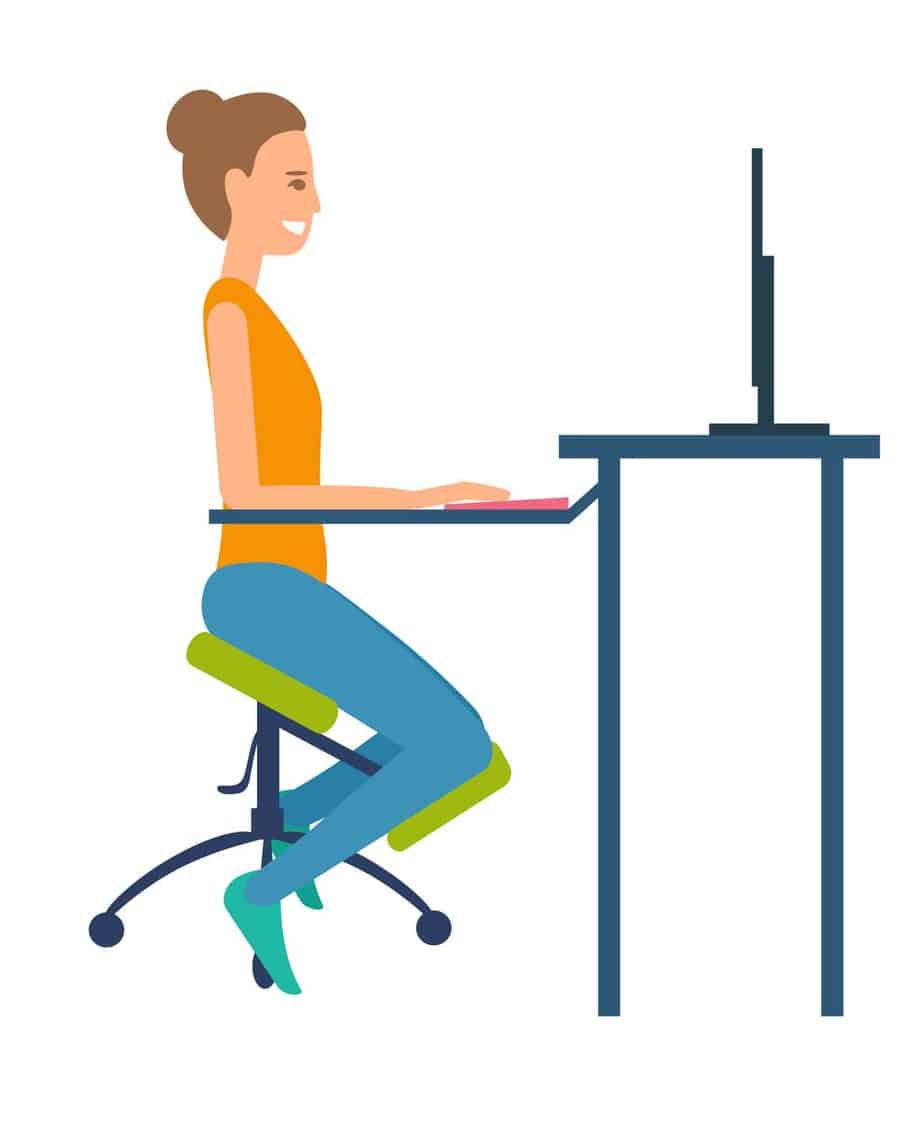 Here are some frequently asked questions that customers have while shopping for ergonomic kneeling chairs.
What Does a Kneeling Chair Do?
A kneeling chair can correct your posture due to its design, which tries to place less stress on the lower back by tilting the pelvis forward. The design also seeks to reduce pressure on your spinal discs, which is a common source of back pain.
Is a Kneeling Chair Good for You?
Generally, yes: A kneeling chair can counter neck and back pain as it puts less strain on the spine. Moreover, a kneeling chair may help to relieve lower back pain, sciatica, and other joint or leg ailments.
However, as with any chair, you need to move and change positions frequently. It's never good to stay in one position for too long, and that includes kneeling.
Also, if you have chronic knee pain or a history of knee injuries, this type of chair is probably not a good idea. Always consult a physician to confirm if making a switch to a completely new sitting posture is in your best interest from a medical perspective.
Learn more about whether a kneeling chair or traditional office chair is right for you.
Do Kneeling Chairs Hurt Your Knees?
While sitting in a kneeling chair, your knees will be in one position, putting pressure on the kneecaps. An ergonomic kneeling chair with soft fabric or memory foam can combat this issue as it can alleviate knee stress. Taller people may find chairs outside their height uncomfortable.
Is the Kneeling Chair Suitable for Tall People?
Most kneeling chairs can fit tall people, up to 6'4 or 6'6 if specified. However, some limit their height range to ensure comfort, as the length of the legs can impact the kneeling platform. Always check manufacturer specifications before buying, as these usually include maximum height (and weight) recommendations.
Can Kneeling Chairs Adjust to Height?
Yes, some kneeling chairs are height adjustable so that both children and adults can use them. While sled-based designs cannot be altered, typical X base and five-base designs with metal bases can be adjusted. Check manufacturer specifications to verify exact height ranges and the type of adjustment mechanism.
Final Verdict
Finding the best kneeling chair is all about preference, functionality, and comfort. In our opinion, the best overall kneeling chair is the DRAGONN by VIVO Ergonomic Kneeling Chair.
This ergonomic kneeling chair features a sturdy metal base with high-quality faux leather and three-inch-thick cushions. It's suitable for kids and adults, as the height adjusts from 21 inches to 28 inches. Overall, if you need adjustments to fit into a kneeling chair with casters for mobility at a mid-range price, this is a solid option.
For those who want luxury and want to experience the original kneeling chair, consider the Varier Variable Balans Original Kneeling Chair. While the sophisticated European design is on the pricier side, the quality is superior to most on the market.
Lastly, the SleekForm Austin Kneeling Chair is a durable, rocking model that allows for height adjustments. The extra thick cushion is excellent for those who want optimal comfort, thanks to its memory foam padding.
Still not entirely sold on kneeling chairs? Well, fortunately for you most models come it at very friendly price points well under $100 so you can always try a kneeling chair for a while and if it doesn't work you're not out a lot of money.
In addition to kneeling chairs there are other office chair types like yoga balls, stools, and more supportive ergonomic models that may be more to your liking. We have a complete roundup of what to look for in an office chair that you may enjoy reading to help determine what option is best for you!