The Argomax Mesh Ergonomic Office Chair is up there with one of our team favorites in the mesh and ergonomic categories. It's an all-around solid office chair pick, and we will start by saying we highly recommend this chair.
In fact, one of our team members owns and uses this Argomax model chair in their home office!
Argomax doesn't name their office chairs, they simply classify them with a model number. This particular model is the EM-EC002, and it's by far our favorite and most recommended model.
Before we jump into the review, we want to give you a brief overview of who we are and why we do what we do. Bottom line, the team here at OfficeChairPicks.com obsesses over office chairs. There are tons of office chairs on the market and sometimes it can be difficult to find the right ones. Our team is dedicated to identifying, sitting in and reviewing the best office chairs so you don't have to.
Why waste your precious time scrolling through troves of office chairs when you no longer have to? Nobody wants to do that. Except us, of course.
We also believe that sitting is an underlooked part of our lives, and if we do it for 5-8 hours a day, we might as sit comfortably. This office chair is more ergonomically advanced than most others, making it one of our favorites.
Anyways, enough about us. We know exactly why you're here – to learn if the Argomax is the right office chair for you.
---
In Depth Argomax Mesh Ergonomic Office Chair EM-EC002 Review
Rating: 4.8
---
Argomax EM-EC002 Style
This office chair is fairly similar to the Ergohuman Chair in style and many other ways as you'll come to learn. The Argomax ergonomic office chair sports a mesh back coupled with a supportive cushion seat and is made mostly of nylon and plastic components. A big difference in style between this chair and the Ergohuman is that this one has way more black nylon finishing. The Ergohuman on the other hand has a more stylish chrome finish on the base and the skeleton of the chair.
However, when it comes to mesh, the Argomax takes the cake for one of the best. Mesh is a popular material and is often chosen by those who have a naturally higher body temperature (like myself). Leather tends to absorb and hold heat leading to a potentially damp back after a long period of sitting. Mesh has quite the opposite effect when it comes to temperature. It's a much more breathable material meaning the heat will pass straight through it; this makes for a more cool and comfortable sitting experience for some. Mesh isn't quite as soft as leather though – so if leather is what you want, be sure to check out the La-Z-Boy Hyland Executive.
To wrap up the style section, this chair is perfect for the minimalist. It's not quite as most ergonomic office chairs and the Argomax is mesh, so it naturally takes up less space. Padding filled leather chairs tend to be bulky and sometimes they can be hard to fit into tight space. The Argomax mesh office chair is perfect for someone who wants an extremely ergonomic office chair but doesn't want all the big-ness that comes along with typical chairs of this category.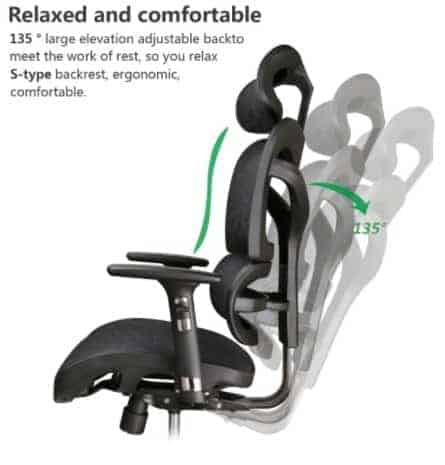 Argomax Office Chair Ergonomics Overview
The Argomax office chair has several notable ergonomic components that make it truly stand out for a mesh office chair. For starters, let's talk about the back design. It has three different pieces: the headrest, mid back and lower lumbar support parts. The combined components create an s curve style backrest that makes for the ultimate ergonomic support system while sitting at a desk. The back can also tilt back to a 135 degree angle. There is one downside to the back design that we should note:
When compared to the Ergohuman Chair, the Argomax lacks adjustability to the back support; the back support system is all one piece and can be slid up and down on a singular axis. With the Ergohuman, each of the three back components (headrest, midback, lumbar) can be adjusted making it slightly more customizable.
A real stand out feature that the Argomax boasts is its 3D adjustable armrest settings. Each armrest can be adjusted not only by height, but by width too. The armrests can be as wide or narrow as you want. Want some extra seat space? Or do you like to be more enclosed when sitting and tight knit? You can have it all with these amazing armrests. Last but not least, this chair has the standard adjustment features that most quality chairs have: height adjustment and a tilt tension mechanism.
Specs and Dimensions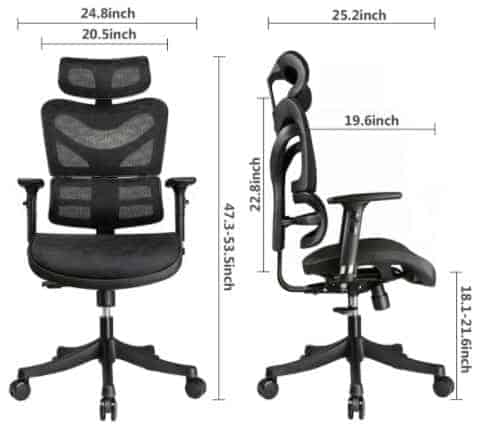 Specs and dimensions are an important and often overlooked step to buying an office chair. In this section, we will go over the pertinent measurements, chair weight, weight capacity, etc. of the office chair in question.
Weight limit: 330 lbs **The model that's a step down from this version has a 330 lb weight capacity. Amazon doesn't clearly list the weight capacity for this Argomax model. That being said, the specs are very similar and we can assume that the weight capacity is the same, if not higher than the model below this one.
Product Dimensions: 24.8 x 25.2 X 47.3 inches
Item Weight: 55 pounds
Material: High grade mesh, nylon casters, nylon base, metal "skeleton"
Color options: only one color: black
Argomax Mesh Ergonomic Office Chair EM-EC001 Review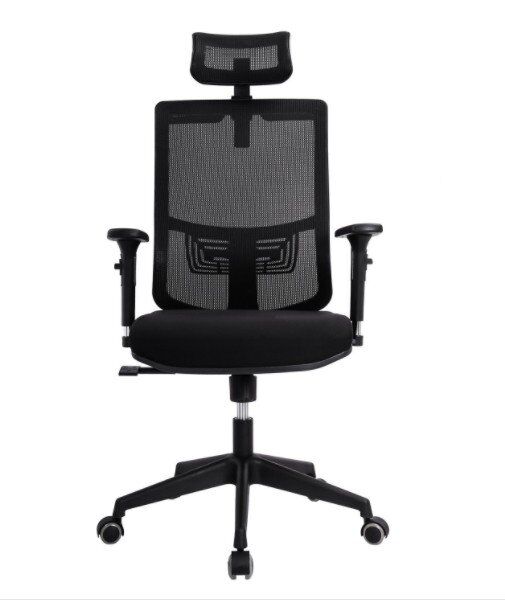 Warranty, Lifetime Value and Additional Info
This Argomax chairs have a 30 day money back guarantee – while that's not the best warranty compared to other more well known chair brands, it is at least something. Having said that, the lifetime value of this office chair is definitely there. It's built with similar quality as some office chairs that cost twice the price. Argomax chairs will stand the test of time, and they are made from a durable mesh material adding to the longevity of these office chairs.
Overall Argomax Mesh Ergonomic Office Chair Review and Thoughts
Overall, the Argomax Model EM-EC002 is a solid office chair at a great price. It doesn't quite match up to some of the premium, well known brands of chairs, however it might match up with your bank account better than a Herman Miller Aeron.
The Argomax has a sleek, minimalist look and feel to it. Plus, itss uber-ergonomic features coupled with the more than reasonable price make it an excellent choice.
Especially for those who want a premium office chair and don't want to pay premium dollars.
Although you're not getting the big brand name office chair with the Argomax, rest assured that it's up for the task. In conclusion, our team thoroughly vetted this office chair and would 100% recommend it.
We hope this review helped guide you along your office chair purchasing journey – if you're on the fence, be sure to check out our other reviews.
And as always…
Happy Sitting!
Other Reviews to Read: